GSA Schedules - Rehabmart, LLC
Rehabmart has been awarded two VA Federal Supply Service GSA Contracts as described below. We have been providing patient mobility devices and medical supplies to US Governmental Agencies, Institutions and Private Buyers since 1998. As a certified HubZone Business, Rehabmart takes pride in its service to our Government, Military, and Veterans Health Administration Customers.
The Rehabmart Customer Care professionals are a dedicated and able team. We are well equipped to work with any concerns or needs you may have, and we are experts at accommodating your request for unique or hard to find items. If you require a specialized Quote, please email your Request For Quote to rfq@rehabmart.com -- GSA Orders / GSA Questions should be emailed to gsa@rehabmart.com
If your request is urgent, please call or email to confirm our receipt of the request, and we will respond to you the same business day within Eastern Time business hours.
Seach for "rehabmart" on GSAAdvantage.gov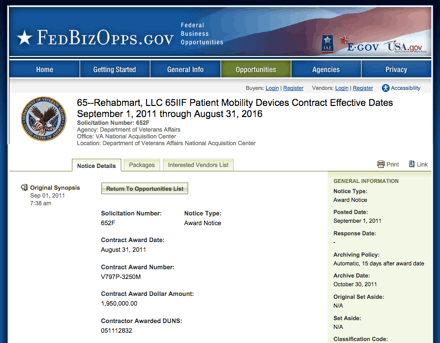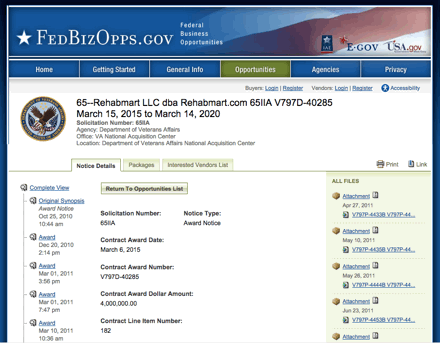 Rehabmart Contact Information:
Direct Tel: 1-706-213-1144
Toll Free: 1-800-827-8283
Local Fax: 1-678-254-1791
Toll Free Fax: 1-888-507-7326
------------------------------------------------------------
Quote Request Email: rfq@rehabmart.com
GSA Order Email: gsa@rehabmart.com
------------------------------------------------------------
Rehabmart Customer Care Center:
1353 Athens Hwy
Elberton, GA 30635-4484
------------------------------------------------------------
HubZone Certification #: 39450
SBA Customer ID: P1002610
DUNS #: 051112832
CAGE Code: 56Z51
Rehabmart NPI #: 1609124734
Rehabmart Federal Tax ID #: 58-2515167
GSA Patient Mobility Devices Schedule 65IIF Contract Award #: V797P-3250M
GSA Medical Equipment & Supplies Schedule 65IIA Contract Award #: V797D-40285

About Rehabmart.com:
Rehabmart.com is an Athens, Georgia area company founded by Occupational and Physical Therapists. We offer over 100,000 skus for sale from over 400 manufacturers. Our product offerings are branded across 16 core departmental lines. We manage our own databases, write all our own code, and host our website on dedicated servers in downtown Atlanta. The entire Rehabmart team is committed to becoming the market leader in online e-commerce sales of medical & rehabilitation products, supplies, and technologies. We strive to connect our customers with products that often become "Tools for the Job of Living", the tagline for our company. We are accomplishing our mission through superior customer service, competitive pricing, and exceptional product offerings. The Rehabmart Customer Care Call Center & Operations Headquarters is located in Elberton, GA. Our Data Entry Services Office and Accounting Offices are located in Athens, GA. We are constantly hiring and growing as evidenced by our INC 5000 award ranking in 2013 and 2015. Rehabmart's current INC 5000 rank is #3407.

Read the full Rehabmart.com "About Us" Page