Rehabmart.com HUBZone Certification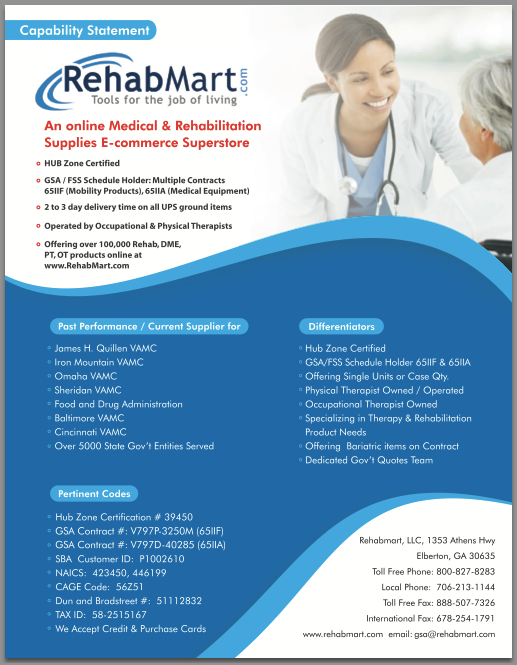 Rehabmart.com is a certified HUB Zone business and is eligible to receive HUBZone contracting opportunities. Verification of Rehabmart's certification as a HUBZone Small Business is located at HUB Zone Small Business Search.
Rehabmart's current HUBZone certification period is August 20, 2019 through July 31, 2022. Rehabmart's HUBZone Recertification number is 39450. OMB Approval Number: 3245-0320
Rehabmart is committed to providing quality products at competitive prices to Government Agencies. As a small business with over 12 years of experience providing hard-to-find quality durable medical goods to our customers. Rehabmart's governmental service team has a long history of providing competitive quotes to Government Purchasing Agents and Procurement Officers.
Rehabmart was awarded HUBZone (Historically Underutilized Business Zone) certification by the U.S. Small Business Association on September 10, 2010. Rehabmart is well positioned to meet the special needs and requirements of doing business with government agencies. The HubZone certification allows Rehabmart to assist agencies in locating and sourcing Medical Supplies and Rehabilitation Equipment while promoting economic development and employment growth in our local community of Elbert County, Georgia. Our Hub Zone Certfication Letter is attached below.
As Occupational Therapists, the founders of Rehabmart, Hulet Smith, OTR/L and Mike Price, OTR have the breadth of knowledge and experience necessary to match the needs of customers with the very latest innovative products in the field of medical supplies and rehabilitation equipment. As parents of special needs children, Hulet and Mike have a personal interest in finding the best products to improve the lives of those who are disabled and at risk. Their proven record of growing a successful business in the field of medical services industry while maintaining a commitment to quality can meet and exceed the rigorous standards and expectations of the federal government. Rehabmart's Quote Department and Order Fulfillment Team Members are ready and eager to assist Government Agencies and Procurement Officers with an RFQ.
You may contact our quotes department at quotes@rehabmart.com, the Order Department at order@rehabmart.com or you may call us at 1-800-827-8283.

Rehabmart Contact Information:
Direct Tel: 1-706-213-1144
Toll Free: 1-800-827-8283
Local Fax: 1-678-254-1791
Toll Free Fax: 1-888-507-7326
------------------------------------------------------------
Quotes Dept Email: quotes@rehabmart.com
------------------------------------------------------------
Rehabmart Customer Care Center:
1353 Athens Hwy
Elberton, GA 30635-4484
------------------------------------------------------------
HubZone Certification #: 39450
SBA Customer ID: P1002610
DUNS #: 051112832
CAGE Code: 56Z51
Rehabmart NPI #: 1609124734
Rehabmart Federal Tax ID #: 58-2515167
GSA Patient Mobility Devices Schedule 65IIF Contract Award #: V797P-3250M
GSA Medical Equipment & Supplies Schedule 65IIA Contract Award #: V797D-40285

---