Regardless of your reason for ending up in the hospital, be it an emergency visit or a scheduled surgery, recovery can be a challenge.
Consulting with your doctor and care team and planning ahead for your home recovery process will prevent a lot of stress, suffering, and hassles later.
Knowing what to expect improves peace of mind before and after surgery, and allows you to make every plan necessary to ensure a stress-free recovery process at home. Ask your doctor and healthcare team:
How much time should I take off from work, and will there be temporary restrictions on what kind of work I can safely perform?
How soon can I start walking, and/or do I need assistance walking?
Will it be hard for me to make my own meals?
How will I execute toileting procedures?
Will I be able to drive a car?
What amount of weight is safe for me to lift?
Will my thinking and memory skills be affected, and for how long?
What kind of skilled or unskilled care from nurses, caregivers, and family members will I require?
From securing your home to purchasing assistive medical equipment, there are several tips to make your recovery from surgery or injury safer, easier, and more supportive for the best possible health outcome.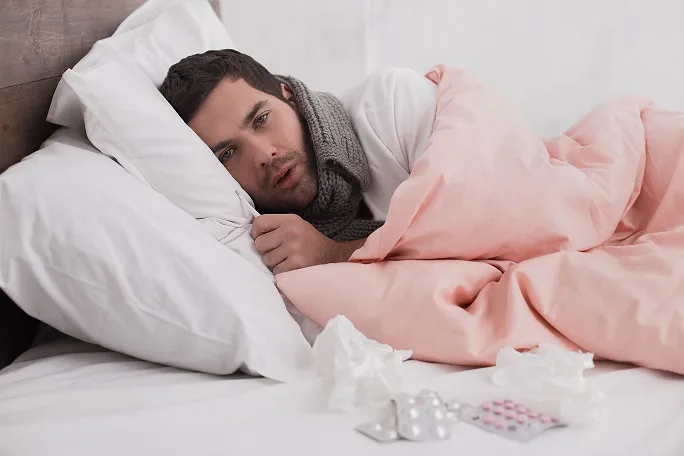 1. Prepare for fall prevention
This is especially important for people who are aging, or who may be particularly prone to serious injuries from falls.
Make the home environment safer by tacking down loose carpeting, removing throw rugs, fixing uneven flooring, and covering slippery areas like the bathroom or kitchen with non-skid mats.
Clear your walkways of trip hazards, such as telephone cords, electrical cords, toys, etc., and provide good, accessible lighting in every room.
2. Consider the toileting process
Discuss your post-hospital toileting needs with your healthcare team, and determine what kind of assistive equipment you might require for safety and comfort.
They may recommend raised toilet seats to make it easier to get up and down, and/or toilet safety frames for secured assistance. Assistive wiping tools can also help you maintain dignity and independence without either asking for help or risking injury.
A convenient bedside commode may also be suggested for users unable to make it easily to the bathroom. In addition, bedpans and urinals can help prevent accidents, and are indicated for use especially at the beginning of home recuperation when patients may not yet be able to get out of bed.
3. Make sure you have mobility support
Depending on the type of surgery, illness, or disease you are recovering from, one or more mobility aids may be prescribed to help you get around.
A wheelchair may be required, especially in early the early stages of convalescence, with manual, ergonomic, or transport chairs usually being the best choices for temporary recovery purposes.
For users who are still somewhat able to ambulate on their own, walking aids such as canes, walkers, and rollators will help you to move around safely.
4. Consider bed support and comfort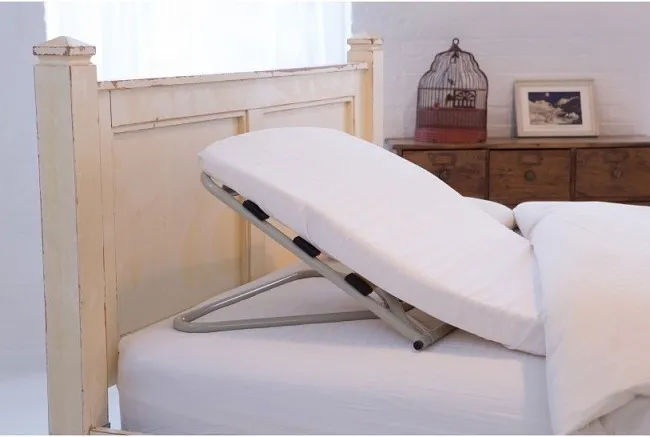 The bed is typically the home base for most people as they spend any time in recovery. While hospital beds typically provide the best support during recovery due to their adjustability, this can be an expensive purchase, especially for temporary usage at home, and often require modification of your usual bedroom.
A wonderful alternative is the Abelift Adjustable Bed Surface for Recline and Elevation. This innovative design turns just about any bed into an adjustable, comfortable sleep surface that reclines and elevates as needed with the simple touch of a button on the remote.
5. Maintain positioning and support
Another way to facilitate comfortable and healthy positioning on a bed, recliner, sofa, or chair is to utilize specially designed positioning pillows, cushions, and wedges.
Innovatively-designed wedge pillows like the Multipurpose Flip Bed Wedge Pillow accommodate a variety of positioning needs, providing a range of versatility with just one product.
6. Consider different transfer devices
Patient lift and transfer equipment comes in a range of designs to ensure everyone is able to find exactly the right equipment for their unique requirements.
Even when it's just for a temporary need, lift and transfer devices are highly recommended, as they can prevent both patient falls and caregiver injuries.
The EasyTurn Transfer Swivel Cushion is a great, affordable choice to help with seated transfers from a chair, bed, or car.
For people who live alone and have a high risk of falling, we recommend the Mangar Camel Lift, an inflatable patient lifter that can be used independently by the fallen patient, or with the assistance of a caregiver, to get up from the floor.
The Couch Cane Sit-to-Stand Mobility Handle enables users to transfer themselves from sit-to-stand positions, facilitating safer, independent movement.
7. Add versatile stability tools
For improved mobility around your home, and decreased risk of falling and further injuries, stability tools like safety poles, bed assist rails, bed trapezes, and other support devices provide a great solution.
Safety poles are available in multiple designs to provide gripping support for stability, and to help with a safer transfer from a bed, chair, sofa, toilet, or bathtub.
Some, like Healthcraft's SuperPole, do not require heavy-duty installation, and can be placed anywhere in the home you need an extra hand-hold. Others, such as the Transfer Pole, can include a swing-grip to make transferring from a bed an easier, safer process.
Assistive handles, like the M-Rail Home Bed Assist Handle, attach under the mattress to provide a secure and stable hand-hold to assist users getting in and out of bed, as does the portable Bed Rail Advantage Safety Handle, which also includes a handy pocket organizer.
8. Try grab bars and reachers
Not often thought about ahead of time, reachers and grab bars will be some of the most used and appreciated equipment during recovery at home.
Grab bars can be installed throughout the home, but are especially important inside the shower stall and bathroom, where floors get slippery, as well as the kitchen.
Reachers, also known as grabbers, should always be within reach of the patient, and are helpful tools in grabbing items from the floor, up high, or out of the patient's typical range of reach.
9. Make your bed functional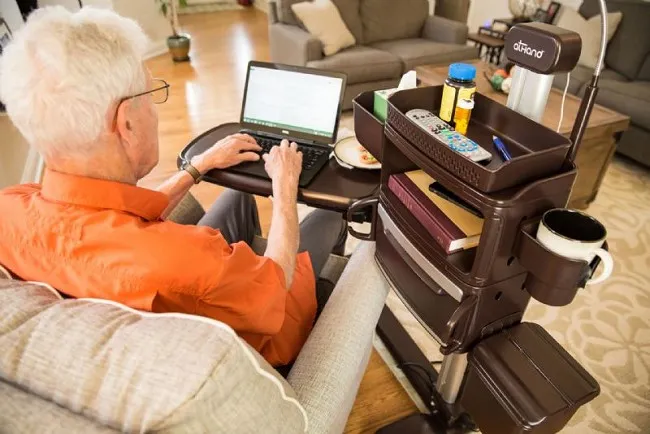 Following closely with adapting your actual bed itself is the ability to adapt the area immediately surrounding your bed for better functionality and comfort.
Overbed tables are a great solution for this, offering adjustable designs that fit easily over beds of any shape and size.
One of the best examples of a truly innovative overbed table is the atHand Overbed Table System which features customizable storage and is conveniently portable for use not only in bed, but for chairs, couches, and recliners as well.
10. Pay special attention to bathroom safety
The bathroom is commonly labeled as the most dangerous room in the house, and for good reason. Hard tile and slippery water can cause a variety of dangers, so it's extra important to pay special attention to bathroom safety.
Products like shower chairs, bath benches, and shower commode chairs are a must-have during home recovery.
Not only do they help keep you safe and prevent falls while bathing or showering, but they also provide supportive assistance for your caregiver, preventing overexertion injuries, and enabling easier access.
11. Look into some daily living aids
An assortment of daily living aids is available to assist patients recovering at home in all areas of life. For eating and dining, kitchen helpers are available including adaptive utensils and one-handed tools.
For hygiene tasks, various assistive bathing tools and toileting aids are available to make the process of cleaning oneself easier and more comfortable.
In addition to these two major areas, dressing aids, medication reminders, and other home gadgets can provide the added help you need to make recovery easy, helping you maintain your independence and get back to your life faster while still keeping you safe and helping you properly heal.
Summary
The recovery process can be difficult, no matter what kind of injury, operation, or illness you're recovering from.
But when you plan ahead and make sure you consider all aspects of the process, recovery can be made a lot easier and a lot more comfortable for both you and your loved ones.
For more information on illness, recovery, and living well, check out the rest of our articles on Caregiver University.
And, when you're ready to look into tools, products, and devices to help you live better, visit Rehabmart.com for all the tools you need for the job of living.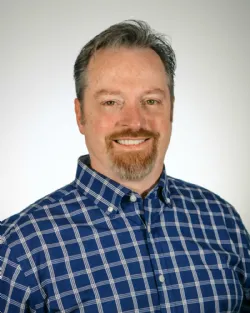 Author:
Co-Founder of Rehabmart and an Occupational Therapist since 1993. Mike has spent his professional career working in multiple areas of Occupational Therapy, including pediatrics, geriatrics, hand therapy, ergonomics and inpatient / outpatient rehabilitation. Mike enjoys writing articles that help people solve complex therapeutic problems and make better product choices.