Hospital beds are some of the most ubiquitous pieces of hospital furniture. We all know them, we know what they do, and we know what they are when we see them.
But modern hospital beds aren't just designed for hospital inpatient rooms, they're used for home care, assisted living facilities, and many other settings in which people may need a more medically accommodating bed either for short or long-term use.
Different from traditional residential beds, hospital beds are often adjustable both in height and position, allowing patients to lift their heads and/or feet for more comfortable positioning or recovery.
Often, they also include the ability to more easily attach medical accessories like IV poles, bed rails, and trapezes for convenient care all in one place.
Because of the range of models and options, it might seem overwhelming to choose a hospital bed for yourself or a loved one.
To help, we interviewed several respected experts in the hospital bed industry to determine their best advice for choosing a hospital bed.
These tips will help guide you through the decision-making process and how to choose the best hospital bed for your needs, or the needs of a loved one.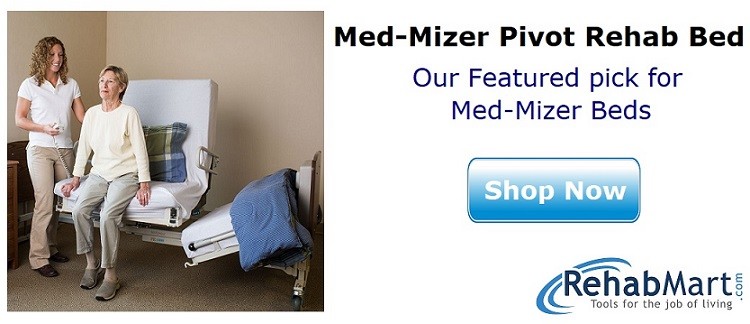 Brian Roth is the Vice President of Marketing and Sales for Med-Mizer. Headquartered in Indiana, Med-Mizer is an innovator in the healthcare industry, especially in bed design. They hold a number of patents for their state-of-the-art hospital beds, including an articulating bed frame, a retracting bed frame with 3 position side rail, a pivoting bed sleep surface, and an expanding bed frame relative to central frame.
Roth explained that the first thing to determine when choosing a hospital bed is how will you or your loved one safely enter and exit the bed.
"At Med-Mizer, we routinely hear from our home care customers how difficult it is to transition into and out of a hospital bed," he said. "Often times individuals looking to age in place have a condition or illness that makes this 'routine activity' a challenge.
Not only is this a challenge for the individual using the bed, their spouse or loved one is usually the caregiver who assists them getting in/out of bed, and who is also at risk for injury.
We created the Pivot Rehab Bed to help individuals safely enter and exit the bed, allowing them to enjoy the comforts of their home setting. It is the only bed manufactured in the US that turns to the side and sits the end user into a full chair position – using the built-in stand assist (high/low control) allows the end user to raise and lower the bed to a safe height for transfer."
Roth additionally emphasized how important it is to determine fall risks, and to have solutions in place to prevent accidents.
"Throughout our lives, we become accustomed to sleeping on queen or king-sized surfaces, and the majority of hospital beds are narrower, around 35/36" wide," he explained. "An unintended consequence of having a narrower surface is someone accidentally rolling out of bed.
If a loved one accidentally rolls out of bed from a standard height hospital bed they may be prone to an impact or an injury. We created the AllCare Bed to have a 3.6" low height to help reduce this fall 'impact' and turn it into a roll instead.
We also provided the option to widen the bed to 42" using our Comfort Wide sleep surface. Providing your loved one with a wider, lower bed can help keep them safer and potentially reduce injury from a fall."
Roth also wanted to highlight the value of a good warranty, the consideration of where your bed is manufactured, and how this affects your bed purchase experience in the long run.
"At Med-Mizer, we want home care customers to place all of their focus and care towards their loved one, not the bed," he said. "We carry an industry leading warranty (Lifetime on the welds, 15 years on the frame, 5 years on the motor/drive system) which essentially covers all major components of our equipment throughout the first 5 years.
We are proudly made in the USA in Batesville, Indiana, and stock all of our parts here as well. Have you ever considered if your bed is manufactured overseas and if an issue happens, how long will the equipment be down? How long will it take to get parts? Are they stuck in customs?"

Muhummad Husien is the Beds Product Manager for Invacare Corporation. Tracing its roots back to the Worthington Company in 1885, Invacare has come a long way since its original production of vehicles for people with physical disabilities. Their groundbreaking innovations changed the face of the medical equipment industry, and Invacare itself has grown from a small, privately-held company to a NYSE-listed global leader in home and long-term care.
Husien stressed the importance of knowing your needs, and what exactly you'll need it to do for the user. He said,
"Ask yourself what functions does my hospital bed need for me or a loved one to be comfortable? That's the most important question you can ask in the beginning steps to finding the right hospital bed.
Do you or a loved one have trouble getting out of bed, have a high risk of falls, weight capacity concerns, bed sore issues, ease of transporting the bed, caregiver support etc., the list goes on! These are the questions that need to be asked to find a hospital bed right for you.
I would recommend making a list of key features you need in your hospital bed and bring it to your local provider."
He further explained specific features to look for, including:
Side rails
Trendelenburg/tilt option
Bed end colors
Height adjustment
Foam/air mattress platform
Husien then went on to explain that the next most important question to answer is how long you or a loved one is going to need the bed.
"As you will see through your searches, there are many different homecare and hospital beds in the market today. Knowing how long you will need this bed is a vital piece of information when you're in the market for a bed.
Are you or your loved one recovering from an injury, surgery, or other illness? If this is the case, then you will likely need a homecare hospital bed for a temporary length of time. However, if the user will require long term or intensive care, then a long-term hospital bed could be a better option. These types of beds are built to last and many times have additional comforts and amenities.
A follow-up question I would ask is how long will you or your loved one spend in bed each day? This can help you choose between a manual, semi-electric, and full electric hospital bed."
Husien additionally discussed quality vs. price, and how better quality can be the more cost-effective choice for the long run.
"The last thing you want to deal with (after finally choosing a hospital bed) are costly repairs," he said. "To avoid this, you need to read customer reviews before clicking that "buy now" button.
Knowing up front the quality of the bed will put your mind at ease; knowing this bed is reliable and durable. A cheaper bed may be nice in the beginning, but after many costly repairs this bed can be equal to, or have a greater cost than the more reliable hospital bed."

Steve Cotter is President of Gendron, Inc. As a privately owned Ohio corporation, Gendron was founded in 1871. They design and manufacture medical equipment specifically formatted for bariatric patients and residents. Providing aid for home care, rehabilitation, long-term care, and acute care, Gendron specializes in mobility, patient seating, personal care, transfer/transport, and bariatric beds of all types.
In his collaboration for this article, Cotter provided an added dimension of advice for choosing a hospital bed that's specifically geared to bariatric individuals, ensuring safety and heavy-duty construction for larger-than-average people.
He said,
"Be sure to choose a bed that best accommodates the patient's physical conditions and weight. When selecting the weight capacity of the bed, take into account the possibility of any future weight gain.
For a patient that's likely to experience weight gain, choose a bed with a weight capacity that best accommodates the patient and the width of the bed deck / patient sleep surface.
A width expandable bed allows adjustment for bed deck width to accommodate weight fluctuation and environmental access allowing transport from room to room or to treatment without transferring the patient."
Cotter also highlighted the importance of choosing a bed to meet the unique needs of the user.
"Most hospital beds feature high-low bed deck functionality," he said. "Make sure the backrest raises to the desired angle. Know if leg lift/knee flex articulation is needed, and if the patient requires bed deck articulation i.e. Trendelenburg / reverse Trendelenburg positioning."

James Jackson is an expert on Durable Medical Equipment (DME) for Drive Medical. As one of the fastest growing home healthcare companies in the industry, Drive Medical began as Medical Depot in 2000, quickly changing their name to Drive to better reflect the spirit of their mission to enhance the quality of life of the people who use their products.
Acquiring the esteemed DeVilbiss company in 2015, the multinational Drive is constantly growing and expanding with their comprehensive durable medical equipment lines that include, but are not limited to, mobility, wheelchairs, scooters, rehabilitation, pediatrics, bariatrics, sleep surfaces and beds.
Jackson emphasized the importance of determining the adjusting needs for the intended user, along with the basic height ranges offered by each type of bed. He said,
"Homecare beds come in three basic models: semi-electric, full-electric, and low beds. A semi-electric bed requires the patient or caregiver to use a crank in order to adjust the height of the bed, while the height of a full-electric bed can be adjusted with an easy hand control. This can be a major difference if adjustments are needed regularly and the patient or caregiver may have difficulty adjusting the bed manually.
Another concern is the height itself. In both a semi and full-electric bed, the minimum height without casters is 12.75 inches and maximum height with casters is 21.5 inches. A low bed can goes lower to the ground than any other model, featuring a minimum height of 9.5 inches without casters.
These heights are very important when the patient is transitioning in and out of a bed whether with a transfer board or patient lift. Also, patients may need to be raised or lowered when cleaning and caring for in bed."
Jackson also talked about how crucial it is to find the right hospital mattress for the hospital bed, ensuring specific user needs are met.
"Even more important than the bed you choose is the mattress you select to go on top of it," he said. "Like any mattress, not just hospital bed mattresses, selection is mainly based on preference and need. An innerspring is going to be the most cost effective, but be the least comfortable. Foam mattresses are a great comfortable option which help prevent the development of pressure ulcers.
We also carry Low Air Loss mattresses which help to treat pressure ulcers if they have already developed. Each one of these categories offers a good, better, and best option with more features and longer warranties."
Along with the importance of choosing the best bed and mattress, Jackson went on to explain how accessories and other equipment for hospital beds can help improve the home care experience.
"Besides the mattress and the rails there are many other complementary items that go along with the bed to enhance the patient's quality of life," he said. "You have a "Bed in a Box" which comes with a fitted sheet, flat sheet, blanket, and pillowcase. Hospital beds are an odd size so standard bed sheets do not fit them well.
You can utilize an overbed table like the one used in the hospital which will make it much easier to eat meals, or a reacher to help grab those hard to reach items. We also offer bed wedges to help with positioning, or urinals to assist with bathroom needs."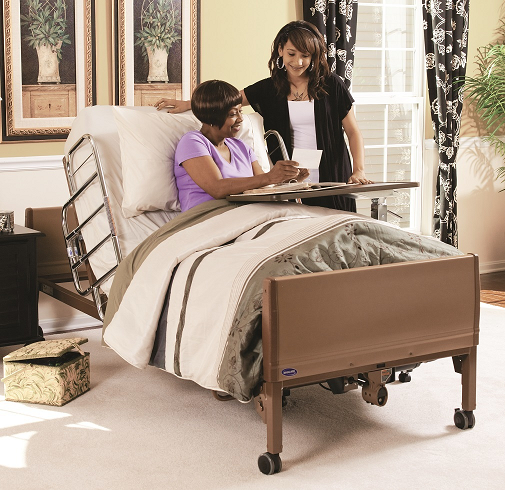 Summary
Along with their use in hospitals and care facilities, hospital beds are utilized at home to provide rest, healing, and accessibility to care. Whether they're used short-term for convalescence from an injury, surgery, or illness, or long-term for senior or disability care, hospital beds provide adjustable height and positional support, enhancing safety and comfort for their users.
Through reaching out to experts, we found that knowing what features the user requires, their fall risk, how long the bed will be used, the bed's weight capacity, and the positional requirements of the user are the most important considerations when choosing the right hospital bed.
Learn more about choosing the best hospital bed for home use, and how to select the best mattress, along with other helpful and supportive information at Caregiver University. Find the best hospital beds, durable medical equipment, and other tools for the job of living at Rehabmart.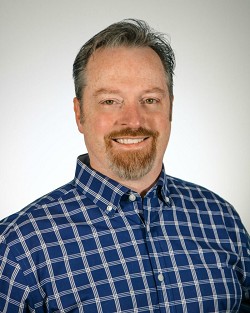 Author:
Co-Founder of Rehabmart and an Occupational Therapist since 1993. Mike has spent his professional career working in multiple areas of Occupational Therapy, including pediatrics, geriatrics, hand therapy, ergonomics and inpatient / outpatient rehabilitation. Mike enjoys writing articles that help people solve complex therapeutic problems and make better product choices.