Power. It just sounds good, doesn't it? Power to get around, to make things happen, to take control of where you go and what you do.
If you use a wheelchair but don't have the upper body strength to successfully navigate your daily life with a manual version, an electric power wheelchair can solve that problem.
Advances in technology and increased demand for power wheelchairs have brought models to market that boast impressive features. Understanding what is available and how these assistive devices match up with your needs will help you decide which one will get you where you want to go.
The Top 5:
With a weight capacity of 600-pounds, the heavy-duty Atlantis Heavy-Duty Bariatric Power Wheelchair by Merits enters our list at #5.
Bariatric patients face enough barriers in the world. This rear-wheel-drive power wheelchair can help remove some of those barriers by providing a comfortable, safe, and supportive way to get out and about. Its inline motors power 12-inch foam-filled drive wheels that can handle all kinds of terrain, with up to 10-degree inclines navigated with ease. It boasts intelligent electromagnetic regenerative brakes. The 4 seat posts and stable frame structure add a level of durability you can count on for years to come.
This power wheelchair's 24-inch wide reclining seat and high back create a comfortable and supportive ride for larger users. You can cover a lot of ground on 1 battery charge, going as fast as 5 mph and as far as 32 miles. The frame is so solid it comes with a lifetime warranty.
Optional accessories include a swing-away joystick, oxygen tank holder, walker holder, cane and crutch holder, elevating leg rests, height-adjustable armrests, and a foldable rear basket and canopy. These accessories are all sold separately.
The Atlantis Heavy-Duty Bariatric Power Wheelchair removes barriers to activities that users might not otherwise be able to get out and enjoy. The only bariatric wheelchair we carry, its power and durability set it apart from other bariatric models on the market, and it was specifically designed with user comfort, support, and dignity in mind.
Features and Benefits
Four seat posts and sturdy frame design ensure stability
Extra-wide seat and high back for comfort and support
Powerful motors that can navigate inclines and uneven terrain
Long range on one charge
Lots of optional add ons are available
Customer Feedback
Pros
An appropriately sized chair, which is not easy to find
Inspires confidence
Opens up new opportunities for daily activities
Eliminates reliance on others to get around
Choice of colors and options
Cons
At 300 pounds, the chair is heavy
Its low ground clearance sometimes requires going around objects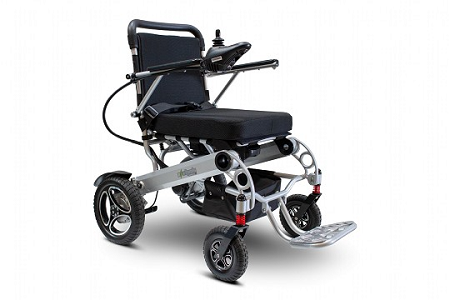 The extremely portable EW-M43 Power Wheel Chair by EWheels is one of the lightest power wheelchairs available. But packed into its compact design is a long list of features that have earned this electric power wheelchair the #4 spot on our list.
This foldable motorized chair's lightweight yet sturdy aluminum frame will stand up to years of everyday use. Its swing-away joystick can be mounted on the left or right side, and the folding armrests add support during transfers. It can go almost 10 miles between charges with a top speed of 3.7 mph. It has non-flat tires on 12-inch anti-tip wheels and a front-end suspension that can handle most terrain. When you're on the go and need to take some things with you, this chair has under-seat and behind-the-backrest storage.
Even with its powerful rechargeable battery, this electric wheelchair weighs just 60 pounds, yet it can accommodate users up to 300 pounds. It quickly and compactly folds for storage or transport.
Staying on the go can be difficult and complicated for wheelchair users, but this lightweight and super portable power wheelchair has a full list of features to make it easier. You can count on this durable electric wheelchair to stand up to heavy use over most terrain, eliminating barriers to enjoying time outdoors. The convenience of this foldable chair makes it a great fit for anyone who needs a power wheelchair that can keep up with an active lifestyle.
Features and Benefits
Navigation via right or left armrest mounted joystick
Almost a 10 mile range with a top speed of almost 4 mph
Large wheels can handle uneven terrain
Super lightweight and portable
Additional storage
Customer Feedback
Pros
So lightweight most caregivers have no trouble lifting it into the trunk for transport
Fits in the back seat
Easy to set it up for a left-handed user
Simple to fold up and put away
Comes with seat belt
Cons
Not one of the higher battery ranges
Not one of the fastest power wheelchairs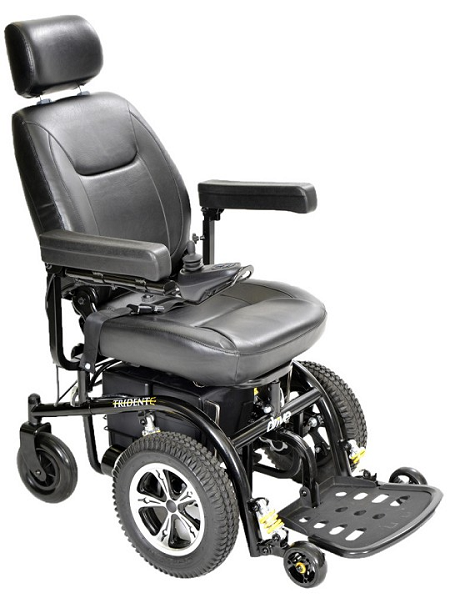 The front-wheel-drive Trident HD Front-Wheel Drive Power Wheelchair by Drive Medical is truly an all-terrain power wheelchair, and it has landed in the #3 spot on our list.
You can choose from the standard model with a weight capacity of 300 pounds, or the heavy-duty model that can accommodate users weighing up to 450 pounds. The semi-reclining comfortable captain's seat comes with 2 depth options and 3 height settings. The padded armrests are also adjustable, as is the seat plate.
The Trident looks sleek and modern, and its extra-large flat-free front-mounted drive wheels are the secret to its stability while navigating uneven outdoor terrain. Its anti-tip front wheels are part of a suspension system that provides a smoother ride even over obstacles. With a tight turning radius, it maneuvers well in tight spaces, so it's great indoors too and the tires won't mark floors.
The shroudless design makes it easy to access its battery and internal components. It has a battery tray that slides out and includes 2 batteries and 1 charger. The clutch is easy to access for engaging and disengaging the motor control front-wheel-drive system.
With a top speed of 4 mph and a range of 15 miles on a single battery charge, there is plenty of power to take this electric power wheelchair off the beaten path. Built to last, the frame has a lifetime warranty. If you have an adventurous streak that leads you off the beaten path, the Trident Front-Wheel Drive Power Wheelchair is the vehicle to make sure you can get there.
Features and Benefits
Seat size options ensure a proper and comfortable fit
Big anti-tip wheels for navigating outdoor terrain
Non-marking wheels for indoor use
Front suspension delivers a smooth ride ad reduces impacts to the base
Several points of adjustment for a customized user experience
Customer Feedback
Pros
Controller is protected by metal frame
Footplate adjusts height, depth, and angle
Opens up more outdoor possibilities with ability to handle rougher terrain
Touted as great for outside, but works in tight indoor spaces and won't mark up walls and floors
Cons
At about 200 pounds, it's heavy and hard to transport if necessary
Not one of the longer battery ranges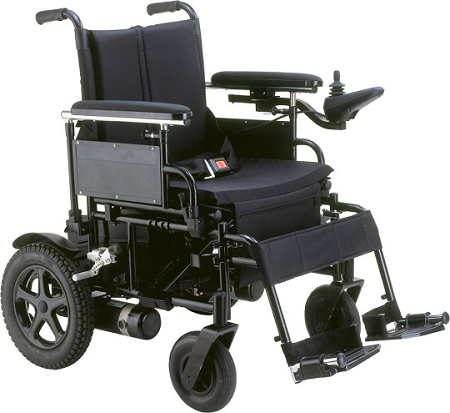 The highly portable Cirrus Plus EC Power Wheelchair by Drive Medical is packed with user-friendly features and an attractive price point, making it a standout value and earning it the #2 ranking on our list.
Bringing together the support of a wheelchair with the versatility of a power scooter, the Cirrus Plus is fully adjustable and will fit just about any user up to 300 pounds.
With its lightweight carbon steel frame, this motorized chair easily handles curves, inclines, and outdoor surfaces. But it does just as well in tight spaces indoors, so you can enjoy the freedom and independence it provides no matter where you are. It's foldable, making it easy to transport and removing limits to where you can go.
It uses a programmable controller and has electromagnetic brakes. Its 2 powerful 35AH batteries provide a top speed of 5 mph and have a range of 12 miles. Each Cirrus Plus electric power wheelchair comes standard with a seat belt, swing-away footrests with calf straps and heel loops, comfortable and supportive seat cushion, storage pouch, anti-tippers, and folding battery tray. Batteries are included, and other accessories can be added for an individualized user experience. It has manual wheel locks for safety freewheel capability so it can be pushed manually.
This wheelchair has the features of a higher-end model, the portability and maneuverability of a scooter, and the power you need to navigate any environment. For value that can't be beat, the Cirrus Plus EC Power Wheelchair will deliver an all-around user-friendly experience.
Features and Benefits
Flat-free tires
Lightweight and foldable for exceptional portability
Option for manual pushing
Padded, adjustable, and removable armrests
Programmable user-friendly controller
Customer Feedback
Pros
Tires don't leave marks on floors
Manual wheel locks keep it safely in place
Roomy storage pouch
Only takes a few minutes to learn to operate
Quiet motor
Cons
Takes a while before the process of switching between manual and electric becomes automatic
Would appreciate it if it had a higher weight capacity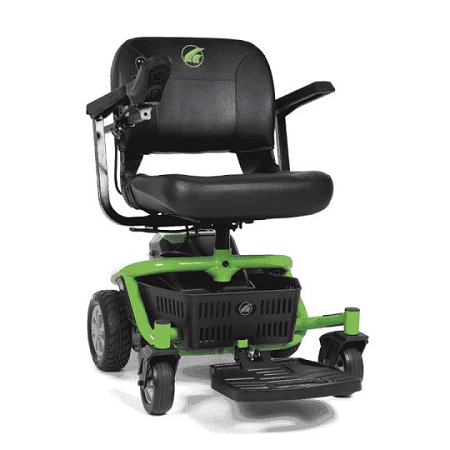 The compact Power Wheelchair LiteRider Envy by Golden Technologies has earned the top spot on our list. This rear-wheel-drive personal mobility device makes getting around in tight spaces a breeze, and it breaks down into four lightweight pieces for easy transport when you want to get out into some wide-open spaces.
This motorized chair is all about ease of use. The joystick - which displays your speed and battery life, and even has a horn - controls this highly maneuverable chair that is perfect for apartment living, traveling on airplanes, and getting in and out of small bathrooms. The narrow stadium-style seat allows it to fit through narrow doorways, and it has underseat and behind-the-seat storage compartments.
For transport, there's no need for a wheelchair lift, because this chair breaks down to fit in a car trunk, with the heaviest component weighing only 35 pounds. Simply fold down and remove the seat, detach the wheels, and pull out the batteries.
Speaking of its two 22-amp batteries, they power this chair up to 15 miles between charges. When it is time for a charge, the batteries are easily removable so you don't have to bring the whole chair to the outlet. It can accommodate users up to 300 pounds, has a turning radius of 26 inches, can handle a 6 percent incline, and it looks great in your choice of six vibrant colors.
No matter which motorized chair on this list best meets your needs, all of them are high quality mobility devices that will add to the user's quality of life. The Power Wheelchair LiteRider Envy is our number 1 choice because among captain's seat-style power wheelchairs it's the best value with the best combination of comfort, support, and portability. The whole point of an electric power wheelchair is to open up as many opportunities for mobility as possible, and this motorized chair does exactly that.
Features and Benefits
Tight turning radius makes it perfect for tight spaces
Breaks down easily into 4 lightweight pieces for easy transport
Accessible battery for quick charging
Abundant storage
Appropriate for indoor and outdoor use
Customer Feedback
Pros
15 miles on one charge
Perfect for condo living
Gets into spaces that were off limits before
Seat is very comfortable
Cons
The speed control dial can be too easily bumped
Have to turn the seat to remove the battery
Features to Consider When Purchasing an Electric Power Wheelchair
When shopping for the best electric power wheelchair, the features of the chair are important to consider, but so is the lifestyle you want the chair to support. The key to choosing the best motorized wheelchair for you is to match up key features with how you will be putting it to use in your daily life.
Battery Life
If you'll be using your motorized chair for extended periods of time, choose a chair with enough battery power to keep you moving. Having a backup battery is also a good idea, so if the chair you choose doesn't come with a spare, be sure to include that accessory in your purchase.
Portability
A motorized wheelchair that is convenient to transport is more likely to get its rider into more places. Weight, foldability, and ease of disassembly are all considerations, as is whether or not the chair can fit in a car trunk or needs a special rack or lift.
Where Will You Go
If you don't go outside much, a chair with a tight turning radius, a narrow profile to fit through interior doorways, and non-scuff tires will fit your lifestyle. If you want to get outside, you can choose between motorized chairs that are perfect on paved surfaces and chairs that are outfitted to take on rougher terrain and uneven surfaces.
Frequently Asked Questions
Q: Who needs an electric wheelchair?
A: Electric wheelchairs serve people who are unable to people themselves in manual wheelchairs and who have the ability and coordination to safely control a motorized wheelchair. These powered mobility aids assist people with upper limb pain and weakness, cardiopulmonary disease, lack of trunk stability, obesity, or limited endurance.
Q: How much does an electric wheelchair weigh?
A: Several factors impact the weight of a motorized wheelchair, including what it's made of, any additional accessories, the weight of the motor, and the weight of the batteries. Generally, electric power wheelchairs weigh between 50 and 250 pounds.
Q: How long does an electric wheelchair last on a charge?
A: Fully charged electric wheelchair batteries usually last for at least 8 hours, which will cover about 10 miles. There is a wide range, however, with stronger batteries able to power a chair for up to 20 miles between charges.
Summary
With a motorized wheelchair, you don't need to rely on someone else to push you, and you can enjoy the independence, freedom, and access to activities that come with increased mobility. Technological advances have made power wheelchairs more portable, more maneuverable, and more user-friendly, with many features available to serve on-the-go users.
Our list included power wheelchairs for users of different weights, users who spend most of their time inside in small spaces, users who spend most of their time in their chairs off paved surfaces, budget-conscious users, and those who seek portability above all else. The Power Wheelchair LiteRider Envy was our #1 pick as the best overall choice that serves the widest range of users with the most beneficial features for comfort, support, and convenience.
It can be overwhelming to compare all the options available. If you need more information about wheelchairs, check out our informative article How to Choose the Best Wheelchair. Additionally, you can visit Caregiver University for more Buying Guides and Product Reviews.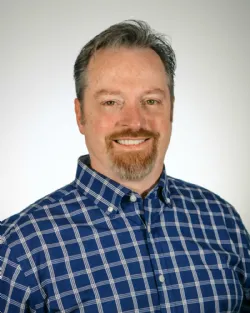 Author:
Co-Founder of Rehabmart and an Occupational Therapist since 1993. Mike has spent his professional career working in multiple areas of Occupational Therapy, including pediatrics, geriatrics, hand therapy, ergonomics and inpatient / outpatient rehabilitation. Mike enjoys writing articles that help people solve complex therapeutic problems and make better product choices.