No matter what the job, it's important to have the right tools, and sports medicine is no different. From compression legwear and joint braces to protective headgear and cold compression therapy, there is no shortage of invaluable products that are designed to help protect their wearer during athletics and/or help an athlete recover following exercise.
Due to the invaluable protection and support they provide, products designed for athletics and recovery are extremely varied and available from a wide range of sources. Because of this popularity, the selection of equipment on the market is as vast as it is diverse, with products from around the globe that are designed to protect or support nearly every region of the body.
While the large selection of sports medicine products is a good sign of these products' usefulness, it also can make finding the best products quite a challenge. To help ensure that you can more easily find the top athletics and recovery equipment available on the market, we've gathered some of the best from our catalog, the best in their markets, to help make your shopping totally effortless.
But first, let's review some of the types of athletic and recovery products available, to help you narrow down what you're looking for.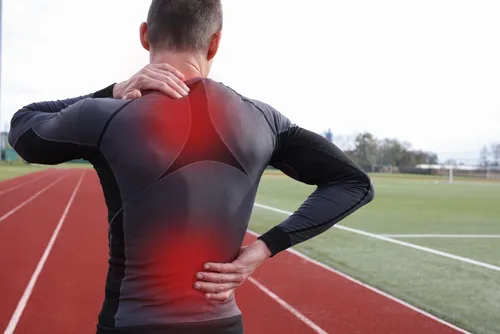 Compression Clothing
Compression clothing is a very popular field of equipment, including a wide range of different clothing designed for athletics. These garments use compression to promote enhanced circulation and muscular support in various parts of the body.
Typically available in shirts, leggings, or shorts, compression garments can be worn both during and after exercise. During exercise, the compression promotes circulation to help stimulate blood flow while also providing light muscular support. After exercise, the circulation-stimulating compression provided by the legwear can help to relieve soreness resulting from physical activity.
Braces
Perhaps one of the most familiar pieces of athletic and recovery equipment are braces. These devices are typically designed to fit around a joint—such as the knee or elbow—to provide support and stability during the course of and/or following exercise. This support is typically intended to help prevent common injuries to these joints and limit the soreness experienced in these joints after physical activity.
Helmets & Head Protection
Yet another familiar category of athletic equipment is helmets, which are an extremely important piece of protective equipment—particularly when participating in high-impact athletics such as rugby, football, and wrestling. Helmets, such as those that will be featured in this Top 7 list, can serve to protect against concussions and other head injuries.
Hot & Cold Therapy
Hot and cold therapy products are designed to provide relief of pain and inflammation associated with injuries or strains of the muscles or joints. Each promotes its own benefits, with heat relieving aches and stiffness, and cold relieving swelling and inflammation. These products range from simple cold packs to unique items designed to fit into the linings of helmets and wheelchairs.
Now that we've reviewed some of the major categories of athletics and recovery equipment, let's jump into our list of the best products available from Rehabmart. Included in this list are both individual products as well as entire product lines from trusted medical equipment manufacturers, such as North Coast, Pflexxsports, TechNiche, and GameReady. The products featured in this list earned their high regard thanks to their durability, cost-effectiveness, performance, and, most importantly, the feedback provided by customers regarding each product.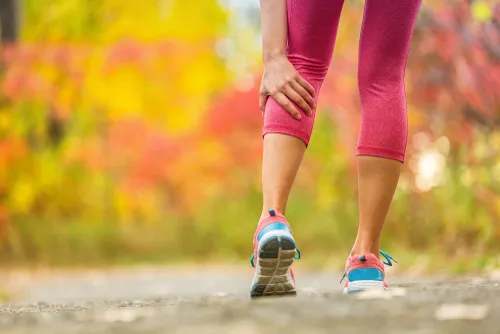 1. Pro 2.1 Cold and Compression Therapy Unit by GameReady
First in our list of the top athletics and recovery products from Rehabmart is GameReady's Pro 2.1 Cold and Compression Therapy Unit. Through innovation and efficacy, this product is a one-of-a-kind, dual treatment therapy device.
The Pro 2.1. Unit is designed to provide a combination of cold and compressive therapy to various regions of the body. This pairs the pain-reducing and anti-swelling effects of cold therapy and the circulation-promoting effects of compression therapy. In this way, the combination serves to uniquely integrate both musculoskeletal pain relief and an accelerated healing process.
The dual treatment is provided through GameReady's Active Compression and Cold Exchange Loop technology, which enables the Pro 2.1 Unit to continuously cool the treatment region while intermittently applying compression therapy. This tandem treatment is able to provide a significant increase in the healing process by enhancing the oxygen supply to the region and stimulating tissue repair.
Features and Benefits
Combines the benefits of cold and compression therapy to enhance healing and reduce pain
Wrap design enables the unit to be used for a wide variety of body regions
Compact, lightweight unit is conveniently portable
Control unit, AC adapter, power cord, and connector hose are all included with the product
2. TechNiche Cooling Products
Next on our list is the selection of cooling products by TechNiche. These products earn high regard in the eyes of customers in large part due to the versatility and diversity they offer the user.
The versatility of these products comes from the wide range of cooling products TechNiche offers. Among their cooling product line, TechNiche offers customers cooling vests, helmet liners, skull caps, wrist wraps, neck bands, wheelchair liners, hats, even dog pads.
However, they do not stop at cooling technology. TechNiche also offers warming products such as hats, back wraps, gloves, hoods, and vests. Basically, if there is a part of the body that you want to keep either warm or cool, TechNiche likely has a product designed for the job.
The products themselves are designed for adjustability, which ensures customers that the product they purchase will be able to fit them comfortably. Additionally, this adjustability is accompanied by a number of general sizing options for most TechNiche products.
Features and Benefits
TechNiche offers a warming or cooling product for nearly every region of the body
A number of warming and cooling products are available for animals such as dogs and horses
Products are adjustable and available in a number of sizes
Each product is designed to be effective while remaining relatively low in cost
3. 2nd Skull Protective Headgear
One of the most popular and unique pieces of athletics and recovery equipment is the line of protective headgear from 2nd Skull. This line of headgear takes a step beyond the normal function of a helmet and instead offers supplemental protections to a common helmet format. Offered in three designs, the protective headgear from 2nd Skull includes a Skullcap Head Liner, Impact Resistant Headband, and a Body Armor Rugby-Style Helmet.
The Skullcap Head Liner is an innovative product that can be worn as an additional layer of protection between a helmet and the athlete's head. Through 2nd Skull's XRD Impact Protection technology, the skull cap serves to further decrease the impact that is directed through a helmet and to the head. For that reason, this headliner is extremely popular for wearing underneath helmets for high-impact sports such as football or hockey.
The Impact Resistant Headband, on the other hand, can be viewed as 2nd Skull's gift to soccer players across the globe. Using 2nd Skull's XRD Impact Protection technology, this headband serves to protect the skull from sudden pressure or impact, such as that experienced when a soccer player uses his/her head to redirect the ball. Additionally, the spandex blend of the headband serves to keep sweat from accumulating and dripping onto the wearer's face.
Features and Benefits
XRD Impact Protection technology stiffens on impact to absorb up to 90% of the energy from impacts
Spandex blend material prevents sweat accumulation and is both stretchable and breathable
Microban antimicrobial technology protects against odor and stains
4. Soft Shell Helmets by GameBreaker
Fittingly following up 2nd Skull's Protective Headgear are GameBreaker's Soft Shell Helmets. These helmets are frequently praised for their shock absorbing abilities and their unique, breathable design.
Softshell helmets, as their name implies, are helmets that are composed of layered, cushioned materials but do not have a hardened exterior shell. They are commonly used in athletics such as wrestling, rugby, and water polo.
GameBreaker's Soft Shell Helmets take their protective role up a notch by implementing GameBreaker's D3O shock absorption technology. This technology provides the highest degree of protection, particularly from impact forces such as those experienced while participating in highly physical sports.
Despite the durable and protective construction of these helmets, their lycra fabric construction allows them to be breathable and lightweight. This facet of the helmets is particularly popular with customers, as the two most common complaints regarding helmet use during athletics are that they are either too heavy, too hot, or both.
Features and Benefits
D3O shock absorption technology provides top-of-the-line protection during athletics
Lycra composition keeps the helmets light and reduces heat build-up
Washable helmet makes cleaning simple and easy
5. Bracelab Braces
Next on our list is the extensive line of braces from Bracelab. With just one glance at the Rehabmart page for this line of braces, it becomes clear why they are so popular: diversity. Similar to how TechNiche provides heating/cooling products for the whole body, Bracelab designs and manufactures braces for nearly every region of the human body.
The selection of braces from Bracelab includes knee, ankle, wrist, thumb, elbow, back, patella, shoulder, and neck braces, but ultimately, the range of braces is seemingly infinite.
The benefits of Bracelab braces extend beyond their diversity, however. The braces are made with a microfiber material that ensures that the joint is supported but still allowed to breathe comfortably. This is particularly valuable for the braces designed to support regions of the body in which sweat accumulation is common or airflow is limited.
Features and Benefits
Bracelab provides braces for nearly every single region of the body
Breathable microfiber material limits sweat accumulation while providing firm support
Each product is available in multiple sizes to ensure a fit for all patients
All braces are high-quality and cost-effective
6.Compression Knee Braces by Pflexxsports
The line of Compression Knee Braces by Pflexxsports is next on our list. This line, which consists of two unique, high-quality braces, is capable of providing dynamic support and therapy to a wide range of people.
The duo of knee braces in this line is the PFLEXX Compression Knee Brace Support Trainer and the PFLEXX Wraparound Knee Brace for Cross Fit Training. At the core of each product is the PFLEXX Power Spring technology—a specialized spring support that is fitted on both sides of the brace and acts by working against physical movement. This provides two valuable benefits. First, it adds to the brace's ability to support and stabilize the knee. Second, it provides resistance to movement that promotes additional muscular development in the knee—an essential function for both recovery from injury and strength training.
Working in a coordinated manner with the Power Spring technology of the brace is the compression therapy provided by the fabric of the brace. This therapy promotes circulation through the knee joint during and following physical activity, which helps to decrease the chance of injury and promote recovery. The fabric itself features ThermoCool material, which is designed to limit the build-up of moisture while also preventing heat accumulation.
Features and Benefits
PFLEXX Power Spring technology provides support and valuable resistance training
Compression therapy provided by the brace promotes better circulation and faster recovery
Available in eight size options in order to fit any body size
ThermoCool material prevents heat and moisture accumulation
7. Opedix Compression Leggings and Shorts
Finally, we conclude our list with the Opedix Compression Leggings and Shorts by North Coast. These compression legwear products are high quality in both design and function, as they boast a number of valuable features.
The 19-panel design of the leggings allows them to provide support and compression therapy to a wide variety of body shapes and sizes. This design enables the leggings to provide support to the hip and knee joints, while also providing some support to the lumbar and sacral regions of the spine.
The leggings and shorts are made with specialized silicone elastic that prevents them from slipping or shifting during activity. Additionally, the lightweight, breathable fabric helps to keep body temperature at a comfortable level and prevent sweat from accumulating during the course of physical activity.
It is important to note, however, that while the Opedix line of compression leggings and shorts is extremely useful for promoting circulation and providing muscular support, it is not designed to treat edema or severe injury. For these purposes, medically prescribed compression therapy products are necessary.
Features and Benefits
The 19-panel design makes the leggings and shorts useable for all body types
Breathable, lightweight fabric promotes airflow and reduces sweat build-up
Cost effective product (high quality at a relatively low price)
Provides support to knees, hips, and lower spinal regions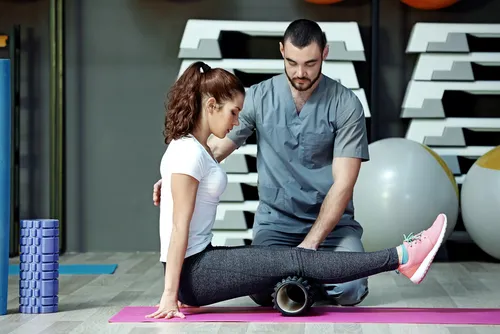 Summary
Each of the products featured on this list is among the top of their class due to their utility, durability, and quality. In addition, they are among the most highly praised athletics and recovery products in the eyes of Rehabmart's customers. To learn more about any of the products in this list or to browse the wide selection of other athletics and recovery products, visit Rehabmart.com.
If you liked this article, and are interested in reading more about rehabilitation, caregiving, or other medicine and mobility-related subjects, check out our full collection of articles on Caregiver University.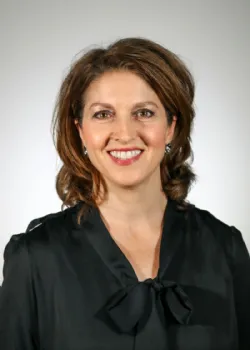 Author:
Megan has been a part of Rehabmart since its inception nearly 20 years ago. For the past several years she has been enjoying her role as HR Director while maintaining her Physical Therapy license. When she isn't working on her next in-service or working to find a new team member, she enjoys her five children, helping those who have PT type ailments, baking, practicing yoga, and working out.