As of 2016, there were 18.5 million US veterans with almost half being age 65 and older. And, as more of our military veterans age into their senior years, their need for appropriate assistive care rises as well.
Although they are a multifaceted and widely varied population, military veterans represent a distinct culture of customs, values, and codes of conduct. Sacrificing everything to protect our country and our freedom, they have served in conflicts around the world, often incurring physical or mental disabilities with the selfless work they do.
While some of these mental and physical challenges are common to the general public, others are unique to military veterans. This disparate nature and origin of veteran's injuries and illnesses require more complex understanding on the part of physicians, therapists, and caregivers in order to deliver the right kind of assistive care.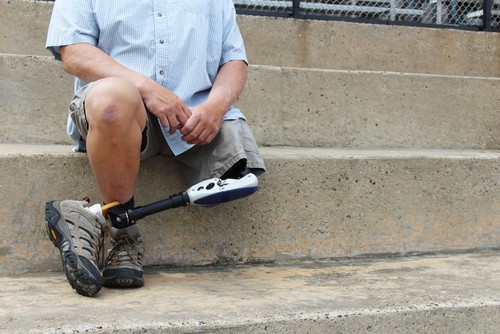 Common Concerns for Veterans
In 2016, there were 4 million veterans with a service-connected disability. Most often originated through their jobs, US veterans are disproportionately affected by certain mental and physical disorders, conditions, and injuries than the rest of the US population. The following are some of the more common conditions and concerns:
Mental Health Disorders
Approximately 33 percent of veterans are diagnosed with at least one mental disorder, and that number rises to 41 percent if you also include behavioral adjustment disorders. Alcohol, tobacco, and drug addiction rates are higher across the veteran population, as is suicide. PTSD (post-traumatic stress disorder) and depression also have a higher prevalence among veterans than non-veterans.
Traumatic Brain Injury
Also known as TBI, traumatic brain injuries are defined as traumatically-induced structural injury and/or physiological disruption as a result of an external force, and military veterans suffer these injuries much more frequently than non-veterans. TBIs can be mild, moderate, or severe, and result in a wide range of acute or chronic symptoms, such as memory loss, cognition loss, disorientation, dizziness, communication impairments, headaches, mobility difficulties, and loss of focus and concentration skills.
Amputations
Because of the violent nature of the conflicts they're involved in, military veterans have a higher chance of living with the loss of one or more limbs. This not only causes physical challenges, but often affects mental and emotional health, as well.
Hazardous Exposure
Exposure to certain toxic and hazardous chemicals, pollutants, warfare agents, occupational hazards, radiation, vibration, and noise can lead to some serious, often lifelong health problems for veterans. Nuclear weapons, contaminated water, burn pit smoke, asbestos, and other chemical and biological weapons all adversely affect veterans significantly more than the general American public.
Chronic Pain
With 82 percent of veterans reporting chronic pain, this number far exceeds the approximately 20 percent of the adult US population experiencing this condition. Often associated with comorbid conditions, such as PTSD or TBI, there are a variety of root and concurrent causes that factor into the experience of chronic pain for veterans.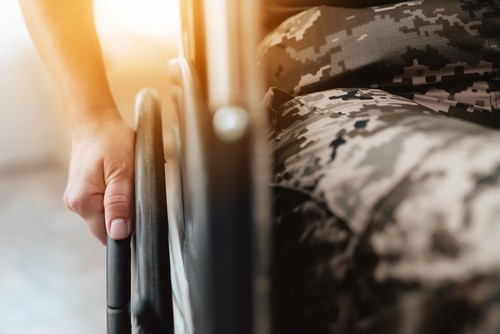 How to Provide the Best Care for Veterans
The type of care that military veterans require is as unique and diverse as the veterans themselves. In addition to what we provide here, there are many resources available through the U.S. Department of Veterans Affairs (VA) for veterans and their family caregivers to support you through every step of the journey.
For those family caregivers preparing their home to be safe and accessible for an aging or disabled veteran, there are a number of areas you should consider to ensure the best living experience for everyone involved. Whether you're caring for a son or daughter, father or mother, grandfather or grandmother, we'll explain all the aspects that tend to affect aging or disabled veterans, and how to provide the best care for your loved one at home.
Braces and Joint Function
Specially designed braces, orthotics, and splints can help relieve pain and inflammation while also keeping the joints properly aligned for healing. Wounded warriors often benefit greatly from the right kind of support, as will any veteran who requires some extra back or joint support.
Whether the affected area is the spine, elbow, knee, shoulder, or hands, there are a wide variety of braces available on the market to help promote correct posture, relieve pain, and decrease inflammation.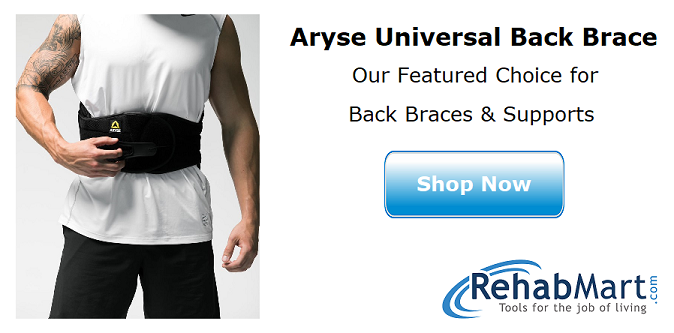 Fall Management
As is the case for everyone living with disability or decreased mobility, fall management and prevention is crucial in creating a safe living environment for aging or disabled veterans.
Reducing clutter, improving lighting, and adding support rails around your home or facility are some common tips for helping to prevent falls, but sometimes falls happen anyway, and it's equally important to consider plans of management and recovery in case they do.
Products like the IndeeLift Human Floor Lift can easily lift someone from a fallen position on the floor to a seated position for standing, and can be operated by the person being lifted, or with the help of a caregiver.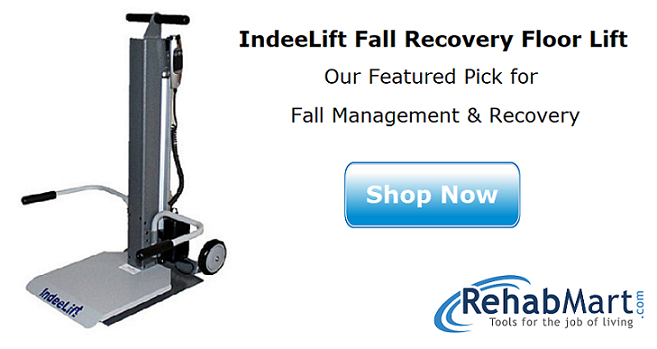 Mobility
Because of the physical injuries many veterans sustain while in service, they often come away with decreased mobility. Whether it's impairment with walking, body/torso movement, or upper extremity involvement, mobility challenges often require specialized care and tools to help people continue to live safe and full lives.
Thankfully, there is a vast assortment of mobility tools to choose from, ensuring every veteran can find just the right equipment they need to fit their specific needs and lifestyle.
Mobility scooters can be a great all-around choice, especially for outdoor excursions. Because isolation and loneliness is a common complaint among aging or disabled veterans, it's important to provide them the tools they need to stay active, engaged, and connected to their communities.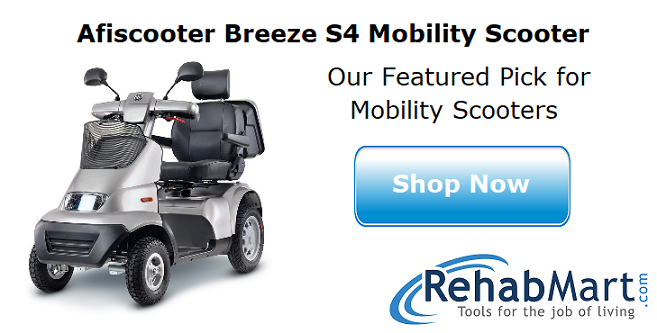 Amputations
The loss of a limb can be a very difficult event to adjust to, and will require a full-team approach to care, addressing the veteran's physical, emotional, and mental needs. There's also several home modifications you may want to consider, dependent upon what type of amputation your loved one has experienced.
If the amputee has lost a hand or arm, there are many one-handed devices to help with activities of daily living (ADLs), such as meal prep boards, can openers, scoop-dishes, nail clippers, dressing aids, and even one-handed walkers.
If you have a below-the-knee amputation, employing a specially designed knee-walking device during the non-weight bearing recovery period can be exceptionally helpful not only for you, but for the caregiver as well.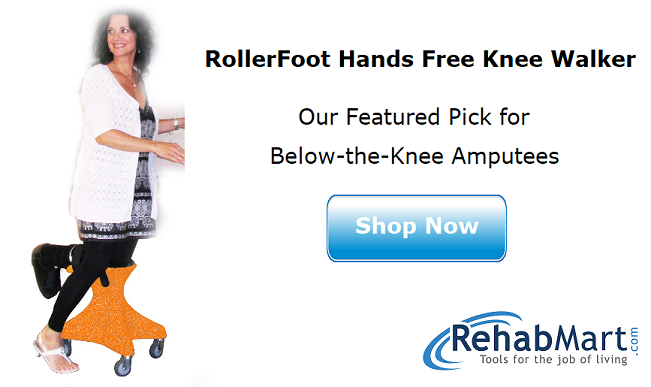 Pain Management
The ways and means to relieve pain are almost as vast as the conditions that create it. Because veterans, especially those involved in more recent conflicts, report a higher occurrence of chronic pain, it's important to look at a variety of methods, products, devices, and equipment that can help alleviate pain and inflammation.
Various topical medications, certain supports, furniture pieces, and more are all designed to help alleviate various kinds of pain. Depending on the type of pain you're experiencing, some may be better applicable than others, and trial and error is a major part of pain recovery despite its many ups and downs.
Staying Active
One of the best things you can do either as a recovering veteran or as the caregiver for one is to keep engaging them in different activities, and encourage them to be social.
Staying as active as they possibly can, with or without disabilities, will help improve their overall quality of life. They'll feel better physically, mentally, and emotionally, enabling them to live life to their fullest potential.
There are a multitude of ways that veterans can stay active, regardless of age or ability. Exercise equipment specifically designed for people with disabilities, even those confined to a bed or wheelchair, can help users retain strength, improve cardiovascular function, and keep their remaining abilities longer.
The Mobo Triton Pro Adult Tricycle Cruiser is a great way to get excited about some outdoor recreation. Its sporty, recumbent design is chock-full of helpful and adjustable features to promote hand-eye coordination while reaping the many benefits of outdoor exercise.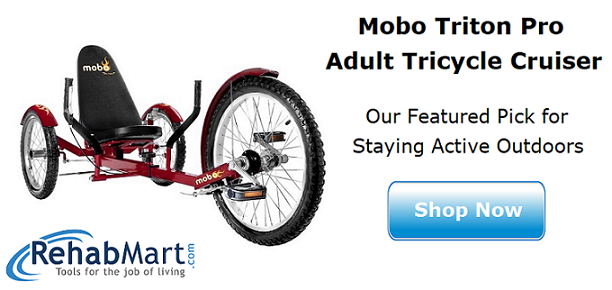 Conclusion
As our aging veteran population grows, more families and facilities are becoming concerned about the best ways they can care for them. Preparing homes, choosing tools, and learning more about effective caregiving, people are taking the steps needed to make sure that our veterans can continue to live comfortably.
At Rehabmart, we very much appreciate our US veterans, and we are proud of our two VA Federal Supply Service GSA contracts. We only provide durable medical equipment and daily living aids that meet the highest standards of quality. If you're looking for more excellent articles like this one, be sure to check out our full library of articles on Caregiver University.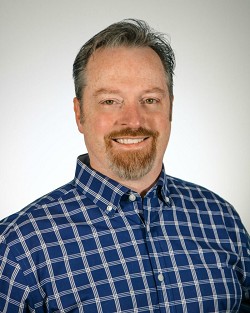 Author:
Co-Founder of Rehabmart and an Occupational Therapist since 1993. Mike has spent his professional career working in multiple areas of Occupational Therapy, including pediatrics, geriatrics, hand therapy, ergonomics and inpatient / outpatient rehabilitation. Mike enjoys writing articles that help people solve complex therapeutic problems and make better product choices.