There's no question that one of the most important tools for a chiropractor, physical therapist, athletic trainer, or massage therapist is the treatment table they use with their patients. While choices abound with varying features and construction, an exciting new format from Hausmann Industries has helped revolutionize the medical therapy industry.
As a prominent and respected manufacturer of therapy, athletic, medical, and rehabilitation equipment for over 60 years, Hausmann has created another exceptional therapy treatment table to add to its impressive resume: the patent-pending Torque Therapy Positioning Table. Its unique design features twelve strategically placed bolster holes and four bolsters to facilitate endless positioning possibilities to suit individual patient needs.
Durable and strong, this table supports up to 600 pounds of weight, making it the perfect choice for chiropractors and therapists who need to press their weight on to the patient to perform specific therapy applications. The bolsters and their particular placement facilitate traction and torque, enabling clinicians to execute more efficient movements with their patients while they engage in safer body mechanics, reducing their own fatigue.
Like having an extra set of hands, the Torque Therapy Positioning Table assists chiropractors, physical therapists, orthopedists, athletic trainers, and massage therapists to:
manipulate the body more effectively

isolate muscle groups

fixate points of contact

better stabilize their patients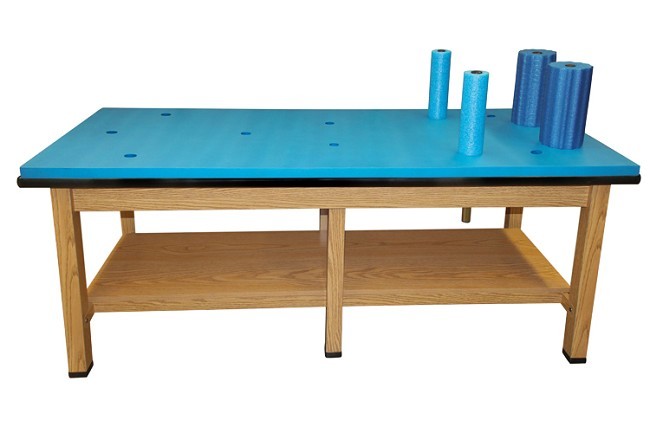 Enhance Your Clinical Practice
The Torque Therapy Positioning Table from Hausmann is the perfect choice to suit a myriad of medical, sports, rehab and therapy applications. Its creative bolster design allows medical and therapy practitioners to immobilize, isolate, or support various joints and areas of the body in order to complete needed manipulations and movements unique to each patient.
In addition to specified stretches and exercises, this table is ideal for:
Muscle isolation
As opposed to compound exercises that work two or more joints and a number of muscles, the bolsters on this table can help expedite muscle isolation exercises, focusing therapy on specific muscles or muscle groups.
Joint distraction
Also referred to as manual distraction, joint distraction is a physical therapy technique often utilized to reduce pain in joints, and increase range of motion. The bolsters can be arranged to provide easier vertical distraction from the concave treatment surface.
Spinal manipulation
Manual spinal therapy, a combination of moving, adjusting, and specially manipulating joints, muscles, and the spinal column is much easier to perform with strategically placed bolsters.
Orthopedic special testing
Used by clinicians in orthopedics and physical therapy, special physical tests are diverse and help to determine differential diagnoses of specific conditions and injuries. Bolsters aid many of these special tests with specified positioning and support.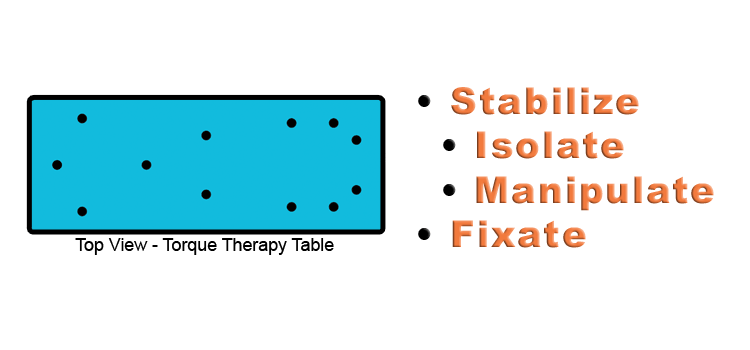 Bolsters Boost Torque and Improve Positioning
The innovative design of Hausmann's Torque Therapy Positioning Table allows clinicians to provide better therapy to their patients while simultaneously improving their own body mechanics. Its twelve holes are arranged in specific placement on the 1.5"high-density foam mat, and the included 12" high bolsters come in two different thicknesses to create multiple therapy formations. The bolsters fit snugly inside the holes for secured and stabilized support.
The bolsters and bolster holes create an endless combination of positioning possibilities for clinicians and their patients, augmenting procedures, treatments, adjustments, and therapies.
The torque table is often used for:
Chiropractic adjustments
Acupuncture
Joint manipulation
Massage
Physical therapy
Cardiovascular rehabilitation
Electrical stimulation
Neurological rehabilitation
Sports performance
Tissue mobilization
Muscle coordination/performance
Wound care
Hausmann's torque table and its unique bolster placement system help physicians to better stabilize their patients, enhancing their comfort. Specially arranged boosters aid in isolating muscle groups, make difficult exercises easier, assist in fixating points of contact to increase force, and help clinicians to manipulate more efficaciously. In addition, the booster design of this table decreases clinician fatigue, as it encourages safer and less strenuous body mechanics.
Because increasing torque basically translates to creating a more effective lever, the specialized layout of the booster holes of this table is designed to boost torque force through the use of the boosters as levers. While they also help with specific positioning requirements, the boosters are used to increase torque without adding any unnecessary and potentially harmful strain to the clinician or patient.
The Hausmann Quality Advantage
As a leading manufacturer of superior quality medical therapy equipment, Hausmann Industries (a division of Dynatronics), is a premium, certified member of the Architectural Woodwork Institute. Utilizing the best available technology in the industry, Hausmann's professional treatment tables highlight all-laminate construction.
Available in either an aesthetically pleasing oak or cherry finish, the laminate formulation of the Torque Therapy Positioning Table ensures the utmost in durability and easy maintenance. It's resistant to scratches and dents, and is simple to disinfect, helping to reduce the risk of cross-contamination.
Other unparalleled Hausmann features found in their torque table include a thick, comfortable, high-density foam mat that's covered by an easy-to-clean blue vinyl outer layer. Their steady and stable six-leg design boasts anti-scuff vinyl caps on their feet to protect flooring, and keeps the table firmly in place. The convenient, full-length shelf below the table provides storage space for the bolsters and other medical and therapy supplies.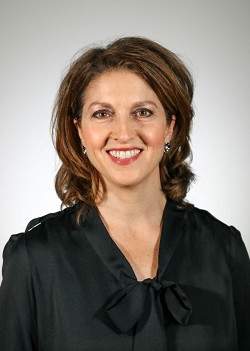 Author:
Megan has been a part of Rehabmart since its inception nearly 20 years ago. For the past several years she has been enjoying her role as HR Director while maintaining her Physical Therapy license. When she isn't working on her next in-service or working to find a new team member, she enjoys her five children, helping those who have PT type ailments, baking, practicing yoga, and working out.