Cervical traction devices relieve neck and shoulder pain associated with conditions like herniated or bulging discs, impact injuries, cervical neck spasms, and arthritis.
What is cervical traction?
Cervical traction is the process of gently stretching the tight muscles and soft tissues of the neck and spine area, separating compressed spinal vertebrae.
By immediately relieving pressure on the discs located between the spinal vertebrae, pressure on the nerves is eased, relieving pain and reducing pressure-related headaches, joint ache, and spinal stiffness.
Where can cervical traction be performed?
Cervical traction can be performed in either a physical therapist's office, a chiropractor's office, or at home. Generally, users of cervical traction devices are seeking to manage pain from an injury or medical condition, so many opt for purchasing their own device and practicing stretching at home.
Before purchasing a cervical traction device, we strongly recommend you speak with your therapist for advice on the type of device that is best for your physical needs!
Features to consider when choosing a cervical traction device
Type of device: over-the-door, pneumatic collar, or posture pump?
Cervical traction can be accomplished through a variety of means, ranging from very low-tech options to ones more mechanically involved. We'll explain the three basic options here, and go into their relative benefits in the sections that follow!
Over-the-door traction devices
Over the door is the most common type of traction device for home use. Patients who use this device wear a chinstrap harness, which then attaches to a counterweight. The counterweight - a bag filled with a measured amount of water or sand - is suspended over a door using a pulley system.
Using the weight from the suspended bag, the user's chin harness is pulled upward, relieving tension on the neck and spine.
Highly versatile and easy to use, over-the-door traction devices can be used while the patient is either sitting up or lying down (depending on the model).
Over-the-door cervical traction devices deliver no more than twenty pounds of tension and are known to produce reliably good results, if used consistently. However, prior to use, every user should first receive a weight recommendation from their physician.
Pneumatic devices
When utilizing this type of cervical device, the patient dons a soft foam cushion which closely resembles a neck pillow. This cushion cradles the user's head and neck.
The head is then secured with a cross-forehead strap for stability, and the user slowly increases the pressure of the neck cushion by use of a hand-held control.
The pneumatic cervical traction device then applies traction by pushing up on the head while pushing down on the shoulders. Depending on the model, pneumatic traction devices can exert between twenty and fifty pounds of pressure.
Posture pumps
A posture pump device is intended to restore the natural C-curve of the neck. In this way, it is intended to encourage and maintain good spinal posture, as well as relieve nerve pain.
To use a posture pump, simply place the unit under your head while lying on your back, and control the amount of pressure with a hand-held switch.
Posture pumps provide stronger traction than either over-the-door or pneumatic devices.
Other features to consider
Cost - buy economically or make an investment?
The cost of a traction device can vary widely. Posture pumps are definitely the most expensive option, while over-the-door units are the most budget-friendly!
Posture pumps can cost as much as $300, while an over-the-door unit can be purchased for as little as $35.00. Finally, most pneumatic devices are available for under $100.
Speed of results - immediate or long-term relief?
Similar to choosing a price point, the rate users wish to see physical results will determine which model of cervical traction device is best for an individual.
Although they are the most expensive option, posture pumps are known for almost immediate results. In fact, they are known to most accurately simulate the results achieved in a therapist's office!
On the other hand, traction with over-the-door devices needs to be repeated regularly to achieve desired results - sometimes up to several times in a day.
Ease of use - set up or no set up required?
A pneumatic device requires no assembly, and can be used right out of the box. On the other hand, an over-the-door model needs some putting together, and a bit of experimentation to find the best weight to place in the weight bag, depending on each user's needs.
Portability - will you travel with your device?
Once again, pneumatic cervical traction devices have the advantage here! They are easy to set up, and they're just as easy to take with you - no matter where you go.
Over-the-door models, however, are not as simple to transport. Corresponding water bags will need to be dried out, and all the device's parts need to be packed carefully and thoughtfully.
Application - apply treatment lying down or sitting up?
Users may have a preference for how they perform cervical traction! Do you prefer lying down, sitting up, or do you not have a specific preference? This factor of positioning and personal comfort will influence your choice of device, as well.
An over-the-door system must be used while sitting up. Users can sit in their favorite comfortable chair, rather than a hard, straight-backed chair or on the ground.
If you prefer lying down while being treated, this would not necessarily be your best option, unless other factors outweigh comfort.
Pneumatic traction devices can be used either sitting up or while users are lying on their backs, providing more options for comfortable positioning during treatment.
Generally speaking, most cervical traction users find that using a soft cushion around their neck is more comfortable than a harness, which places pressure on the forehead and chin.
Specific products worth mentioning
The availability of cervical traction devices is extremely diverse. However, we feel it's worthwhile to mention a few products that stand out from the crowd!
The Seated C-Trax Over-The-Door Traction Kit comes with all the required components to perform cervical traction at home. It includes a universal-size head halter, an exercise guide featuring anatomical drawings to ensure safe usage, and a twenty-pound water weight bag. Many other cervical traction kits sell pieces of the kit—such as the water weight bag or the pulley mechanism—separate from the head halter apparatus. Customers have appreciated the all-in-one feature of this product.
The Procare Deluxe Head Halter Cervical Traction Device has been applauded by users for its cost-effectiveness, but even more for its comfort. Many users have cited this product as an extremely comfortable harness for long periods of traction, and have even purchased it to replace a harness which came with their present traction kit!
The Pronex Pneumatic Cervical Traction System is a pneumatic system offered in not one, but three neck sizes! Users say it produces a high level of sustainable results, likening it to traction received in their therapist's office.
The Carex Overdoor Cervical Traction System is recommended by users for several reasons. First, it is cost-effective, and delivers results not usually given with such a budget-friendly price-point. In addition, while it's always recommended that users have help when exiting a cervical traction harness, the Carex harness can be removed independently - a feature not seen in every over-the-door system.
Is a cervical traction device right for me?
Cervical traction devices are for the most part intuitive and easy to use. However, it's important that any individual seeking an at-home treatment for any medical condition practice caution. Never begin a cervical traction treatment routine without consulting your doctor first.
Individuals who are good candidates for at-home cervical traction treatment are:
A person who knows (and preferably has a medical diagnosis) of a condition that is directly related to the immediate uses of cervical traction treatment
Any person fully recovered from neck or spine surgery and given medical clearance, or any person otherwise given medical clearance to practice cervical traction treatment
Will Medicare cover the cost of a cervical traction device?
Medicare Part B covers cervical traction devices as Durable Medical Equipment (DME), provided the device has been prescribed by a licensed physician.
Will private insurance pay for cervical traction devices?
Most insurance companies are very specific regarding the conditions for which they will cover various types of cervical traction devices. For this reason, it's best to speak directly to your insurance company to see what they will cover and what documentation is required in order to cover the device!
What else do I need to know about cervical traction devices?
As with any medical equipment, certain precautions must be stated when it comes to using an in-home cervical traction device!
First, neck pain doesn't automatically mean you should use a cervical traction device. It is always recommended that users check with a doctor or physical therapist prior to purchase. Neck pain can have a variety of causes, and it's important you know yours before embarking on any form of treatment!
Second, have you recently had neck surgery? If so, you want to be sure you are completely healed before using any cervical traction method or device. In fact, you should be checking with your doctor; they may recommend against traction completely, or recommend a waiting period, depending on your individual situation.
Third, if you do get the green light to use a cervical traction device at home, be sure to follow all the instructions that come with your device carefully. In order to achieve the best results and prevent any kind of physical injury, always stick to the written instruction and counterweight prescription while performing in-home cervical traction treatment!
Last of all, don't overdo it! It is possible to have too much of a good thing; and traction, done too often, can overstretch your neck and do more harm than good.
By following the directions found on whichever cervical traction device you choose, you are sure to experience lasting relief and a pain-free neck spine from the comfort of your very own home!
To see the full range of cervical traction devices RehabMart offers, visit the RehabMart catalog page!
Want to learn even more? Check out our article, The 5 Best Cervical Traction Devices!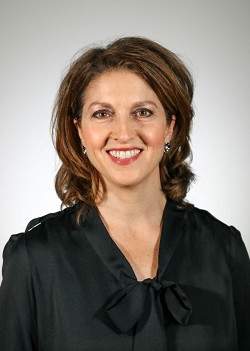 Author:
Megan has been a part of Rehabmart since its inception nearly 20 years ago. For the past several years she has been enjoying her role as HR Director while maintaining her Physical Therapy license. When she isn't working on her next in-service or working to find a new team member, she enjoys her five children, helping those who have PT type ailments, baking, practicing yoga, and working out.