Rollators, often referred to as rolling walkers, are assistive medical devices that provide users with stability and comfort while ambulating independently. Rollators function in a similar fashion to standard walkers, but they make use of wheels to improve the mobility of the device and the user!
Features to consider when purchasing a rollator
Rollator size: general or adjustable?
Because each person using a rollator varies in size and weight, rollators are uniquely designed to accommodate each individual user. Rollators typically do one of two things to accommodate a user's size: some are available in different generalized sizes, while other products have specific locking height mechanisms, which allow the height of the rollator to be adjusted.
Weight: standard or bariatric?
Additionally, each rollator has a maximum weight capacity. While most adult-sized rollators bear weight capacities between 200 and 350 pounds, there are some models which offer higher capacities to accommodate bariatric users.
These rollators will usually make it clear in their product description (look for the word 'bariatric') that they are designed to safely support heavier users, and many are also designed with a wider frame.
Determining which product is best sized to fit you or your loved one is an ideal first step in finding the right rollator!
Seating options: with seat, or without a seat?
Some rollators are designed with a built-in seat at the center of the frame, between the two handlebars. This feature allows users to lock their brakes, sit, and rest at any time they choose. This feature can be very helpful for users if they frequently feel fatigued or strained while walking.
Additionally, some rollators have interchanging seat types and may allow for a toilet seat to be attached to the frame. This would enable users to go to the bathroom simply by centering the rollator over a toilet, and sitting down.
Seating options on rollators can be as important to user safety and comfort as the rollators themselves. For this reason, we encourage customers to consider this option when making a purchase!
Rollator weight: what is the ideal weight?
Rollators can be designed with several different materials - metals, plastics, and blended materials - and depending on the material, your rollator will weigh differently.
Because rollators are already equipped with rolling wheels, thus relieving most bodily strain while the user is walking, the weight of the rollator is only more of a concern if you or your loved one has known difficulty exerting upper body force on an object (navigating the rollator over a rise in the ground, or lifting it in any way).
When browsing the field of available products, keep an eye out for aluminum, which is typically both sturdy and lightweight - preferred by users who need that extra bit of comfort and ease while mobile.
Rollator casters: understanding wheel size
The casters of a rollator come in a variety of sizes. Most rollators make use of casters between six and ten inches in diameter.
In many cases, larger casters let users take the rollator outdoors and across a variety of terrains, since the size helps to offset the shock of uneven ground. Casters that are eight inches in diameter or larger typically enable a rollator to be used in many outdoor environments.
If you or your loved one plan to use a rollator outside, keep an eye out for larger wheels!
Additional/optional features on your rollator
Like any good lifestyle tool, rollators can be uniquely customized in many different ways to fit the exact needs of the user.
Some of the optional features for rollators include ergonomic equipment, cushioned seat tops, attachable side bags/baskets, and a variety of color and design options.
Each optional feature could be a necessity, but it depends on what features are important to the user. If an individual is highly mobile and takes their rollator with them nearly everywhere, having the option to add a basket for personal belongings could make a world of difference!
Consider where and how you or your loved one will be using their rollator, and then consider which add-on features will make daily life more simple.
Rollators we recommend
Just like you or your loved one is individual and unique, the selection of rollators available from Rehabmart is diverse! So whether you are purchasing for in-home care, hospital care, or rehabilitation, Rehabmart offers a wide selection of rollators from trusted medical equipment manufacturers, such as Drive Medical, Medline, Provider Health Systems, Trionic, Convaquip, Invacare, and many more.
Here is a small selection of some of the most popular rollators available from Rehabmart: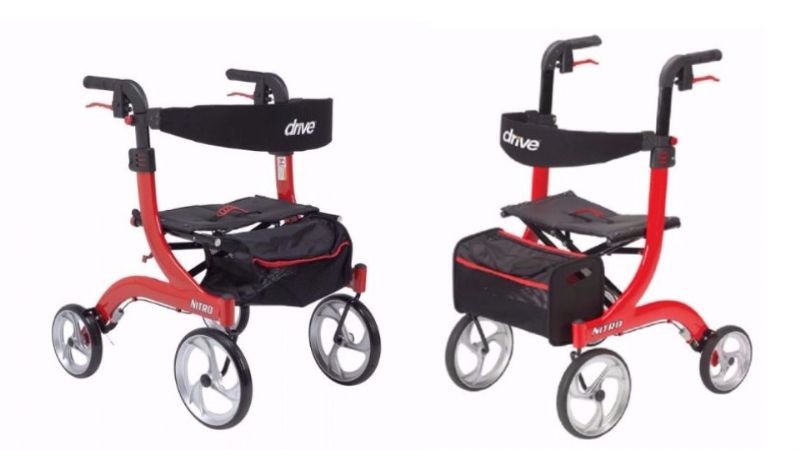 Drive Medical RTL Nitro Euro-Style Walker Rollator – Possibly one of the most popular rollators available from Rehabmart, this product is widely praised by customers for its ability to accommodate any and all user sizes. The rollator combines the sizing methods that were noted in the previous section by offering three general sizes (petite, standard, and tall), which are all capable of smaller height adjustments for a perfect match to the user's height. The rollator also offers users the option of back supports, tote bags, and cane holders, among many other additional features.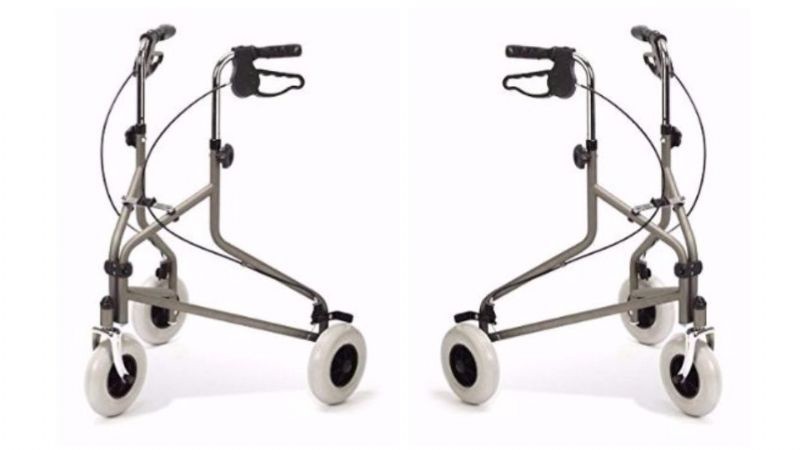 Guardian Envoy 380 3-Wheel Rollator – This rollator features a unique three-wheel design, as opposed to the traditional four-wheel design of most products. This allows it to be lighter in weight, more precise in directional movement, and less expensive. The arrangement of this rollator's wheels also makes rounding tight corners or moving through cramped doorways considerably easier for individuals on the go. The low price of this rollator is also a great product advantage, as customers are quick to point out!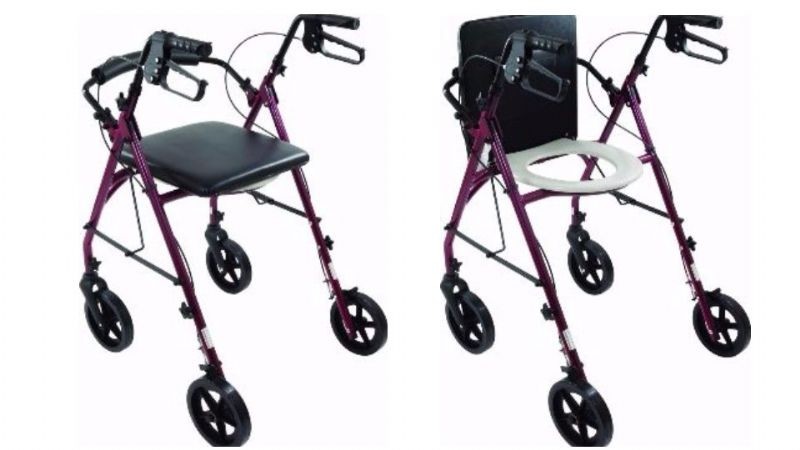 Free2Go Mobility Products Rollator with Built-In Commode – This novel product merges the utility of a rollator with that of a toilet safety tool, as it is outfitted with an adjustable commode seat upon which users can sit when using the bathroom! The attached toilet seat is raised to make sitting significantly easier for users. In addition to the commode seat, this rollator is specifically designed to center over any toilet and offers users a side-pouch for conveniently and discreetly holding cleaning products.
What else do I need to know about rollators?
Rollators are a wheel-based alternative to standard walkers, and are capable of being used in both indoor and outdoor environments. These handy devices make use of 3 - 4 durable caster wheels at the base of their frames.
At the top of the rollator are typically padded or ergonomic hand grips with hand brakes, which are designed to smoothly and immediately halt the rollator's movement when engaged. Additionally, many rollators feature a seat in the center of their frame upon which users can stop and rest.
Generally speaking, rollators enable users who have difficulty walking independently to do so in a safe and comfortable fashion. The large caster size seen in most rollators allows these users to even maintain their freedom and even venture outdoors!
Who could benefit from using a rollator?
Any user who feels unsteady when walking independently would find a stable, steady solution in a rollator.
Individuals who use rollators commonly include those with muscular weakness, arthiritis, leg injuries, conditions which impact motor function/balance, and elderly users, among many others.
Rollators provide mobility as well as increased safety and independence, helping users to continue moving about freely. It is important to note, however, that rollators are ideal for users who only require assistance maintaining balance while moving. Users who will depend on their ambulatory device to support the majority of their weight might be better suited to use a standard walker or wheelchair.
How could a rollator benefit me or my loved one?
The benefits of implementing a rollator are manifold!
First and foremost, a rollator enables a user to walk with a drastically increased degree of stability and comfort. This support also considerably decreases the risk of falling, which is one of the most common injuries to elderly users.
Rollators are not limited to helping only the person using the device, however. By providing increased stability to the user, a rollator also helps to prevent injuries to caregivers, who are often at risk of injuring their backs and legs when trying to support an unsteady user during movement. In this way, making a rollator part of daily life can protect both users and those who care for them!
Does Medicare cover the cost of a rollator?
In short - yes! Any products considered to be durable medical equipment (DME) are covered under Medicare Part B.
Fortunately, rollators (as well as standard walkers and two-wheel walkers) are categorized as DME, and are therefore covered. In most cases, however, a physician's prescription is required for Medicare to provide necessary coverage.
Does private insurance cover the cost of a rollator?
Usually, private insurance policies concerning DME follow the lead of Medicare. However, it is important to note that this is not always the case. Because of this, we recommend you look into your policy's coverage regarding rollators prior to making a purchase.
The purchase of a rollator is a positive step in providing you or your loved one with safety and comfort while moving independently and providing caregivers with peace of mind! Whether you are researching products to find the one best suited to addressing your needs or ordering one to be delivered to your door, Rehabmart is here to help you every step of the way.
We encourage you to look through our selection of rollators at Rehabmart.com to get started!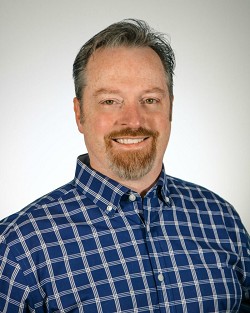 Author:
Co-Founder of Rehabmart and an Occupational Therapist since 1993. Mike has spent his professional career working in multiple areas of Occupational Therapy, including pediatrics, geriatrics, hand therapy, ergonomics and inpatient / outpatient rehabilitation. Mike enjoys writing articles that help people solve complex therapeutic problems and make better product choices.