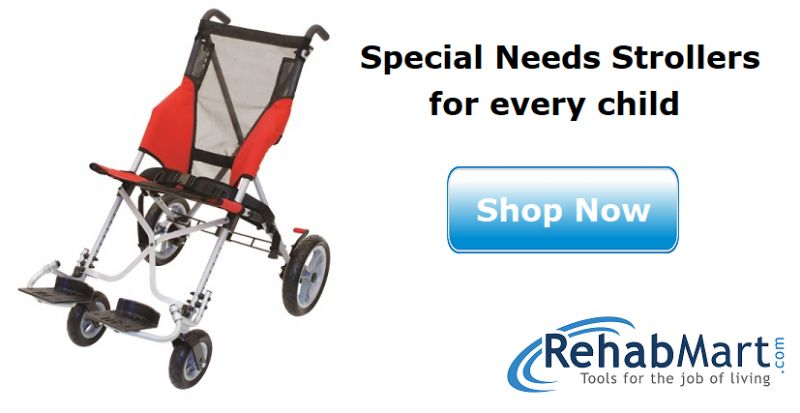 Special needs strollers, or adaptive strollers, are modified transportation devices for children with limited mobility, allowing these kids to more easily traverse any terrain and move around with their families. Special needs strollers are controlled and operated by a caregiver, and allow the child to participate in social outings while requiring little to no exertion from the child themselves.
Features to consider
What is the height & weight of your child?
All pediatric strollers have a specific weight capacity. Many come in several size options and accommodate small children, school-age children, or teens. On the other hand, early intervention strollers are designed specifically for small children.
Depending upon your child's present size, and their projected needs as they get older, you may want to consider a stroller that has the capacity to grow as your child grows. This could be a more economical choice, permitting you to keep the same stroller for a period of years.
How much support is needed?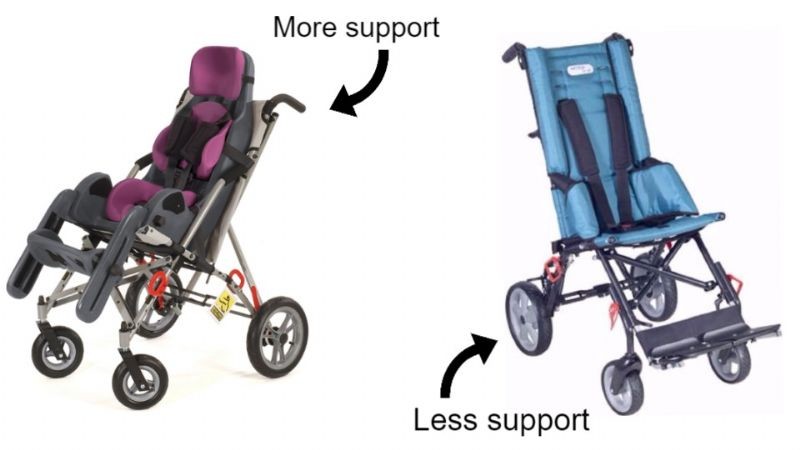 The amount and type of physical support your child requires will play a big part in your selection of a special needs stroller. Again, this is where a therapist can help.
For the child who requires the mobility a special stroller offers, but has minimal need for trunk and head support, a stroller with upright seating could be a good choice. Just be aware that you will not have the option to recline your child for naps; these strollers are probably best for shorter outings.
When a child has significant challenges with muscle tone, and upper body/head control, a totally upright stroller will not give sufficient support. A better choice would be one with a tilt and/or recline seating system.
By positioning your child in a reclined or tilted position, you're providing them with the head and trunk support they need, and the most comfortable ride possible. Also, this type of stroller is accommodating for a child who requires suction, or when you'll need access to a G-tube for feeding.
Being seated at an angle can make digestion and respiration easier for a child with low tone, and can relieve pressure on joints. A therapist will be able to evaluate how much tilt is needed to best accommodate the particular health needs of your child.
Finally, a tilt/recline seat will allow your child to nap comfortably when you're out and about for any length of time.
Will it fit in your car?
Odds are, you'll want a stroller which fits easily into your trunk or rear of your van - the last thing you want to do is struggle with stowing or removing your child's stroller in the midst of a busy day or family outing!
To ensure the right fit, simply measure the interior dimensions of the trunk or storage area before purchasing a stroller, and make sure the stroller's product specs are compatible with your vehicle's measurements.
Where will you be going?
This is an important consideration since different strollers are constructed with different activity levels in mind.
Some strollers are meant for simple outings around town, such as to the store or playground, but not for more strenuous activity like jogging or use on rough terrain. Although some strollers may feature wider tires, making pushing on gravel easier, these are also not intended for all-terrain use.
Quite a few strollers are specifically built for jogging with your child. These strollers are lightweight, have a wider base for stability, and include features such as an easy-grip handle, front-locking wheels for rougher ground, and shock absorption.
If you'll be traveling over rough ground, dirt, or sand, you will want an all-terrain stroller. These strollers usually feature large wheels, possibly with hand brakes or knobby tires for traction.
Will the stroller be used on public transportation?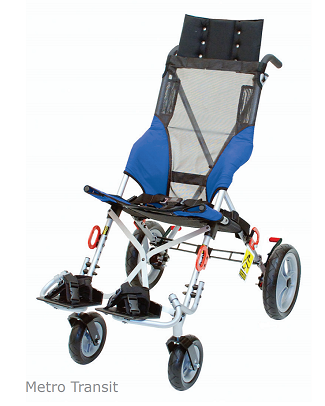 Some manufacturers offer 'transit models' of their more standard stroller, which allow you to travel with your child on buses and other public transportation. Some transit models even have tie-downs that are suitable for use on the subway or your child's school bus.
When shopping around for a transit-friendly stroller, look for a model that complies with WC19 standards. These are safety standards established by the American National Standards Institute and the Rehabilitation Engineering and Assistive Technology Society of North America. A stroller that is WC19 compliant has been crash-tested, and found to be safe for use in a motor vehicle.
How would a special needs stroller benefit me or my child?
Let's face it: your child's wheelchair was not designed for the great outdoors, or even for a quick and easy trip downtown. Even if it's collapsible, it's large, heavy, and definitely not built for rough terrain.
An adaptive stroller can open up a world of experiences for your special needs child. As an alternative to a wheelchair, the right stroller will allow your child to participate fully in family adventures and everyday activities, while making it easier for you to include them.
Quick trips to the supermarket with your child are a cinch with a lightweight, agile stroller that makes it easy for you to position them comfortably.
We recommend you look to your child's therapist or doctor as a resource. They can help you evaluate the various features we'll explain here, and find the combination that works for you and your child. With their help, you'll feel even more confident in your choice of stroller.
It's important to note that some companies do not accept returns on strollers, due to the customized nature of their product. This makes it even more important to consult a therapist or seating specialist for help before making a purchase!
Brands worth mentioning
Convaid, Special Tomato, and Leggero are three great brands to start with when looking for your special needs stroller.
Convaid offers a full complement of stroller types, from lightweight, on-the-go, upright models, to rugged terrain and jogging models. Several transit strollers are part of their line as well. Convaid strollers come in a wide range of tilt angles, from slightly tilted to almost fully prone, offering you a chance to make a more precise selection based on your child's individual positioning needs.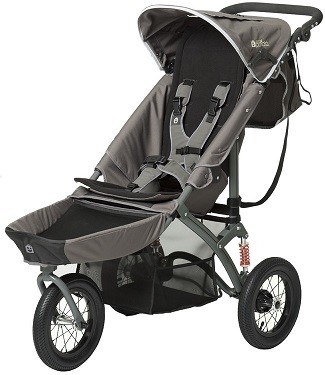 Special Tomato also offers a unique range of strollers with models meant for light or rugged use. They are well-padded, and many are designed to grow with your child. They even offer a unique stroller specially designed for joggers in the Special Needs All-Terrain Jogger. The highlight of the Special Tomato brand is their creation of base seats that can be transferred between different types of shells including strollers, activity chairs, car seats, and even school chairs. These versatile seats can be a great boon to parents of special needs children looking for a simpler solution for seating.
In one instance, Convaid and Special Tomato have combined forces to customize a stroller even further.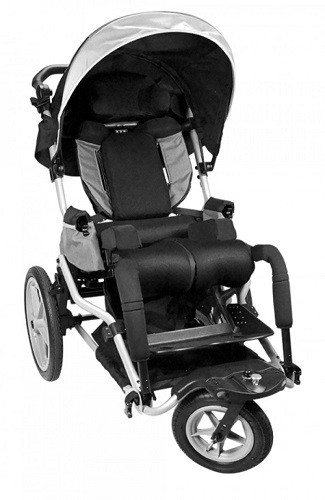 Leggero is the top of the line special needs stroller brand, offering fully customizable strollers with a wide range of positioning and support options. They bring their patented Activator Dynamic Seating and Respond Contoured Seating Systems to the table, providing ergonomic postural support capable of being comfortable even through extended use. They also offer transit-friendly designs that are made to be lightweight and easy to use on public transportation without sacrificing comfort or support.
Another stroller that deserves an honorable mention is the Baby Bug Beach Jogger, a unique design that features fat, polyurethane wheels built specifically for taking on shoreline and sand dunes. This is a great option for families living in coastal towns or those looking for a good solution for their beach vacation.
To learn more about these and all the great brands of special needs strollers that we offer, check out our full selection at special needs strollers at Rehabmart.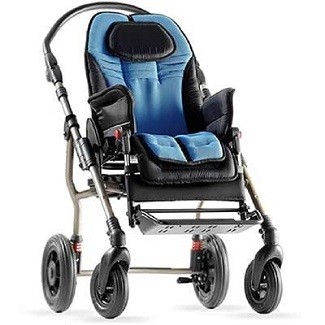 Does Medicare typically pay for special needs strollers?
Wheelchairs and walkers are covered by Medicare as Durable Medical Equipment. Your doctor may need to help you prove that your stroller also falls under this category. If it meets the requirements for Durable Medical Equipment, chances are, it will be covered!
To be considered Durable Medical Equipment, a device must be used primarily for a medical purpose, rather than for comfort or convenience. It should be prescribed by a physician, and not useful to someone without illness or injury. It must be reusable, rather than disposable, and appropriate for in-home use.
Does private insurance typically pay for special needs strollers?
Insurance companies and policies vary, but some general rules do seem to apply.
As with Medicare, you'll need a written statement from your doctor that the stroller is medically necessary for your child's condition.
Also, some people have found it helpful if the claim describes the device as a wheelchair or medical mobility device. It's best to avoid the word 'stroller,' as this brings to mind baby strollers, which clearly are not 'medically necessary'.
What else do I need to know about selecting the right special needs stroller?
Some stroller seats are detachable, and serve as therapeutic positioning seats in the home. This can add a level of convenience if your child has significant positioning needs. By not having to remove them from the stroller seat, you avoid a needless transition for them, and for you.
Also, you should be aware of the distinction between 'tilt' and 'recline' when it comes to seating. A reclining seat has a back that lowers anywhere from slightly to a nearly prone position. With tilt-in-space seating, the entire seat actually reclines. This often is even more helpful in relieving pressure on joints, and provides the most optimum positioning for medication and suction tube access.
Visit the RehabMart catalog page to see a more complete range of special needs strollers. You may wish to bookmark this page and review it along with your child's therapist, for help evaluating your options and making the best decision for you and your child!
Want to learn even more? Find dozens of videos featuring products and caregiver tips like these at Rehabmart's YouTube channel!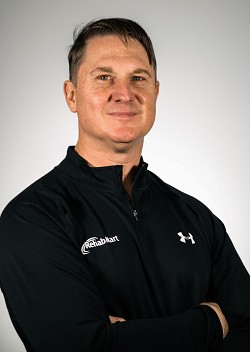 Author:
Co-founder/CEO of Rehabmart, Pediatric Occupational Therapist, husband, and father. Passionate about connecting special needs kids with superb nutrition, sensory integration, and complementary health strategies. Excited about Rehabmart's mission to become the premier online educational platform which empowers caregivers by spotlighting innovative devices and interventions to achieve optimal patient response and recovery.