Walkers are mobility aids, providing support to individuals who have difficulty walking or maintaining balance without assistance. Walkers are typically utilized for the elderly, those with mobility challenges, or those rehabilitating from a physical injury.
Features to consider when choosing a walker
Walker design: wheels or no wheels?
The choice between a basic walker or a unit with wheels (commonly known as a rollator) is one of the first and most important design choices you'll need to make! The choice between a stationary walker and an ergonomic walker depends upon several factors, all of which come down to the user's preference and anticipated use.
Basic walker
Basic walkers without wheels intuitively offer the most stability. With four legs which adjust to the user's height, this strong, stationary base is both simple and secure.
However, be aware that a walker without wheels must be lifted with each step the person takes! The user must have sufficient strength to perform this motion over and over again. Also, in terms of efficiency, this process will almost assuredly be slower than it would be with a wheeled walker.
Something else to consider: basic walkers can more easily get caught on carpets or uneven outdoor terrain, making chances of a fall more likely. For an individual with an active lifestyle, a rollator may be a better choice (provided certain safety factors are considered).
Rollator
When transitioning from a sitting to a standing position, or back again, a rolling walker, or "rollator", employs hand brakes to prevent it from rolling away. Therefore, it's essential for the user to have sufficient hand strength for braking repeatedly, and that they are cognitively able to understand the importance of engaging the brakes when standing up or sitting down.
Most rollators come with a basket attached to the front of the walker (or can accommodate one). Having a place to carry personal items leaves the user's hands free for gripping and braking. Also, it eliminates the need for carrying things in a cross-body bag, which can cause poor balance.
Many rolling walkers also come with fold-up seats, situated between the handles of the walker. This is a great convenience, allowing the person to rest when needed during longer outings.
Front walker or hemi walker?
Standard walkers have four legs, with or without wheels, and are used by gripping two handles, one on either side, similar to a bicycle's handles. In some instances, though, a side walker, or hemi-walker, is more useful.
A hemi-walker can take the place of a cane for someone who may not need a front walker, but does require assistance when standing up and sitting down. Also, those who need the stability of a walker, but can only use one arm, will find an ideal compromise with a hemi walker.
Because it touches the floor in four places rather than one, a hemi walker offers a wider and more stable base than a cane would, making it a safer choice for users who can use only one arm for support.
Framing: anterior or posterior?
Most walkers are anterior walkers - this means as the user walks, they move the walker in front of/ahead of them. Anterior walkers are meant to provide stability and balance.
In contrast, a posterior walker is one pulled from behind.
Posterior walkers are intended for users who need forearm and shoulder support in order to maintain proper alignment for walking. Also known as gait trainers, these walkers are frequently used by children who have cerebral palsy and other neuromuscular disorders, to teach postural control and balance during walking.
Research has shown some people who use gait trainers have improved posture and hip extension. People who are re-learning to walk after an injury or illness may be prescribed a gait trainer by their doctor.
Walker size: child, teen, or adult?
Certain walkers adjust in size to accommodate various users, from child all the way through adult. Others walkers are designed specifically for pediatric use, while still others are meant for teen and adult users only.
The easiest way to find whether or not a walker is sized for a child or an adult (because, at first glance, it may not be evident) is to look into the product's description.
RehabMart is proud to offer a fine selection of pediatric walkers and gait trainers! Visit our category page to view the full range of products we offer.
Handlebars: plastic or foam grip?
Plastic hand grips are considered to be a standard feature on many lower-cost, no-frills walkers.
If your hands tend to get sweaty, it's probably best to reach for a walker with foam hand grips. Many people prefer the secure feeling of foam over the low-profile feel of a plastic grip, and find that it gives them a greater sense of comfort and ease.
When is the right time to consider a walker?
Many people associate the use of a walker with elderly or disabled individuals. In fact, there are quite a few situations where a person could greatly benefit from using a walker, even if they are neither of these things!
Decreased weight-bearing ability – A walker will greatly benefit a person who is unable to stand reliably for any length of time. Some reasons for this lack of ability to stand without support may be a healing wound, pain from poor circulation, arthritis, hip precautions, limited mobility following surgery, or learning to walk with a prosthesis.
Easily fatigued – Fatigue can be caused by the natural aging process, but also by respiratory disease, arthritis, or chronic pain. In any of these cases, utilizing a walker will allow an individual to receive the support needed to take slower, deeper breaths.
Poor balance – There are many various causes for a loss of ability to balance. These can include multiple sclerosis, stroke, low blood pressure, or inner ear imbalance. The reassurance of having a walker to lean on means more mobility, which can, in turn, increase physical fitness.
Too many people in the above situations report experiencing a feeling of isolation when they're unable to get around as well as others. Utilizing the right walker allows these individuals to remain an active part of their social groups and families, in addition to participating more joyfully in daily life.
How do I measure for a walker?
To determine the right height for a walker, the user should stand upright with their arms resting naturally at their sides. The length measured from the crease of their wrist to the floor should be their appropriate handle height.
Another important factor to consider is walker width. Your walker will need to fit through standard doorways (as well as bathroom stalls), both of which can often be quite narrow. The simplest way to avoid going home with a walker that's too wide is to measure average doorway width, and compare it to the width of the walker you're considering.
Do I need a bariatric walker?
A bariatric model walker is appropriate for users who weigh more than 400 pounds. These walkers are designed to safely bear a significant amount of weight.
Users who have difficulty balancing while standing might also benefit from a bariatric walker; it will allow them to rely on the walker to keep them upright.
Some bariatric models also come with an optional wheel kit. When selecting this option, be sure the user can support the majority of their own weight, and feels confident in their ability to control a wheeled walker.
Can I travel with a walker?
When selecting a walker, determine whether it will fit in the trunk of your car when the walker is folded down. (Companies and catalogues should be able to provide you with the measurements of their products in a folded position.)
I may go without saying, but needing a walker does not have to prevent you from enjoying adventurous vacations! There are walkers specifically designed for rough terrain, such as the beach or garden, and others that offer safety and stability while in a swimming pool!
Finally, for the serious traveler, check out this sleek, lightweight, and aptly named travel walker!
What if I only need a walker temporarily?
If you are recovering from a foot injury and want more ease of mobility than crutches can offer, a knee walker is a great alternative. It's useful for anyone recovering from foot surgery, amputation, ulcers, or injuries like breaks and sprains.
When using a knee walker, the user looks a lot as if they're on a scooter. The injured leg rests on a padded 'seat', and movement is achieved by pushing off with the other leg. Hand brakes allow safe stopping.
Will Medicaid cover the cost of a walker?
Medicare Part B covers walkers (and rollators!) as Durable Medical Equipment, provided they are prescribed by a licensed physician.
Will private insurance cover the cost of a walker?
Most large health insurance companies will also cover your doctor-prescribed walker or rollator as Durable Medical Equipment. That said, it's always wise to check with your particular insurance carrier about their specific DME policy prior to purchase.
Summary
The use of a walker can bring a sense of independence back into life for people who no longer have the stamina or balance to walk without a helping hand.
Considering adding a walker to you or a loved one's daily routine? Visit RehabMart's catalog page to get started!
Want to learn even more? Find dozens of videos featuring products and caregiver tips like these at Rehabmart's YouTube channel!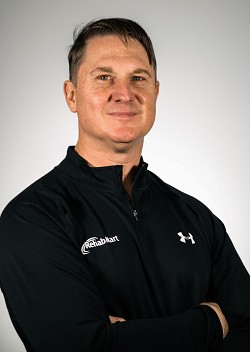 Author:
Co-founder/CEO of Rehabmart, Pediatric Occupational Therapist, husband, and father. Passionate about connecting special needs kids with superb nutrition, sensory integration, and complementary health strategies. Excited about Rehabmart's mission to become the premier online educational platform which empowers caregivers by spotlighting innovative devices and interventions to achieve optimal patient response and recovery.