A manual hydraulic patient lift helps caregivers to lift and transfer a patient from one place to another in a safe, secure, and comfortable way. This helps takes the stress and strain out of patient transfers, which helps prevent both patient and caregiver injuries. They're also one of the most affordable patient lifts, with durable, quality selections that can fit any budget.
Caring for a loved one at home can be challenging, especially if they are experiencing impairments to their mobility and require more assistance in moving around. When getting in and out of bed, a wheelchair, or a recliner becomes too difficult, a hydraulic patient lift is a perfect solution.
5 Best Hydraulic Patient Lifts
The Top 5: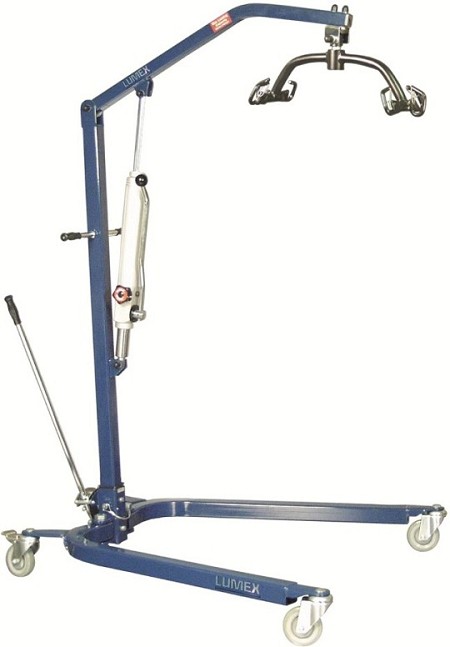 Capturing the 5th spot in our review with its versatile options and heavy-gauge steel construction, the LUMEX Hydraulic Patient Lift by Graham Field comes in both a hand-operated and foot-operated design to suit unique user preferences. Weighing 90 pounds, this patient lift is easy to disassemble for lightweight transport and storage, enabling users to take it along in a vehicle for travel, or store it in a closet or under the bed.
Its 6-point spreader bar provides accessible 360-degree rotation and accommodates 2, 4, or 6-point slings for flexible usage. This LUMEX lift is available in a stylish and contemporary black or blue color and can be ordered with a medium or large sling. Both the LF1030 and the LF1031 models offer a floor clearance of 5.5 inches, a minimum lifting range of 27.4 inches, and a maximum height of 80.3 inches. The LF10FP model that comes with the foot pedal provides a lower floor clearance of 4.4 inches and a lower minimum lifting range of 23.8", making it the better choice for floor transfers and/or getting underneath beds and furniture with lower clearances.
The hand pump and foot pedal are conveniently located to ensure ergonomic access and operation for the caregiver. All three models come with an adjustable base to better navigate around wheelchairs, toilets, and furniture and to get through doorways. This hydraulic lift safely accommodates users weighing up to 400 pounds.
Features & Benefits
Easy to disassemble for lightweight, compact transport and storage
Choice of ergonomic hand-pump or foot-pedal operation
Foot-pedal model is well suited for floor transfers and low-clearance furniture
6-point spreader bar highlights 360-degree rotation for maximum accessibility
Customer Feedback
Pros
Highly durable, well made, very high quality and easy to maintain
Works great, easy to use, rolls well over any carpet types with its dual casters
A lifesaver and a must-have for people living with mobility challenges and their caregivers
Wonderful support for lifting people who have fallen to the floor
Cons
Lift parts may be too heavy for some caregivers to disassemble independently
Instructions that came with the lift were unclear, but users were able to see how easy it was to operate by watching YouTube videos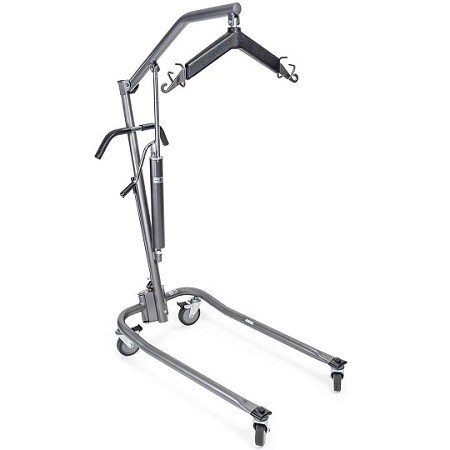 Coming in at #4 on our list, the Drive Medical Deluxe Hydraulic Patient Lift delivers high-performance hydraulics and durable steel construction to maximize strength and functionality. Accommodating users weighing up to 450 pounds, this medical lift comes in two different models - the first includes a 4-point cradle for 2 and 4-point slings and has a sleek silver vein finish, while the second includes a 6-point cradle to hold 2, 4, and 6-point slings and has contemporary chrome plating for added strength. Both models can also accommodate two chain connections from the cradle, which are included.
The adjustable-width base of this deluxe Drive Medical lift enables better maneuvering through doorways and around furniture, along with 5-inch casters that also include brakes to improve control when the unit is stationary. Its extensive boom height range of 17.5 to 72 inches on the silver vein model and 17.5 to 62 inches on the chrome-plated model facilitates safer lifts from the floor, along with toileting, wheelchair, and bed transfers.
The state-of-the-art hydraulics on this lift ensures a gradual, gentle lifting motion, optimizing user comfort and caregiver control. Easy to use and simple to maintain, this 72-pound lift can be disassembled for easier transport in a vehicle or for compact storage when it's not in use.
Features & Benefits
The adjustable-width base is easy to maneuver around furniture and doorways
4-point or 6-point cradle options with 2 sling chain connections
High-performance hydraulics ensure smooth, gentle, and gradual lifting motion
Generous lift range enables lifts from the floor and any other stationary position
Customer Feedback
Pros
Easy to set up and operate, very smooth and comfortable lifting movement
Exceeded expectations, very durable, high-quality equipment and provides peace of mind for people prone to falls
Most users appreciated how it could be disassembled and transported in an SUV, van, or truck - one 80-year old customer said even though the parts were a bit heavy, he was able to manage this disassembly and packing it into the van by himself
Cons
Lift is too big for smaller homes and rooms, like tiny apartments and bathrooms
This lift does not come with a sling
May not have a high enough lift range for higher beds - be sure to measure first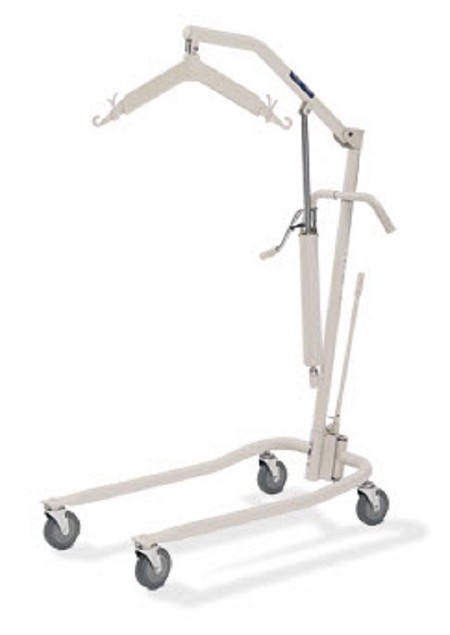 The low profile and slim design of the Invacare Manual Hydraulic Patient Lift 9805P earn it the 3rd position in our review. It's also one of the lowest-priced, yet it never sacrifices quality and benefits for its affordability. Accommodating a 450-pound weight capacity, this durable steel patient lift offers either attractive chrome plating or a painted beige finish to add protection. Versatile to handle most any and all patient transfers, this lift is also easy to assemble and disassemble for quick transport, set-up, and storage, weighing a total of 68 pounds, the lightest on our list.
Its padded, 6-point swivel bar accommodates all sling styles and positions, while its padded, elongated push handle optimizes comfortable caregiver control. The pump handle on this Invacare lift can rotate from side to side for caregiver convenience, while low-friction casters improve mobility on any carpeting or flooring and further contribute to the caregiver and patient safety. The offset boom and mast configuration improve the lift path, maximizing its full travel range of 20 to 64 inches, which also enables lifts from the floor.
The adjustable base of this manual hydraulic lift closes down to 22 inches, making it a breeze to get through doorways and maneuver in tight, small spaces. The completely enclosed cam moves the legs of the base, while the base is easy to clean with its innovative obstruction-free operation. A screw-in pin at the base of the mast maximizes stability, preventing removal of the mast. Side to side sway is reduced with its beneficial 360-degree rotational capability, providing optimal patient comfort and smooth, safe accessible transfers.
Features & Benefits
Low profile and slim, compact configuration to fit in small spaces
Padded 6-point swivel bar rotates 360-degrees for full access
Offset mast and boom maximize lift path and full travel range
Side-to-side rotation pump handle for caregiver convenience
Customer Feedback
Pros
Works as advertised, just what was needed to help loved ones get up from the floor after a fall, or for daily transfer needs to and from a wheelchair, bed, toilet, or recliner
Compact size works well in smaller rooms and homes
Great value and low price point for exceptional quality and performance
Easier to disassemble, lighter in weight than other lifts tried in the past, many customers are thrilled they can transport it for use on vacation and when they travel
Cons
Does not include the sling
The higher 6.5-inch clearance may not be low enough to fit under some types of furniture
No wheel locks or brakes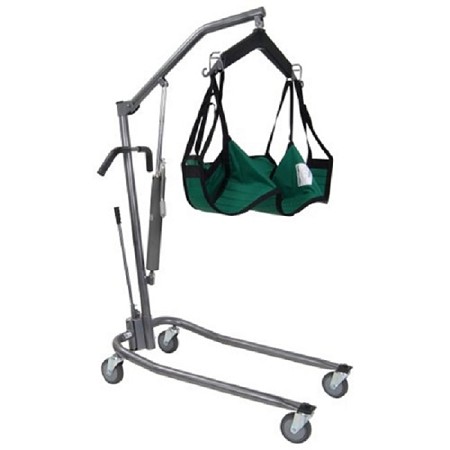 The McKesson Hydraulic Patient Lift earns the 2nd position in our review with its detachable mast and base that lock together and can easily separate for compact storage and convenient transport. They're also offset to optimize the travel range and lift path. Boasting the lowest price on our list, this feature-rich hydraulic lift highlights smooth manual controls and a sturdy steel frame with a sleek silver vein finish, providing safe and stable lifting assistance for people weighing up to 450 pounds.
The side-to-side rotation of the pump handle enables complete access for the caregiver, while the high-performance components of the hydraulic system make operation a breeze. The adjustable-width base of this McKesson lift makes it easier to get through narrow doorways and navigate small spaces, while the offset 5-inch casters provide smooth-rolling mobility and also have brakes for secure stationary use.
With a lifting range that can conveniently accommodate floor lifts, this versatile hydraulic patient lift comes with a 6-point swivel bar that can hold 2 or 4-point sling straps along with 2 chain connections. The slings are not included, but the two sling chains are. This lift is popular in care facilities like hospitals and long-term care, while it's also well-loved and used by people in their homes.
Features & Benefits
Detachable mast and base for compact storage and lightweight transport
The adjustable base makes maneuvering in small rooms and around obstacles easy
Smooth, high-performance hydraulics for stable, gradual transfers
Offset casters optimize mobility on all floor surfaces and carpeting
Customer Feedback
Pros
Good size, easy to assemble, simple to operate
Durable, strong, high-quality lift, very dependable
Affordable and works just as well as more expensive battery-powered lifts
Wonderful transfer support for floor lifts and works well in smaller rooms
Cons
Does not include a sling
The total 150-pound weight makes the separate components too heavy for some caregivers to lift independently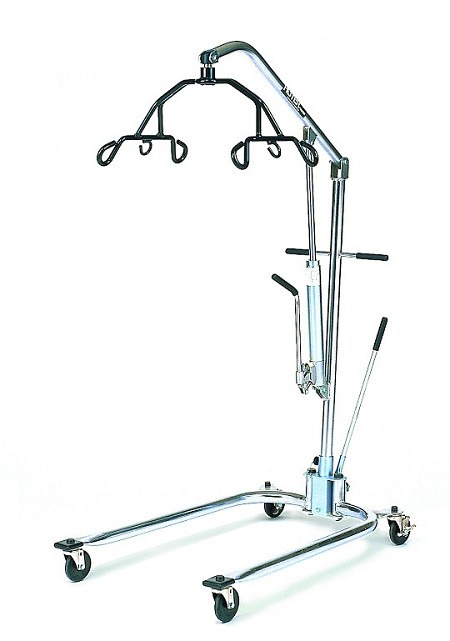 Specially designed to meet the varied needs of the homecare environment, the Hoyer Legacy Chrome-Plated Hydraulic Lift with 6-Point Cradle is well-deserving of the #1 place on our list. Available in three different designs, the classic Hoyer lift continues to be upgraded to reflect the needs of its worldwide users, delivering a wide range of beneficial features. Its heavy-duty 2-inch tubing construction is chrome-plated for optimal strength, protection, and long-lasting functionality, accommodating user weights up to 400 pounds.
The Legacy from Hoyer highlights an innovative 6-point cradle configuration that's specially arranged to prevent pinch points and to allow capability with almost any kind of sling. Its special cradling capability combined with its state-of-the-art hydraulics reduce swaying, delivering smooth, gentle lifting motions to optimize patient comfort. Like other lifts in our review, the Hoyer Legacy can easily be disassembled for compact storage and transport in a vehicle, and its total weight is about 80 pounds. Its offset 4-inch casters roll smoothly over most floor surfaces and low-pile carpeting, while they also have brakes for a secure stoppage.
The Legacy's three different models include the JHI-C-HLA-2, which offers a boom range of 29 to 74.5 inches and an adjustable base, the JHI-C-HLA-2T, which offers a higher boom range of 37 to 82.5 inches and an adjustable base, and the JHI-C-CB-L2, which is configured with a non-adjustable C-base and a boom range of 28.5 to 74.5 inches. Both the JHI-C-HLA-2 and the JHI-C-CB-L2 are ideal for floor transfers, while the JHI-C-HLA is better suited for higher transfers, such as from a wheelchair to a high-height bed. All three designs are perfect for transfers to and from a wheelchair, bed, toilet, or recliner. The C-base design has smaller dimensions and is popular with users that have smaller rooms, but the other two models also have U-bases that are adjustable in width with the easy-to-use spreader bar, making them simpler to fit into tight, narrow spaces as well.
Features & Benefits
Three different models ensure the perfect support for every user
Innovative 6-point cradle system reduces pinch points and reduces swaying
Components are easy to separate for lightweight portability and storage
Maneuverable in narrow, tight spaces and can perform floor lifts
Customer Feedback
Pros
Works perfectly, exactly the support that was needed, very happy with this lift
Strong and steady equipment with a smooth, comfortable lifting motion
People living in small apartments or those with small rooms love the C-base model
Easy to keep clean and care for, very reliable lift
Well worth the higher price and so much cheaper than battery-powered models
Cons
One user found it hard to push and also wished that this lift had a 360-degree swiveling capability
Features to Consider When Purchasing a Hydraulic Patient Lift
A Hydraulic Patient Lifts is also referred to as a floor lift, Hoyer lift, passive lift, manual lift, or sling lift. Hydraulic patient lifts are generally configured with a tall mast (pole), a horizontal arm (bar) that has a spreader, or a cradle with hooks at the top, a hydraulic pump system with a handle, and a U-shaped base. A patient lift sling is placed underneath the patient and then attached to the cradle's hooks. The patient is then lifted by a caregiver with the help of the hydraulic lift pump and mobilized to the desired location with the lift's casters.
While we comprehensively cover the features to look for in our article on How to Choose the Best Hoyer Lift, here are some of the main points you'll need to consider in order to choose the best manual hydraulic patient lift for yourself or someone you care for.
Lift Size
Hydraulic lifts may often look the same at first glance, but they can vary widely in their dimensions along with their lifting range. If you need a lift for someone who falls frequently, be sure to choose a lift with a lower minimum height range for floor pick-ups. If you need a lift that can reach a high-height bed, be sure to choose a lift with a higher height range.
Determining the dimensions of the space you intend to use the lift is crucial, as if the lift is too wide or tall, you won't be able to use it. Choose a slim, compact profile for smaller living quarters, bathroom transfers, and narrow, tight spaces.
Lift Weight Capacity
Be sure to check the lift's weight capacity to ensure it can safely accommodate the intended user's weight. Some models are specially designed for heavier, bariatric patients, while most manual lifts will accommodate a minimum of 350 pounds. If you're on the higher end of the maximum weight limit, it's a good idea to opt for the next size up to ensure the device will be able to hold your weight. All of the hydraulic lifts to make our review have been rated for 400 pounds or higher.
Lift Slings
As one of the most important components for patient comfort, choosing the right lift sling can make all the difference in the patient's experience with being transferred. Usually configured as 2, 4, or 6 point slings, this refers to the number of attachment points the sling offers. The more attachment points there are, the more the patient's weight is distributed evenly, enhancing comfort and eliminating pinch points. It's essential to choose a hydraulic lift that is compatible with the kind of patient sling you need to use. It has to have the same number of attachment points to facilitate safe and proper utilization. Most lifts do not come with slings, so they will need to be purchased separately.
Lift Adjustability
Most manual hydraulic lifts come with bases that can be adjusted in width in order to fit better through doorways and around furniture, making it easier to navigate narrow, tight, or small spaces. They also might offer rotational capability, which enables the caregiver to better position the patient.
Lift Mobility
Some lifts are designed to stay in place, but the vast majority of manual lifts come with casters so you can move patients from one area to another, such as from the bed to the bathroom. For the best mobility, be sure to choose hydraulic lifts that have wheels that can handle a range of floor surfaces, including carpeting. Dual casters tend to swivel in all directions, optimizing 360-degree movement and better turning ability in small spaces. Many casters come with brakes or locks to ensure secure stationary use.
Lift Assembly and Transport
There are a number of hydraulic patient lifts that are easy to assemble and disassemble, making them ideal for people who would like to use them in multiple locations and for travel. Most of these lifts weigh less than 100 pounds and break down into smaller components for compact, lightweight transport in a vehicle.
FAQ
What is a hydraulic patient lift?
Hydraulic patient lifts help people with mobility limitations to transfer to and from a bed, toilet, wheelchair, recliner, and more, with the help of a caregiver. They don't require any batteries or electricity and instead use hydraulic force to lift and carry the patient from one place to another.
How does a hydraulic patient lift work?
A hydraulic patient lift is designed with a hydraulic pump that has a crank, utilizing hydraulic fluid as the force to mobilize the hoisting mechanism, lifting the patient into the air with the attached lift sling. Helping to protect both the patient and the caregiver from injury, the hydraulic power does all the work, requiring very little effort on the part of the caregiver or attendant.
What is a Hoyer lift?
Technically a brand name named after their inventor, Ted Hoyer, the Hoyer lift name is often used generically to refer to any patient lift, especially manual hydraulic lifts. As an assistive medical device, Hoyer lifts and hydraulic lifts are typically portable and are often used for people requiring 90 to 100-percent assistance to move from one place to another, such as from a wheelchair to a bed. These types of lifts are often used in hospitals, rehab centers, long-term care facilities, and at home. They require a caregiver or attendant to operate and help prevent injuries for both the patient and the caregiver.
How do you use a patient hydraulic lift?
To use a patient hydraulic lift, you place the sling underneath the patient while they are sitting or lying down, attach the sling straps and/or chains to the cradle's hooks, and use the hydraulic pump handle to raise the patient to the desired position. You can then mobilize the patient from one place to another with the portable lift, gently lowering them into the new position with the pump handle, detaching the sling from the hooks, and removing the sling. Watch this video on how to use a hydraulic (Hoyer) patient lift to transfer a patient from a wheelchair to a bed to learn more.
Does a hydraulic lift require two people?
While the majority of healthcare facilities generally require two people to perform hydraulic lift transfers, there are many lifting applications that home health aides and family caregivers will find they can do safely and independently. If you are lifting a patient who has mental or intellectual impairments, or an individual who tends to fight the transfer process for whatever reason, it's a great idea to have two people to perform the transfer, so one can operate the equipment while the other attends to the patient. Hydraulic lifts that have foot pedal operation can be helpful for unruly patients, as caregivers can control the equipment with their feet while keeping their hands on the patient.
Are there any risks associated with the use of patient lifts?
Just like most any other device that's designed to improve mobility, if a patient lift is used incorrectly it can result in serious injury for the patient and/or the caregiver. If you have questions or concerns, be sure to consult with your doctor, therapist, or lift supplier. Always read through the owner's manual and any other documentation that comes with the patient lift as well as the lift sling.
Conclusion
As an essential safety tool to care for people who are unable to get out of bed or move around freely without significant assistance, manual hydraulic patient lifts offer several advantages over other kinds of lifts. With the use of hydraulic power, adjustable lifting cradles, and patient slings, very little physical effort is required on the part of the caregiver, with injury risks significantly reduced for both the patient and the caregiver. Quite a bit more affordable than other patient lifts, hydraulic lifts can be used to mobilize a patient from nearly any stationary surface, enabling safe movement to and from a wheelchair, bed, toilet, and more.
While any of the manual hydraulic patient lifts we selected for our review would provide the best choice to meet the needs of a given user, we chose the Hoyer Legacy Chrome-Plated Hydraulic Lift with 6-Point Cradle for our number one spot. Offered in three different configurations, this superior-quality Hoyer lift can fulfill the varied requirements of multiple patients and their caregivers, making it a good, all-around choice for most people.
We invite you to peruse our comprehensive Patient Lift catalog to learn more about all kinds of patient lift devices, and to read more about tools for the job of living written by our team of healthcare experts at Caregiver University.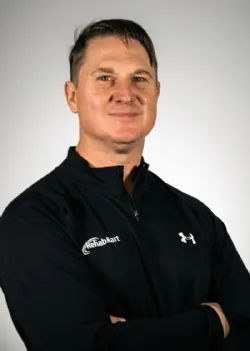 Author:
Co-founder/CEO of Rehabmart, Pediatric Occupational Therapist, husband, and father. Passionate about connecting special needs kids with superb nutrition, sensory integration, and complementary health strategies. Excited about Rehabmart's mission to become the premier online educational platform which empowers caregivers by spotlighting innovative devices and interventions to achieve optimal patient response and recovery.