For years, manually powered wheelchairs have required users to adopt the same basic action to propel themselves – pushing their wheel rims forward. But this traditional pushing action relies mainly on two small muscle groups in the upper body.
Over time, these muscles become overused and tighten, pulling the shoulder joint forward into an unstable position. This makes the shoulder joint prone to the injuries and pain suffered by 70% of manual wheelchair users.
In fact, multiple clinical studies link manual wheelchair push propulsion to the development of shoulder imbalance and poor posture.
But now there is an alternative: ROWHEELS.
The brainchild of NASA engineer and wheelchair-user Salim Naser, ROWHEELS' unique wheel design allows users to propel themselves forward using a pulling (or rowing) action rather than the traditional pushing motion.
Rowheels Inc. patented technology, which is available as an enhancement to any manual wheelchair via the company's range of wheelsets, or through its latest offering, a complete wheelchair product called the ROWHEELS Revolution 1.0 Wheelchair.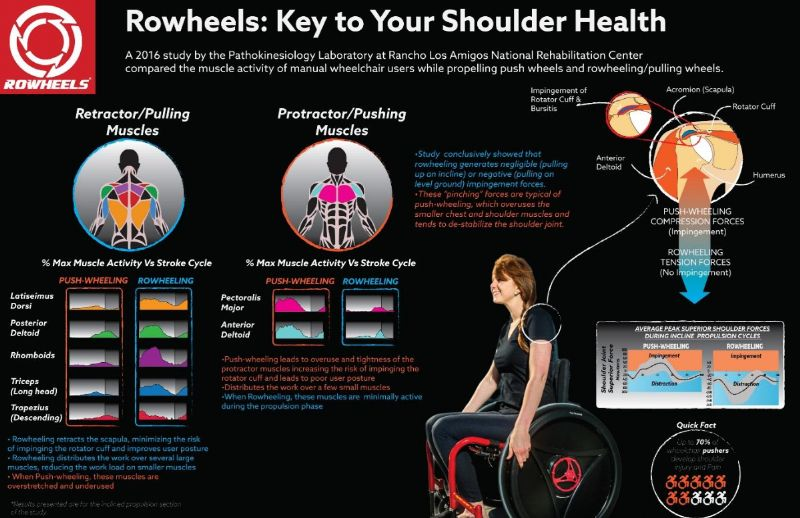 The Health Benefits of Rowheeling
When using ROWHEELS, users pull on the hand-rims to go forward. This pulling action (or "rowheeling") engages eight of the nine large back and shoulder muscles, reducing the risk of shoulder-related injuries.
Over time, this pulling action delivers real benefits, including:
Posture improvement - Rowheeling ensures proper positioning of the shoulders and back. This reduces the harmful effects associated with the typical "sunken chest" posture of wheelchair users.
Muscle-strengthening - Rowheeling strengthens the upper back and shoulder muscles that are underused when push wheeling. This helps improve shoulder health, posture and independence.
Reduced treatment requirements - By strengthening muscles and lowering the risk of injury, rowheeling can also help reduce intake of pain medication and physical therapy to combat pain.
ROWHEELS Revolution 1.0 Wheelchair
The ROWHEELS Revolution 1.0 is the only manual wheelchair capable of reducing mobility-related upper-body injuries and improving posture, while strengthening the body and providing cardiovascular exercise.
The ROWHEELS Revolution 1.0 allows users to move faster and maneuver more easily, while simultaneously improving their health and eliminating aches and injuries.
"We have proven the pull-wheel concept and are now poised to disrupt a wheelchair market that is predicted to hit $5.4bn by 2022 and yet has changed little in the last 140 years," said Gaurav Mishra, CEO of Rowheels Inc. "The ROWHEELS Revolution 1.0 gives wheelchair users a better, healthier option at an affordable price."
Ergonomics, Speed, & Maneuverability
In addition to the health benefits of its unique pulling action, the ROWHEELS Revolution is ergonomically designed to provide a better all-round user experience.
This lightweight wheelchair allows users to quickly perform daily tasks without the weight of their wheelchair holding them back.
It is easily portable, thanks to its foldable design, which makes it ideal for those who travel. The Revolution 1.0 also comes with a range of optional accessories to enhance your ROWHEELS experience.
The ROWHEELS Revolution is also designed to increase maneuverability and speed for its users. The chair can be fitted with different types of wheelsets to suit specific needs:
High gear REV–HX wheels - Designed for users with good upper body strength and provide the quickest and most responsive action.
Low gear REV–LX and REV-3 wheels - Require 25% less force and are designed for users with lower upper-body strength, or those who frequently navigate inclines and rough terrain.
The ROWHEELS Revolution makes slowing down and stopping a breeze, with a unique assisted braking system.
Users simply push the hand-rim towards their body to engage the brake pads against the braking surface on the rim of the wheel. This is made possible because the wheel and the hand-rim are not directly connected.

ROWHEELS Wheelsets
For wheelchair users that want to gain the benefits of rowheeling while still using their existing chair, the company offers three different wheelset types that can be quickly and easily fitted to almost any manual wheelchair.
REV-LX
Similar to pulling on a lever, ROWHEELS REV-LX wheels are geared to provide users with a mechanical advantage that translates into a 25% reduction in effort when compared to standard push wheels. Going up inclines, across carpets or over uneven terrain is substantially easier, making them ideal for users with upper extremity weakness or reduced mobility.
REV-HX
ROWHEELS REV-HX wheels are the fastest manual wheelchair wheels on the market. Using the company's patented technology, the REV-HX wheels turn 30% faster than the handrim. This results in an extremely responsive and quick set of wheels.
REV-3
The ROWHEELS REV-3 wheels are the company's most affordable wheelset and available as bolt-on wheels, with a quick-release version soon to be launched. They are the same wheelset used in the ROWHEELS Revolution wheelchair, and configured in a similar way to the low gear REV-LX wheelsets.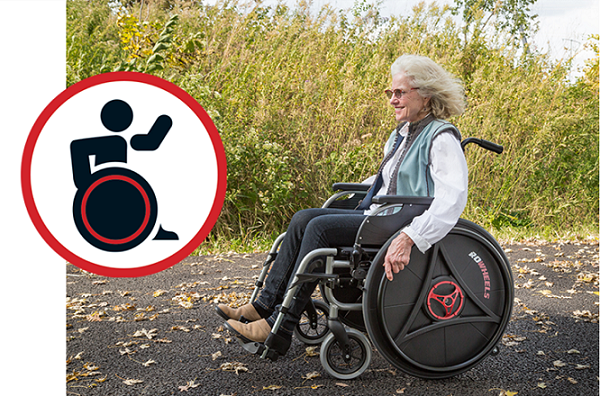 What ROWHEELS Users Are Saying
"After 30 years of pushing my chair, I had developed chronic pain in my shoulders that was affecting my quality of life. After just three months of using ROWHEELS, my pain levels decreased substantially, to the point that I was able to get off my pain medication."
Scott C. Verona, New Jersey
"I love my ROWHEELS and have using them for only two to three weeks and already my shoulders are doing much better – as is my posture and strength in my core."
Dee M. Racine, Wisconsin
"The first full day with my ROWHEELS. Overall my shoulders don't hurt as much – took half the amount of pain medication I normally take. Definitely a win today."
Andy I. Evansville, Indiana
To learn more about the ROWHEELS Revolution, check out their products at RehabMart!
If you enjoyed this article and want to learn more about cutting edge technologies and awesome tips and tricks for caregivers, be sure to visit Caregiver University!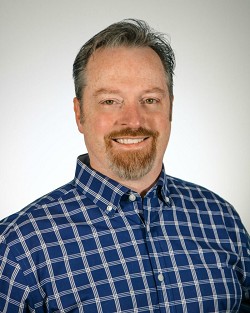 Author:
Co-Founder of Rehabmart and an Occupational Therapist since 1993. Mike has spent his professional career working in multiple areas of Occupational Therapy, including pediatrics, geriatrics, hand therapy, ergonomics and inpatient / outpatient rehabilitation. Mike enjoys writing articles that help people solve complex therapeutic problems and make better product choices.