For kids with special needs, it can sometimes be a challenge to find comfortable, supportive seating that not only addresses their unique needs, but also keeps them at eye level with their peers so that they can feel included and stay engaged.
Contoured positioning chairs and sitters are a great solution to this problem, helping keep kids comfortable and supported, while still allowing them to stay actively engaged with their friends, teachers, family, and any activity they may want to take part in.
These chairs combine active, dynamic seating with built-in positioning support for healthy posture. Often designed in more casual, floor-sitting styles, these innovative configurations can vary from lightweight, foldable, and portable seats that can be used on a variety of surfaces, to adjustable bean bag formats and recliner-style rockers with ottomans.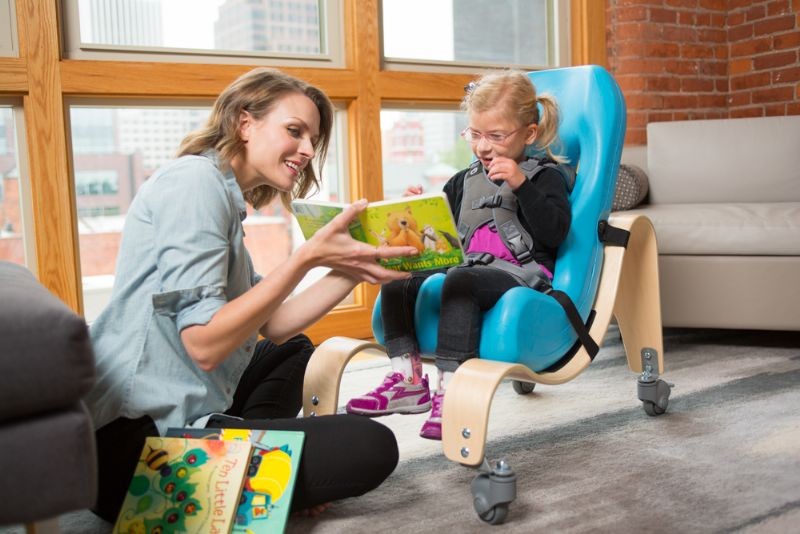 Why does good posture matter?
The positive impact of healthy posture and active seating on a child's mental, physical, and emotional well-being cannot be overstated. This is especially crucial for kids living with special needs, as many of these kids already have barriers keeping them from full engagement.
Children and teens living with muscular dystrophy, cerebral palsy, spina bifida, Down syndrome, and a variety of other conditions and concerns may need added support for weakened trunk or pelvic muscles. When these muscles aren't properly engaged and supported it can not only cause pain, it can also have a negative impact on a variety of other bodily processes.
When a child is properly supported with both postural stability and proper eye-level engagement, they reap an array of benefits in all areas of health, including physical, mental, and emotional. Just a few of those benefits include:
Improvement of respiratory, cardiovascular, and digestive/intestinal function
Reduction of involuntary and automatic reflexes and spasms
Support for low-tone, and weakened, "floppy" muscles (hypotonia)
Encourages further development of postural control
Improvement of arm and hand control
Enhances comfort, enabling longer sitting times
Reduction of restless fidgeting, improves concentration, learning, and focus
Improvement of eye contact, social skills, and communication
Prevents worsening, or development, of permanent postural conditions
Promotes healthier bone development and joint alignment, and prevents contractures
Increases self-esteem, independence, and confidence
How to Choose the Best Chair for Your Child
With all the different requirements each child may have, it can be difficult to find just the right solution that will work for your kids. In order to help make the process a bit more streamlined, take a look at these most important areas to consider first:
Type & Level of Support
How much and what type of postural positioning support does your child need? This includes understanding your child's ability to support their own body weight, how well they can sit up independently, and what areas of the body need more help than others.
Always consult with your child's doctor, occupational therapist, or care team to help you determine which type of positional support will be needed if you feel like you might need some additional help with this one.
Some contoured positioning chairs provide a 2 or 3 point harness to assist with posturally-correct positioning, while others provide built-in contours and other creative design features to inhibit slouching or sliding forward, unwanted hip rotation, and to induce adduction or abduction.
Functionality
The next thing to consider is how you want to be able to use your positioning seat functionally in your child's life. Will they be using it at school, at home, out in the community, or maybe a combination of these things?
Some chairs are compact, lightweight, and easy to transport, while others are more designed to remain primarily in one location. Determining where your child is likely to spend most of their time, and where they need added support will help narrow down which type of seating option is best.
Size
How old, tall, and heavy is your child? Determining the proper size range for your seating needs is another important factor in how to choose the best selection for your kid.
Most designs offer a range of sizes for users ranging from toddlers to teens, and also include measuring guidelines and charts so you can be absolutely sure that the seat will be best for your child.

You can even find chairs in this category that will fit adults, and are often used for folks living with Alzheimer's, dementia, stroke recovery, multiple sclerosis, and other medical conditions and disorders that necessitate postural and positional support, while they also allow the user to remain active and functional when seated.
Additional Concerns
Does your child live with seizures, spasms, or other uncontrollable body movements? Does your child live with sensory processing disorder (SPD), or vestibular disorders? Aside from providing exceptional postural and positioning support, contoured positioning chairs often have other integrated design details to address a multitude of other needs.
For example, some of these seating solutions are specially formulated for softness, with no sharp edges or hard areas that kids living with seizures or spasmodic movements could injure themselves upon. Others include rocking motions to provide proprioceptive input for vestibular therapy, or other ways to deliver calming input to inhibit restless, non-attentive, and fidgety behaviors.
Top 5 Picks
1. Special Tomato Soft-Touch Sitters with Multiple Base Options
One of the best and most versatile tools to keep special needs kids engaged, supported, and at eye level with peers is the Special Tomato Soft-Touch Sitter. Multiple base options and the ability to take the same sitter and use it as a stroller, car seat, high chair, and indoor floor seat make the MPS system one of the most versatile, supportive, and comfortable special needs seating systems.
Benefits:
Multiple sizes and configurations provide a custom fit for each child's unique size and needs.
Soft-Touch foam construction is both soft and supportive for excellent comfort and positioning.
Ability to be used alone or with three different base options make these sitters highly versatile.
Latex-free material is easy to clean and resists tearing, moisture, and stains with anti-microbial protection.
Five-point harness, abductor, and anti-thrust seat properly align your child for comfortable postural support.
2. Pediatric Gravity Chair for Postural Positioning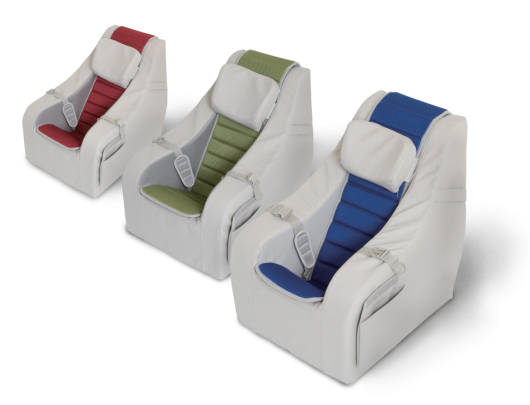 Another great choice, especially for kids living with seizures, spasms, and uncontrollable body movements, the Pediatric Gravity Chair for Postural Positioning is specially constructed with soft foams and other materials to make it both comfortable and safe. The chair utilizes the natural force of gravity in its innovative contoured shape to keep the angle of the knee at less than 90 degrees, and the arms, elbows, and shoulders in a relaxed, correct posture.
Benefits:
Helps to promote proprioceptive learning by providing firm sensory input.
The natural contour of the reclined back provides stable positioning without the use of straps or belts.
Absorbs spasm tension by gently forming to the extension and bringing the user back to the starting position once relaxed.
Two fabric covering options help promote comfort, airflow, and easy cleaning.'
Available in a range of sizes to easily accommodate children and teens weighing between 110 and 286 pounds.
3. Rock'er & Roll'er Pediatric Positioning Chill Out Chair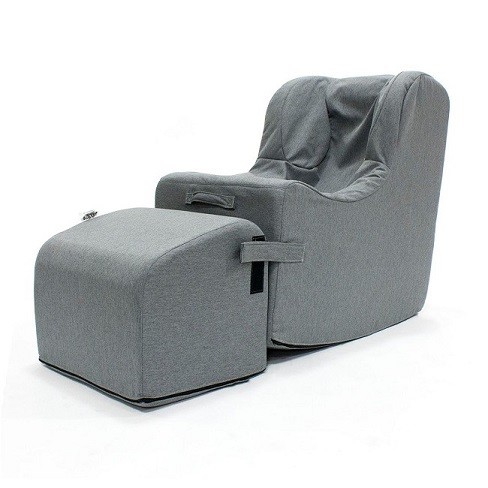 For ergonomic comfort plus the added sensory benefit of soothing rocking motion or rollable mobility, we recommend the Rock'er or Roll'er Chill Out Chairs by Freedom Concepts.
These two fun and functional chairs from Freedom Concepts provide comfortable and secure postural positioning in several different sizes and foam choices for kids, teens, and adults requiring this support. Styled like a recliner with an ottoman, the cozy V shape cradles the occupant comfortably and ergonomically, without restraint (although a 3-point padded pelvic stability belt can be ordered separately).
Benefits:
Provides postural positioning support while also delivering calming sensory feedback.
Cozy v-shape provides ergonomic postural stability with minimal restraint.
Recliner look helps the chair feel cozy and welcoming rather than institutional.
Rocking motion is soothing and relaxing, while rolling capability enables easy mobility.
Removable ottoman provides comfortable, versatile positioning options.
4. Inspired by Drive's P-Pod Activity Positioning Seat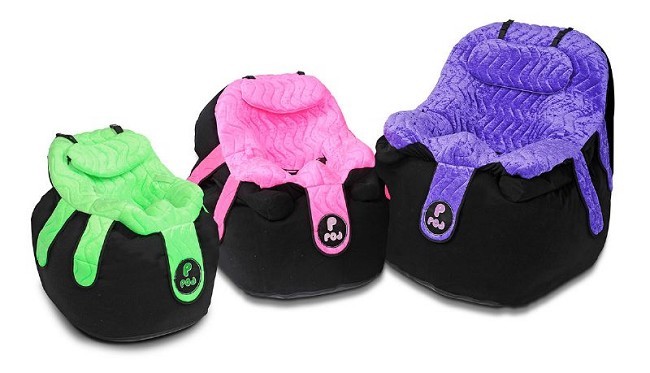 The P-Pod Activity Positioning Seat is a great child-friendly chair that takes the basic idea of a bean bag chair and modifies it to accommodate kids with special needs. The soft, comfortable design is great for any setting from home to school to therapy, offering a relaxed but upright postural positioning that helps promote engagement and functional movement. It also comes complete with a variety of support straps, rests, bolsters, and belts to ensure that your child is perfectly supported and positioned for maximum comfort.
Benefits:
Kid-friendly design is available in a range of sizes and colors to perfectly accommodate each user.
A range of support accessories facilitate proper posture, maximum comfort, and active engagement.
Modifies the standard beanbag chair to provide a fun, functional seat for special needs kids.
Lightweight design can be easily moved between areas or transported between locations.
Quilted stretch velour cover is soft and cozy and also removable for easy cleaning.
5. Skillbuilders Floor Sitter Set
For a more basic floor sitter, the Skillbuilders Floor Sitter Set is a great choice for schools, therapy clinics, and home use alike. This versatile floor seat offers great posture support while still keeping kids comfortable and engaged at eye level with their peers. For added versatility, this set comes complete with a floor wedge and feeder seat to enable comfortable support in a variety of tasks.
Benefits:
Ergonomically designed seat ensures great posture support through any activity.
Soft, firm molded foam offers comfort while still ensuring stability.
Waterproof material allows it to be easily cleaned and sanitized.
Built-in abductor and safety straps ensure maximum security.
Wedge base offers both reclined and upright positioning.
Conclusion
Contoured positioning chairs enable active engagement while they provide healthy postural positioning support. Especially important for children and teens living with special needs, these seating solutions are not only designed to boost the health and well-being of your child, they're also configured to be attractive and engaging to kids. They'll want to use them to be able to have eye-to-eye interaction with their peers, and to achieve higher levels of function with school and play.
Learn more about special needs seating solutions and other parenting and caregiving tips and education at Caregiver University, and make sure to browse our full selection of tools specially designed for children with special needs at Rehbamart's special needs store page.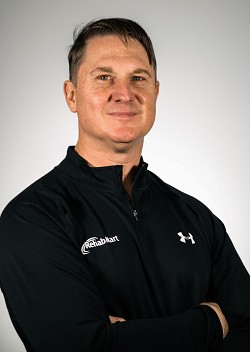 Author:
Co-founder/CEO of Rehabmart, Pediatric Occupational Therapist, husband, and father. Passionate about connecting special needs kids with superb nutrition, sensory integration, and complementary health strategies. Excited about Rehabmart's mission to become the premier online educational platform which empowers caregivers by spotlighting innovative devices and interventions to achieve optimal patient response and recovery.