Ellipticals are constantly compared to the sea of cardio equipment at gyms such as treadmills and stationary bikes. However, ellipticals offer several benefits that other cardio equipment can not do. For instance, they are known to be gentler on the body (no more joint pain, please!). They are also easier to use and allow multitasking, like browsing social media or watching an episode of the most recent Netflix series you're addicted to.
There's no reason to be overwhelmed when picking out an elliptical. With our guide, you will be able to find the best elliptical for your needs.
The Top 5: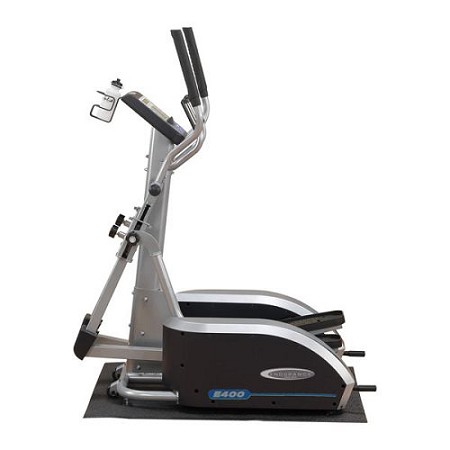 Ranked #5 on our list is the highly durable Endurance E5000 Premium Elliptical Trainer by Body-Solid. Professional on-site assembly is available for purchase so don't worry about putting it together yourself, take a seat and let an expert do it for you! Then, once it's all set up you'll be ready for exercise.
This elliptical comes with 12 different modes including 5 heart rate control programs. Two different user profiles are available for set-up. Get rigorous, low impact, and full-body workouts using high resistance, hills, and interval modes.
Additionally, the Body-Solid Endurance E5000 Premium Elliptical Trainer uses an internal generator, so no additional power source is necessary. The easy-to-use LED display features a message window that shows workout information such as time, distance, and calories burned and a profile window showing resistance, heart rate, or laps.
Recent patented technologies have created a stable and space-efficient elliptical that is excellent for low-impact workouts. With all the basic features, this Body-Solid elliptical would be a great addition to your gym.
Features and Benefits
Professional on-site assembly available
Color LED display which shows work-out details and statistics
Includes quick-start mode, 6 preset programs, and two user profiles
Equipped with heart rate programs and comes with chest strap
Customer Feedback
Pros
Fun programs and easy-to-use
Very convenient and able to set up anywhere due to internal generator
Works well for tall people due to length
Very quiet while being used
Cons
Difficult to self-assemble but professional assembly requires an additional charge
Limited accessories available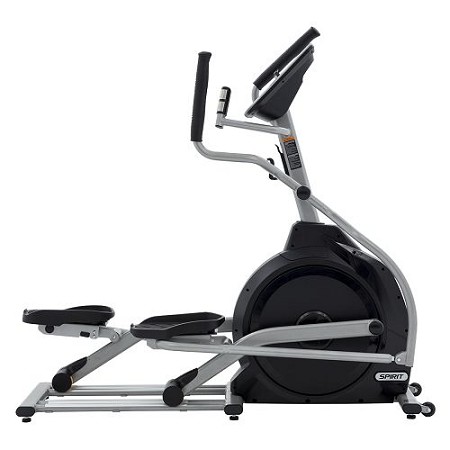 Phillip Medical's rehabilitation trainer, the #4 Spirit Fitness Self-Powered XE795 Elliptical Trainer, ensures both a healthy and enjoyable workout. It helps users build muscle and endurance while limiting stress on the spine, joints, and other bones. The oversized foot pedals and cushioned handgrips create utmost comfort and an ideal stride.
Like the previous elliptical machine, this elliptical is self-powered, meaning it provides its own energy and does not need an outside source. Without needing plugs and wires, you can place the Spirit Fitness Self-Powered XE795 Elliptical Trainer anywhere!
The console's angle is adjustable, perfect for users of all heights. It displays two diagrams indicating muscles targeted and heart rate percentage. Additionally, it has an LCD screen that shows the typical workout statistics like time, distance, and calories. Lastly, it also has a built-in cooling fan, so you have no excuse not to work hard!
Features and Benefits
Oversized and cushioned foot pedals
Heart rate monitors on inner handles
Console with heart rate percentage, muscles activated diagram, and 7.5" LCD screen
Includes cooling fan and headphone jack
Customer Feedback
Pros
Extremely smooth ride
Minimal noise
Cordless which allows you to put it anywhere
Cons
Relatively low-tech, no "smart" features
Residential use only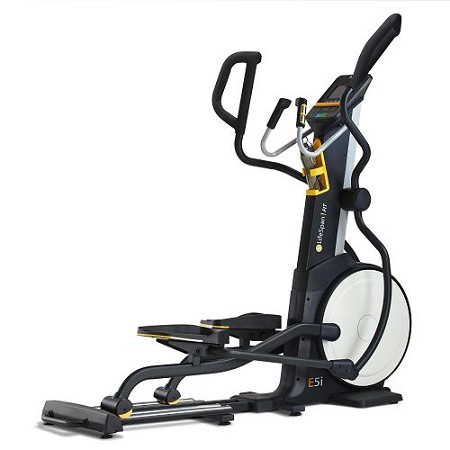 The versatile and durable E5i Elliptical Cross Trainer by LifeSpan places 3rd on our list due to its COREBALANCE technology. As leaders in cardiovascular fitness equipment, LifeSpan developed sensors that monitor the amount of force exerted by users' left and right legs. Detecting any unevenness can reduce muscular imbalance and discomfort. Ensure symmetry in your body and say goodbye to injury, particularly in the back and spine, while using the E5i Elliptical Cross Trainer machine! Additionally, monitor your heart with the built-in contact heart rate sensors for added safety.
This elliptical uses self-generated power and also boasts an audio center, media holder, and USB to watch shows or jam out to music while you exercise. Its easy-to-use console shows 21 interactive programs and accessible toggle control buttons are installed in the handles for quick adjustments to resistance and incline.
Use this elliptical machine in either commercial or residential gyms with little upkeep required. Trust LifeSpan's exercise physiologists to achieve your workout goals and stay motivated with added built-in entertainment features!
Features and Benefits
COREBALANCE technology and heart rate monitor increases safety
Self-generated power
21 professionally developed workout programs
Audio center, media holder, and USB enable entertainment during exercise
Customer Feedback
Pros
Exercise programs are entertaining and engaging
Very simple set-up
Console is easy-to-use
Cons
Flywheel may become stiff and immovable, requiring repairs
Does not use Bluetooth and requires cords to connect with phones and other devices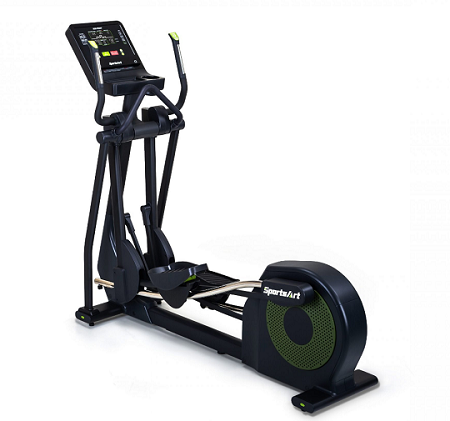 The environmentally friendly G874 Elliptical ECO-POWR by SportsArt Fitness USA earns the #2 spot on our list. It contains a proprietary built-in micro-inverter that uses the mechanical energy created during your workout in combination with electricity to power the equipment. While it is not self-generated power, this cardio machine is very sustainable.
It is also extremely adjustable. The G874 Elliptical ECO-POWR features 40 different levels of resistance and 6 workout programs so you can push yourself exactly how hard you need to. You are also able to shorten and lengthen the stride. Additionally, using the shift-on-the-fly fingertip controls on the handles, you can easily change up these components of your workout mid-exercise. The MyFlex pedal cushioning also increases comfort while you work.
Lastly, the console provides all the information about your workout that you need to know from heart rate to distance to calories. The G874 Elliptical ECO-POWR by SportsArt offers you all the basic features of an elliptical and not only gives you a good workout but the satisfaction of saving the planet with every step!
Features and Benefits
Uses your physical exertion to aid in powering the machine
6 workout programs and 40 different levels of resistance
Easy-to-use controls on console and handles
MyFlex pedal cushioning provides comfort during exercise
Customer Feedback
Pros
Has lowered electrical bills due to eco-friendly technology
Controls are easy-to-use and very accessible
Built-in workouts are both challenging and enjoyable
Cons
Relatively low-tech, does not offer connection with other devices for music
Does not contain a large number of preprogrammed workouts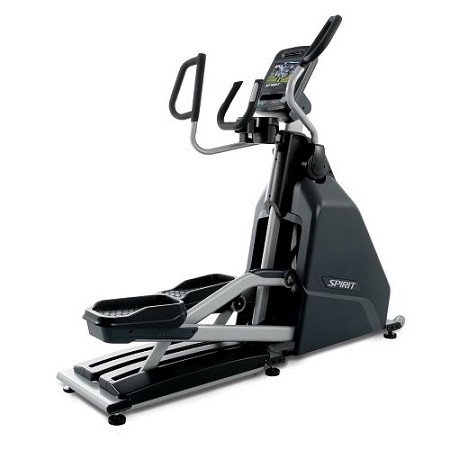 The #1 ranking elliptical on our list is the high-tech CE900ENT Commercial Smart Elliptical Machine by Spirit Fitness by Phillip Medical. It is smooth, simple to use, and stocked with all the entertainment you could need to get through even the toughest of workouts!
It boasts a 10.1-inch touchscreen display that enables you to listen to music, watch TV, and even scroll through social media. You may not be moving an inch, but with the CE900ENT Commercial Smart Elliptical Machine, you certainly won't be bored! You'll have no excuse to skip a workout when you can watch Monday Night Football or The Bachelor from the comfort of your elliptical. Additionally, it has an HDMI input, built-in WiFi, headphone jack, and Bluetooth. The touchscreen also allows you to swipe between three different display modes, permitting you to personalize what exercise feedback you would like to see.
Our top-ranking elliptical won't only keep you entertained; it will also get you into tip-top shape! You will have 40 different resistance settings and 10 preset workout programs, including a custom option, at your disposal. Plus, you can use the heart rate monitors to track your heart during exercise and ensure you're staying in the optimal range. The fan may even cool you down and allow you to prolong your workouts!
This elliptical machine is extremely durable and reliable. You can expect the high-strength steel frame to withstand the test of time. Not only that, but it will help your joints do the same. The pedals are inverted 2 degrees to increase comfort and reduce unnecessary stress put on your body during exercise, and the 12:1 ratio of the flywheel to pedal ensures a smooth workout.
It is no doubt that the CE900ENT Commercial Smart Elliptical Machine by Spirit Fitness would be an excellent addition to your at-home or commercial gym. If you're looking for high-quality exercise equipment for all skill levels, look no further. Phillip Medical has the elliptical for you.
Features and Benefits
10.1-inch touchscreen display with three display modes
Music and TV streaming capabilities through Bluetooth, HDMI, WiFi, and headphones
40 resistance settings and 10 preset workouts
Heart rate monitor and ergonomic design for safety and comfort
Customer Feedback
Pros
Streaming features are high quality and easy to use
Close-loop handles are easy to grip
Feels very smooth during use
Cons
Very large, takes up a lot of space
Only comes with basic preset workouts
Features to Consider When Purchasing an Elliptical
Size
Most ellipticals are similar in size. However, there are a few exceptions. For example, the CE900ENT Smart Elliptical is oversized. Consider the space you plan on keeping the elliptical and make sure it will fit with a few feet of extra room on the sides and back for safety. Additionally, keep in mind ceiling height. It is easy to forget, but ellipticals are typically taller than treadmills and other cardio equipment. Make sure your ceilings are tall enough for the step-up height so you don't hit your head while working out!
Entertainment
Bluetooth and streaming features are becoming increasingly common. Is this important to you? Consider how you like to workout and if distractions help. If so, search for an elliptical that can access the entertainment you desire, but try to avoid paying for extras you don't care about.
Special Features
Most ellipticals will contain built-in programs that enable more challenging and variable workouts. Examples include manual, random, hill, interval, and heart rate workouts. If you desire more structure, some ellipticals will even allow you to program your own custom workouts. You are more likely to exercise and will get into better shape if you vary your workouts. Built-in programs are a great way to do this so choose an elliptical with the right options for you!
Frequently Asked Questions
Q: Do ellipticals help lose belly fat?
A: Yes. Using an elliptical is an excellent way to get into shape and lose weight. When considering stomach fat in particular, it is also important to have a healthy diet. As they say, abs are made in the kitchen!
Q: Are ellipticals OK for knees?
A: Ellipticals are in fact better for your knees than treadmills and most other aerobic workouts. Due to the cyclical nature of elliptical machines, you are not putting as much stress on your knees and other joints, compared to the impact involved while running.
Q: Which is better: an elliptical or treadmill?
A: Both ellipticals and treadmills are excellent tools in your fitness journey. However, people have different preferences and needs while working out and ellipticals do offer a few key advantages. They typically are less stressful on your knees, hips, and spine, allow you to exercise your arms in addition to your legs with movable upper body handles. It also can be pedaled in reverse to more heavily exercise your posterior muscles.
Q: How often should I use an elliptical?
A: It is recommended to exercise for at least 150 minutes per week. Depending on your fitness level, however, you may be able to do significantly more. Due to the low-impact nature of ellipticals, they are easier on your body than treadmills and running outdoors. Therefore, you are able to use them for longer and more frequently without an increased chance of injury.
Q: Is an elliptical the same thing as a stepper?
A: No. An elliptical offers a much more full-body workout than a stair stepper. An elliptical is also significantly more versatile because you are able to do more types of workouts including high-intensity interval training.
Q: Is an elliptical the same as a cross-trainer?
A: A cross-trainer is an elliptical that works your upper body in addition to your legs. Standard ellipticals have stationary handlebars. Cross-trainers, however, stimulate a pushing-pulling motion in your arms while the bars move. They work your core, biceps, triceps, and chest while also increasing the calories you're burning.
Q: Do ellipticals work your arms?
A: Yes, especially if it has moveable arm handles. You will work your shoulders, biceps, triceps, chest, and even core when you involve the repetitive movements of straightening and bending your arms.
Q: Do ellipticals bulk up your legs?
A: Initially, as you begin to exercise, your thighs will become slimmer. But as you continue, you will most likely notice muscle building in your legs. However, workouts on the elliptical will not result in the "bulking up" associated with lifting weights. Ellipticals provide a cardiovascular workout, translating to a focus on calorie burning rather than strength.
Summary
Cardio equipment such as stationary bikes, treadmills, and ellipticals are often compared. Elliptical machines stand out due to their low-impact nature and greater ability to workout your entire body.
The CE900ENT Commercial Smart Elliptical Machine by Spirit Fitness ranked #1 on our list due to its high-tech entertainment features and overall smoothness. Users of this elliptical machine will undoubtedly be pleased by its ergometrics, reliability, and overall design.
View our entire catalog of Cardio Exercise Equipment to see even more elliptical machine models as well as treadmills, stationary bikes, and more. For more information about cardiovascular exercise equipment read The 5 Best Treadmills, The 5 Best Exercise Bikes, or browse Caregiver University for even more Product Reviews and Buying Guides!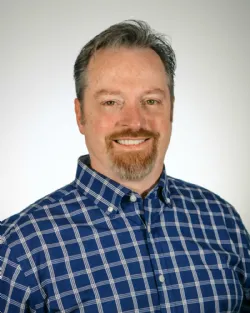 Author:
Co-Founder of Rehabmart and an Occupational Therapist since 1993. Mike has spent his professional career working in multiple areas of Occupational Therapy, including pediatrics, geriatrics, hand therapy, ergonomics and inpatient / outpatient rehabilitation. Mike enjoys writing articles that help people solve complex therapeutic problems and make better product choices.