Staying connected with people and the ability to communicate with others contributes to your overall quality of life. If a hearing impairment keeps you from talking on the phone, that creates a significant barrier to communication and connection, which can be detrimental to your overall well-being.
Being able to communicate effectively on the phone is also a safety issue. With more people staying in their homes and aging in place, having emergency numbers handy and the ability to call for help and listen to instructions from 9-1-1 operators are at the top of the list of important tools a senior should have in order to remain safe at home. Most hearing impaired phones have the ability to program emergency numbers so help is just one touch away with these phones.
The Top 5:
The Clarity JV35W/50 Amplified Corded Talking Telephone with Braille from Diglo enters our list at number 5, serving users with both low vision and mild to moderate hearing impairment. When the big high-contrast keys, which have braille, are pressed, they say the number out loud, and incoming calls are amplified by up to 50 decibels.
This phone features an automatic amplifier control which can be set to engage when the handset is lifted. It has a visual ring indicator to let you know a call is coming in even if you can't hear the extra loud 95+ decibel ringer.
Volume isn't the only thing that contributes to what you can hear. Tones also play a role in what you can and can't hear. In addition to adjustable volume control for incoming calls, this phone also gives you the ability to adjust the tone of incoming calls between 600 and 2400 Hz, so you can set it to the tones that fall in your range of hearing.
For the sake of safety, there are three one-touch buttons for pre-programmed emergency contacts. You can also program 10 frequently called numbers in the phone's memory.
Desk or wall-mounted, this phone has a battery backup that requires four AA batteries. This hearing impaired phone is hearing aid t-coil compatible and features Clarity Power technology. It comes with a 1-year limited warranty from the manufacturer.
Its big braille buttons, talking number feature, amplification level, and the ability to adjust for tone landed the Clarity JV35W/50 Amplified Corded Talking Telephone with Braille on our list of top choices of telephones for the hearing impaired. If you have low vision and hearing loss, you can rely on this phone to keep you connected.
Features and Benefits
Adjustable for tone and volume
Up to 50 decibel call amplification
Hearing aid compatible
Large braille buttons that repeat numbers
10 number memory plus 3 emergency number storage
Customer Feedback
Pros
Buttons clearly let you know what you've pressed
Flashing red call light is easy to see
Much more comfortable for older people than a cell phone
Incoming ring can be heard over television turned up loud
Cons
Memory call button is hard to see for visually impaired
Does not have a speakerphone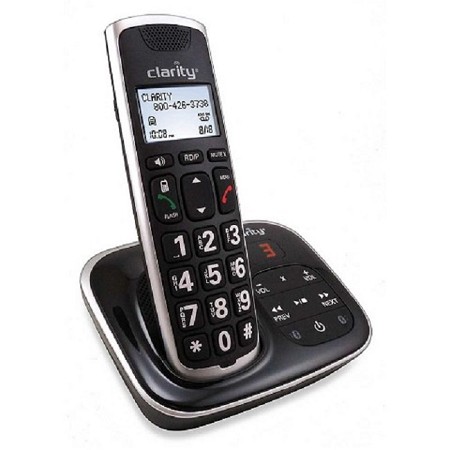 The number 4 hearing impaired phone on our list is the Clarity BT914 Amplified Bluetooth Phone by Diglo. It boasts innovative technology that can pair with two Bluetooth-enabled devices so you can use your landline or cell, and the phone functions and sound quality are not diminished. You can actually connect up to five handsets, and the Bluetooth can connect to assistive listening devices such as streamers and neck loops.
This cordless hearing impaired phone amplifies incoming sounds by up to 40 decibels, and you can adjust the phone's tones to the range you hear best. So you know who's calling, it displays caller ID, and you can use up to 10 separate ringtones that distinguish between landlines and cell phones for incoming calls.
The Clarity BT914 Amplified Bluetooth Phone is hearing aid compatible, has a 2.5 mm headset jack, and the handset has a speakerphone feature. This phone also has a digital answering machine. Its big buttons are easy to see and so is the visual ringer indicator. It has a battery backup so you don't have to worry about being without service.
The digital answering machine, large buttons, tone adjustment, and caller identification functions make this phone very user-friendly. This multi-featured cordless amplified phone's ability to pair with other Bluetooth-enabled devices is what sets it apart and elevates it to one of our top choices for hearing impaired telephones. The flexibility provided by the Bluetooth feature makes it especially attractive for people with hearing loss who want comparative features on their cell phones and landlines.
Features and Benefits
Incoming calls amplified up to 40 decibels
Tone control adjustment
Onboard digital answering machine
Speakerphone on handset
10 separate ringtones
Customer Feedback
Pros
Easy to set up and start using right away
Operating instructions were easy to understand
High-quality audio output
Easy for older users to learn to use
Great price point
Cons
Audio boost feature is confusing for the elderly
Pairing with multiple handsets is not very intuitive
The Future Call Photo Key Amplified Phone by Diglo has some unique features to serve unique needs, which earned it the number 3 spot on our list. If you use the locking speed dial function, only the numbers programmed into the phone (one for each button) can be dialed. This is useful in homes with senior citizens or small children where control over outgoing calls is beneficial. The large buttons have slots where photos can be inserted, matching the face in the photo with the number the corresponding button calls via speed dial.
Serving the hearing impaired, this phone can amplify calls up to 40 decibels and it best serves people with mild to moderate hearing loss. For those who also have low vision, the large buttons and an extra bright ring indicator make this corded phone very user-friendly.
Other features include a 9-1-1 emergency speed dial button that can be used even when the speed dial lock is engaged, last number redial, and hearing aid compatibility.
The unique ability to customize this hearing impaired phone with photos to identify speed dial numbers is a game-changer. People with hearing loss, especially older users, are often dealing with multiple challenges. Low vision and cognitive or memory issues are common among the elderly, and this multi-featured phone addresses those conditions along with impaired hearing.
People with cognitive or memory issues who can't dial a string of numbers or make the connection between people and corresponding numbers on the speed dial can look at a face, press the button, and call the person in the picture. The versatility of this device has placed it in the top 3 of our best telephones for the hearing impaired.
Features and Benefits
10 large photo ID buttons
Speed dial lock (excluding 9-1-1)
Photo buttons can be used with a picture or bigger numbers for easier low vision dialing
Last number redial
Easy to see bright white ring indicator
Customer Feedback
Pros
Much easier to use than a cell phone for elderly
Easy to program the speed dial numbers
Amplification picks up softly spoken people on the other end of the call
Good value for the price
Cons
Buttons for pictures could be larger so faces are easier to see
The corded handset limits where you can use the phone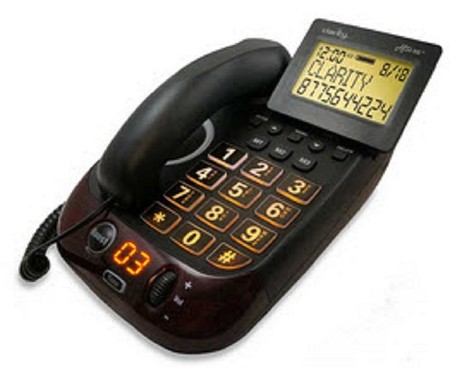 Nearing the top of our list is the Clarity AltoPlus Amplified Corded Phone by Diglo at number 2. It was the first telephone on the market for the hearing impaired to receive the official industry benchmark TIA-4953 certification. To earn the certification, the amplified phone had to meet performance standards in sound amplification, tone control, simulated use for hearing aid users, and ringer sound level. The phone's actual sound output must meet stringent distortion and noise requirements.
Created for people with moderate to severe hearing loss, this phone amplifies Incoming calls by up to 53 decibels and outgoing calls by up to 15 decibels. It boasts a 100 decibel ringer. If low vision is also an issue, the large font on the large backlit display makes it easy to see the buttons, and the talking caller ID and talking keypad use your hearing instead of relying on your eyes.
The phone has three one-touch memory buttons for frequently called numbers. To add accessories, the phone comes with a 2.5 mm headphone jack and a 3.5 mm neck loop jack. It can also be equipped with a bed shaker, which is sold separately, to vibrate and wake a user if a call comes in during the night.
The Clarity AltoPlus Amplified Corded Phone comes with a one-year manufacturer's warranty along with ClarityLogic, which offers live customer service for remote diagnostics and troubleshooting.
As the first phone on the market to receive the TIA-4953 certification, this device made the list at number 2 because of the quality sound it delivers at high volume without distortion. It does double duty for people with low vision, with the large backlit display and talking caller ID, making it especially beneficial for people aging in place who are experiencing multiple sensory issues. For the highest in sound quality, the Clarity AltoPlus Amplified Corded Phone leads the market.
Features and Benefits
100 decibel ringer
High sound quality even at high volumes
Serves those with severe hearing loss
Easy to read buttons and display
Live customer service for diagnostic issues
Customer Feedback
Pros
Makes talking on the phone fun again
Amplifies enough to help someone who has major hearing loss be able to hear
Tone options address specific individual needs
Big buttons, comfortable handset
Cons
Multiple features with buttons and lights can be confusing for elderly
Buttons that access the directory are small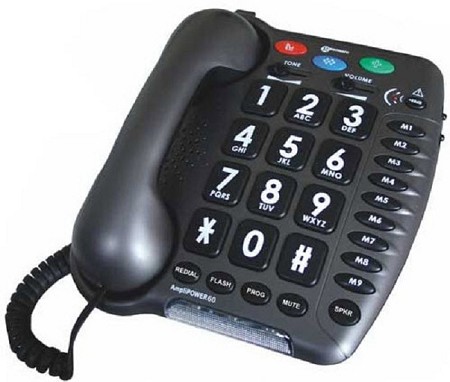 Our top pick for the best telephone for the hearing impaired is one of the loudest amplified phones you can get. The AmpliPower 60 Amplified Hearing Impaired Telephone by Diglo boasts incoming voice amplification by a whopping 67 decibels.
Your calls will be loud, and they'll also be clear, even when using the integrated speakerphone. It has big easy-to-read buttons and a visual ringer to complement the 90 decibel incoming ring, with adjustable volume and tone control. For safety, it has three programmable emergency buttons, and for convenience, it can hold nine numbers in its memory.
This hearing impaired phone has boost override, an indicator when a message is waiting, and last number redial. It is hearing aid compatible, has a 2.5 mm headset jack, and you can purchase an optional bed shaker to wake you if it rings at night. This wall mountable corded phone has a battery backup and comes with a 1-year manufacturer's warranty.
This hearing impaired phone is the number 1 choice on our list because of high-quality sound it provides at high volumes. Now people with severe hearing loss who could not communicate easily even using other amplified phones have an option for clear, easy-to-understand phone calls using the handset or the speakerphone. Even with a significant hearing impairment, you don't have to miss another word when you use the AmpliPower 60 Amplified Hearing Impaired Telephone.
Features and Benefits
Up to 67 decibels of loud and clear speakerphone and handset volume
Large buttons for easy visibility
Visible ringer
Nine memory and three emergency call buttons
Wall mountable
Customer Feedback
Pros
Even very hard of hearing can hear very clearly
Tone adjustable to hit appropriate frequencies
Big buttons are easy to see and easy to push
Easy to set up
Cons
With boost feature can be too loud without adjustment
Manual was a bit confusing
Each of the hearing impaired phones on this list has features that will serve those dealing with hearing loss. Some of them will also assist people with cognitive or memory issues or who have low vision. All of them will help keep the lines of communication open, with our number 1 pick providing the most and clearest amplification.
Being able to talk on the phone is a daily living activity that serves as a safety net and a way to stay connected to the rest of the world. When hearing loss makes that difficult, technology is available to help you retain what being able to talk on the telephone brings to your life.
There are many ways hearing loss can impact the quality and security of your daily life. In addition to the phones on our list, technology has been developed that can assist in many everyday tasks. See our picks for the 5 Best Hearing Impaired Alert Devices, and see how hearing loss doesn't have to stop you from going about your daily activities and truly enjoying your life.
Things to Consider When Buying a Landline Telephone for the Hearing Impaired
With the proliferation of cell phones, not everyone has a home phone anymore. But for hearing impaired people, landlines provide reliable high-quality sound compared to potentially spotty cell and wifi phone signals, and there are additional features that make them especially attractive for those who deal with hearing loss.
Volume and Tone Control
Volume control on the ringer and the receiver, plus the ability to assign easier-to-hear tones for incoming calls are features that can make a phone more attractive for a hearing-impaired consumer. Knowing the volume levels and tones that you are most likely to hear will help you decide if a phone's features fit your needs.
Incoming Call Alerts
In addition to the sound of a ringing phone, many landline phones for the hearing impaired will flash or vibrate when a call comes in so you don't have to rely on your hearing alone. This comes in handy when you are in a noisy environment where people are talking or the television is on or music is playing.
Speech-to-Text
Also known as captioned phones, talk-to-text landlines allow you to read the text on a screen while you are listening to the audio so you don't miss something because you can't hear it properly. Phones with large screens make them easier to read by people who are visually impaired.
FAQ
Who Needs an Amplified Phone?
For the more than 48 million people in America with some form of hearing impairment, their physical, mental and emotional health as well as their self-esteem and relationships can suffer because of hearing loss. Although about half of the people who experience hearing loss are over the age of 60, one in five American teens has some form of hearing loss. For military injured members of the military, half of all blast-induced injuries result in some permanent hearing loss. Almost 3 million veterans are dealing with service-connected hearing issues.
How Do I know if I Would Benefit From an Amplified Phone?
If you have documented hearing loss, often need to ask others to repeat themselves over the phone (or you just stop talking on the phone because you can't hear well enough), or have a harder time hearing higher-pitched noises, you could benefit from an amplified phone. At higher decibels, people can often hear over-amplified phones without needing hearing aids, although some phones are hearing aid compatible.
How Do I Know Which Hearing Impaired Phone is Right for Me?
The right amplified phone first needs to be loud enough for you to hear even with your degree of hearing loss, whatever that is. Although higher decibel phones can be turned down for people with less severe hearing loss, phones that are amplified at a lower level can't be turned up enough to properly serve those with more severe hearing loss. Also, if you have trouble hearing certain frequencies, the ability to adjust tones is a feature you'll want to have. If you also have low vision, many phones have large buttons with additional visual aids to help you see as well as hear better when you're making a call. There are many optional features such as an answering machine, speakerphone, hearing aid compatibility, ring volume, and other call alerts that are available, and one of the multi-feature amplified phones on our top 5 list is sure to provide features and benefits that will work for you.
CONCLUSION
No matter what your degree of hearing loss or impairment, there is a phone on this list that will allow you to maintain your connections and enjoy your telephone conversations with people. Don't let hearing loss keep you from being as safe as you can be or get in the way of you enjoying the best things about your life - the people in it.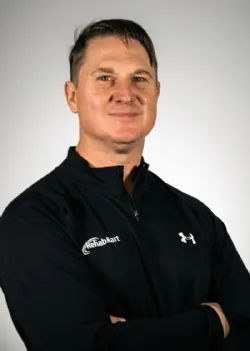 Author:
Co-founder/CEO of Rehabmart, Pediatric Occupational Therapist, husband, and father. Passionate about connecting special needs kids with superb nutrition, sensory integration, and complementary health strategies. Excited about Rehabmart's mission to become the premier online educational platform which empowers caregivers by spotlighting innovative devices and interventions to achieve optimal patient response and recovery.