We all want our children to lead happy, healthy, productive lives. There are two areas that we can focus on, to make the greatest impact on our child's health - exercise and nutrition.
Exercise is just as crucial for their health and development as proper nutrition - it has been scientifically proven to aid your child's quality of life, and to prolong their life. But as every parent knows, kids won't embrace activities or exercises that are not fun!
When it comes to exercise gear, how do you know which is the most fun and effective for your kid? Our Top 5 Pediatric Exercise Equipment Review will analyze and compare the features, cost and certified user reviews of the best and most versatile equipment, so that you can make the choice that is right for your child.
The Top 5 Best Pediatric Exercise Equipment
The Top 5:
Less sitting, more playing
CDC studies indicate than less than 3 out of 10 youths meet the physical activity guidelines. A few of the benefits of daily exercise for children and adolescents:
Support and increase brain function
Weight control
Reduced risk of cardiovascular disease, type 2 diabetes, cancers
Strengthen bones and muscles
Improve mental health
The bottom line is that it is our job to provide opportunities to move and incorporate exercise into our child's daily activities – above all, we need to make it fun!
Our Top 5 Pediatric Exercise Equipment Review has evaluated the features and benefits, cost, versatility, functionality, ease of use, and customer reviews of more than 80 excellent options to provide you with the information you need to select the best exercise equipment for your child.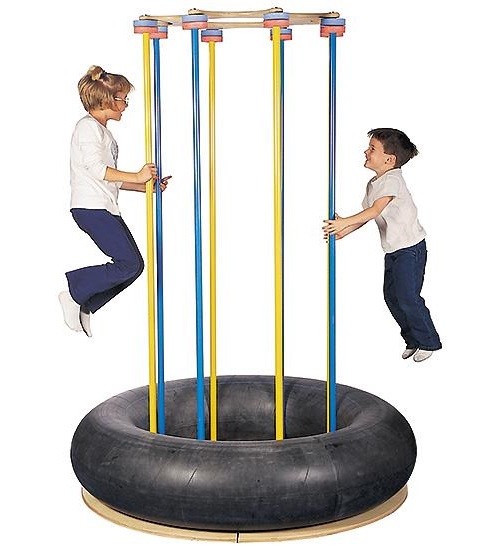 Gross motor skills are big movements, like rolling, crawling, running and bouncing. From infant to adult, our gross motor skills are essential for daily living. Our number five pediatric exercise equipment is the Jump and Play Island Balance Gross Motor Pediatric Therapy Equipment therapy apparatus.
This awesome gear is specifically designed and built to support the gross motor skills of special needs kids. The Jump and Play Island is appropriate for all children – but particularly children with sensory dysfunction. Many physical and occupational therapists recommend this equipment for patients who have neurodevelopmental issues.
The Jump and Play is thoughtfully designed to be fun and engaging – to help little ones get their wiggles out while strengthening their vestibular, sensory and gross motor skills. It provides weight resistance and early intervention physical therapy for spatial awareness, balance and body maneuverability.
A mom in Long Island City, NY, said that her son's physical therapist recommended the Jump and Play Island. It has, his mother said, revolutionized his exercise routine. His balance has improved immensely and, unlike his normal physical therapy regimen, he has so much fun, and he does not dread the rehabilitation.
The weight capacity for the Jump and Play is 350 pounds, so children can use it individually or for group exercise and therapy. The inflated tube is six feet wide, so up to four children can comfortably jump and bounce at the same time.
This exercise equipment is a mid-priced option. It is recommended for indoor play only.
A therapist in San Diego said that she purchased the Jump and Play for her patients who suffer from sensory processing disorders. She said that it is a wonderful tool for sensory integration – the kids are just having fun and do not realize that they are building on their gross motor skills and their social skills.
Features and Benefits
Pediatric gross motor equipment, ideal for proprioceptive skills
Recommended for toddlers and children up to age 15
Boosts balance
Improves spatial awareness
Aids therapy for healthy growth and development
Customer Feedback
A mom who teaches special needs kids said that she recently learned that her son suffers from sensory awareness issues. Her first clue was that he was not capable of hugging her, he would push his head into her, but not hug. He could not wrestle with other boys without hurting them, he chewed obsessively on his pencils.
She researched proprioceptive input and her son's lack of connected body awareness and movement. She discovered, with the help of a therapist, that his brain is over-responsive – he cannot gauge a reasonable level of activity, like pushing, pulling and grabbing.
After his therapist recommended trampoline-type exercise, she found the Jump and Play Island. It has made a huge difference in her son's life – her favorite part is that he now wants to hug and cuddle with her. His relationships have improved, and he can play with other children on the Jump and Play without hurting them.
A certified user who has a background in physical therapy said that the Jump and Play Island is a great product. He rated it five stars. He reports that it can be used with all levels of ability and function. This therapist is currently working with the parent teacher association at his child's school. They have provided three Jump and Plays' and say that all three get plenty of use. They recommend getting the optional accessory, a spare tube, as they can puncture - but say that the equipment is well worth the price.
Pros:
Versatile, kids can walk, jump, bounce and maneuver around on the sturdy tube
Quick and easy to assemble
Easy to maintain
Provides both physical exercise and socialization for youngsters
Cons:
Some customers mentioned that the tube is easily punctured; replacement inner tubes are readily available
Not recommended for outdoor applications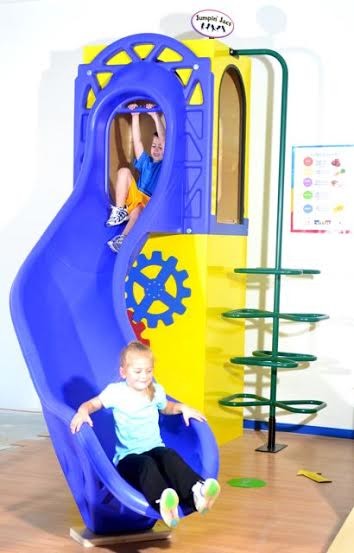 The Kidsfit Slide and Climber Unit is an all-in-one adventure playground that provides physical, cognitive, social and emotional benefits for your child. This versatile equipment can be used independently or in conjunction with other obstacle courses.
The four-rung ladder offers a climbing challenge to develop motor skills. After climbing the ladder, your child will find a stable playhouse platform. They can scoot to the slide opening and zoom down the connected slide. Slide and Climber units provide hours of fitness-building and the ultimate in fun for children ages 5 to 9 years old.
This unit is top quality and built to last. It is designed to fit into a corner and built with heavy-duty, commercial grade materials. The steel ladder has a powder-coated finish.
A certified user, who is also a physical therapist, said that he recommends this equipment to provide social, emotional and mental - as well as physical benefits. He says children who play on this fun apparatus can accomplish improved attention span and memory goals.
He added that it mitigates the effects of attention-deficit hyperactivity disorder by reducing stress and encouraging the improvement of cognitive delays.
It is recommended for creative play interaction among a group, and can accommodate up to four children at the time.
Many customers use the Slide and Climber in nurseries, churches and daycare facilities. They rate this equipment 4.7 stars and say that it is easy to move from room to room. They also say that it is durable, very easy to clean, and tough enough to support commercial applications.
A father purchased this unit for his special needs daughter. He said the look on her face, when she first saw the Slide and Climber, was priceless. He added that she is much more independent since she began playing on this equipment. From a physical perspective, her arms and legs are measurably stronger.
The Slide and Climber is best suited for indoor use.
Features and Benefits
Commercially rated for pre-school, therapy and rehabilitation facilities
Recommended by therapists for pediatric physical therapy
Ten-year warranty on the frame, two years on parts
Aids gross motor skill development
Made in the USA
Customer Feedback
A customer purchased this equipment for her five-year-old daughter. She said that she struggled to find activities that she was physically capable of doing, that were fun. Her child's disabilities often made her feel left out and isolated. She wanted to purchase something that mimicked standard playground equipment so her daughter did not feel so very different than the other children.
Her husband was able to easily assemble the Slide and Climber. She said it is sturdy and safe for her daughter to play on. Best of all, her daughter has made friends who love to come to their house and play on the equipment, so she no longer feels isolated. She is thrilled, she said, when her daughter climbs up the ladder and does 'her happy dance' on the platform.
Pros:
Easily integrated with other indoor play systems
Versatile; offers cardio and strength benefits
Colorful and inviting
Convenient; offers the opportunity for meaningful physical activity throughout the day
Cons:
Protective floor pads are required to avoid damage to floor
Most costly exercise equipment in our Top 5 Review
Not recommended for outdoor use
The number three spot on our Top 5 Review belongs to the Somatron Fitness Rocker. This exceptional equipment looks absolutely nothing like a fitness tool – but make no mistake, it is the ideal device for children, teens and even adults with disabilities.
The fitness rocker is the only holistic or alternative practice exercise therapy in our Top 5 Review. We have included it because of the excellent customer reviews and the whole-body benefits of the unique, patented vibroacoustic transpeakers. While reclining in this fitness rocker, your child will feel music vibrations.
Vibroacoustic therapy (VAT) was discovered nearly 40 years ago by a physical therapist in Norway, Olav Skille. His vibration exercise therapy is based on the principle that all life is vibration. Our bodies are composed mainly of fluid, so when you are in the fitness rocker, your child's body fluids are moved by the vibrations. As this happens, is provides a harmonious communication.
Studies have shown measurable improvement for patients who used the Somatron for stress reduction. This fitness rocker has been successfully used by people with Parkinson's and Alzheimer's as well as young children with ADHD, cancer, emotional issues and post-surgery pain. These customers report that the Somatron has increased their physical fitness and calmed restless behavior.
This equipment is considered a moderately expensive fitness option. It is aesthetically stylish, you can choose from more than 34 different colors; this rocker will easily blend with any décor.
Customers report that their children love this fitness rocker – the most important element of pediatric exercise is fun and this rocker is rock-solid fun. A customer purchased the Somatron for her three-year-old son. She said his tantrums were at their absolute worst and she did not know what to do. She researched holistic therapy and found the rocker.
As soon as she set it up, he climbed in. She said that sometimes he is overwhelmed and the rocker is the only way that she can calm him. It has, she added, positively changed his young life.
A customer in the UK said that she purchased this exercise therapy for her son, who has multiple issues, including autism, and is very easily overstimulated. She said her son loves this product and it has really made a difference in all their lives. She added that seeing her son in a relaxed state is worth every penny that they invested in the fitness rocker.
Features and Benefits
Unique, fun
Recommended by occupational and physical therapists
Holistic health, alternative medicine, music therapy
Large, comfortable rocker is 60"L x 32"W x 18"H
Customer Feedback
Several certified users purchased this fitness rocker for commercial applications, church nurseries, therapy and rehabilitation facilities as well as pre-schools for children with disabilities. After staff training to learn the benefits and understand how music and vibration therapy work, commercial customers rate this a 5-star product.
Another customer said that she purchased the fitness rocker for her son, who suffers from cerebral palsy. She added that she has used it herself and it delivers calming vibrations that soothe the body, mind and spirit. Both she and her son use it every day.
All the certified reviews for this equipment were 5-star. It is our number three choice – instead of our number one choice – because it has a limited ability to provide a strenuous workout for your child's large muscle groups as recommended by the CDC. It is, however, the best choice for calming, low-impact, low-injury-risk flexibility programs and exercises for children with disabilities.
Pros:
One year warranty on materials
Portable, easy to set up and move
Ideal fitness tool for people with disabilities
Soft leather-like vinyl is easy to clean
Cons:
Customers did not have a single negative comment for this fitness rocker, all rated it 5-stars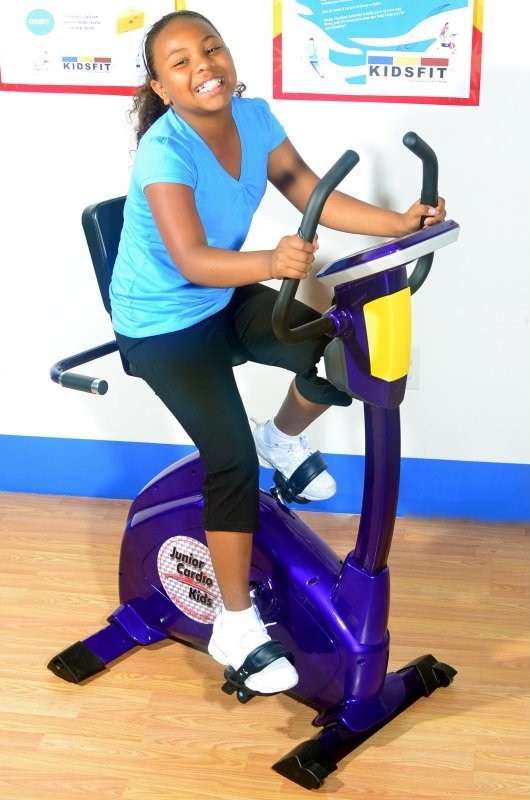 Much like the adult version, our number two choice for excellent pediatric exercise is a quality bike that provides hours of comfortable fitness training. The Kidsfit Junior Semi Recumbent Bike is the smallest commercial bike available – it is perfect for high octane aerobic exercise.
This equipment is recommended for children aged 10 to 15 years old; however, customers who have kids as young as six years old report that it works very well for them. The weight capacity is 200 pounds, so it is appropriate for young adults as well.
The bike's console features a computer and magnetic tension system which is very easy to read and user-friendly. The computer measures RPMs (rotations per minute), time, distance, and calories as well as monitoring your child's pulse and heart rate.
The Junior Semi Recumbent is a safe and fun tool for stamina training and to help your child pedal to the point of fatigue. It ships fully assembled and includes wheels for ease of portability.
This fitness equipment encourages independent exercise; your child can set their target time or distance and monitor their progress by viewing the console as they pedal toward bliss. The seat is well-padded for young bottoms.
There are ten increasingly strenuous levels of resistance, so this equipment will grow with your child. This bike is an exceptionally good value, it is relatively inexpensive.
Features and Benefits
Console features training computer with digital display
Pulse contact on handlebar for heart rate data
Commercial rated for durability
Outstanding stamina and cardiovascular workout
Customer Feedback
A mom in Oklahoma reviewed this bike and pronounced it perfect. She said her daughter is ten years old and has always wanted a bike. She has been severely restricted due to balance and coordination disabilities. She has cerebellar hypoplasia, which is similar to muscular dystrophy. Her gross motor skills are not good, her mom said, and she was looking for a fun way to help her develop stronger muscles and more stamina.
She tearfully explained that her daughter's sense of self-esteem and independence was suffering, as she was the only one in her 4th grade class that did not have any sort of bike.
Mom said that the first time her daughter got on the bike, she could not put her happiness into words, she just wept. She said this bike provided an experience for her child that she never thought that she would have, and that is worth its weight in gold. Her daughter is now the cool kid with a bike in her living room and all of her friends want to come over and ride it.
A mom in Alberta said that physical exercise is an essential component for her son's emotional health. If he is unable to exercise, he becomes agitated and overwhelmed. She purchased this semi recumbent bike for him and is amazed at how many benefits he has gained. She said he is stronger and his eye hand coordination is better. She added that his mental attitude and his ability to concentrate is much improved. He is on the autism scale, she said, and this bike has become his go-to therapy to calm down. He is twelve years old and often tells her that he has to 'go pedal some problems away.'
Pros:
Perfect equipment for children age 10 and up for strenuous exercise
Warranty is 10 years on the frame, 5 years for bearings and 2 years for moving parts
Portability, built in wheels make it easy to move
Cons:
Customers rated this bike 5-stars, there were no negative comments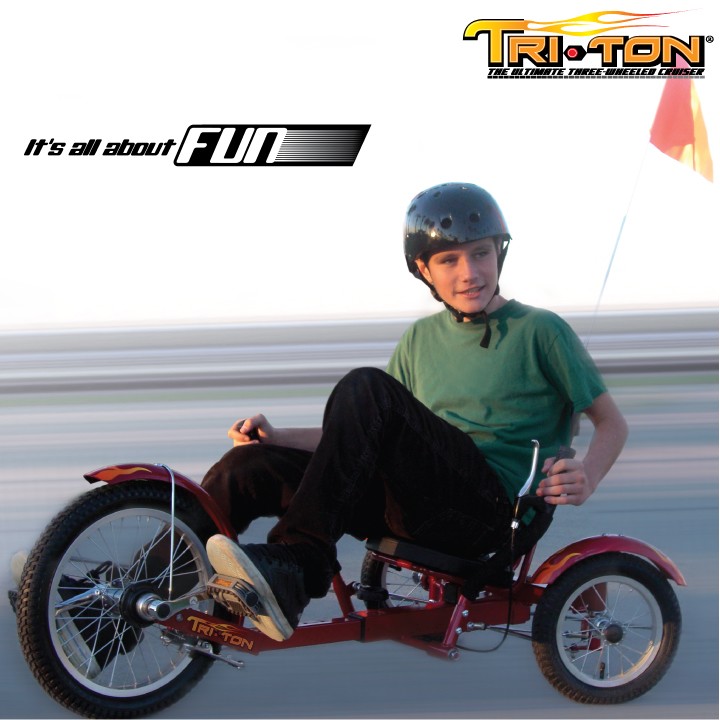 Our number one pediatric exercise equipment is the Mobo Triton Three Wheel Tricycle Cruiser. This cruiser is the ultimate fitness tool for youngsters. In addition to providing an excellent cardio and stamina workout, it is the best reviewed and least expensive exercise equipment in our Top 5 Review.
The Triton is versatile, this trike will grow with your child. It has an innovative, adjustable frame that will allow you to fine-tune it as you child grows lankier, fitting kids and young adults from 3'8" tall to 5'2" tall.
We carry four different models of Mobo three-wheel cruisers, and the Triton is our recommendation for children and youths age 6 to 12 years old, particularly if they have special needs. A customer purchased the Triton for his 10-year-old son, who has spastic diplegia, a form of cerebral palsy. He said that his son cannot ride a standard bike, but desperately wants to be included when his friends ride their bikes. Even with stiff muscles and limited mobility, his son can effectively ride this trike.
This equipment also works well for small adults who may have disabilities that prevent them from riding a typical bike or trike. An elderly grandmother said that she saw a young adult triking in the park on a Triton. She asked for information, went to our website and researched the trike. She purchased it in silver. She got her helmet and rides every day, weather permitting. She is old, she added, but not crazy - she knows that she needs safe, zero impact exercise and she said the Triton is perfect for her. Since she got her trike, she said that she has not had any more falls because of bad balance and – the best feature to her, no more 'bike-butt.'
The features that set the Triton apart are its state-of-the-art rear wheel steering system, ergonomic seating and low, rugged chassis.
There are several reasonably priced, exciting, kid friendly accessories available, like colorful LED light-up pedals, a tote basket and water bottle holder, as well as functional equipment like pocket air pumps for the tires.
Composite safety pedals are available for people with disabilities who may struggle to keep their feet in the proper position.
Features and Benefits
Adjustable steel frame, grows with your child
Rear-wheel steering system
Sleek, sporty design
Recumbent seating
Enhanced eye-hand coordination
Accommodates special needs
Customer Feedback
There are more than a hundred 5-star reviews for this equipment. Customers, especially those with special-needs children, are very loyal to this trike – they say that it is top-quality equipment. A certified user's granddaughter has spina bifida; she loves biking but could not keep her feet on the pedals of other bikes and trikes. Her grandma ordered the composite pedals for her, now she loves to cruise the neighborhood with her friends.
Many customers say that the Triton is perfect for youngsters on the autism spectrum; a young man in Washington State is 'high-functioning autistic,' his mom said. The sense of freedom and independence that he gained, riding this trike, was a dream come true for him and for her.
A mom said that her son is seven and suffers from gross motor skills weakness and balance issues, from traumatic birth syndrome. He dreamed of riding with his sister and friends, but physically could not ride a standard bike. The Mobo Triton is perfect, she said, and her little boy is happy. She added that the bike is sturdy and durable and she loves the fact that it can grow with him as it was a major investment in his health and wellbeing, and difficult for her to afford.
Another grandmother purchased this trike for her autistic grandson; she said that riding together has enriched both of their lives. She never thought it would be possible to go for a ride to the park with her grandson, but the Triton made it possible. She said that they are both forever grateful.
Pros:
Caliper handle brakes
Height capacity is 3'8" tall to 5'2" tall
Generous cushioned seat
Available in red, blue, pink or silver
Cons:
There were no cons reported for this equipment
Pediatric Exercise Equipment Buying Guide
Our number one recommendation for pediatric exercise is to make it fun!
In the end, if your child is not having fun, if exercise is a chore - they will hate it and eventually they will stop. But when you find and employ equipment that makes them giggle and provides the opportunity for climbing, sliding, rocking out to their favorite tunes and zooming around the house or neighborhood – you will promote a healthy lifestyle that they will continue for the rest of their lives.
All of the equipment in our Top 5 Review is designed to support proper positioning and mobility for special needs children and young adults. All of these apparatuses will give the kids the opportunity to get fit and be healthy.
The Mobo Triton Cruiser is our number one choice because of the stellar reviews and the immense diversity – this trike works well for children with and without disabilities. It works all of your child's muscle groups – core, legs, fine and gross motor skills. Customers tell us that it engenders a sense of pride in accomplishment and independence. They say that their child is never happier than when they are zipping along, little legs pumping, the wind in their face, smiling from ear to ear.
Our evaluation of this trike indicates that kids who ride Tritons have higher self-esteem, better posture and endurance – they sleep better and are more prepared for both physical and mental challenges.
The Triton is the most cost-effective and best reviewed equipment in our Top 5. The cruiser's sporty steel frame is adjustable so it will expand as your child grows. Riding outside, customers say, provides endless adventures so your child won't get bored.
Rehabmart offers a comprehensive variety of superior pediatric exercise equipment from innovative and respected manufacturers.
Want to learn even more? Find dozens of videos featuring products and caregiver tips like these at Rehabmart's YouTube channel!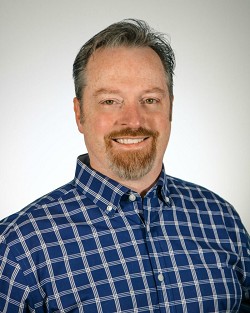 Author:
Co-Founder of Rehabmart and an Occupational Therapist since 1993. Mike has spent his professional career working in multiple areas of Occupational Therapy, including pediatrics, geriatrics, hand therapy, ergonomics and inpatient / outpatient rehabilitation. Mike enjoys writing articles that help people solve complex therapeutic problems and make better product choices.