Rolling walkers, or rollators, are exactly that: mobility devices combining sturdy walker frames with three or four wheels. Rollators are lightweight and easy to maneuver, providing mobility and independence for the user. In a lot of ways, pushing a rollator is like pushing a cart!
Top 5 Best Rolling Walker Rankings
The Top 5:
A rollator will enable persons with walking challenges or disabilities to move around safely, opening up greater opportunities for them to explore and access both the indoors and outdoors.
For the person with mobility challenges, a rollator is more flexible and easier to maneuver than a traditional walker. It also offers more support than a cane.
Besides increased mobility, using a rollator can bring a new level of independence and social interaction to individuals who use them.
Here are five of our top-reviewed rollators - all have been highly rated, and have features that make them unique and outstanding! Use this review as a good starting point in your search for the device that fits your needs perfectly.
The Guardian Envoy 480 Deluxe Rollator is a lightweight but sturdy four-wheel rollator meant for both indoor and outdoor use. It's 8" wheels provide stability on various surfaces, and the device includes a roomy 14" wide carrying basket, padded seat with curved backrest, and a handle height that can be adjusted between 30" and 36"!
The Guardian is created out of anodized aluminum, but manages to avoid that typical silver-ish appearance of medical walkers by adding a tinge of either rose or blue to the metallic surface. Little touches like these make The Guardian that much more attractive and enjoyable to use!
Features and Benefits
Attractive metallic rose or blue color
Height adjustable from 30" to 36"
Padded seat with contoured back
Pull up on seat handle for easy folding
Loop-style brakes control speed
Weight capacity: 275 pounds
Approximate user height: 5'1" to 5'10"
Customer Feedback
Users of the Guardian Envoy 480 seem quite pleased with all of its features! They describe it as sturdy, easy to maneuver in small spaces (and on rough ground), while being small enough to fit in the trunk of a compact car!
One customer owned this rollator for seven years, and used it constantly before needing a replacement. He was so happy with it, he bought the exact same model again!
The one criticism we found was a minor one: for some people, the width of the holes in the basket were too large, allowing certain items to fall through.
Pros:
Maneuvers well in small spaces
Works well on indoor and outdoor terrain
Cons:
Some users find the basket holes to be too large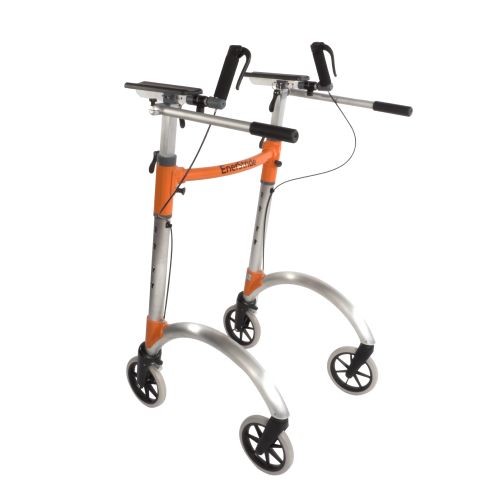 Taking the number four position in our review with its innovative and highly adjustable design is the EnerStride Professional Rollator with Handbrakes and Caregiver Handles by Welhub. Its sleek style and sturdy dependability make it a big hit with its users, especially those more discerning about choosing a rollator with a stylish, minimalistic appearance.
Family caregivers and healthcare professionals love the ease and control facilitated by the two steady caregiver handles that enable them to help users guide and operate the rollator. Retractable when not in use, these handles can be used both behind and in front of the patient.
Built for durable dependability, the EnerStride Professional's aircraft-grade aluminum frame offers a generous 375-pound weight capacity, but only weighs 21 pounds, making it a great choice for both bariatric individuals, and those who travel often. Highly adjustable, this rollator fits users ranging in height from 5-feet-2-inches to 6-feet-2-inches tall and offers a Sit-to-Stand upgrade for adjustable standing assistance.
Features and Benefits
Four wheels
Silver with orange highlights
Aircraft-grade aluminum frame
Height-adjustable to fit user height range of 5-feet-2-inches to 6-feet-2-inches
8-inch polyurethane wheels
Sit-to-stand upgrade for standing assistance (with 18 keyholes)
Retractable caregiver steady-bar handles
Ergonomic, fully articulated foam grip handles are adjustable
Squeeze-hand brakes
Elastic band anchors
23-inch wide aircraft-grade aluminum frame
Folds flat
Weighs 21 pounds
5-year warranty
Customer Feedback
Feedback has been overwhelmingly positive for the EnerStride Professional rollator, with happy and satisfied comments from healthcare professionals, family caregivers, and the rollator users themselves.
Most folks with experience using this device talked about what a wonderful design it is, and a bit different than other rollators they had previously tried. Several healthcare professionals were very pleased with the advances in assistive device design that the EnerStride employed, and how much better this worked for their patients than more traditional styles.
A number of customers were overjoyed by how much more comfortable and maneuverable this rollator works for them or a loved one over standard, non-wheeled walkers, with many specifically commenting about how they could stand up straight and walk upright, rather than bent over a walker. It helps them to have more energy, and they report feeling better overall since using this unique rollator.
Pros
Promotes healthy, upright posture
Easy-to-adjust grip handles for placement and height
Sit-to-stand upgrade makes standing from a seated position easier and safer
Maneuverable and smooth-rolling over most indoor and outdoor surfaces
Steady-bar handles are helpful for assisted ambulation and therapy
Cons
Higher price point
No seat
This unique rollator performs triple-duty, working as a rollator, seat, and transport chair - all in one! Without having to fuss with any difficult frame adjustments, the device can quickly change from a walker, to a seat, to a transport chair, as needed.
The Medline Excel Combo Chair is comfortable and roomy while sitting, and includes features which add convenience, whether you're walking or sitting down.
This interchangeability makes this rollator an economical choice if you or a loved one anticipate needing any (or all!) of these three mobility methods in daily life. Height-adjustable push grips add comfort for both the user and the person transporting them, all while ensuring ergonomic correctness.
The hand brakes are comfortable and easy to squeeze, requiring limited hand strength to do the job. In chair mode, detachable foot rests and a roomy side carrying case complete the comfort and convenience of this combo device.
Features and Benefits
Height adjustable from 32" to 36.5"
Larger seating area than most rollators
Two storage spaces: zippered side storage and under seat storage
Weight capacity: 250 pounds
Customer Feedback
When a product performs several functions, you might expect some challenges converting it from one function to another. Not so with the Medline Excel Combo Chair! Customers report they are able to reconfigure it from a rollator to a chair and back again with ease.
Users also mention how lightweight this device is. Several customers were surprised at how easy it was to lift in and out of their trunk!
The only downside, as reported by a few users, was a bit of bumpiness over rough ground.
Pros
Easy to fold and convert from chair to rollator
Good for both indoor and outdoor use
Cons
Some users reported a bumpy ride over rougher ground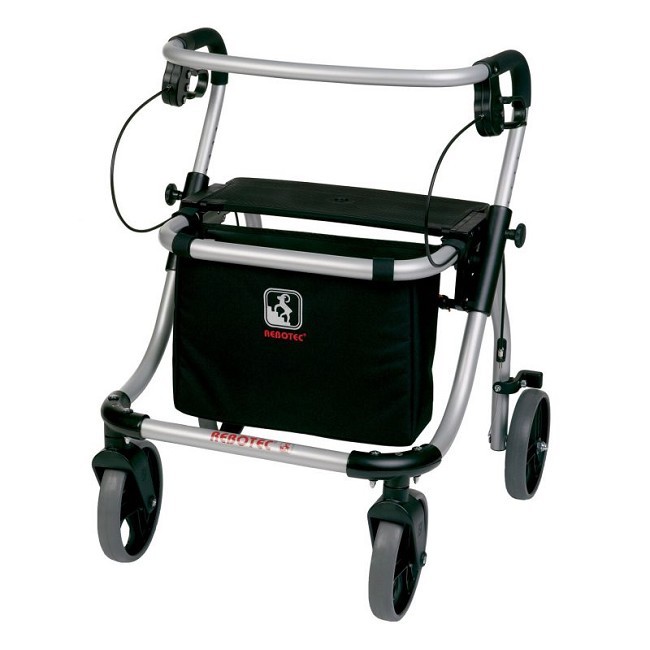 Engineered in Germany, the Polo Plus-T Folding Rollator by Rebotec takes our review's number two spot with its selection of sizes, dual-action braking, and a host of other helpful features that really set this rollator above the rest.
Lightweight and exceptionally maneuverable with its larger, puncture-proof wheels, the Polo Plus-T is also remarkably durable, stable, and sturdy, delivering reliable and supportive performance. It comes in three different sizes, with each offering a height-adjustable, ergonomically-configured handlebar and a comfortable seat to ensure the perfect fit for every user up to 265 pounds.
The Polo Plus-T rollator is easy to fold for convenient transport and storage and comes with a large, private storage pouch to keep personal items and necessities close at hand. Its dual hand brakes control speed and can be locked down for stationary security while seated.
Features and Benefits
Four wheels
Silver and black color
Powder-coated aluminum frame
Three different sizes
Height-adjustable and ergonomic handlebar
Foldable frame
Large, puncture-proof wheels
Dual-action hand brakes
Private storage pouch (reverse seat for protective pouch cover)
Weighs 16.3-pounds/small, 16.75-pounds/regular, and 17.2-pounds/tall
Weight capacity: 265 pounds
Seat height range: 19.3 inches to 23.62 inches
Customer Feedback
It was difficult to find any negative reviews for the Polo Plus-T, as just about every customer gave this rollator a 5.0 rating. Its exceptional maneuverability was often cited as one of its best features, due to the larger wheel size, as was its lightweight comfort and ease of use. Multiple elder users commented about how easy it was to fold and lift into their vehicles independently, without needing help.
Similar to the reviews for the other rollators to make our top five list, many users talked about how nice it was to be able to walk upright, without bending like they used to with walkers, and how much more comfortable, energy-saving, and health-promoting this has been for them. A few users mentioned the dual-action hand brakes, and how you can actually slow forward movement with just one hand because of this design.
Some healthcare professionals noted that this is a popular rollator in the healthcare facilities they work in, with both smaller-than-average and larger-than-average people loving their Polo Plus-T! Just about every reviewer discussed how strong and stable this rollator is, especially compared to some others they've used before.
Pros
Different sizes to ensure the right fit
Adjustable-height handlebars enable proper positioning and ergonomic hand-hold
Strong, stable, and sturdy performance, very reliable
Lightweight frame and large wheels for easy turning and maneuverability
Comfortable seat for resting, doubles as a tray and a cover for storage bag
Lockable brakes for stationary security while seated
Cons
One customer said that since this rollator doesn't have a locking mechanism when it folds, it can easily come open
Drive Medical's stylish Nitro Euro-Style Walker Rollator is more than just a good-looking piece of equipment: it's a reliably made, economically priced rollator with a reputable company name that seamlessly transports users over both indoor and outdoor terrain!
The Nitro's 10-inch front wheels were designed for super-easy turning and steering. The handle height is easily adjustable with the push of a button. The height of the Nitro's back support is easily adjusted as well.
The makers of the Nitro realized that not everyone is of 'average' height. Therefore, this rollator is available in both tall and petite sizes, as well as a standard size. The petite model is for users 5'2" or shorter, while the tall is for users 6'2" and above.
Both the seat and handle height of the Nitro are easily adjustable, giving it a customized feel and ergonomic correctness. Not only that - it's a snap to travel with this rollator! It comes with a storage case, and the walker itself easily clips shut when folded.
A unique safety feature of the Nitro Euro-Style Walker is the fact that its hand brake cable is hidden inside the frame for extra safety. No tangling or tripping on the wires!
Lastly, the Nitro's zippered storage bag is removable, but remains securely attached to the rollator for as long as you need it to.
Features and Benefits
10-inch front casters provide better turning and steering
Tall and petite versions accommodate under 5'2" to over 6 feet tall
Adjustable seat and handles
Internal brake cables prevent tripping and catching
Weighs 17.5 pounds (17 pounds for petite model)
Weight capacity: 300 pounds
Customer Feedback
In all honesty, it was truly difficult to find anything but positive feedback about the Nitro. In fact, one customer actually called it "the Rolls Royce of walkers"!
Customers especially appreciated the fact that there is no assembly required. In addition, they continually mentioned how easy it is to adjust the handlebars and how large the walking range is, from the ground to the handlebars and side to side.
Several customers did note that it was "a bit heavier" than they were expecting, although the vast majority remarked on the opposite, describing how easy it was to lift.
One customer mentioned having trouble using the brakes - otherwise, we could not find any other complaints about this device!
Pros:
Easy to adjust handlebars
Rides smoothly on rough terrain
Excellent turning and steering capabilities
No cables or wiring to trip over
Cons:
Some customers found the brakes difficult to engage
Some customers felt this rollator was heavy to lift
What types of rollators are available?
Knowing what types of rollators are available will help you to choose the best rollator for yourself or a loved one, and include three-wheel models, four-wheel models, bariatric and heavy-duty models, transport/rollator combinations, and caregiver-assisted formats.
Three-wheel rollators - Configured like a tricycle, three-wheel rollators are lighter than four-wheel models and are ideal for small spaces where a tight turning radius is a must. Ideal for average or smaller-than-average users with mild to moderate mobility impairment who have some decent weight-bearing ability, but require balance support and/or a seat to rest.
Four-wheel rollators - Four-wheel rollators offer more stability and support for all sizes of users, as they have four wheels in contact with the ground instead of three. They are usually a little heavier than 3-wheel rollators, but still lightweight and highly maneuverable for both indoor and outdoor surfaces.
Bariatric rollators - While most standard-weight walkers offer a minimal 250-pound weight capacity, heavy-duty bariatric walkers are designed to offer a much higher weight limit to safely accommodate larger or medically obese individuals. They generally feature reinforced steel frames, four wheels, and extra-wide width for the seat and between the frame, allowing ample room for comfortable ambulation.
Transport/Rollator combo - Some clever designs combine convenience and versatility by offering a transport chair and four-wheel rollator all in one device. This is a great choice for users who have caregiving assistance. They can use it independently for walking support and also be seated comfortably with footrests and be pushed by a caregiver or attendant for assisted transport.
Caregiver-Assisted rollators - Another great choice for rollator users with caregivers is a rollator that includes caregiver handles. Configured in a variety of ways, these handles allow caregivers to help control and guide the rollator, providing assistance to the rollator user as needed.
Frequently Asked Questions
How to adjust a rollator walker?
To adjust a rollator walker, it will depend on which model you're trying to change. Depending on the rollator, adjustments can be made for the handlebar height and position, for the height of the frame, and for the width of the frame.
How to use a rollator?
To use a rollator, you will need to learn how to stand up, walk, turn, and sit down. Because everyone's situation is different, we strongly encourage you to seek the advice of your therapist or doctor to learn the best ways for you to safely use a rollator.
Are rollators covered by Medicare?
Rollators are covered by Medicare Part B medical insurance as durable medical equipment (DME) and must be medically necessary and prescribed by your doctor for use in your home.
How much does a rollator weigh?
Rollators vary in how much they weigh, with smaller or three-wheel rollators ranging between 13 to 18 pounds, four-wheel and standard-weight rollators ranging between 15 to 22 pounds, and heavy-duty/bariatric rollators ranging between 20 to 28 pounds.
What is the difference between a walker and a rollator?
The difference between a walker and a rollator is that a rollator has a seat and braking system. Wheels are another difference, but walkers can often have two or even four wheels. However, walkers are usually configured as basic support frames, while rollators offer this frame along with more control, including a seat for resting.
Summary
As with any important purchase, choosing just the right walking aid for yourself or a loved one can be a challenge. There are many different factors to consider: stability, comfort, where and how the device will be used, and how able the user is.
The Guardian Envoy 480 Deluxe is an attractive, sturdy rollator with all the features you'd expect: room to carry your belongings, adjustable height, and padded seating.
Although its appearance is more that of a standard, silver medical walker, the manufacturers have added a bit of color to offset this, making it more attractive than most basic walkers. If you will need to lift your walker often, know that this rollator is a bit heavier than most others we've reviewed here!
We've also shown you two other models that are unique in which functions they offer.
The Enerstride Professional Rollator with Handbrakes and Caregiver Handles presents an attractive, minimalist design for independent mobility that can also be caregiver-assisted.
Its adjustable, ergonomic handle grips can be configured in a wide range of possibilities, ensuring comfortable operation, along with lightweight maneuverability.
The Medline Excel Translator Combo Transport Chair and Rollator also serves a unique purpose: with this rollator, the user can either walk independently, sit and rest, or be pushed by a caregiver.
If you or a loved one need something for long jaunts, this device is for you. It's also ideal if being transported by a caregiver is generally part of your daily routine.
Both the Polo Plus-T Folding Rollator by Rebotec and the Drive Medical RTL Nitro Euro-Style Walker Rollator are excellent choices: both are lightweight, sporty, and highly functional, with lots of features which make using them a pleasure.
We chose the Nitro as our number-one rollator for its many benefits, both large and small. Economical, easy to use, and intuitively designed, it makes tripping and falling less likely by hiding the brake cables internally within the device. Additionally, the Nitro's availability in petite and large sizes makes it comfortable for a greater range of users!
To further your rollator research, you'll find more tips with our article at Caregiver University. Want to learn even more? Find dozens of videos featuring products and caregiver tips at RehabMart's YouTube channel!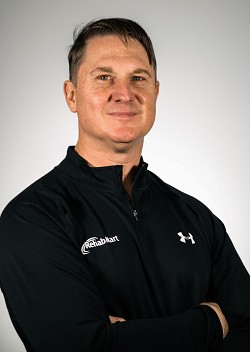 Author:
Co-founder/CEO of Rehabmart, Pediatric Occupational Therapist, husband, and father. Passionate about connecting special needs kids with superb nutrition, sensory integration, and complementary health strategies. Excited about Rehabmart's mission to become the premier online educational platform which empowers caregivers by spotlighting innovative devices and interventions to achieve optimal patient response and recovery.