The risk of falling is a valid concern among the elderly. A fall can diminish function through injury or even just the fear of another fall. This can lead to reduced mobility, which leads directly to less independence and a decreased quality of life.
Rollator walkers provide mobility assistance and accompanying independence. They provide a more normal walking pattern and don't need to be lifted off the ground with each step, so they are ideal for people who have limited upper body strength.
A rollator is not to be leaned on heavily, as it could roll out from under you. Rather, it is designed for people who need help with balance, but who can support their own weight while walking.
An added bonus is that you can get a rollator walker with a seat, so if you get tired on an outing, you can comfortably take a rest whenever you need to.
The Top 5: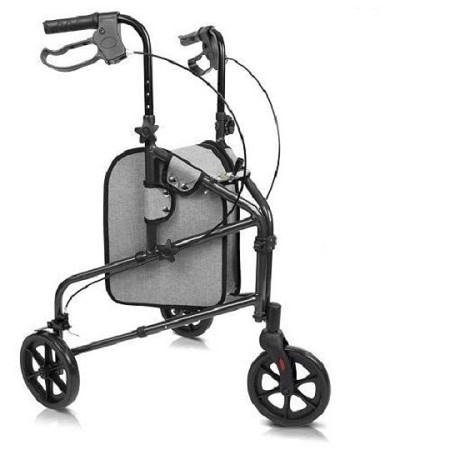 Narrow spaces and crowded places are a breeze to navigate with the tight turning radius of this 3-Wheel Rollator Walker by Vive Health. Entering our list at number 5, this lightweight rollator can navigate inclines and get around tight corners on 8-inch wheels with ergonomic secure hand brakes that lock in place when you're standing still.
You're not limited with where you can go, since this device folds up easily to fit in your backseat or trunk. When folded, the base is only 9 inches wide, and the corrosion-resistant aluminum frame weighs only 11 pounds. The handle height of this rollator is adjustable via simple push pins to comfortably fit people of most heights.
This device can accommodate users up to 250 pounds. For convenience, it comes with a roomy storage bag to transport personal belongings.
If you're looking for a stable, simple-to-use and easy-to-transport three-wheeled rollator, this rolling walker will get you around safely in tight spaces inside or outdoors.
Features and Benefits
Foldable for easy transport and storage
Maneuvers in tight spots
Controlled with hand brakes
Adjustable handle height
Facilitates mobility and independence
Pros
Narrow enough to get around in the bathroom
Easy to operate
Easy to get into the car
Perfectly sized carry bag
Cons
Doesn't have a seat
Limited color availability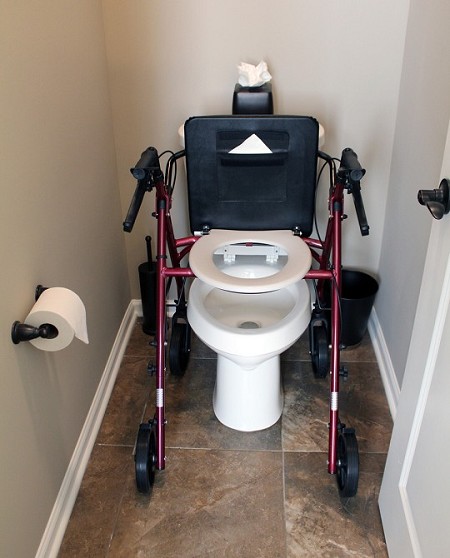 The Free2Go Rollator with Built in Commode Seat by Free2Go Mobility Products is not just a rolling walker. You can't tell by looking at it, but our number 4 entry combines a raised toilet seat with a mobility aid. Its hidden commode seat adds to its versatility, with an over-toilet frame seat compatible with any freestanding toilet.
Four 8-inch casters, with the front two swiveling freely, make it easy to get around tight corners and maneuver over most terrain indoors or out. The squeeze hand brakes give you direct speed control and make it easy to lock the wheels when you don't want it to move.
The seat cushion is thickly padded for comfort, and hides the commode seat. To take bathroom safety with you wherever you go, park the rollator over any toilet, lock the wheels, and flip up the cushion to expose the commode seat. There is a pouch under the cushion to conveniently store sanitary products.
The lightweight frame on this innovative roller walker can support up to 300 pounds. You can keep your balance while taking a walk and when you need to take a bathroom break, you can safely transfer yourself from a standing to a sitting position and back again within most restroom stalls.
When the extra convenience and safety of a raised commode fits your needs while you are enjoying the mobility provided by your rollator, this rolling walker delivers. Its maneuverability means you have the freedom to take it most places, including any standard bathroom stall.
Features and Benefits
Commode feature provides raised toilet seat to any toilet
Swiveling front casters make it easy to navigate tight spaces
Speed control and easily activated wheel locks come from squeeze hand brakes
Seat cushion features thick padding for comfort and hides pouch for sanitary items
Compatible with most standard toilets and bathroom stalls
Pros
Toilet seat height added plus the option of mobility is a life changer
Makes public restroom visits safer
Allows for privacy while toileting
Multi-use device aids in mobility and personal care
Cons
Heavy at more than 20 pounds
Must be thoroughly cleaned right after use as a commode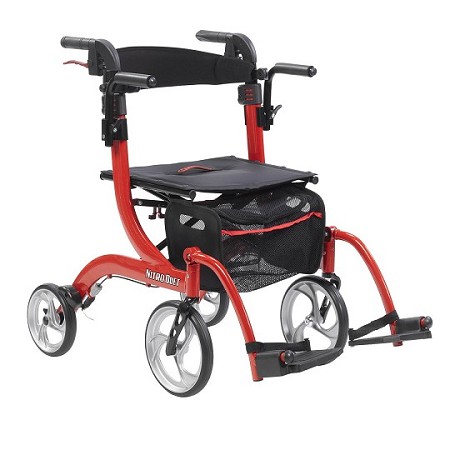 For its versatility as a transfer chair and a rolling walker, the Nitro Duet Rollator and Transport Chair by Drive Medical lands at number 3 on our list. It can be used independently or with assistance from a caregiver.
The 2-in-1 system of the Nitro rollator allows you to walk when you want, or sit and relax and allow someone else to push you when it's time to rest. To move independently, reverse the backrest and fold the footrest up with the touch of a button. When you want to use it as a transport chair, you can elevate the backrest and rear handles up to four inches for the convenience and comfort of a caregiver.
The height of the back support of this Drive rollator is easily adjusted. The 10-inch front casters make it simple to maneuver with an enhanced turning radius. The curved design has a cross-brace support structure, and this rollator folds in half easily when it's time to transport or store it. The brake cables are built right into the frame so they'll never get snagged or be in your way. It comes with a durable and easily accessible storage bag for your personal items.
This rollator walker with seat is a great choice if you enjoy the independence of walking on your own, but also benefit sometimes from riding and being pushed by someone else. Its unique 2-in-1 system gives you the best of a rolling walker and a transfer chair.
Features and Benefits
Provides for independent and assisted mobility
Easily folds in half for easy storage or transport
Fosters independence in a comfortable device
Thoughtful brake design within a lightweight frame
Enhanced turning radius and maneuverability
Pros
Great for when fatigue or pain sets in on an outing
Sturdy and comfortable
Converts easily from a rolling walker to a chair
Simple to fold for storage
Cons
Doesn't need the seat cushion
Storage isn't convenient to reach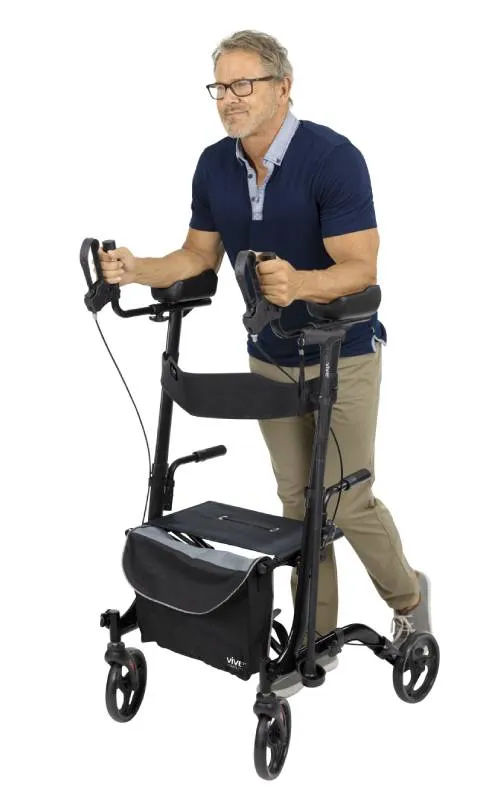 The ergonomic design makes this Upright Rollator / Rollator Walker with Seat and Forearm Supports by Vive Health a good choice for long-term service. Coming in at number 2 on our list, it features forearm support cuffs for stability and ergonomic padding for comfort. It also boasts more legroom than most conventional walkers offer.
Its customizable lightweight design helps you walk with proper upright posture, staving off the hunch that older people sometimes get. This also alleviates pressure on your back and you can comfortably walk longer distances.
It is adaptable for heights of 5' to 6'. It folds horizontally and vertically for the economy of space when being stored. Its maximum weight capacity is 300 pounds. It has an advanced brake system that keeps you from slipping and helps you keep your balance.
If posture is a concern and you want the extra support to keep you in an upright position, this rollator walker with its forearm support will help you achieve that. It fits a wide range of body frames and will safely eliminate the risk of a fall while keeping you walking with the correct posture.
Features and Benefits
Posture is supported by forearm cuffs
More legroom than conventional walkers
Lightweight and easy to fold for transport and storage
Customizable and adjustable for an individual fit
Pros
Forearm cuffs help improve posture and gait
Lightweight and easy to use
Put together quickly
Large wheels easily roll over carpets and throw rugs
Cons
Won't fit through standard doorways
It's heavy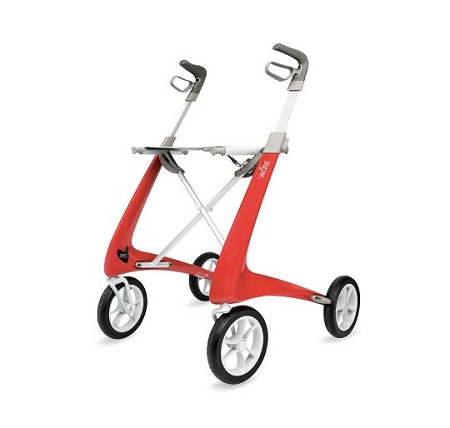 The number 1 pick on our list is the world's lightest rollator. The Carbon Fiber Ultralight Rollator Walker by Medline might be the most lightweight of all rollators, but it safely supports up to 285 pounds.
Weighing just 10.6 pounds, it is easy to lift and easy to fold and unfold, eliminating strain for the user or caregiver. It's also durable and its carbon fiber construction will stand up well to long-term use. It can be customized with a regular or a compact seat.
This Medline rollator has 8-inch casters and the brake cables run through the frame between the wheels and the hand brakes. Its handle height is adjustable to provide a personalized user experience. can be adjusted to keep it at the correct and most comfortable height for the user.
If you are looking for a sleek, ultra lightweight rollator that is highly portable and designed to be quickly folded up or down, this one will meet all those needs. And when you don't need it, it will fold away neatly until you're ready to get out into the world again.
Features and Benefits
Most lightweight rollator available
Easy to transport and store
Cable brakes provide control
No customer assembly required
Strong, rigid frame for durability
Pros
Supports up to 285 pounds
Big wheels that roll smoothly
Very lightweight at only 10 pounds
Rugged and durable
No nobs or external wires
Seat included
Cons
Doesn't come with anything to carry personal belongings
Our list highlights rollators with a variety of features. The Medline Carbon Fiber Ultralight Rollator Walker tops the list because it is the lightest version, ready to unfold in an instant. Depending on your individual needs and preferences, any of these picks will get you where you want to go safely and in comfortable style.
Rollators open up the world for people with mobility challenges. They are great indoors for rolling over thresholds or outdoors on uneven surfaces. They make taking a walk safe in almost any environment, keeping the world open for people struggling with mobility challenges.
Types of Rollators
Rollators generally come in three-wheel models, four-wheel models, heavy-duty models, transport/rollator combos, and caregiver-assisted models.
Three-Wheeled Rollators
Lighter than their four-wheeled counterparts, three-wheeled models are best for inside use and tight spaces where a small turning radius is helpful. They are best for small-framed users who can bear their own weight and just need some balance support.
Four-Wheeled Rollators
Appropriate for users of all sizes, four-wheeled rollators are usually heavier than the three-wheeled versions, but are still lightweight enough to transport easily. They are highly maneuverable and are good for indoor and outdoor use.
Heavy Duty (Bariatric) Rollators
Standard rollators generally work for patients up to the 200-300 pound range, and heavy duty rolling walkers can safely accommodate larger framed users. The heavy duty models have steel reinforced frames, four wheels, and extra wide seats.
Transport/Rollator Combo
If you have a caregiver to offer assistance, these rolling walkers can be used independently for walking or as a wheelchair to be seated comfortably and pushed by an attendant.
Caregiver-Assisted Rollators
A rollator that includes handles for a caregiver helps provide control and guidance of the walker if needed.
The rollators on our Top 5 list have different design features, but the one thing they all have in common is that any of them will help you get out into the world, explore on your own, and participate in your life instead of sitting on the sidelines. No matter what your priorities are in a rollator, one of these top models is sure to meet your needs.
FAQ
How is a rollator walker adjusted?
Generally rollators can be adjusted at the handle height and position, the frame height, and the frame width.
How is a rollator used?
Since everyone's situation is different, you are strongly encouraged to seek the advice of your healthcare provider to learn the best ways for you to safely use a rolling walker. Generally, you will need to be able to stand, walk, turn, and sit down to successfully use a rollator.
Does Medicare cover rollators?
Yes, when considered medically necessary and prescribed by your doctor for use in your home, rollators are covered by Medicare Part B medical insurance as durable medical equipment (DME).
How much does a rollator weigh?
Ultralight versions built to be strong yet lightweight weigh between 10 and 13 pounds. Small three-wheeled versions usually weigh between 13 and 18 pounds, standard four-wheeled models usually range between 15 and 22 pounds, and heavy duty/bariatric models usually weigh between 20 and 28 pounds.
What is the difference between a walker and a rollator?
The main difference is that walkers are built to support your body weight, and rollators are built to assist with balance issues. The rollator often has a seat and it has a brake system for control. A rollator is also continuously rolled, while a standard walker is picked up with every step.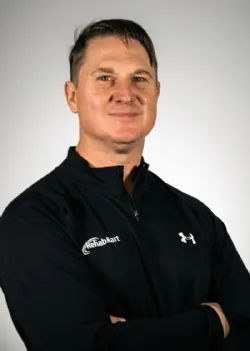 Author:
Co-founder/CEO of Rehabmart, Pediatric Occupational Therapist, husband, and father. Passionate about connecting special needs kids with superb nutrition, sensory integration, and complementary health strategies. Excited about Rehabmart's mission to become the premier online educational platform which empowers caregivers by spotlighting innovative devices and interventions to achieve optimal patient response and recovery.