One of the most widely recognized and familiar pieces of equipment in modern medicine is the wheelchair. Used by countless patients for a wide variety of reasons, wheelchairs have been the answer to countless conditions that limit mobility and would otherwise hold individuals back from living a joyful, independent life.
However, even the most helpful tools have some potential negative side effects! And with wheelchairs, the biggest risk posed to users is ulcer development.
Wheelchair cushions exist to prevent damaging side effects brought on by long-term wheelchair use - and yet, not all wheelchair cushions are created equal. In this Top 5 article, we'll take a candid look at five of the greatest options available for users looking to specifically prevent and heal skin breakdown!
Top 5 Best Wheelchair Cushions for Ulcer Prevention Summary
The Top 5:
Ulce
r prevention and wheelchair cushions
Prolonged time spent on a wheelchair—or seated on any surface, for that matter—is an all-too-common cause of pressure sores, skin breakdown, postural discomfort, and ulcers.
Ulcers - sometimes referred to as Ischemic ulcers—result from a decreased or complete lack of circulation through an artery that provides blood to a specific region of the body. Ulcers are not uncommon for patients who spend extended periods of time in a wheelchair, as the seated position can unintentionally reduce blood flow to the patient's lower back, coccyx, hind quarters, and upper thighs.
The good news is, there is a tool specifically created to prevent these painful sores and complications! Wheelchair cushions have been expressly designed to prevent, and in some cases, even treat skin breakdown. The cushions manage this through a variety of methods and materials, ranging from supple gel layering to intuitive air cell technology.
Wheelchair cushions come in a sizeable number of formats—foam, gel, gel-foam, ROHO/air, memory foam, Star, and many more. Each format protects patients and provides additional comfort in its own particular way.
To best help you determine which wheelchair cushion is most capable of protecting you or your loved one from skin breakdown, this article will give you a working list of the most highly recommended wheelchair cushions for ulcer prevention available from Rehabmart.com!
Starting off our top five list is the Super Soft Econo Gel Cushion from Skil-Care. During in-house product testing performed by the Rehabmart product team, this cushion snagged the award of Best Value in Gel Wheelchair Cushions!
The Super Soft Econo Gel lives up to its name with it's high-quality, affordable design that provides superior ulcer protection - even for individuals on a tight budget.
The cushion is available in three basic widths: 16, 18, and 20 inches. All three sizes are 16 inches long, and come equipped with a low-shear cover that's designed to be easy to clean and attach quickly to the cushion. This cover provides a small but noticeable degree of extra padding, and helps protect against moisture from incontinence or sweat buildup. Safety ties affix the cushion to the wheelchair, preventing it from sliding forward or being nudged off.
The Econo Gel's high density foam contains an interior gel compartment, which is the source of the product's form-fitting design. The foam layering provides the cushion's sturdiness and support, while the gel compartment relieves significant amounts of pressure on any sensitive or boney areas!
Ultimately, the biggest advantage of choosing the Super Soft Econo Gel is its very agreeable price tag. Priced at just around $50, this cushion is one of the most affordable cushions on the market (let alone in this top five ranking!). The Econo Gel doesn't sacrifice quality, either, and many customers report it provides competitive quality despite its surprisingly low cost.
Many customer who reviewed this cushion said it's a good "tester" cushion for anyone interested in ulcer protection, but not quite ready to commit a large amount of money to a product.
Features and Benefits
Available in three sizes: 16, 18, and 20in.
Combines both foam support and gel pressure relief
Awarded the title of "Best Value" in gel cushions by the Rehabmart product testing team
Customer Feedback
Pros:
The most praise for the Super Soft Econo cushion was rooted in its low price. Customers shared that pricing was a huge selling point, and one of the primary reasons they went with this cushion!
Although not talked about quite as often, the unique combination of foam support and gel pressure relief was considered a distinct advantage, and customers liked the gentle molding of the foam paired with the malleability of the gel compartment.
Cons:
Although negative comments for this product were pretty hard to come by, some customers suggested that patients who are at high risk of skin breakdown or ulcer development should consider investing the money to purchase a cushion that provides more extensive protection. In these reviews, ROHO/Air cushions were suggested as the preferred option.
ROHO's Contour Select Wheelchair Cushion is easily the most versatile option on this top five list! By combining a variety of impressive features and formatting settings, this air-based option gives patients nearly unrivaled protection, comfort, and fall prevention - in fact, the Contour Select was ranked the number one ROHO/Air wheelchair cushion in Rehabmart's Top Five list for the category!
The aesthetically innovative design of the Contour Select is the first thing potential customers are likely to notice about it. Like many of ROHO's products, this product utilizes ROHO's unique air cell technology, which makes use of a network of conforming air-inflated cells to ensure pressure is diverted away from sensitive, bony areas of the lower body.
Air cell technology is different from every other cushion material available due to it's fully immersive nature. When patients using a ROHO cushion shift in their wheelchairs, the ROHO cushion's air cells respond immediately, gently compressing in high pressure areas and rising to support the user where they shift weight away from the chair.
This cutting-edge format minimizes the amount of side-to-side motion experienced by patients and ensures they are consistently seated in an upright, comfortable position.
Another of the ROHO Contour Select's impressive features is called Isoflo Memory Control. This internal feature disperses air throughout the cushion's air compartments, ensuring areas that require additional support (including complications stemming from pelvic deformities and/or pelvic tilt) are given the greatest attention. Then, when the user finds an ideal position, the Isoflo Memory Control can be locked to maintain that exact air distribution!
This thoughtful feature prevents the cushion from"bottoming out"; and, by keeping the lower body elevated, promotes increased blood flow to areas at risk of poor circulation. Better circulation means a drastic reduction in the chances of ulcer formation!
To top it off, the Contour Select is designed for easy cleaning, and can be repaired in a hurry with it's quick-patch kit if the lining is punctured. Finally, the cushion's inflation can also be adjusted using the included air hand pump, which can be utilized even while the patient is seated atop the cushion.
Features and Benefits
Weight capacity: 500 lbs.
Cushion Width: 15, 16, 18, and 20 inches
Cushion Depth: 15, 16, 18, and 20 inches
Utilizes unique air cell technology for an immersive seating experience
Isoflo Memory Control ensures a customizable seating position
Includes a quick patch kit for easy repairs
Customer Feedback
Pros:
Customers praise this cushion for its product-specific Isoflo Memory Control, and enjoy the innovative concept of locking air into the position that provides optimal comfort for the patient!
Frequent themes also included an appreciation for the product's hand pump, and the versatility of being able to pump more air into the cushion without needing to displace the person using it.
Cons:
Despite its variety of impressive features, the Contour Select is the most expensive cushion on this top five list - and customers noticed. Several reviewers reported there are other cushions of competitive quality that cost significantly less.
Coming in at number three is the ROHO AirLITE Wheelchair Cushion!
The AirLITE is slightly different from most other ROHO/air cushions in that it merges the ROHO air cell layout with a specially-designed foam padding. The air cells offer the same support and ulcer prevention as other ROHO products, but foam padding pairs to provide a sturdy foundation to perfectly support the patient's anatomy!
One of the most noteworthy formatting choices on the ROHO AirLITE is its contoured femur troughs—both curved roughly two centimeters lower than the cushion's surface height. This contoured format relieves pressure on user's thighs, and gives Caregivers the advantage when performing patient transfers in and out of the user's wheelchair!
Also worth mentioning is the vast selection of sizes the ROHO AirLITE comes available in - customers have fifteen possible sizing combinations at their disposal! This decision to make the cushion available in such a variety of both height and width increments allows customers to be absolutely certain that the AIRLite cushion they purchase will fit flawlessly into their chair.
The cushion comes equipped with a waterproof heavy duty incontinence cover, which fits snugly over the cushion to protect it from both moisture and physical damage.
Finally—and possibly most importantly—the AirLITE is priced affordably, making it one of the most cost-effective wheelchair cushions available (particularly among ROHO cushions)!
All in all, the AirLITE's combination of high quality support and ulcer prevention technology pairs fabulously with it's affordable price tag, and puts the best of skin protection and economy pricing right into customer's hands.
Features and Benefits
Femur troughs for pressure reduction and ease of transfers
An ischial well contour to avoid tailbone compression
Unique combination of soft foam and ROHO/Air cushioning
13 size options to ensure a perfect fit
Customer Feedback
Pros:
Akin to the other affordably priced options on this list, customers praised the AirLITE cushion for its outstanding quality at a fraction of the cost of competitors.
Additional customer feedback emphasized the convenience of having so many sizing options, and said it helped them pick a cushion that fit compactly into whatever wheelchair they were pairing it with.
Cons:
With a weight capacity of 300 pounds, feedback indicated that the AirLITE probably wouldn't be the first choice for heavier-bodied users.
Ranked next in our top five is none other than the Jay Union Cushion by Sunrise Medical. If this cushion sounds familiar, you may have seen it before; thanks to its versatility and excellent design, the Jay Union has been frequently ranked in the top five on a number of Rehabmart product articles - including its solo status as The Most Advanced Foam Cushion!
This cushion uses an innovative combination of standard foam and memory foam to create a support system that is defensively and offensively working against the growth and formation of painful ulcers.
Providing lateral pelvic support with a medial contour, the Jay Union gracefully delivers on its signature layering technology without adding too much additional height or bulkiness to the cushion's overall design.
And while other wheelchair cushions may seem impressive with a handful of sizing options, the Jay Union blows them all away with a staggering 82 different length and width combinations! Customers would be hard-pressed to find a size that wouldn't fit them and their wheelchair perfectly.
Finally, with both an outer and inner cover, this cushion guarantees that any hint of moisture will stay far, far away from the cushion's internal foam! The outer cover uses Waterfall seams, which are designed to prevent rubbing and breakdown of the patient's skin. This outer cover also includes a cover flap and a handle for easy transportation.
Features and Benefits
Weight capacity: 300lbs (14" - 20" wide), 500lbs (22" - 24" wide)
Waterfall front to reduce pressure on legs
Available in 82 size combinations for a flawless fit
Dual standard/memory foam combination
Dual cover prevents moisture and skin shearing
One year manufacturer's warranty
Customer Feedback
Pros:
Customers love the huge range of available cushion sizes! One customer, an employee in a rehabilitation clinic, explained how the selection of sizes allows the clinic to ensure there is a cushion that perfectly fits every single wheelchair.
The combination of foam and memory foam within the cushion was recognized by several customers to be the final reason they went with the Jay Union. Giving users the most comfort, this plush, supportive design was exactly the right amount of padding necessary!
Cons:
Although any negative comments were few and far between, some customers did say that for the price, they wish they would have just made the financial leap and gone with a ROHO brand cushion, instead.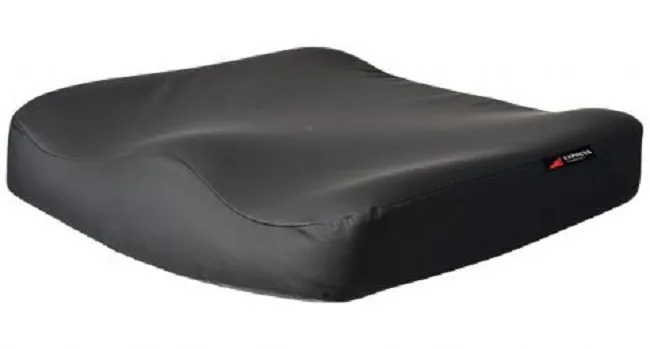 Laying claim to the number-one spot on this top five is the exceptional Saddle Cushion from Comfort Company! In a vast sea of wheelchair cushions, this cushion takes the cake, thanks to its many impressive features, rave reviews, and knockout design!
One constant struggle encountered by many wheelchair users is the tendency to slump in their wheelchair, which pushes the wheelchair cushion, along with the patient's lower body, too far forward. With an intuitive anti-thrust design, the Maxx Gel encourages patients to sit snugly by placing deep lateral and medial leg contours into the cushion for a continued upright posture - even after hours of use.
Composed of four layers of high resiliency foam, each layer provides postural stability, while a gel pack of Comfort Company's Evolite gel embedded within the cushion creates a dynamic barrier of protection against friction. This composite gel is significantly lighter than other water-based gels, yet still allows for much-needed pressure redistribution key to preventing ulcer formation.
This cushion also comes with the choice of Comfort Company's two signature cushion cover options: Stretch-Air and Comfort-Tek.
The Stretch-Air cover is designed to allow increased airflow throughout the cushion and underneath the patient. This prevents moisture accumulation and allows heat to dissipate, rather than build up in high-contact areas.
Comfort-Tek, on the other hand, is a stretchable fabric that includes features that are designed to protect the inner cushion. This cover is ideal for patients with incontinence or other moisture concerns.
Despite offering significantly more unique features than any other product on this list, the Saddle wheelchair cushion has one of the lower price tags! Naturally, customers rave about this in their reviews, one calling it the "icing on the cake!"
Features and Benefits
Weight capacity: ranges from 250lbs to 400lbs
Four layers of foam support with embedded cell of Evolite gel
Choose from zero elevation, anti-thrust, or wedge styles
Waterfall front helps take pressure off the leg trough area

GlideWear Technology provides comfort and unrivaled protection from ulcers and skin breakdown
Non-skid bottom with hook and loop attachments
Customer Feedback
Pros:
Without a question, the Maxx Gel is the most highly regarded and well-reviewed wheelchair cushion in this top five!
While customers went into detail about the fabulous features of the cushion (GlideWear Technology and high-quality cover choices being two of the most popular), the most common praise it received was its affordable price. The high-quality design of the Maxx Gel gives the impression of an expensive cushion, but most customers were pleasantly surprised to discover the cushion was actually less expensive than several others!
Cons:
None we could find!
Summary
The Maxx Gel wheelchair cushion easily earns our number-one spot as the best wheelchair cushion for ulcer prevention, due in large part to the plethora of unique and capable features geared toward ulcer prevention.
Thanks to its streamlined makeup and innovative additions including GlideWear Technology and the Evolite gel cushion, the Maxx Gel guarantees users a safe and enjoyable sitting experience that can be counted on to be completely pain and ulcer-free!
Keep reading with our article The 5 Best Wheelchair Cushions, and watch dozens more product reviews at Rehabmart's YouTube channel!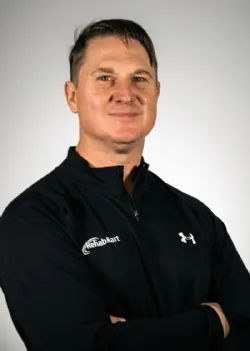 Author:
Co-founder/CEO of Rehabmart, Pediatric Occupational Therapist, husband, and father. Passionate about connecting special needs kids with superb nutrition, sensory integration, and complementary health strategies. Excited about Rehabmart's mission to become the premier online educational platform which empowers caregivers by spotlighting innovative devices and interventions to achieve optimal patient response and recovery.