Without question, one of the most essential pieces of equipment for any patient—whether being cared for in a hospital or at home—is a safe, comfortable bed. Because no two patients are exactly alike, patient care beds must provide a diverse range of features and functions to accommodate the needs of the patient.
What Is a Pivot Bed?
Among the most unique and invaluable of hospital beds are pivot beds. Pivot beds are electrically-powered beds that are designed to shift from a lying position to a seated position. The bed can then rotate in this seated position to a safe, comfortable exit position from the mattress. In this way, pivot beds provide one of the smoothest, safest transitions for patients between standing and lying.
Thanks in large part to their essential ability to safely transition patients between standing, sitting, and lying down, pivot beds are an extremely popular bed type for both clinical and in-home care. They are particularly useful for patients who may have difficulty moving between standing and lying positions on their own—such as elderly patients, patients recovering from core or lower body injuries, or patients with limited use of their lower body. For this reason, pivot beds are often used for patients at home, as well as in rehabilitation centers and retirement homes.
While there are many pivot beds available on the market, among the two most popular and most effective are Great Life Healthcare's Power Rotating HomeCare Bed (also known as the Rotor Assist Bed) and Med-Mizer's PR1000 Sit-to-Stand Pivot Bed. Both of these beds stand out in the category of pivot beds for their user safety features, patient comfort considerations, and ease of use, among many other reasons. To highlight the advantages of pivot beds and shine a spotlight on two top-of-the-line products, this article will compare the features of the Great Life HomeCare bed against those of the Med-Mizer PR1000.
To compare these two high-quality beds, we will break down their features on a category-by-category basis to see how the two match up to one another, while also highlighting some of their more unique features. With that in mind, let's take a look at the features and benefits of these two great pivot beds.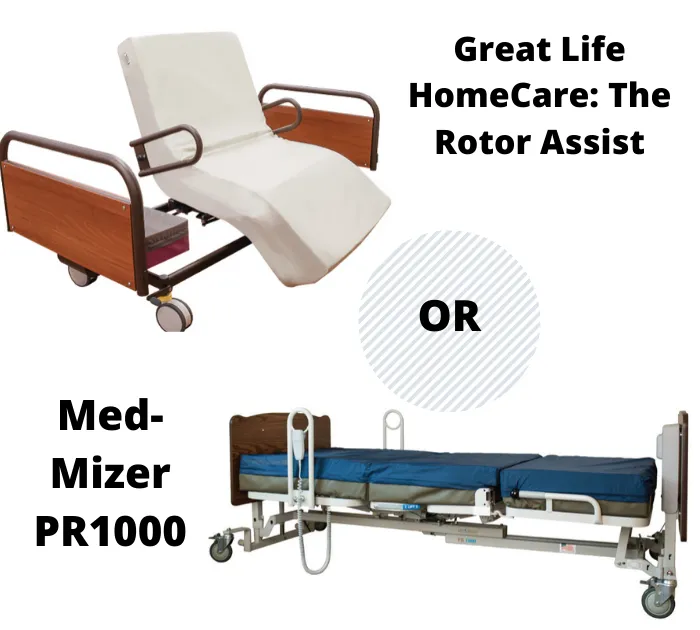 Pivot Bed Units and Cost
While perhaps not the first category to come to mind when researching a bed, the overall provisions included with the cost of a pivot bed is a point that is worth a great deal of consideration. Some pivot beds are sold in separate units—with the mattress, railings, and other features costing additional fees or even being sold as completely separate products. Others, however, are sold as units equipped with multiple or all features of the bed.
In the case of the HomeCare Bed, Great Life Healthcare offers everything—bed, mattress, side rails, sheets and more—together as a unit. There is no additional charge for any of these items, as they all come with the bed as a whole unit. While some other pivot beds offer some features as part of the bed unit, the HomeCare Bed is the only one to offer all of the listed items as a unit. With this in mind, it's likely no surprise that customers widely applaud the HomeCare bed for being the easiest purchase for pivot beds, as everything is included.
This is a point of stark contrast between our two compared beds. Where the Great Life HomeCare Bed offers everything as a unit, the Med-Mizer PR1000 bed is offered at a set price with additional charges for headboards, footboards, side rails, sheets, and mattress.
It is important to consider whether or not a bed is offered as a unit because this can greatly impact pricing—particularly in comparison to a bed's advertised price. For example, at advertised prices, the Med-Mizer PR1000 bed technically costs less than the Great Life HomeCare Bed. However, because the HomeCare Bed is offered as a complete unit and the PR1000 charges extra for many features, the final cost of the HomeCare Bed is ultimately lower than that of the PR1000.
Mattress Options
Naturally, one of the most essential topics in discussing a bed is its mattress. The Great Life HomeCare Bed comes equipped with a specialized foam mattress that features honeycomb-style gel cushions in the hip and shoulder regions of the mattress. These gel regions are specially designed to effectively promote air circulation and reduce pressure—two concepts that greatly help to reduce the risk of pressure ulcers in these regions.
The Med-Mizer PR1000 bed, on the other hand, offers customers the choice of three mattress options. Their MM Elite Pressure Relieving Foam Mattress, as its name implies, is a foam mattress that is designed to use its soft, breathable foam construction to alleviate pressure across the patient's body while in bed. The XtendaCare Mattress features a sturdy cell structure that distributes pressure evenly across the mattress to prevent it from accumulating in sensitive areas. Finally, the Rest-Q Mattress is divided into multiple support sections that each offer the unique support and stability required at the region of the body with which they interact.
Naturally, there is an impressive selection of mattresses available with the Med-Mizer PR1000 bed. However, it is worth noting again that these mattress options are an additional cost to the Med-Mizer PR1000 bed, whereas the HomeCare Bed's honeycomb-style foam mattress is included in the price of the bed.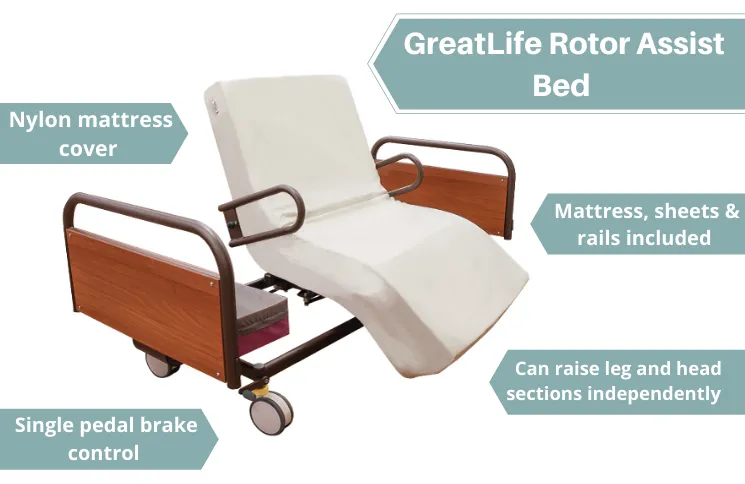 Bed in Motion
When it comes to pivot beds, the category of motion and maneuverability is so much more than just a conversation of the ease with which the bed can be moved from location to location. Pivot beds, as we discussed in the introduction of this article, are uniquely capable of transitioning from a seated, outward-facing position to a comfortable, lying position with the push of a button. While this smooth transition between sitting and lying is the essence of each pivot bed, the methods and the tools used to perform this transition vary from product to product.
Both the Great Life HomeCare bed and the Med-Mizer PR1000 implement a remote-controlled transition process that requires the user only press a button to safely and smoothly move between sitting and lying positions. However, there are multiple differences between the two in the process of this transition.
Throughout the transition process, the HomeCare bed supports the user's entire body, including his/her legs. This differs from the Med-Mizer PR100 bed, which does not support the user's legs through transition, but instead takes a form closer to a bench while in the seated position.
It should be noted that for the Med-Mizer PR1000, the foot section of the bed must be lowered by another person prior to the bed being shifted to a seated position. The Great Life HomeCare bed, on the other hand, does not require a second person in order to perform the transition. Because of this ability to be operated by its user alone, the HomeCare bed comes equipped with a safety strap that helps to keep the user secure in the bed during transition.
Bed Specifications
Particularly in the case of in-home use, the exact specifications of a bed are vital to consider, as it may influence whether a bed fits in the space available at home. The Great Life HomeCare bed is 82 inches in length by 39 inches in width—offering users a broad comfortable space on which to rest. The Med-Mizer PR1000 is slightly smaller in size, with a sleeping surface area of 80 inches in length by 35 inches in width. Despite this smaller sleeping surface area, the Med-Mizer bed does claim an advantage in weight capacity, as it can safely support up to 600 pounds, whereas the HomeCare bed has a weight capacity of 350 pounds.
For moving the product from location to location, both beds roll on sturdy casters to allow for smooth, easy movement. The Med-Mizer PR1000's casters each bear individual breaks to halt their movement. This differs from the Great Life HomeCare bed, which features a single pedal brake that controls the locking of all four casters (rather than requiring each caster to be locked independently).
Additional Features and Functions
Both of the pivot beds discussed in this article offer a number of unique features and functions that are not always present in other pivot beds. This section will explore some of those valuable additional features.
The Med-Mizer PR1000 offers a wide range of customization to customers that is not offered in many other pivot beds. For example, the wooden regions of the bed's head and footboards are offered in four different finishes, allowing the bed to be customized to the user's tastes. Additionally, as we noted previously, the PR1000 offers three mattress options from which customers can choose, based on their needs and preferences. However, these additional features are not included in the price of the bed, and they therefore add additional cost to the bed's total price.
The additional features and functions of the Great Life HomeCare bed are broad, unique to this bed, and most importantly, they are included with the bed (no extra charges). While not as customizable as the PR1000, the HomeCare bed's features offer valuable, often overlooked benefits. For example, the bed comes with a specialized pillow holder that keeps the user's pillow in place throughout the movement of the bed. While a seemingly minor, this feature goes a long way in ensuring comfort during the bed transition process. Additionally, the frame of the HomeCare bed features an ingress/egress design that helps to reduce the amount of bending and strain required from caregivers while helping a patient in and out of bed.
In the event of power loss, the beds each offer different backup methods. The HomeCare bed implements an integrated capacitor in its power supply, which allows the bed to make one full transition if the power is lost. The Med-Mizer PR1000 offers customers the option to include a battery back-up for the bed at an additional cost, which can continue to power the bed in the event that power is lost.
Summary
As is clear from these two high-quality products, there is a diverse range of features, functions, and specifications amongst pivot beds. Thanks to its package offer—in which all of its unique features are included under the price of the bed—the Great Life Power Rotating Rotor Assist HomeCare Bed is without question one of the best pivot beds available on the market. Meanwhile, although most of its features are an additional cost to the customer, the Med-Mizer PR1000 pivot bed stands as a comparable, valuable pivot bed. However, due to the Great Life HomeCare bed's numerous additional features and unique full-bed powered pivot, it claims a slight edge over its competition.
Visit Rehabmart.com to learn more about how the Great Life HomeCare bed and the Med-Mizer PR1000 can improve the comfort and safety of you or your loved one. There you can find further product details, as well as pricing and shipping options. While you're there, stop by Rehabmart's Caregiver University, where you can find useful articles ranging from buying guides and handy caregiving tips to product comparisons like this article.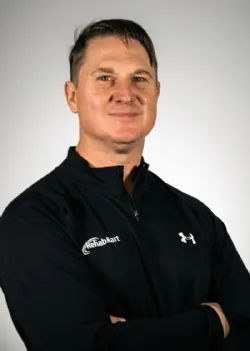 Author:
Co-founder/CEO of Rehabmart, Pediatric Occupational Therapist, husband, and father. Passionate about connecting special needs kids with superb nutrition, sensory integration, and complementary health strategies. Excited about Rehabmart's mission to become the premier online educational platform which empowers caregivers by spotlighting innovative devices and interventions to achieve optimal patient response and recovery.