Wheelchair cushions are specifically designed to help wheelchair users position themselves more comfortably when seated. Available in a variety of materials and nearly any shape and thickness, wheelchair cushions reduce the risk of pressure ulcers and skin breakdown while encouraging proper body positioning and posture control!
The Top 5 Best Gel Wheelchair Cushions Summary
The Top 5:
Why choose a gel cushion?
For people who spend all or most of their day in a wheelchair, comfort and skin integrity are among the biggest concerns.
Sitting comfortably not only makes daily life more pleasant; it improves posture, supports good body mechanics, and prevents muscle aches, strains, and further deterioration of bones and muscles.
Clearly, the surface on which a person sits is of prime importance. Without the proper padding and support, pressure sores are likely to develop or get worse, and chronic pain can develop as a result of poor posture and constant pressure on joints.
To prevent all these issues, selecting the right cushion for you or your loved one's wheelchair is crucial. There are many different kinds of cushions out there, all suited for different needs. One of the most popular types is the gel cushion.
Gel wheelchair cushions are sturdy enough to be used throughout the day, and provide superior comfort and support.
One advantage of gel cushions is that they will conform to the shape of the user's body. This prevents pressure sores and protects delicate skin.
A gel cushion can also help stabilize a user's seating position, by providing the stability and support that atrophied muscles can no longer provide to bones and joints. It takes pressure off the spine, encouraging good posture.
Some gel cushions come with supplemental adduction or abduction inserts. These can help stabilize the user's legs and overall posture even more securely.
How are gel cushions made?
A gel wheelchair cushion generally consists of a gel pouch or "bladder" filled with either pure silicone gel, or a blend of silicone-based gels.
The bladder is placed either on top of a high-resiliency foam and/or EVA (ethylene-vinyl acetate) foam layer, or between two layers of foam. The more foam layers, the stiffer the cushion and the firmer the support.
A proper cover is also important. Covers are usually made of an easy-to-clean, water-resistant surface such as urethane-coated nylon, and a low-shear, stretch fabric designed to circulate air evenly and reduce heat.
Types of gel cushions
An important thing to consider when searching for a cushion is your or your loved one's degree of risk of skin integrity problems, such as ulcers and shearing. Some cushions are designed with those issues in mind, while others are more suited for low-risk users. Those who have had pressure sores before, or who spend 12 hours or more in a wheelchair per day, are at higher risk. Your doctor can help you with this evaluation.
Here at Rehabmart, we tested over thirty different gel cushions for durability, cost, comfort, quality of cover, design, and customer feedback. The cushions highlighted here represent the cream of the crop, and are our picks for the best gel cushions on the market right now.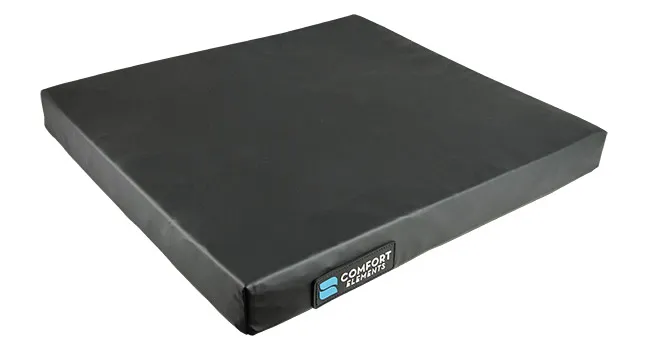 First on our list is the Comfort Company Elements Gel Wheelchair Cushion, a hybrid gel-foam model. This dual structure allows for a cushion to offer both more support and more comfort than either foam or gel alone. And at around $60, it is a great value as well!
The surrounding structure of the cushion is made of Viscool foam that conforms to the body, reducing pressure on vulnerable areas.
Inside this cushion, you can place a removable QuadraGel pack, a four-chambered insert that helps to regulate body temperature and provide extra comfort and stability. The segmented design means the gel stays in place and does not shift from side to side.
All Comfort Company cushions offer two different latex-free cover options: Stretch-Air fabric, a Lycra-like breathable cover; or Comfort-Tek, an incontinence-proof leather-like stretch vinyl. Both are easy to clean and maintain, and offer protection against discomfort and heat-build up.
The bottoms of all cushions are also non-skid, and have hook and loop with Velcro attachments.
This cushion is available in many different sizing options, and users can choose between 2 and 3 inch thick models.
These cushions can support up to 400 pounds.
Features and Benefits
Hybrid structure for consistent support and stability
Lifetime guarantee against manufacturer defects
Product Tips
Strong customer feedback is one of the reasons this cushion rated so highly.
One user of the Elements cushion confirmed that the four chambers of gel helped prevent the cushion from bulging outwards.
Most users were very pleased with the construction of the cushion, especially for the price! They found the Elements cushion to be comfortable, even after many hours of use. They also praised its good support and low profile.
A few customers said that the cover caused a lot of sweat and moisture to accumulate. One person said the Comfort-Tek cover seemed too difficult to remove and clean, so they just avoided washing it altogether.
In contrast, those who chose the Stretch-Air fabric reported that it was cool and dry. Make sure you take your own preferences and needs in mind when selecting your cushion cover!
For those who spend most or all of the day in their mobility device, this cushion may not be the best choice, as some customer feedback indicated it was prone to bottoming out after all-day use. If this is a likely concern, take a look through the rest of our gel cushions to find the model with the support you need!
Summary
The Comfort Company Elements Gel Wheelchair Cushion is a reasonably priced cushion with the benefits of a hybrid construction and a choice of covers.
This cushion is ideal for those who may not spend all day in a wheelchair, and are at a low risk of developing pressure injuries like ulcers or skin shearing.
As the Elements cushion does not have a thigh adductor or contouring, the user should possess a fairly stable posture. The Comfort Company's sister model, the Curve cushion, may be a better choice if you or your loved one is at higher risk of skin breakdown, and require protection from pressure-related injuries.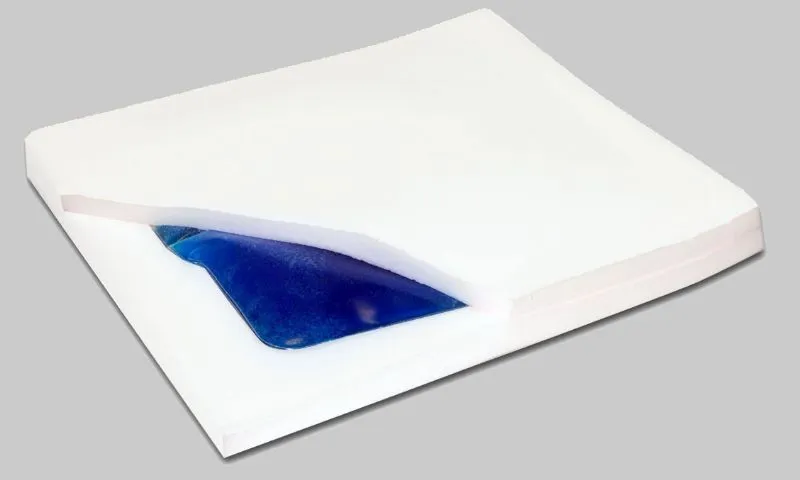 Who doesn't like a little bang for their buck? Being on a budget shouldn't mean you have to settle for less!
With that in mind, Rehabmart has chosen the Econo Gel Cushion as not only the best value in the Gel cushion category, but also as the best value for a wheelchair cushion overall! It combines all the components you want in a gel cushion at a price that just can't be beat.
The Econo Gel cushion is a hybrid model that provides the best possible support to those who may have (or may be at risk of) pressure ulcers. With a gel insert tucked inside a shell of high-density foam, this cushion provides stability and aids in good posture without skimping on comfort.
Bony prominences, such as the tail and sit bones, can be especially vulnerable to pressure and discomfort when sitting long-term. The firm but contouring gel-foam structure of the Econo-Gel helps prevent or relieve the most common causes of hip pain.
Safety ties prevent this cushion from sliding during use. And, the included cover is super-soft, water resistant, and easy to clean by hand.
Priced around $50, this cushion is a fantastic value that does everything a wheelchair cushion should do: stabilize, provide comfort, protect bony areas, and prevent sores.
Features and Benefits
Stabilizes the body for better posturing
Helps to redistribute pressure to avoid ulcers
Easy to clean and water resistant outside cover
Two-toned outside cover for easy reversal and extended cushion wear
Product Tips
Foam and gel perform two different functions in your wheelchair cushion. Each alone is useful, but together they form an even more effective support system!
This cushion's high-density foam contours more than typical foam. Foam alone is a cost-effective option in the short-term, but over time it can tend to compress and wear thin, leading to "bottoming out."
When this happens, the seating area of a cushion becomes so compressed that the user is essentially sitting in their wheelchair's sling seat--this is neither comfortable nor healthy! The Econo-Gel's dual structure means it retains its integrity over time, and you or your loved one stay comfortable and free of injury.
This cushion also has another feature designed to extend its lifespan: a two-toned inner cover that makes it easy to regularly rotate the device to ensure even wear.
This cushion will be great for many users, but it's not for everyone. It currently is not available in pediatric is bariatric sizes.
Summary
Don't let its low price fool you! This cushion, while lacking bells and whistles, is a quality choice for preventative care that will suit people who have to spend a lot of time in their mobility device. For users who are currently healthy and looking to stay that way, the Super Soft Econo-Gel by Skil-Care offers the support you are looking for at a price that's hard to resist.

Skil-Care secures another spot on our list with the Wedged Gel-Foam Ultra Cushion. Like most wheelchair cushions, it provides comfort and stability and helps prevents pressure sores. But how this cushion accomplishes this makes it unique.
First, its firm foam wedge prevents the seat from "hammocking," or sagging, so the user maintains a 90-degree sitting position. The tie straps keep the cushion stable and prevent sliding.
The shape of this cushion also sets it apart: the convex foam bottom sits below the frame of the wheelchair, so that the user is not raised too high, and can sit comfortably at most desks or tabletops.
The Ultra Gel-Foam Wedge Cushion combines firm foam and gel for greater pressure distribution. Gel pods help keep the cushion cool while the foam provides firmness. It also comes with an incontinence-proof cover that discourages shearing!
Features and Benefits
Unique wedge shape prevents seat sagging
Encourages upright positioning
Tie straps keep cushion from sliding
Reduces risk of pressure ulcers
Product Tips
Wedge-shaped cushions help prevent sacral sitting (sliding forward while seated), which puts users at risk of skin breakdown near the coccyx.
Poor balance can also impair the user's ability to do other things while seated in their device, which can reduce overall quality of life. Proper seating alignment can make your time in your wheelchair more healthy and enjoyable.
Because of its protective and positional qualities, this cushion is great for those who remain seated in their wheelchair long-term.
Summary
The Wedged Gel Foam cushion by Skil-Care is a unique addition to the world of gel cushions that provides a level seating surface and 90-degree angle posture. For those who remain in their mobility device for long periods of time, this cushion can help prevent the development of skin problems like shearing and ulcers. And with the gel insert, you or your loved one will remain cool and comfortable!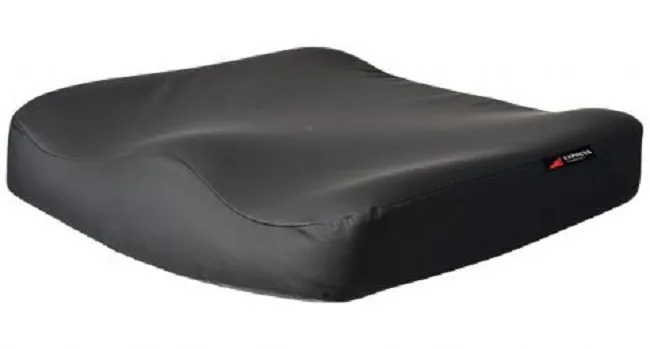 The second spot on our list goes to the Express Comfort Contoured Gel Wheelchair Cushion.
This exceptional wheelchair cushion provides both a firm foam base and four soft gel pads to promote comfort and skin protection.
Like other wheelchair cushions from Comfort Company, the outer cover is constructed with Comfort Company's special Solace Fabric, which is not only soft and comfortable but also antimicrobial and resistant to liquid.
Made from high-density molded foam, the Express Comfort Contoured Gel Wheelchair Cushion is designed to mitigate the risk of pressure ulcers while also providing wheelchair users with a comfy seat.
Its visco surface immediately conforms to the user's shape while its recessed gel pack helps to regulate body temperature, redistribute body pressure, and provide a stable seating surface without sacrificing gel placement.
Features and Benefits
Firm foam base provides stable support
Four gel pads help redistribute pressure and control temperature
Outer cover is soft yet also antimicrobial and fluid-resistant
Carefully engineered for long-term use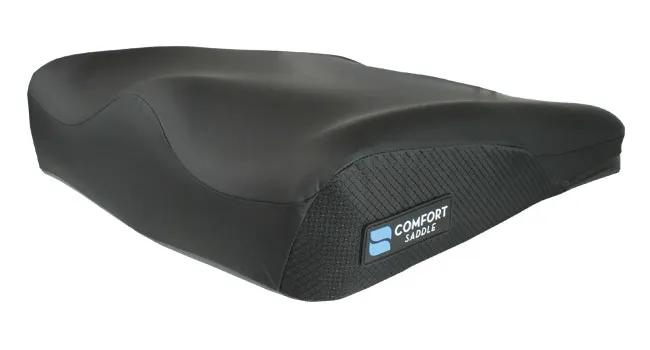 Our testers rated The Comfort Company's Saddle Wheelchair Cushions as the Most Advanced in the Gel cushion category. These cushions go a step beyond to provide comfort and accommodate specific positioning needs.
This cushion is constructed to avoid pressure, regulate temperature, and promote healthy posture.
Saddle Cushions are constructed of a double layer of high-resiliency foam and include several unique positioning features.
A coccyx cutout relieves pressure on the tailbone. Deep lateral and medial contours prevent the pelvis from rotating and help align the spine, encouraging upright posture.
The "waterfall" front takes pressure off the legs, and optional quadragel insert packs offer additional pressure relief and regulate temperature.
Overall, these cushions relieve pressure on bony prominences, prevent pressure sores, and are easy on already existing sores, and make it comfortable to sit in a wheelchair all day long.
These cushions are available in three positioning options:
Zero Elevation: does not add any height and offers more freedom of movement
Wedge: which slants the user's body back to prevent forward leaning
Anti-Thrust: providing thigh and pelvic support that prevents the user from slipping out of the wheelchair
As with all Comfort Company cushions, you also have a choice between two cover fabrics, each comfortable and easy to clean by hand.
Features and Benefits
Constructed of a double layer of high-resiliency foam
Optional Quadra3D Gel Packs for greater cooling and shear protection
Coccyx cutout prevents pressure on tailbone and promotes upright position
Waterfall front relieves pressure on legs
Helps prevent pressure sores
Lifetime warranty against manufacturer's defects
Product Tips
The three models of the Saddle cushion meet distinct needs, so it's important to choose the right one.
If the wheelchair user is able to sit upright and remain fairly stable, then the Zero Elevation model is best. With its slim profile, users can sit comfortably under chairs and desks.
For those not at risk of falling out of their chair, this option also allows the user to adjust and move while seated.
The Wedge model is for those who tend to slump or lean forward while sitting, whether because they have difficulties maintaining upright posture or often fall asleep while sitting in their chair.
Not only do these tendencies pose a danger of falling, but continuous slumped posture prevents vital organs from working well, and does not allow the wheelchair user to interact with the world around them. This cushion's wedge shape can correct this tendency and make life better overall.
Finally, the Anti-Thrust model helps those at risk of sliding forward out of their chair.
Forward sliding puts the user at a risk of falling. It also reduces trunk stability, so the use of arms and hands becomes more difficult. When this becomes a habit, it can cause digestive and breathing problems.
Anti-slide cushions can also greatly reduce the chances of skin shearing.
Customers have praised this cushion's superior positioning abilities. One review noted that the cushion helped improve the comfort and demeanor of a woman in memory care: "I notice a marked difference in her demeanor, which I suspected what caused by discomfort. Now, she is sitting up straight with no side leaning!"
Each model of supports a weight range from 250 to 400 pounds, and is not currently available in pediatric sizes.
Summary
If you are looking for a high-quality cushion with advanced positioning features, look no further. This item earns our award for the Most Advanced model in the Gel cushion category because of its range of options that can support different needs. Whether you or your loved one has good seating balance or requires more support to prevent sliding backwards or forwards, there is a version of the Saddle cushion that will work for you! Like all Comfort Company cushions, the Saddle is made in the U.S.A. and guaranteed for life against manufacturer's defects.
Wheelchair Cushion Buying Guide
The Rehabmart staff put over 30 cushions to the test to find the five best options for you or your loved one - whatever your needs!
Of the two options from Skil-Care, the Wedged Ultra Cushion provides specific positioning assistance in an economic package, and is available in either solid foam or gel-foam varieties. It also has several different cover options to promote and preserve skin integrity.
Skil-Care's Super-Soft Econo Gel Cushion offers the most economical way to provide comfort and protection at around $50. This cushion is easy to clean, maintain, and use. For these reasons, it wins our award for the Best Value in the Gel category!
The three remaining cushions featured here are from The Comfort Company, a leader in the field that makes all of its quality products at its New Berlin, Wisconsin facility. Each of the cushions here addresses different concerns, whether you are looking for the most cost-effective model or one that provides a high level of protection against injury.
The Elements cushion is an economic cushion best for those who have partial or full sensation in their seating area and who are at a low risk of skin integrity issues. Because this cushion lacks the contouring features seen in some other models, those without posture or stability problems would probably get the most out of this cushion.
The two other Comfort Company products in this list each received an award from our staff for their distinctive qualities.
For its variety of styles that will suit different needs and promote healthy posture in a variety of users, the Saddle wins our award for the Most Advanced cushion in the Gel category. While it is pricier than the other cushions in this category, the features and support offered by this item secure it the #1 spot in our Gel cushion rankings.
Summary
Want to learn even more? Find dozens of videos featuring products and caregiver tips like these at Rehabmart's YouTube channel! There are a lot of wheelchair cushions out there. Finding the one that is right for you or your loved one depends on many factors: comfort, price, desired level of postural support, cover options, and personal preferences. Rehabmart has the resources you need to make the decision that is best for you or your loved one!
Keep reading with our related article, The 5 Best Wheelchair Cushions!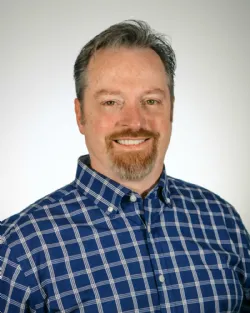 Author:
Co-Founder of Rehabmart and an Occupational Therapist since 1993. Mike has spent his professional career working in multiple areas of Occupational Therapy, including pediatrics, geriatrics, hand therapy, ergonomics and inpatient / outpatient rehabilitation. Mike enjoys writing articles that help people solve complex therapeutic problems and make better product choices.