As a challenging area to navigate for people with full mobility, bathrooms are that much more inherently dangerous for anyone living with limited mobility. If you or someone you love is struggling with limited mobility, or you're just not as steady on your feet as you once were, it may be time to consider a shower chair to improve bathroom safety.
We have compiled a review of the 5 best shower chairs in our catalog. To select our favorites, we looked for models made from sturdy materials that are also easy to assemble, install, and use. Combing methodically through customer reviews, we chose the shower chairs most people favorably report, giving preference to those with the most beneficial and talked-about features. We've done the homework for you so you can more easily find what's best for you!
The Top 5: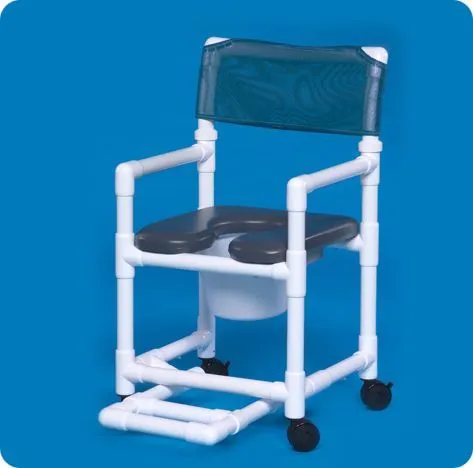 Selected for its smooth-rolling mobility, a built-in commode seat, and highly durable furniture-grade PVC construction, the Soft Seat Rolling Shower Chair by IPU makes our list at #5. It has three different size options to choose from, ensuring the perfect fit for users weighing up to 300, 350, or 400 pounds. This shower chair conveniently includes a soft, padded commode seat for versatile use as an all-in-one bedside commode/shower chair, negating the need to purchase two separate pieces of equipment. Add-on options include a commode pail for any of the sizes, while the standard size can also be ordered with a footrest to optimize user comfort. Optional left or right drop-arms are also available on every model.
Simple to clean and sanitize, its tough and durable PVC construction ensures protection against corrosion, rust, scratches, and any other damage, making it effortless to maintain for long-lasting performance. This shower chair with back highlights a comfortable, quick-drying mesh backrest in a wide range of fashionable color selections to ensure the perfect match for your bathroom decor, while the padded seat comes in either blue or gray. It's 3-inch, twin-wheel swivel casters facilitate maneuverable portability, making it easy to transport the user from one place to another without multiple transfers. They are lockable to ensure stationary security while bathing, toileting, and during transfer.
Features & Benefits
Incorporates commode seat for versatile use
Exceptionally durable and easy-to-maintain furniture-grade PVC construction
Smooth-rolling casters enable maneuverable mobility and also lock for secure stoppage
Multiple size and configuration options to enable customization to meet specific needs
Fast-drying mesh backrest comes in a wide range of color options
Customer Feedback
Pros
Sturdy and solid
Very high quality, works great, highly satisfied with the performance
The mobility aspect is very helpful to reduce transfers needed
Cons
The oversize model was a little large for some bathrooms, customers advised potential buyers to measure the space first
A couple of users said this shower chair did not stay in place, that only 2 of the casters locked (but the manufacturer states that all four casters are lockable, which other users reported as well)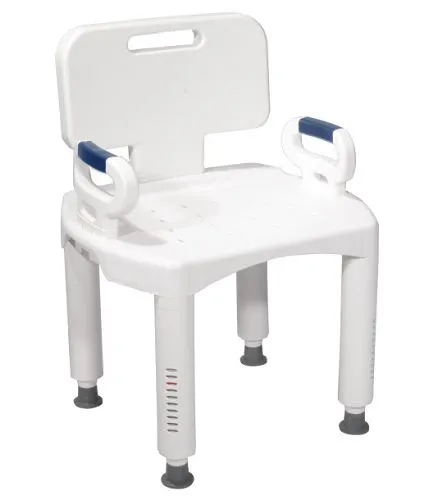 Coming in fourth with its low price point, removable backrest and arms, and conveniently adjustable height, the Premium Series Shower Chair with Back and Arms by Drive Medical safely supports users weighing up to 350 pounds. Weighing only 10 pounds, this shower chair is easy to move where you need it, highlighting slip-resistant rubber feet for stabilization. It's super easy to assemble, adjust the height, and remove the back and arms, all without the use of tools. Constructed with recycled materials, this premium shower chair is exceptionally durable and easy to clean, using intelligent design to better guide the water flow and prevent pooling for the most hygienic experience.
Adjustable in half-inch increments, the 5-inch height range can be adapted from 16-inches to 20.5-inches to suit every user. Each armrest can be removed independently, facilitating simpler lateral transfers, while both can be left in place to maximize user support while being seated or standing up, as well. The seat has been enhanced to ensure optimal user comfort, no matter the body shape or type.
Features & Benefits
Sturdy, durable recycled plastic construction accommodates 350-pound weight capacity
Adjustable in height from 16 - 20.5 inches
Slip-resistant rubber feet ensure stabilization while seated
Ergonomically designed to optimize comfort and hygiene
The backrest and armrests are removable
Customer Feedback
Pros
Remarkably fast and easy to assemble, make height adjustments, or remove/install backrest and armrests
Very lightweight and fits tub perfectly
Sturdy, solid construction
Exceptional value for the price
Cons
Some users had problems with the legs coming apart, not staying in place after adjusting the height - several users advised double-checking leg connections before each use to make sure they're tight and lined up correctly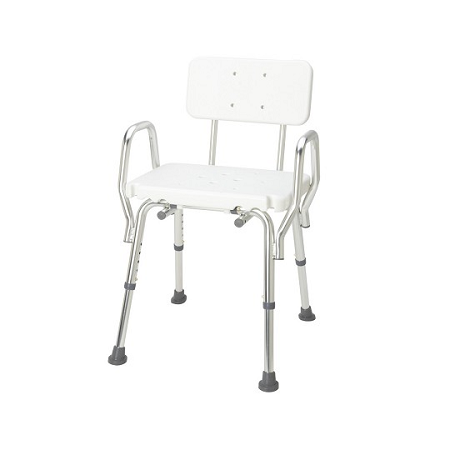 Grabbing the third spot in our review with its optimal padded comfort and strong support arms, the Shower Chair with Backrest by Mabis HealthSmart provides dependable performance and reliable safety for users weighing up to 350 pounds. Serving as both a shower chair and a bath stool, this two-in-one design increases range of motion and improves transfer accessibility for the seated user when the back is removed while using the back creates a restful chair-with-backrest configuration. This shower chair is fast and simple to assemble and doesn't require any tools, while its light 13-pound weight makes it easy to place exactly where you need it.
Conveniently height-adjustable from 16 to 20 inches in one-inch increments that lock in securely, the strong and sturdy armrests stay in place to provide dependable support for users to lean on when sitting down or standing up. Constructed with lightweight but highly durable rust-resistant aluminum, the legs of this shower chair are covered with slip-resistant suction cup rubber tips for stay-in-place security. These tips can also be tilted to conform to the slope of the shower floor. Its textured, non-slip seat and backrest surfaces are constructed with blow-molded plastic that is padded to optimize comfort, with drainage holes in the seat to prevent water pooling. The seat also has slots on each side of the front edge for resting a shower hose, loofah, or back brush for at-hand convenience while bathing.
Features & Benefits
Two-in-one design enables use as a shower chair or stool
Padded, blow-molded plastic seat optimizes user comfort
Textured, non-slip seat with drainage holes
Height-adjustable from 16-20 inches
Fixed armrests provide strong, sturdy support
Customer Feedback
Pros
Very easy to assemble, adjust the height, and remove the backrest
Great value for all the helpful features it includes
Sturdy, solid, and stable, doesn't wobble, creak, or shake
Lightweight and easy to move where you need it
Versatility provides great support for other hygiene tasks
Cons
Contains Latex
A couple of customers said it was too big for their bathtub - they recommended measuring the intended space first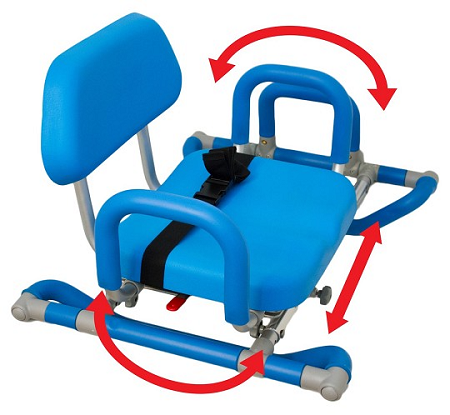 The unique swiveling design and small footprint of the HydroSlide Swivel Seat Shower and Bath Chair made by Platinum Health earns it the second spot on our list as it enables more open access for transfers while it takes up very little space. Cleverly attaching to the bathtub walls, this bath chair was designed by frontline healthcare workers with decades of experience in safe bathing and transfers. Its feature-rich design makes it one of the highest-priced shower chairs in our review, but its many happy users in both institutional and home care settings don't seem to mind one bit! It accommodates a weight capacity of 265 pounds, with a padded, contoured seat that swivels along with the users' movements and locks into place. Pivoting armrests provide easier access for transfers and caregiver attendance.
Often preferred for people with decreased and/or painful mobility challenges, the specialized padded construction of the HydroSlide helps to reduce shear and friction, mitigating the risk of skin abrasions and tears. Because users simply sit down in the seat and then swivel their legs over the side of the tub, this bath chair eliminates the dangers associated with stepping in and over the side of the tub. The HydroSlide fits within the dimensions of the bathtub and its rust-proof aluminum support frame is also padded for comfort and to prevent slipping or damage to the tub. Its durable, institutional-quality polyurethane foam seat effectively repels water to enhance hygiene, while the hi-view blue color improves visibility for low vision users. Easy and quick to assemble and disassemble, this innovative shower chair is highly portable, making it easy to take along and install and use wherever you travel.
Features & Benefits
Compact design saves space, especially helpful for smaller bathrooms
Swiveling design moves with the user, improving safety
All-Padded construction optimizes comfort, reduces skin tears and abrasions
Pivoting armrests enhance accessibility
Easy to assemble and disassemble for take-along support while traveling
Customer Feedback
Pros
Exceeded expectations, works wonderfully, easy to use
Safer than other standard types of shower chairs previously used
Quick and easy to assemble and install, sturdy and solid construction
Remarkably comfortable, good choice for people with sensitive or fragile skin, or those with painful conditions
Several customers living with paralysis remarked how this chair is well worth the price
Cons
It may be too low for some users (although one user said it was great for tall people)
The seat was not wide enough for a few larger customers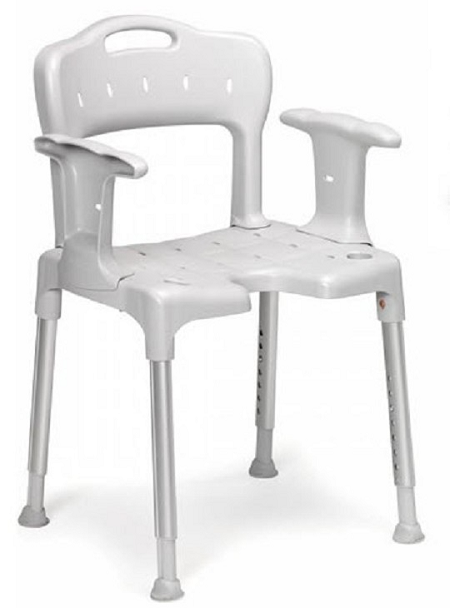 Easily earning the number one place in our review with its customizable design features and superior quality, the Etac Swift Shower Chair by R82 also boasts one of the best price points, especially with all the benefits it offers. Available in two different size options, this shower chair is part of a prize-winning series of Etac Swift shower stools and chairs that are designed with simplicity and functionality in mind. You can use it as a shower chair or conveniently convert it into a shower stool by removing the backrest and armrests for versatile applications. Thanks to its flexible seat, it's stable on any floor, highlighting an innovative configuration that adapts to uneven surfaces. Its soft, durable, and highly responsive ferrules ensure a good grip with any flooring. This lightweight shower chair is also easy to move, weighing from about 7 pounds to a little over 10 pounds, depending on the configuration and size.
The modular design of the Etac Swift facilitates quick and easy removal of the backrest and armrests, while they also gently click firmly back into place without the need for tools. The height is easy to adjust with the telescopic legs, offering a range of 16.5 - 22.5-inches for the standard seat height and a range of 13.5 - 16.5-inches for the low seat height. With a weight capacity of 286 pounds, this chair can support most users safely. The unique corrosion-free polypropylene construction is reinforced with aluminum to ensure dependable durability and functionality. The seat is reversible with a smooth surface and offers a generous recess in the front that's helpful for male users. Add-on options include a soap tray that can also hold other shower items, along with the seat and back support pads to maximize user comfort.
Features & Benefits
Durable, corrosion-free polypropylene with aluminum reinforcement construction
Flexible seat for comfortable support
Two different size options to meet specific user needs
Height is easy to adjust on telescopic legs
The backrest and armrests are removable for more open access
Customer Feedback
Pros
Superior quality, really well-made, durable, solid, and stable
Easy to assemble, make height adjustments, and attach/detach backrest and armrests
Stays firmly in place with the high-quality ferrules
Easy to clean and maintain, long-lasting performance
More helpful design features than higher-priced models, great price
Several male users remarked on how much they appreciate the generous front recess cut-out
Cons
The seat may not be wide enough for some users (measures just shy of 18 inches between the armrests), but when you remove the armrests, it creates plenty of room
What Features Should I Look For In A Shower Chair?
Figuring out the specific requirements of the intended user will help you know what kinds of features and formats to look for in a shower chair. Do you need a shower chair with arms? Are you looking for a shower chair with a back? How about a swivel shower chair? Do you need a shower chair for elderly users or a shower chair for handicapped users? Here are some important design features to consider:
Bathroom and Shower Size
It's important to measure your bathroom space along with your bathtub/shower space to ensure the shower chair you choose will fit and is maneuverable inside those areas. Some compact models fit right onto the bathtub walls, completely enclosing the seat within the tub, making them ideal for smaller bathrooms.
Shower Chair Size
Because shower chairs come in different sizes with various weight capacities, be sure to match your selection to the user's size and weight. Choose models that safely accommodate your weight, height, and sitting width. Using chairs that are too small is not only uncomfortable but also unsafe.
Stability
Look for shower chairs that are durably constructed with solid materials, with non-slip tips for the legs. Customer reviews from others who use the chair can help you determine if it might break, bend, or wobble.
Support
If the intended user has balance or back problems, you'll want to choose models that have armrests and a backrest to add needed support. If armrests will be used to support partial weight as the user sits on or stands up from the seat, it's crucial to ensure those armrests will be strong enough.
Comfort
Padded seats, backrests, and armrests optimize user comfort and reduce cold surface contact, while specially designed padding can also reduce skin and pressure irritation, mitigating the shear and friction forces that can lead to skin tears. Footrests and armrests enhance comfort and may also be removable to provide better access for transfers.
Water Resistance
While just about all shower chairs offer some level of water resistance, there are some that are specially designed to ensure water does not collect, which can cause unhygienic and slippery surfaces. Perforations also help to reduce water from pooling. It is advisable to wipe down your shower chair to dry it after use to ensure the longest performance possible.
Adjustability
A variety of shower chair models offer height adjustability to ensure the perfect fit for every user. This is especially important for institutional use, where multiple patients of various sizes will use the shower chair.
Frequently Asked Questions
Do I need a shower chair?
Anyone who is unsteady on their feet or cannot stand or be on their feet for very long is a good candidate for a shower chair. Shower chairs provide helpful support and stability for people who are prone to falls, older adults, disabled people, and anyone recovering from illness, surgery, or injury.
How do you shower with a shower chair?
Most shower chairs are designed with four legs and a seat and you place one end of the shower chair with two legs inside the tub while the other end and its legs are outside of the tub. The user sits on the seat and swings their legs over the side of the tub wall, scooting over on the seat so they are inside the tub. Shower chairs can also be set up completely inside the shower or tub, depending on the configuration of the chair along with the shower space.
How do you measure a tub for a shower chair?
Measure the floor of the tub in both width and height to ensure the shower chair you select will fit for your intended purpose. If you want to use the chair completely inside the tub, the chair's legs will be sitting on the flat part of the tub floor, so you must ensure your tub is big enough for this by comparing it to the base measurement of the chair, or the leg width measurement.
Summary
With all of their slick and slippery surfaces, bathrooms are where most falling accidents happen. Add in aging issues, disability, and recovery from injury, illness, or surgery, and the falling risk goes up exponentially. Thankfully, there are many ways to improve bathroom safety! A shower chair is a great solution to enhance safety while showering, providing dependable support.
Because shower chairs are available in such a vast variety of styles and sizes, we did the research for you to help you determine the best shower chair to meet your unique needs or those of a loved one.
The Soft Seat Rolling Shower Chair made our list with its smooth-rolling mobility and commode options, while the ultra-lightweight Premium Series Shower Chair with Back and Arms got our attention with its ultra-low price point without ever sacrificing quality and benefits.
Optimizing user comfort with its padded, blow-molded plastic design and adjustable height, the Shower Chair with Backrest also doubles as a shower stool with its removable backrest. The uniquely designed HydroSlide Swivel Seat Shower and Bath Chair not only offers a compact design for small bathrooms, but it's also specially formulated to reduce shear and friction forces, making it a great choice for users with sensitive or fragile skin.
Our number one selection is the Etac Swift Shower Chair by R82. Offering complete customizability, a durable, reinforced design, and superior quality ferrules, the Etac Swift is also one of the lowest-priced shower chairs in our review!
We invite you to peruse our entire shower chair catalog and shower commode catalog, along with our Bathroom Safety support products to find all kinds of solutions to ensure your family's safety.
Learn even more with Caregiver University, our support blog for family caregivers and healthcare professionals. Read our related articles like 6 Ways to Improve Bathroom Safety and Aging in Place: How to Get Your Home Ready.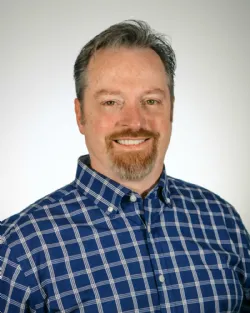 Author:
Co-Founder of Rehabmart and an Occupational Therapist since 1993. Mike has spent his professional career working in multiple areas of Occupational Therapy, including pediatrics, geriatrics, hand therapy, ergonomics and inpatient / outpatient rehabilitation. Mike enjoys writing articles that help people solve complex therapeutic problems and make better product choices.