Shower chairs are important safety equipment for the home and institutional settings. Rehabmart offers a wide variety of models, ranging from simple lightweight chairs or stools to more elaborate rolling chairs with special features required for those with very limited mobility.
This product review focuses on customer top-rated shower chairs suitable for most households. When a family member experiences difficulty standing in the shower, yet wants to maintain independence while bathing, consider these highly rated choices.
The Top 5:
First of all, why are shower chairs considered "safety equipment?"
The National Institute on Aging, the CDC, and other medical authorities confirm bathrooms are particularly hazardous locations. The CDC's Morbidity and Mortality Weekly Report (MMWR) of June 10, 2011 highlighted the study, "Nonfatal Bathroom Injuries Among Persons Aged >= 15 Years" using 2008 CDC U.S. statistics.
The study found an estimated 234,094 nonfatal bathroom injuries to Americans aged 15 and over were treated in U.S. emergency departments in 2008. Although each 10-year age group experienced approximately the same number of falls, injury rates increased with age. The highest rates of injury were for injuries occurring in or around the tub or shower.
Showering, bathing, or exiting the tub or shower accounted for more than 37% of the total injuries, with 15-24 year olds experiencing the highest rate of injury at 84.5%. Surprisingly, the lowest rate of injury occurred among people aged 85 and older. (The elderly were injured most frequently on or near the toilet.)
Given these numbers, medical supplies like shower chairs and other daily living aids are indeed important safety equipment for the home.
Who uses shower chairs?
Shower chairs — also called bath chairs, bath benches, shower stools or shower benches — provide assistance to anyone who cannot stand safely in a stand-alone shower or a combination bathtub-shower. Many people associate safety aids with only the elderly, but as we read above, that's not always the case.
Injuries that make it difficult or impossible to stand can happen at any time. Examples are a broken leg or ankle, sprained ankle or a knee injury. The author experienced a broken leg and ankle years ago. Post-surgery, crutches and a cast were constant companions for six weeks. Not having access to a proper shower chair, but desperate for a shower, she resorted to a plastic garden chair placed inside a stand-up shower. It was just possible to hobble up on crutches, move the curtain, back into the chair, sit and shower. Obviously not an ideal arrangement! Water on the floor was hazardous on exiting the shower, but that's another story.
Injuries and post-surgical convalescence create temporary needs. Long-term disabilities require an ongoing need for assistance. For most of us, it's not unusual for leg strength to decline with age, and many elders want to age in place. One remedy for safety without extensive home modification is a shower chair appropriate for their bathroom space. But which model is best?
The Top 5 shower chairs, compared
Armed with your specific requirements, consider the options described below. All offer sturdy, safe solutions for extra support while bathing. The highlighted products ranked as the top five shower chairs based on customer feedback. We emphasize that each makes an excellent choice for a safe and sturdy shower chair. What's most important are your specific needs as the buyer.
Start with answering a few questions.
How large is your space? Do you need something small that's easy to store?
How much weight must be supported?
Should the height be fixed or adjustable, to what height?
Is your need occasional, such as when an elderly family member visits? Or temporary due to injury or post-surgery convalescence?
Does your doctor or therapist recommend one suiting your specific needs?
Be sure to take careful measurements of the flat surface on which a shower chair will rest, and also the ledges of your bathtub if choosing a transfer option.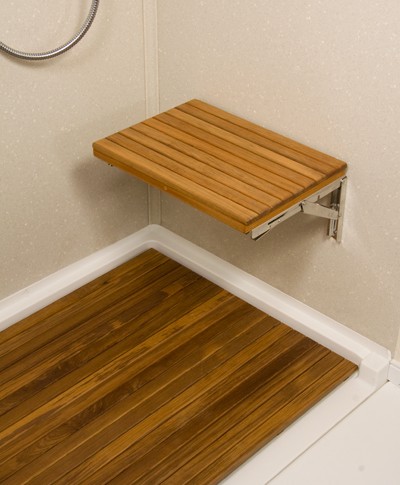 The Teak Wall-Mount Fold Down Shower Bench by TeakWorks4U is the one to consider when you care about both form and function. Sturdy and functional, it can be mounted inside or outside the shower, and it folds away using low-pressure spring action brackets when not needed.
Teak is a naturally beautiful wood, which is also incredibly strong because of a naturally tight grain of thick fibers that bend, rather than break. That's why it's been used in shipbuilding for centuries. It's low maintenance without much raised grain, providing a natural non-skid surface resistant to mold, mildew, moisture and microbes.
This shower bench mounts directly to a wall with stainless steel brackets set sixteen inches on center. It's ideal for use inside or outside of showers, and in saunas, steam rooms, and pool houses. Many customers highlighted its use outside of a shower or other wet environment as well, in any space where you want to sit occasionally but not have a chair in the space all the time. The stainless steel brackets must be installed into a wall backing or studs. They're rated for 300 pounds.
When the bench is folded down against the wall, the brackets lock securely in place. Pushing the bench down into the locked position can be done easily with one hand. The bench remains down until you decide to lift it up again. Two hands are needed to press levers that unlock the brackets before you lift the bench up for sitting. The bench depth is two inches from the wall when it's mounted and folded down, taking almost no space in the shower. And you never see the hardware once it's installed so it looks good whether the seat is open or it's folded down for storage.
Features and Benefits
Teak wood has natural antimicrobial properties
Available in Burmese Teak or Plantation Teak
Drainage grooves milled into the solid teak top prevent water from pooling
Available in three widths (17, 24 & 30 inches)
Seat depth is 12-1/2 inches for all widths
Stainless steel brackets and mounting hardware are included
The brackets are rated for 300 pounds
Customer Feedback
Customers who bought the Teak Wall-Mount Fold Down Shower Bench love it. Many of the positive comments highlight how beautiful it is in their homes. One even said that it made her remodeled shower feel like a spa! Another noted how the beautiful teak wood looks as good as it did in the product pictures and helps warm the look of cold surfaces in his bathroom.
All customers appreciate the small footprint of this shower bench when it's folded down. That was especially true for couples sharing shower space, when only one relied on the extra support provided. Several customers living in city apartments with very small bathrooms were particularly complimentary. And several customers commented that the Teak Wall-Mount Fold Down Shower Bench provides a great place to sit for shaving their legs. What was the bottom line? It's there when you need it, and out of the way when you don't.
Pros:
Teak is naturally resistant to mold.
Takes up no space when folded down.
Cons:
Pricier than other options.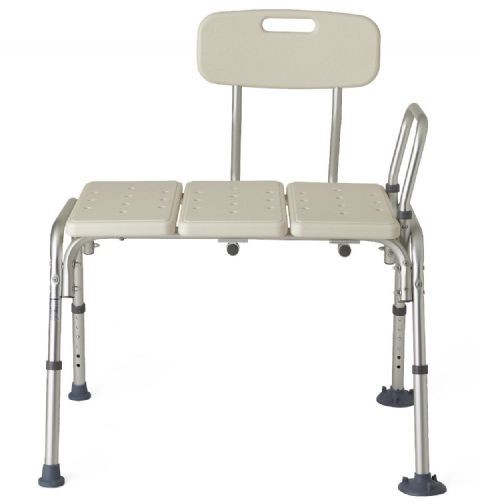 When you or your loved one needs help getting into and out of a tub-shower safely, the Transfer Bench with Back fits the bill. Lightweight and easy to assemble, the seat and back are blow molded of latex free plastic on an anodized aluminum base for heavy-duty support at a reasonable price. You can easily change the direction of the seat back without needing tools, placing the side arm to the left or right of the user depending on the configuration of your bathroom. The loop-shaped side arm provides extra stability and leverage for transferring into and out of the bath. A molded handle at the top of the seat-back makes it easier to move the transfer bench aside when it's not in use.
The seat is molded in three sections. Many users consider this a benefit, because it allows you to close the shower curtain during your shower. It will rest in the seam between sections. This helps the user maintain dignity while continuing self-care. It also keeps the water in the tub, which lowers the risk of accidents from slipping on a wet bathroom floor.
The Transfer Bench With Back fits tubs that are from 11 inches to 21 ¼ inches deep. Push-button assembly and adjustment of the bench legs, backrest and handle create snap-together, easy assembly for the transfer bench when it arrives. Two suction cup feet grip the floor inside the tub for additional safety and security. Drainage holes in the seat prevent water from pooling; making the bench more comfortable and ensuring transfer from bathing to exiting the tub is more secure.
The dimensions of this transfer bench are seventeen inches by sixteen-and-a half inches, making it also suitable for use in a large shower with a hand spray.
Features and Benefits
Snaps together so it's easy to assemble
Seat height 16.5 to 21 inches above the floor
Height adjustable in 1inch increments
Two suction cup feet are included
Loop shaped side arm adds extra stability
Weight capacity of up to 300 pounds
Customer Feedback
The most common positive feedback on this transfer bench is that it does the job for a reasonable price. The lightweight, easy-to-assemble design puts it on the Top 5 Shower Chairs list. Customers also appreciated that it's easy to maintain modesty and dignity by closing the shower curtain while bathing. They also liked the extra security provided by the stabilizing side arm, and the ability to reverse the direction of the seat-back and adjust the height.
More than one OT (Occupational Therapist) commented positively on this lightweight, sturdy, easy-to-assemble transfer bench. One OT working in Home Health commented that he orders it for all of his patients.
Pros:
Can keep shower curtain closed
Cons:
The 17" depth seat-to-back can be too deep for a very small user
Some customers did not like 3-part seat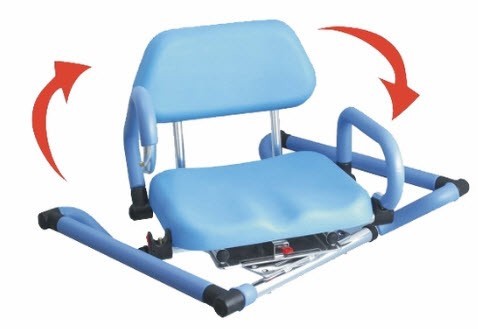 This innovative transfer aid, the Deluxe Swivel Bathtub Chair, works very differently. Its unique design rests the frame on the edges of the tub. The user then sits into the padded chair from the front or the side, releases a security lock under the seat, and swivels around to face the shower while her legs lift into the tub. This helps anyone who struggles moving over a standard tub wall to get into or out of a tub to enter the shower safely.
The swiveling seat can be locked in four positions, with rotation of 90 to 360 degrees. Because the unit doesn't extend outside the tub, it's easier for a caregiver to work around the user, helping to maneuver and bathe him as needed. Once finished with a shower, the quick release lever makes it easy to swivel quickly to an exit position. The Deluxe Swivel Bathtub Chair does not need to be permanently mounted, and is easy to remove from the tub when not being used.
A wheelchair user does need the ability to stand up from the wheelchair and turn around in order to sit in the swivel chair. Arms on the swivel chair lift, but also lock in place for added safety and to provide stability and leverage while entering and exiting the chair.
The width of the frame adjusts from 27.5 to 31.5 inches and fits most standard bathtubs. For those whose tubs come with only one wide ledge (no ledge on one side is typical of tubs with a fiberglass surround), this chair comes standard with a set of height-adjustable legs for use on that side. Additional legs are available if needed for a tub with only narrow ledges, or no ledges at all. Some owners with short tubs just sit it on the floor of the tub since the seat adjusts from 15 to 20 inches. The backrest is 11 inches above the top of the seat.
The frame is made of lightweight, rustproof aluminum. Attractive blue polyurethane foam on the armrests and the seat lend comfort and style.
Features and Benefits
Adjustable seat frame depth is 22 inches
Width of the frame is adjustable from 27.5 to 31.5 inches
Bath seat is 15.75 inches long and 13 inches wide
Overall height is 16.6 inches
Width between armrests is 16 inches, with the outer width of armrests being 18.75 inches
Weight capacity is 265 pounds
Customer Feedback
Many users find the padded swivel seat more comfortable than a hard bench seat. One characterized the unit as ultra luxurious, like a spa! Another appreciated the comfortable access to the shower without too much exertion from either the user or the caregiver. A daughter who uses the Deluxe Swivel Bathtub Chair to assist her elderly mother with a shower explained how she could dry and dress her mother before helping her up from the chair. Now that's useful and safely avoids a potentially slippery floor.
Pros:
Padded seat and armrests are more comfortable than a hard bench seat
No need to slide along a bench since the seat swivels
Lightweight and easy to remove, or leave it in place behind the shower curtain
Cons:
Costs more than other options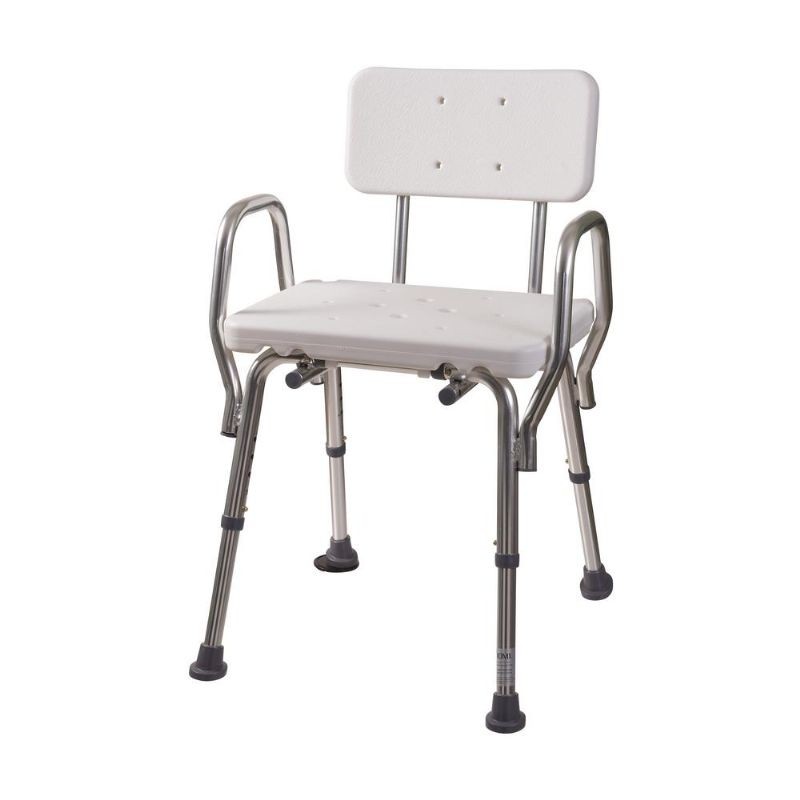 Our number-two ranked shower chair is the Shower Chair with Backrest. Really two units in one - a shower chair and a bath stool - this product is great for those who sometimes prefer a chair with a back, and on other occasions want to shower on a bath stool with a 360-degree range of motion.
This shower chair from Mabis HealthSmart is sturdy and reliable. The rust-resistant frame is made of lightweight aluminum, with fixed handrail arms that provide extra safety and support. Legs are adjustable and have slip-resistant suction cup rubber tips. The Shower Chair With Backrest also boasts tool-free assembly, confirmed by many customers.
Drain holes in the back and seat mean that water won't pool, making the chair more comfortable and less slippery. A non-slip, textured surface completes the blow-molded plastic seat and backrest. An unexpected feature, slots on either side of the front edge of the seat, are the perfect place to rest or hold a hand shower hose. Or perhaps that back brush!
The seat is 13" deep and 19" wide. Arms rest 5-3/4 inches above the seat, with a roomy 19 inches between the arms. The seat height is adjustable from 16 to 20 inches in 1-inch increments. Adjustments are made with push button simplicity. Note that this chair contains Latex. The weight capacity is 350 pounds.
Features and Benefits
Backrest is easily removable, creating a shower stool from the shower chair
Non-slip, textured surface on seat and backrest
Handrail arms provide extra safety and support
Seat height is adjustable in 1-inch increments from 16 to 20 inches
Slots on either side of the seat can hold hand shower hose
Weight capacity is 350 pounds
Customer Feedback
We found only positive reviews of the Shower Chair With Backrest. Most commented on the easy tool-free assembly and how lightweight but sturdy it is. One reviewer with a broken arm even commented that he was able to assemble it himself without assistance.
Other features customers appreciated were the relatively low price and the adjustable height. Several customers who commented described themselves as "large" and said they felt safe and secure in this shower chair. Some also noted it's easy to move, and useful outside the shower as well for grooming tasks like styling hair.
Pros:
Cons: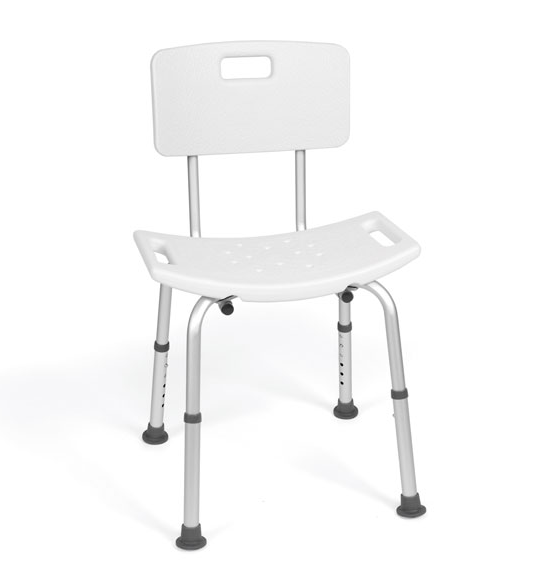 In the end, our number one ranked shower chair is the Lightweight Folding Non-Slip Shower Bench with Optional Backrest. Its compact size, the ability to fold it flat and store it for later use, and the ability to take it when traveling won the day.
The seat swings down and the back folds over in a scissor fold. Bathroom space is often at a premium, so it's ideal for small bathrooms. You can store it in a small space like a linen closet or underneath the sink when it's not needed. This lightweight, folding chair is also great for those who travel and want to shower safely and maintain independence while on the road. It weighs only five pounds yet is sturdy enough to support 300 pounds.
Made of corrosion-proof aluminum, the lightweight, durable frame with a blow molded folding bench delivers both comfort and strength. The angled legs offer additional stability. Both the seat and back are contoured for extra comfort. The back provides extra support while seated. Drainage holes in the seat prevent water from pooling, and result in a less slippery, more comfortable seat.
This bath seat is height adjustable with spring-loaded buttons that allow the legs to slide in or out to a different length. In fact, the only assembly required is to insert the legs and adjust the height to where you need it between sixteen and eighteen inches. It's considered useful in both stand-up stall and walk-in showers.
The sturdy, durable bath seat comes with a lifetime, limited warranty. The only maintenance recommended is to clean it periodically with mild soap and rinse it thoroughly with warm water. Drying the bath seat after each use helps maintain the original finish.
Features and Benefits
Corrosion-proof aluminum frame
Blow-molded seat and backrest
Seat 12 inches deep by 20 inches wide
Seat height adjusts from 16 to 18 inches
Product dimensions 22 x 20 x 4 inches when folded
Outside leg width is 20 inches deep x 19.5 inches wide
Customer Feedback
Customer feedback was very positive on the Lightweight Folding Non-Slip Shower Bench with Optional Backrest. Nearly all complimented the bath seat as very sturdy and stable. Several customers described their overall size as "heavy" or "tall and heavy", and yet they felt very stable and safe using this bath seat. They characterized it as sturdy, robust and comfortable.
One specifically purchased the folding bath seat for travel, and another mentioned taking it on a cruise so she'd feel safe while showering in a small shower while the ship was under sail! Another purchased it for use while she recovered from surgery. After healing, she added a cushion, extended the legs, and used it as a vanity chair because she liked it so much.
The only complaint was that the legs can be tricky to fold when new, but that gets easier with use. One customer also mentioned that it would be useful to have a clasp included to keep the chair from unfolding if stored upright.
Pros:
Folds for easy storage or travel
Ideal for small bathrooms
Cons:
Legs can be tricky to fold when brand new
No clasp to keep it closed if stored upright
Shower Chair Buying Guide
As you've read, all five of these shower chairs come highly recommended. If you want to add a bit of elegance to your bathroom, or if limited space is an issue, consider the Teak Wall-Mount Fold Down Shower Bench. It can be placed inside a shower, or on any wall where you'd like to create a seating area. Then fold the bench down and out of the way.
For assistance transferring into a standard combination bathtub-shower, and remaining safely seated while you enjoy the shower, take a look at the Transfer Bench With Back. It helps keep the curtain closed. Another option for transfer assistance is the Deluxe Swivel Bathtub Chair that provides safe transfer capability with the added bonus of a comfortable padded seat that swivels for easier movement from bathing to exit.
When transfer is not an issue but only safety while showering (in either a stand-alone shower or in a traditional bathtub-shower), the Shower Chair With Backrest provides a sturdy chair for bathing that transforms into a strong bathing bench when the back is removed. Such versatility is ideal for families with multiple preferences.
The number one ranked shower chair is the Lightweight Folding Non-Slip Shower Bench with Optional Backrest. Because it folds and stores in a small space when not needed, it's ideal for small bathrooms. This lightweight, folding chair is also great for those who travel and want to shower safely while on the road.
Be sure to measure carefully to ensure a proper fit in your available space before placing an order, as shower chairs are generally not returnable. Rehabmart Customer Service will be happy to answer any questions you may have.
Want to know more about the process of selecting a shower chair? Read our article, How to Choose the Best Shower Chair!
Want to learn even more? Find dozens of videos featuring products and caregiver tips like these at Rehabmart's YouTube channel!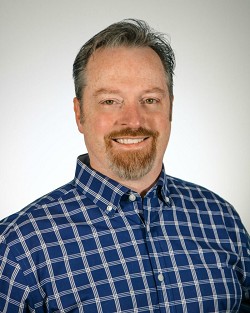 Author:
Co-Founder of Rehabmart and an Occupational Therapist since 1993. Mike has spent his professional career working in multiple areas of Occupational Therapy, including pediatrics, geriatrics, hand therapy, ergonomics and inpatient / outpatient rehabilitation. Mike enjoys writing articles that help people solve complex therapeutic problems and make better product choices.