Wheelchair ramps are available in a wide range of designs with materials and models as diverse as the people who use them. Each person, location, and mobility device has different requirements, so it's important to take all of these things as well as the wide variety of features and designs into consideration when you're shopping to ensure that you get the best model for your needs.
Permanent & Semi-Permanent Ramps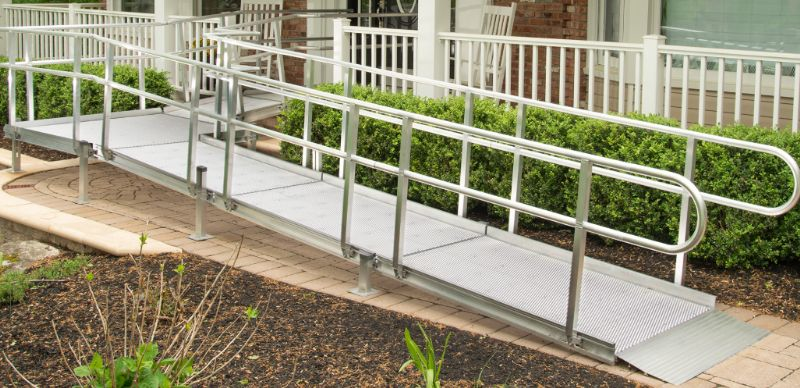 Ramps installed as part of a home or facility are often classified as either permanent or semi-permanent. The difference between these two types of ramps is how difficult they are to remove once they've been installed. Permanent ramps are often anchored in the ground with concrete anchors and built onto the facility in question as a permanent addition. Often, these ramps are constructed with wood or metal and require a licensed contractor as they have to be built from scratch.
Semi-permanent ramps are intended to remain in place as an installation of the home or building, but they're typically designed to be easy to remove and adjust if needed. Semi-permanent ramps are the compromise between permanent and portable ramps, offering a good blend of both worlds with the strength and ease of use of the permanent ramp and the versatility of a portable ramp. The most common type of semi-permanent ramp is the aluminum modular ramp, which is easy to install in just a few hours and can even be taken down and stored away then replaced in a new location.
Portable Ramps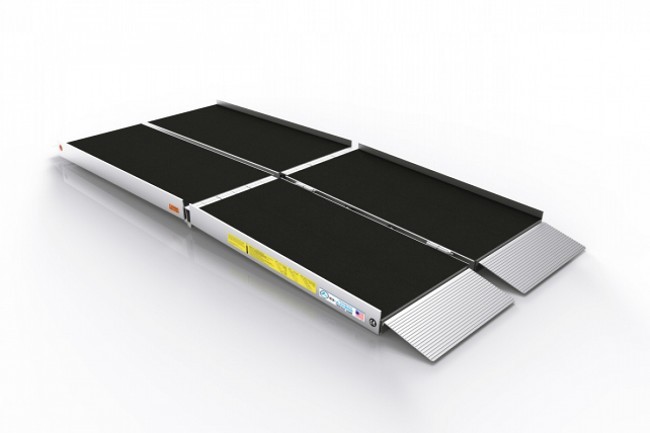 Ramps designed for easy use anywhere you go are classified as portable. Often, these ramps are constructed with lightweight materials and are either made to be compact or foldable to enable easy transport or storage. In addition to providing greater freedom for users on the go, portable ramps are also a great solution for users who are renting their home, or don't want to commit to remaining in their current home for many years.
Vehicle Ramps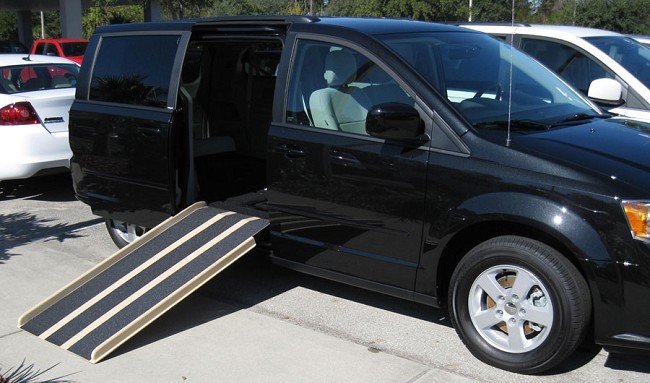 For easy access to vans, buses, and other vehicles, vehicle ramps are available. These ramps can either be built-in to the vehicle or portable for more temporary applications or more versatile use. Vehicle ramps may come in a single, wider ramps design or in a two-track design that lines up with the wheels of your chair, scooter, or other device.
Threshold Ramps
Raised landings or transitions through doorways may seem like a small inconvenience, but they can pose a big problem for someone using a wheelchair, rollator, or simply someone who has difficulty lifting their feet very high. Threshold ramps are the solution to this problem, smoothing the transition to provide easy access and make travel totally effortless. These ramps can be larger incline planes like traditional wheelchair ramps, or they can simply be smaller pieces of material that create a slope on either side of an uneven transition.
5 Tips from Wheelchair Ramp Experts
To help you choose the best possible ramp for your needs, we reached out to some of the leading wheelchair ramp experts in the industry to get their number one tip that they think people need to know when choosing a ramp.
1. Ross Coulter, the Sales Manager from National Ramp wanted to remind people of the importance of keeping with code. He said:
"At National Ramp we believe the number one tip when selecting and installing a ramp is to make sure that the ramp is ADA compliant. The ADA compliant ramp will ensure safe, comfortable use for years to come. A ramp that takes shortcuts on proper length, width and turn radius and other safety features is a dangerous ramp. This is why at National Ramp we have created our ramps to be ADA compliant, and have even created a guide to understanding ADA guidelines on our website."
Click here to shop the great products from National Ramp
2. Charles Worthington, the COO at Travel Ramp, Inc. felt that, in his experience, people tend to get too wrapped up in the specs. He said:
"The one thing no one considers is how it will look. Yes, everyone will look at the specs and length to rise, but how many people stop to think: 'Will that look good at my house?'"
Click here to shop the great products from Travel Ramp, Inc.
3. Timothy Vander Heiden, J.D., CEO of SafePath Products felt that the most important thing to consider is the safety and compliance of the ramp.
"Many ramps out there, especially threshold ramps, claim to be ADA-compliant, but they really are not. It's important to make sure that any ramp that you purchase is actually ADA-compliant, even when purchasing smaller/shorter threshold ramps. There was a ramp study done in late 2017 that tested many common ramps and found that a lot of them have inclines much steeper than is allowed by the ADA. SafePath Products is the only company offering a rubber threshold ramp that is ADA compliant, double-green certified, and offers safe side access as well."
Click here to shop the great products from SafePath Products
4. Greg Moll, the Sales and Export Manager at Roll-A-Ramp wanted to remind users that the most important thing to think about when choosing a ramp is them! He said:
"The first thing to consider when choosing a wheelchair ramp should be the needs of the user, since each situation is unique. Once you understand the needs of the user, the list of things to consider when choosing a ramp is simplified. For example, would a permanent ramp or a portable ramp be most important for the specific user's needs? The best choice is often a ramp that is portable, and can also have the length adjusted to be used also for home access. In this case, an aluminum ramp is the best option as it may be both portable, and can be relocated easily if needed."
Click here to shop the great products from Roll-A-Ramp
5. Shawn Krupicka, Sales Manager at Prairie View Industries felt that the most common thing that people forget is making sure that the ramp length is properly measured for the amount of rise they need.
"I would say the #1 tip I give people is to make sure you choose the proper length of ramp for the amount of rise there will be. Too often this important spec is ignored, resulting in a ramp that is too steep and becomes unsafe to use"
Click here to shop the great products from Prairie View Industries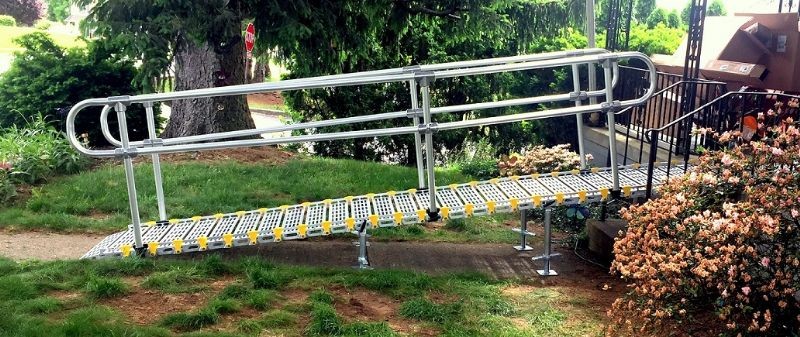 How to Choose
Who will be the ramp's primary user?
The first thing you need to consider when picking a ramp is who will be using it. Take the person's size and weight into consideration as well as their level of mobility. If the primary user is healthy and fairly active, then a lightweight, more versatile ramp might be preferable, while heavier or more elderly users might require a stronger ramp or the addition of added safety features like handrails and additional traction pads.
Which mobility device will be used?
The next thing to consider is the type of mobility device that will be used on the ramp most of the time, and whether or not this will change over time. Patients in recovery using a wheelchair now may progress to using a rollator and then a cane, while people living with one or more degenerative condition may progress from using a cane to a walker to a power chair or scooter, and each of these devices will have different requirements for safe mobility.
Heavier power chairs or scooters will require wider ramps with greater weight capacities, while people using the ramp due to muscle weakness in the feet and legs will want to make sure that their ramp is free of any potential slip or trip hazards, like a surface that drains freely or added traction pads for decreased slipping.
What kind of time period will the ramp be needed for?
Whether you're in temporary recovery or you've been using a wheelchair since birth, the time period you need the ramp for is an important factor to take into consideration when selecting a ramp for your needs. If you need a ramp to last for a long time, then choosing a permanent ramp might be preferable, while if you'll only need a ramp for a few months to a year, then a portable ramp or threshold ramp for your front door might work just fine.
But just because you're a long-time wheelchair user doesn't necessarily mean that a permanent ramp is the only choice for you. In addition to this question, you also need to consider...
Where will you be using the ramp?
Do you need a ramp that can move with you on the go, a ramp for your car, a ramp for your doorway, a ramp for your rental home, or a ramp for your family home of 25 years? Each of these settings will inform your decision to pick a different kind of ramp, and it's important to take this into consideration when you're shopping so that you can get the best ramp for your specific needs.
For users living a more active lifestyle, a portable ramp is a great solution for convenient building access. These ramps are even available in models that fold up like a suitcase, allowing them to travel with you so that you're always able to get in where you need to, no matter where you want to go.
However, for users looking to install a ramp at an apartment or a rental home, portable ramps can also provide a great way to make a living space accessible without causing damage to the property.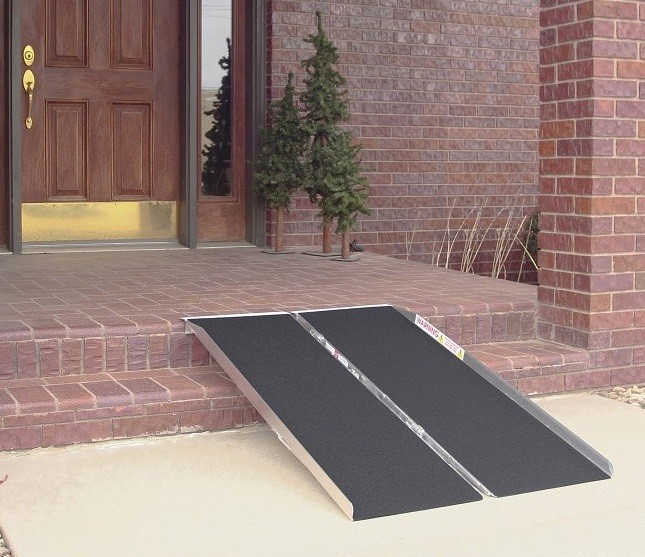 Summary
Whether you need a ramp to smooth floor transitions in your home or want a large, winding outdoor ramp installed as part of your home, wheelchair ramps are an essential solution for making any building or area accessible to users of wheelchairs or other mobility devices. The location, user, and type of device used on a ramp makes a huge difference in which type is best for the job, so it's important to consider all the variables carefully before settling on your final purchase.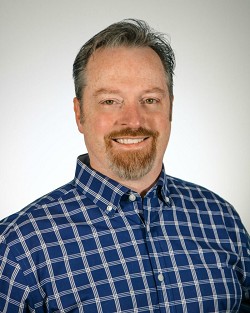 Author:
Co-Founder of Rehabmart and an Occupational Therapist since 1993. Mike has spent his professional career working in multiple areas of Occupational Therapy, including pediatrics, geriatrics, hand therapy, ergonomics and inpatient / outpatient rehabilitation. Mike enjoys writing articles that help people solve complex therapeutic problems and make better product choices.