Safety for weakened or disabled adults and their caregivers is a significant concern when accomplishing daily living activities. A changing table creates a secure space for changing clothes and adult diapers while reducing the possibility of back strain to caregivers.
The Top 5: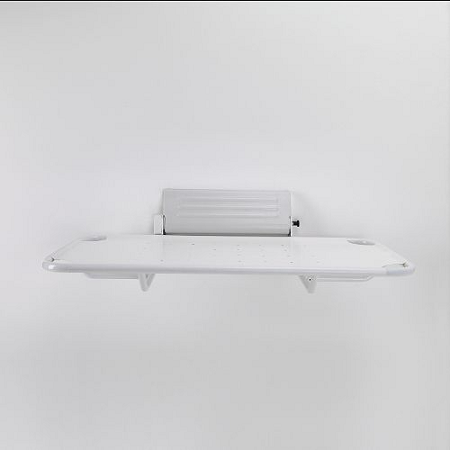 At #5 on our list is the economical shower-safe Wall-Mounted Shower-Safe Changing Table by Smirthwaite USA that attaches to the wall at a height that's comfortable for the caregiver.
Folding flat and out of the way when not in use, this shower stretcher supports good hygiene for anyone with limited mobility, keeping the user safely in place for horizontal bathing. The bench creates safe and smooth transitions and is covered with perforated vinyl so water flows through and doesn't pool. The stainless steel powder-coated frame is moisture and rust-resistant.
For easy cleanup, this changing table can be installed over a tub for use as a bathing and changing aid. It's 25.6 inches across, and comes in lengths ranging from 55.1 to 74.8 inches, each model with a weight capacity of 440 pounds.
This multi-use space-saving changing table safely accommodates patient needs for a secure horizontal surface as well as caregiver needs for a platform set to a height that alleviates back strain and minimizes the potential for accompanying work-related injuries.
Features and Benefits
Mounts at a comfortable working height for caregiver
Multi-use platform for showering or changing clothes or diapers
Water resistant powder-coated steel frame will last for years
Conserves space when folded flush to the wall
Vinyl stretcher cover is perforated to prevent water pooling
Customer Feedback
Pros
Makes transfers so much easier than from the floor or a bed
Stays out of the way when others need to shower
Really easy to install
Easy to clean
Cons
No padding
Only comes in one width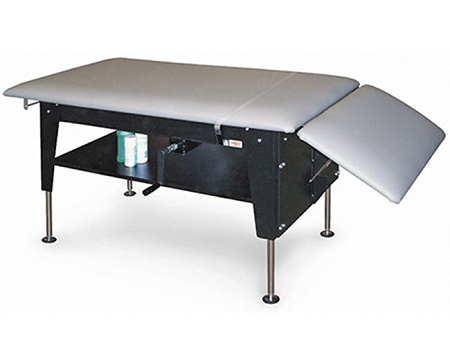 The Crank Hydraulic Changing Treatment Table from Hausmann Industries can adjust from a wheelchair height of 20 inches to 30 inches high and is our #4 pick.
This adult changing table has four telescoping legs with hydraulic cylinders and levelers for smooth height adjustments. It boasts a high-density foam top for optimal comfort and ease of use, and its durable powder-coated frame can accommodate users weighing up to 400 pounds.
Available in 9 colors, this table has a paper dispenser and a cutter, and has a 16-inch long leg rest that extends the length of the table to 68 inches long. Its ergonomic design takes the strain off the caregiver, helping prevent common care-related injuries.
Its floor leveling system, convenience features, and design choices that will complement any environment, this table is a great choice for commercial or home use.
Features and Benefits
Adjustable height to accommodate wheelchairs
Leg rest table extension
Floor leveling system
Paper dispenser plus cutter
2" foam padding for comfort
Customer Feedback
Pros
Easy to adjust
Makes patient accessible from all sides
Leg rest and cushioning make it comfortable to use
Accommodates larger users up to 400 pounds
Cons
Our #3 choice is the versatile and durable electronically operated Easi-Lift Wall-Mounted Height-Adjustable Shower Stretcher by Smirthwaite.
With the touch of a button, patients are raised to a working height that is comfortable for caregivers, and lowered for easier transfers on and off this shower stretcher. Made of tear-resistant waterproof nylon, the surface is perforated to allow for water/fluids to drain and avoid pooling. It's also easy to clean and keep sanitized. This table can be flipped against the wall when not in use, so it saves space in the shower.
This heavy-duty stretcher relies on a durable stainless steel frame that holds up in wet environments and has a weight capacity of 500 pounds. It makes daily life activities like bathing and dressing more efficient, more dignified for the user, and easier for the caregiver.
Fitting seamlessly into most bathroom designs, this model combines strength to hold larger users with single button electronic operation to create a convenient and safe shower stretcher that will accommodate just about anyone.
Features and Benefits
Flips up to stow out of the way when not being used
Adjustable height to accommodate transfers and caregiver ergonomic needs
Made of strong waterproof nylon
Strong stainless steel frame holds up for years
Customer Feedback
Pros
Water drains so you're not sitting in it
High weight capacity serves a wide range of patients
Adjusts quietly and smoothly
Super easy to keep clean and sanitary
Cons
Not cushioned for comfort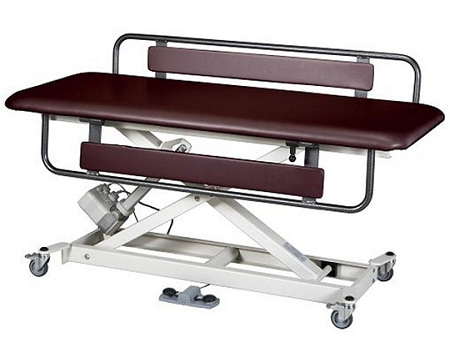 The Hi-Lo Changing Table with Side Rails by Armedica Manufacturing is #2 on our list, and it features motorized height adjustment with no horizontal travel, providing an easy patient transfer and less caregiver strain.
Ideal for facility or home use, this special needs table can accommodate children or adults. Using the foot pedal control, it can be lowered to 18 inches from the floor, and after a patient is transferred to the table, it can be raised up to 37 inches. This sturdy table's frame is made of 11 gauge welded steel tubing that's strong enough to safely accommodate users weighing up to 400 pounds. It comes in your choice of 60 or 72 inches long.
Designed with caregivers in mind, its height range significantly reduces the risk of back pain and strain injuries caused by working in a bent over position. This single section table features 1 ½ inch of firm foam and comes in a choice of 11 colors of heavy duty vinyl that is coated in Permablok 3 to decrease bacteria, germs, fungus, abrasions, and stains. Its safety rails pivot down so they don't inhibit transfers. This table's swivel lock casters make it highly maneuverable.
This special needs table is extremely versatile, able to serve children and adults comfortably and safely while protecting caregiver health with its height range and powered adjustability.
Features and Benefits
Footswitch control easily adjusts height
Anti-microbial Permablok 3 coating
Durable upholstery delivers long service life
Full height adjustability significantly decreases caregiver strain
Smooth height adjustment with no horizontal travel
Customer Feedback
Pros
Don't need to take attention off patient to make height adjustment
Fits kids or adults
"Back Saver" for caregivers
Can be maneuvered into smaller treatment areas
Holds up to lots of use
Cons
Would prefer a clip on the side to hold the power cord out of the way when moving the table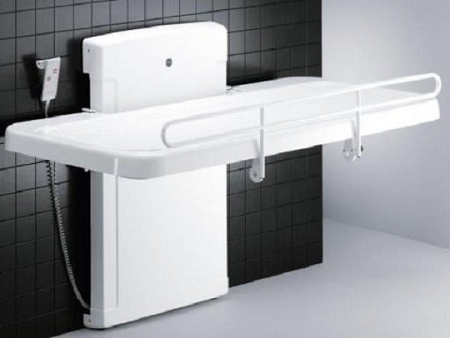 Topping our list at #1 is the Care 2000 Adult Changing Table by Pressalit Care, which is ideal for adult day cares, hospitals, clinics, parks, pools, and home care.
This wall-mounted perforated stretcher folds out of the way when it's not being used, and sits atop a collection tray with an attached flexible hose to drain fluids and keep the area as sanitary and comfortable as possible. Its handheld remote controls the height adjustment from 12 inches to 39 ½ inches with a whisper-quiet motor and this table can accommodate a weight capacity of 385 pounds. The durable plasticized mesh material is soft, pliant, and washable.
A budget-friendly option, this table reduces the risk of a fall with its safety side rail that folds up or down and locks under the table. This equipment is wheelchair accessible and ADA compliant. With proper care, it has an expected service life of at least 15 years. Its powder-coated stainless steel frame is sturdy, but easily folds and unfolds with the help of its two built-in pneumatic cylinders.
With its convenient electric operation, efficient use of space, and safety and comfort features, this model claimed the top spot for the overall best adult changing table. It is appropriate for use in almost any situation and comfortably serves users and caregivers.
Features and Benefits
Waterproof handheld remote adjusts table height
Whisper quiet operation
Safety rails for additional security
Wall mounted, folding away when not in use
Mattress allows liquids to flow through
Customer Feedback
Pros
Safety rails and platform easily fold out of the way
Doesn't take up much space when folded
Drain keeps fluids from pooling
Reservoir for discharge keeps things contained and sanitary
Installs easily
Cons
It weighs more than 160 pounds
Features to Consider When Choosing an Adult Changing Table
Where it will be used
Some tables are large and less mobile, designed to be installed in one place, and usually they are more appropriate for professional environments than home use. Tables that are more compact and can be moved from room to room are usually found in home care situations.
Available space
Know your table's measurements, your available space, and the doorway and corner measurements if you are planning to move the table from room to room. Allow for clearance to walk around the table for transfers or delivering care.
Some models are wall-mounted, which can be folded down and out of the way when not in use. They are usually more expensive and since they are often used in schools or hospitals, they are ADA compliant.
Weight Capacity
Standard adult changing tables can accommodate users up to about 300 pounds, while bariatric versions can support users up to 1,000 pounds.
Placement
If your table will not be moved from room to room, a fixed model that stays in one place will work fine. Portable changing tables have wheels (be sure it has hospital-grade casters if you plan on using it as a backup stretcher in an emergency) and should have safety side rails to keep the user safe while the table is in motion.
FAQ
Q: What is an Adult Changing Table?
A: An adult changing table is a durable height-adjustable platform to transfer and assist a user in changing undergarments, diapers, or clothing. An adult changing table provides a secure space that benefits both patient and caregiver for accomplishing these daily living tasks.
Q: Can a changing table help me avoid injury?
A: The use of an adult changing table reduces the risk of injury to a caregiver who is susceptible to an overuse or strain injury while assisting a patient on a less ergonomic surface. The fall risk and exposure to unsanitary conditions are reduced for patients who benefit from a comfortable, secure, and sanitary surface.
Q: What is the best height for an adult changing table?
A: It is recommended that a changing table be adjustable from 12 inches to 40 inches above the floor, depending on the transfer needs of the user and the best ergonomic position for the caregiver.
Summary
One of the best ways to protect caregivers and users as they go through daily hygienic activities of bathing and changing clothes or undergarments is to use a comfortable and safe platform to perform these tasks.
The Pressalit Care 2000 Adult Changing Table topped our list of high-quality adult tables because of its overall appeal. Whether in a facility or a home setting, this budget-friendly, ADA-compliant piece of equipment makes it easy through its hand controller for caregivers to raise and lower the table to facilitate transfers and perform tasks without straining or bending. Its unique anti-bacterial mattress drains fluids away and creates a cleaner, healthier environment. For user and caregiver comfort, it can't be beaten.
Read our similar article How to Choose the Best Adult Changing Table for guidance on choosing the best adult changing table for your situation. You can also check out Caregiver University for more helpful articles.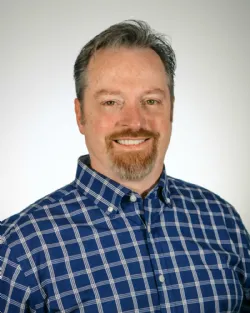 Author:
Co-Founder of Rehabmart and an Occupational Therapist since 1993. Mike has spent his professional career working in multiple areas of Occupational Therapy, including pediatrics, geriatrics, hand therapy, ergonomics and inpatient / outpatient rehabilitation. Mike enjoys writing articles that help people solve complex therapeutic problems and make better product choices.