Handcycles can be incorporated into daily life for fun, physical therapy, and competition. These adaptive devices make cycling available to people who otherwise would be sidelined. Piloting a handcycle is a great cardiovascular workout, and it builds strength and tones the shoulder, arm, and abdominal muscles. Since operating a handcycle requires simultaneous management of pedals, steering, and brakes plus speed and location, it's a great tool to improve balance and coordination. Hand cycles are a great choice for people with cerebral palsy, spina bifida, spinal cord injury, amputation, multiple sclerosis, or who have had a stroke. Socially, a handcycle helps a person get out into the world and take advantage of that access to meet and connect with people.
The Top 4: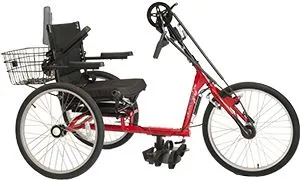 Our list opens with the Adult Handcycle Community Cruiser by AmTryke. It is specifically built for adults and teens who seek a smooth ride from a very maneuverable hand pedal bike. You'll enjoy the support that comes from sitting in an adjustable easy-glide wheelchair seat. The tight turning radius is the key to the increased maneuverability of this handcycle. Its 3-speed Sturmey Archer grip shifter keeps your ride smooth on hills. The hand pedals are convenient and easy to operate.
The strong rolled steel frame of this handcycle enhances its durability, and the low seating makes it easy to get on and off. Its low center of gravity makes it more stable, and it has a hand-powered coaster brake. The seat is padded for extra comfort, the canted rear 24-inch wheels have smooth tread tires that add another layer of stability, and the front wheel centers itself.
The foot platforms adjust independently and can be moved up or down, to the right or left, and you can tip your heel or two up or down. It comes with a steel wire basket and safety reflectors to make it easy to see on the road. It can accommodate riders up to 250 pounds who are up to 6 feet tall.
This hand pedal bike for the disabled is a great entry-level choice for getting into handcycling. It's not a speedy piece of equipment, but for anyone wanting to enjoy its stability, comfortable wide wheelchair seat, and convenient placement of the hand pedals, this handcycle is a solid choice.
Features and Benefits
Adjustable wheelchair seat to maximize comfort
Tight turning radius with easy maneuverability
Free safety equipment
30 speed Sturmey Archer grift shifter
Comes with free helmet
Pros
Comes with a free helmet
Comes with a large basket to carry personal items
Stays upright and doesn't tip over
Provides a great workout
Cons
Expert assembly is required
Does not fold for transport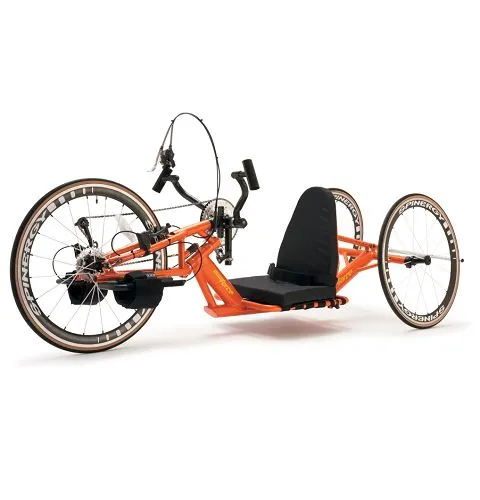 At number 4 on our list is the Top End Force G Handcycle by Invacare boasts a highly adjustable trunk-powered erect seating position designed for low paras, amputees, and competitors who can use their arm, shoulder, chest, and abdominal muscles. Its custom skeletal reinforced rigid center aluminum frame includes a seat that allows for easy transfers on and off the handcycle. You can adjust seat position and length, back angle and height, leg rests, and height of the crank housing for a highly customized cycling experience. This is especially valuable if you're competing and need to get your equipment dialed in with pinpoint precision.
Get up to speed on 26-inch high-performance clincher tires on threaded axles while shifting through the gears of the hands-on high-performance Shimano 27-speed drivetrain. And when you need to slow down, it has a hand-powered Shimano Rapid Fire shifter brake. Standard safety equipment includes safety flags, a chain guard, safety straps, and a parking brake.
Powered by an aluminum ergonomically designed pedal, the Top End Force G Handcycle has a weight capacity of 250 pounds. To give you a competitive edge, additional features include an aluminum oversized rake fork, top end crankset, cable driven upper derailleur shifter, upper chainrings 48-39-24, 11-34 SRAM cassette, steering dampener, and even a drafting bumper. For comfort, it comes with a padded seat and back cushions.
This handcycle takes advantage of the strength in your arms, shoulders, chest, and abs to get you up to speed and keep you there. It made our list as a top choice for its seat design, high-performance parts, and durable construction.
Features and Benefits
High pressure, high-performance clincher tires
Easy transfers via center frame design
Safety equipment including parking brake, chain guard, and safety flags
Highly adjustable for a customized fit
High-performance hand shifter brake and 27-gear drivetrain
Pros
Easy to assemble
Adjustable pedals for optimal positioning
Lots of possible configurations when ordering
Lightweight and fast made with quality parts
Cons
Wish it had a front fender
Too big to transport in a small vehicle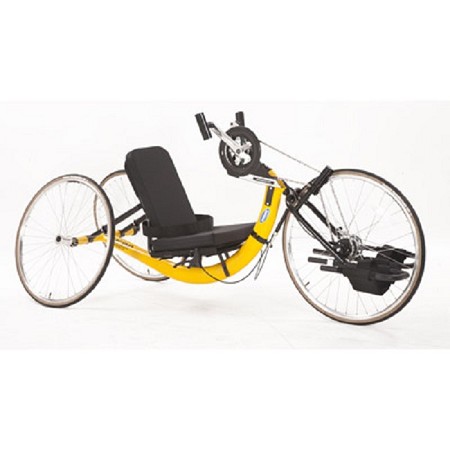 The number 3 entry on our list is the recreation-style Top End XLT Handcycle by Invacare. It is a low-maintenance option featuring 7 speeds and reverse hands-on braking. It's a great choice for cross-training and recreation. It can handle most terrain, opening up additional opportunities for exploration and independence.
Although not considered a racing handcycle, it can still reach speeds up to 20 miles per hour, and it rolls on high-pressure tires on high-performance wheels.
Able to accommodate riders up to 250 pounds, the seat's upholstery has adjustable tension. Its maximum range of motion and increased power transfer are provided by the tall, narrow back, and the adjustability of the seat, back, and crank height create an ergonomically optimal exercise setting.
Built on a lightweight oval tube aluminum frame, this very stable handcycle has a chrome-moly steel fork that stays stiff and makes cornering easy. The ergonomic handles, a full chain guard, a safety flag, a parking brake, reflectors, and a chest positioning strap contribute to the safety of this versatile handcycle.
This handcycle is lightweight and easy to handle yet durable and stable, with added touches to keep you visible to others and protected from moving cycle parts. If you enjoy the outdoors, like a little speed in your cycling, and are looking for a great upper body workout, this handcycle will deliver.
Features and Benefits
Can go up to 20 miles per hour
High-pressure tires on high performance spoke wheels
Corners easily
Additional rider comfort from adjustable tension seat upholstery
Tall narrow back for increased power transfer and maximum range of motion
Pros
Smooth ride
Simple shifting
Well-made and sturdy
Great cardio plus strengthening workout
Comes with lots of safety equipment
Cons
Hard to follow tire changing instructions
Would like to be able to adjust seat height on the fly
The versatile Top End Force-3 Handcycle by Invacare is at number 2 on our list of best handcycles, with high-pressure cruiser clincher tire options that range from high performance to knobby, a choice of seat widths, and a 27-speed drivetrain on a 60-inch wheelbase.
You'll enjoy showing off this super sleek handcycle with its stealth black powder-coated finish. Its high-performance components from Shimano include a Rapid Fire handhold shifter/brake, cable driven upper derailleur, and 170 mm cranks. It also boasts Avid disk brakes, Alex DMI 18 26-559 wheels, and a Tektro parking brake. It comes standard with a drafting bumper, threaded axles, and cable springs.
The angle of the cushioned seat and back and the footrests are all adjustable, so you can create the most supportive position to help you excel at handcycling. The height of the frictionless ergonomic hand pedals is also vertically and diagonally adjustable.
Safety is addressed with chest and footrest straps, a safety flag, a chain guard, and reflectors.
Supporting riders up to 250 pounds, this three-wheeled arm-powered cycle is a high-performance choice for a beginner or a competitive handcycle athlete who knows that a lower extremity disability is not a barrier to fitness or to competition.
Features and Benefits
Accommodates riders up to 250 pounds
Features 27 speeds
Sleek modern look
Reclining backrest for comfort
Features high-performance parts
Pros
Fast and lightweight
Gears help on hills
Cozy seat
Great for beginners
Cons
Need to take to a bike shop for proper adjustment
Shifting gears not intuitive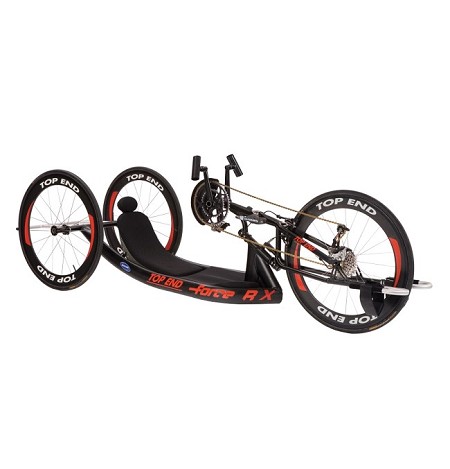 Racing to the top of our list is the Top End Force RX Handcycle by Invacare. It's available in 14 colors and three models, with an adjustable back, a fixed back, and an adjustable back without wheels. Each is a high-performance machine designed for agility and acceleration.
Built on a lightweight treated 7005 aluminum welded aerodynamic frame, this highly customizable hand pedal bike for the disabled is available with an adjustable or fixed height crank housing. The 26" wheels have high-pressure clincher tires and Alex DA 22 rims with camber angles of 0 or 3 degrees. The adjustable back model allows the degree of recline to be set according to the most aerodynamic and power-generating position for a particular course. For more body clearance, the frame has a monocoque front triangle.
The SRAM X9 30-speed drivetrain, with elbow-activated shifting and braking, is suitable for H1 and H2 tetraplegic racers. Shimano Di2 electronic shifting with SRAM 11-28 cassettes is also available.
This racing handcycle's height-adjustable bolt-on headrest perfectly cradles the cervical spine. Cushioned and upholstered in breathable mesh, the back is made of lightweight carbon fiber, and the seat's upholstery is adjustable.
The tapered crank arms have frictionless pedal bearings. The cycles in this product line feature a steering dampener and have ergonomic oval aluminum hand pedals. Its safety system includes a Cane Creek SCR-3 caliper brake and fork and a mounted locking second brake. It also has a drafting bumper, chain guard, safety flag, parking brake, positioning straps, and safety straps in two choices of widths for the multi-position adjustable footrests.
If you are a competitor who seeks top speed from your handcycle, this one will get you across the finish line. It's designed for going fast and arriving first, customizable to fit your center of gravity, your body measurements, your abilities, your needs, and your goals. It made the top of our list for its performance-centered features, providing the opportunity to compete - and win.
Features and Benefits
Available with electronic shifting
Adjustable stiff carbon back support
More body clearance
Aerodynamic lightweight aluminum frame
Elbow brake and shifting accommodates H1 and H2 tetraplegic racers
Pros
Brings out the best in competitors
So many customizable options
Built specifically for racing
Looks like the beast that it is on the course
Cons
Sharp turns caused wheel to rub on leg
Transfers take a while to figure out
What to look for when purchasing a handcycle
Wheelbase
Cycles with shorter wheelbases are lighter and the steering is more responsive. Since the rider sits higher, over the front wheel, it might be too tall for users with shorter legs.
With a long wheelbase, the rider sits between the wheels, which makes riding easier for shorter people. The steering is not as sensitive, and this could make it more comfortable for a beginner.
Steering mechanism
Under-seat steering doesn't use handlebars, while over-seat steering is similar to a traditional bicycle.
Seats
With several available designs, seat options include shape, size, and degree of lean. Since riders have different needs, there is no one-size-fits-all best option. Whatever provides the most comfortable support for you is the best choice for a seat.
FAQ
What is a handcycle?
A handcycle is a self-powered, three-wheeled vehicle propelled by specially designed hand cranks. This cycle serves people with spinal cord injuries, multiple sclerosis, stroke, spina bifida, amputations, cerebral palsy, or any condition that limits the use of their legs.
What are the different types of handcycles?
There are two types of handcycles, recreational and competitive.
There are several styles of recreational handcycles, which include handcycles for children, cross trainers, off-road handcycles, upright, and recumbent. They are appropriate for beginners and can accommodate a wide range of physical abilities.
Competitive handcycles have lightweight aerodynamically designed frames made of carbon fiber or aluminum and feature reclined seat positions. They roll on premium wheels and have high-performance components put together to win races.
How do you get onto a handcycle?
Pull your wheelchair up to the handcycle, lift your body with one hand on the chair and the other on the handcycle, then transfer your weight from your wheelchair to the handcycle seat. Strap your feet securely into the foot pedals and if necessary secure your legs with a hook-and-loop strap.
What are handcycle safety considerations?
Equip your handcycle with a safety flag, wear your helmet and any protective equipment, be familiar with the area where you're riding, make sure you have a cell phone if you need to call for assistance, and if you're going on a long ride travel with others.
Conclusion
Handcycles provide independence and mobility that reduce barriers and increase life satisfaction for people who have the use of their arms but not their legs. People of any age can enjoy the many physical and psychological benefits of exercise. These adaptive machines are more than a means of transportation, recreation, or competition. They are a ticket to freedom of movement, to the independence of spirit, and to a higher quality of life.
Be sure to check out our educational resource blog, Caregiver University, for more free articles!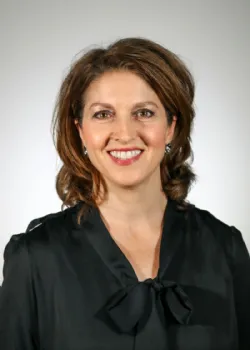 Author:
Megan has been a part of Rehabmart since its inception nearly 20 years ago. For the past several years she has been enjoying her role as HR Director while maintaining her Physical Therapy license. When she isn't working on her next in-service or working to find a new team member, she enjoys her five children, helping those who have PT type ailments, baking, practicing yoga, and working out.