Like any field, the practice of medicine is competitive. Creating an environment that attracts quality staff, maximizes efficiency, and cultivates a profitable patient flow includes choosing the best medical examination and treatment tables for your practice. It's likely your patients will spend most of their time in an exam room on an examination table, so it should be a comfortable experience that contributes to a positive opinion of your practice.
The Top 5: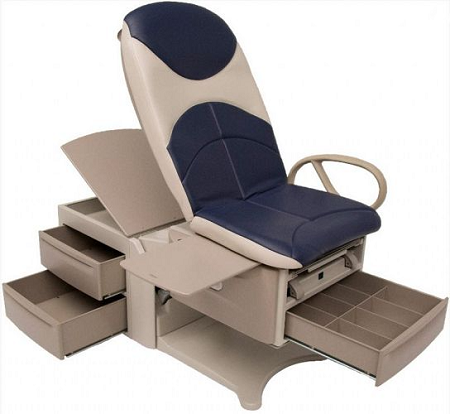 The 6501 Brewer Access High-Low Exam Table from Brewer Company is the number 5 entry on our list of tables.
With a powered backrest that adjusts for easy patient positioning, this table transitions from a chair to a table safely and efficiently. This table does the lifting for you, reducing any physical strain on care providers while adding to patient comfort. Its safety features include an anti-tamper switch, sensors to prevent injury while the table is in motion. This table also has a pelvic tilt function and a front drawer heater for patient comfort.
The weight capacity of this table is 450 pounds. It facilitates level transfers from standard wheelchairs and swing-away grab bars offer additional stability. The Brewer product line also has abundant storage with its special pass-through drawer system. It has adjustable stirrups, a standard foot control, and comes with a 3-year warranty. This table offers a 5-degree pelvic tilt and it comes in your choice of colors in easy-to-clean upholstery.
Watch this video of the High-Low Exam Table from Brewer Access that highlights all its great features! No wonder why it was the Health Industry Distributors Association (HIDA) Product of the Year winner.
The chair-to-table feature that makes this table so patient-friendly for anyone with mobility issues, plus saves strain on the medical staff, makes this table a patient and practitioner favorite. As a HIDA Product of the Year, this high-low exam table benefits your patients, your staff, and ultimately your practice.
Features and Benefits
Drawers accessible from either side
5 degree pelvic tilt
Electric powered backrest with return-to-chair feature
Tamper-proof on off switch
No accidental or unexpected movement
Customer Feedback
Pros
Comfortable patient experience
Transfer to and from wheelchair confidently and easily
Don't have to rely on core muscles to lay back since table reclines
Accommodates larger patients
Cons
A bariatric model with higher weight limit would be appreciated
Not an inexpensive choice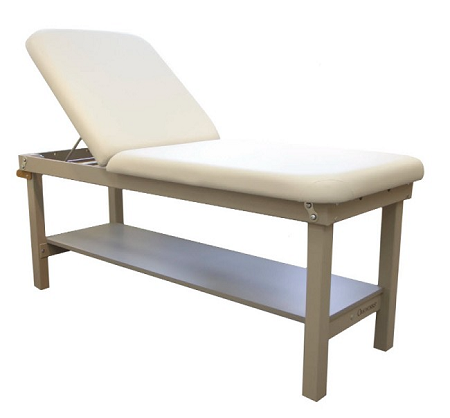 Coming in at number 4 on our list is the Powerline Exam Table from OakWorks Medical. This heavy-duty treatment table's hardwood construction is sturdy enough to handle patients up to 500 pounds and it won't warp, swell or flake from humidity like its pressboard or fiberboard counterparts.
Padded with 2 ½-inch thick semi-firm comfort foam padding, this table comes in your choice of 14 colors of TerraTouch PVC-free tear-resistant and easy-to-clean upholstery. Its versatile manual wave backrest makes this table a great choice for clinics, training rooms, massage therapy, spas, and even home use.
Options include a storage shelf added under the padded top to store materials and therapy tools, a choice of 27-inch or 30-inch table width, and a paper roller attached to the legs to create a sanitary treatment environment.
The warranty on this sturdy well-built table is 3 years on parts and 1 year on labor. The simple design will hold up for years, making it a great investment for your practice. Your patients will appreciate being able to start and finish their exam or treatment in a seated position, moving to a flat level position as necessary.
If you are looking for a table that will be comfortable for patients and will provide a long service life, the OakWorks Powerline Exam Table will be a great addition to your practice.
Features and Benefits
Hardwood construction that holds up even in humidity
Can accommodate patients up to 500 pounds
Strong, stable, and durable
Multiple options to choose from including colors to fit your decor
Thick padded top for comfort
Customer Feedback
Pros
Great investment at a manageable price point
Easy to get something that looks great in any office
Patients can receive care seated or flat
Very easy to set up
Cons
Prefer electric reclining motion
Accessories are non-refundable at purchase
The ETA Alpha Series Medical Treatment Table from Clinton Industries has claimed the number 3 spot on our list of best medical examination and treatment tables. The sturdy construction is blended with a comfortably padded top and lots of storage options.
This manually adjustable open base treatment table with storage comes with or without an adjustable backrest, which if chosen is included at no extra charge. The powder-coated gray steel frame holds laminate shelves for ample storage and can safely handle patients weighing up to 450 pounds. The gray base complements a long list of knit-backed upholstery colors to choose from. You can order options like a paper cutter, hook-and-loop safety strap, nose hole, or the addition of a flat top. This treatment table has adjustable leg levelers to keep it steady and the 2-inch foam-padded top has a seamless rounded corner. Its bolt-through assembly makes setting it up easy.
If you are shopping for a great looking table that will fit with any decor that requires minimal maintenance and provides lots of storage options, the ETA Alpha Series will meet your needs. It combines simple design with quality construction and patient comfort at a price point that will make it a smart investment in the success of your practice for years to come.
Features and Benefits
Extremely easy to set up
Laminate shelving
All-steel frame
Choice of backrest models
Wide variety of available colors
Customer Feedback
Pros
Solidly supports patients weighing up to 450 pounds
Shelves keep necessities close to the patient
Quick set up
Easy to operate backrest
Comfortable for patients
Cons
Leg leveling can take some adjustment
Manual backrests aren't as smooth as electric powered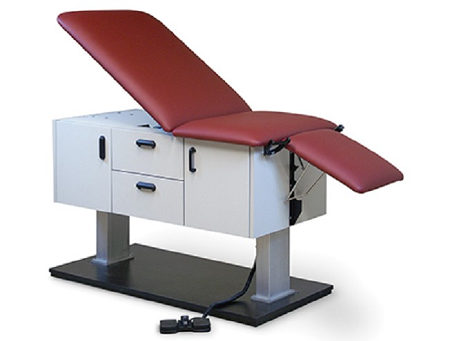 Number 2 on our list of best medical exam and treatment tables is the Econo-Line Power Clinic Examination Table from Hausmann Industries.
The dual direct-drive actuators engaged by a hand-operated control adjust the height of this table from 24 to 35 inches, and you can order a right- or left-hand accommodating model. The two drawers and two doors provide storage where you need it for the items you use most.
This table comfortably accommodates patients weighing up to 350 pounds. The 36-inch long backrest has 10 possible positions, and the 18-inch leg rest has 3 possible positions. The stirrups, which are also adjustable, are covered in vinyl or comfort and easy cleaning, and the paper dispenser and cutter are built into the table.
This treatment table has a 110V, 60Hz, 1 Amp Hospital-Grade plug that fits any standard outlet. If you are choosing this physical therapy treatment table for a high-volume sports therapy practice, the Pro-FORM Vinyl option delivers additional firmness for longer wear. The softer ComfortPLUS Vinyl is a perfect choice for a family practice exam table. The gray standard laminate base is scratch and dent resistant and is easy to keep clean.
With so many position options and available storage, this table will meet your mobility and storage needs. If you need a height-adjustable table that will make transfers easy and comfortable for your patients, this treatment will be a welcome addition to your practice. The added versatility and customization to best fit either a general practice or a high-volume therapy environment will ensure you get the right table for your needs.
Features and Benefits
Large range of users can be served with adjustable length stirrups and 350-pound weight capacity
Multiple positions for leg rest and backrest
Generous storage space
Customized design for general or high-volume practices
Easy to operate hand control to adjust table height
Customer Feedback
Pros
Adjustable table height makes it much easier for some patients to get on the table
Keeps things you most use close at hand
Soft padding for patient comfort
Can choose a model best for right-handed or left-handed practitioner
Cons
Only holds patients up to 350 pounds
To lower the backrest, it must be raised past 60 degrees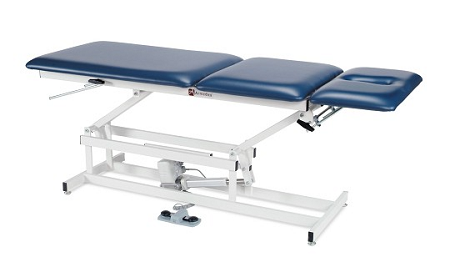 In the top spot on our list is the Series Three Section Top Power Adjustable Treatment Table by Armedica Manufacturing
This high-low power table has three sections and has a weight capacity of 400 pounds. Transfers and treatment are easier for the patient and the practitioner with foot-pedal table height adjustment between 17 and 36 inches. The head section raises 45 degrees, lowers 90 degrees, and has a contoured opening to accommodate face-down patients. The foot section raises up to 73 degrees. The welded steel frame and pivoting joints housing hardened steel shoulder bolts and locking nuts make this heavy-duty table strong and durable. The 1 ½-inch thick firm-density foam covered with anti-microbial vinyl on the tabletop adds to patient comfort. The corners are seamless.
Customizable options include a base with a different level of clearance, upholstered side rails, paper dispenser and cutter, and an extra foot pedal. This table will look great in the upholstery color of your choice, and its non-skid adjustable glide feet won't mark your floors.
For an easy-to-operate height adjustable table that patients and staff will appreciate, the Series Three Section Top Power Adjustable Table provides a more comfortable experience for all. The versatile section positions make this table the perfect choice for a multitude of treatments. Its sturdiness, versatility, and ease-of-use for practitioners have all earned this examination and medical treatment table the top spot on our list.
Features and Benefits
Anti-microbial vinyl
Thick 1 ½-inch firm density foam for comfort
Foot section aises 73 degrees
3 sections and a contoured face opening
Head section raises 45 degrees and lowers 90 degrees
Customer Feedback
Pros
Adjustable height means care providers don't have to assist with transfer onto table
Pediatric and/or elderly patients have an easier time getting on the lowered table
Lots of adjustment possibilities meet a wide range of treatment needs
Comfortable for patients
Quality built with a long service life expectancy
Cons
Customization means it could take a month to arrive
Feet do not allow for easy repositioning
Types of Tables
There are three kinds of tables available - standard, hi-low, and combination - and each has its own advantages.
Standard Table
You'll find the most options in this group of tables. They are designed for general use that can serve a wide variety of patients. For that reason, they are the most common tables you'll find in clinics and doctor's offices. They deliver no frills sturdy, reliable, padded support for examination and treatment for patients that can easily transfer on and off the table.
High-Low Table
High-low tables differ from standard tables in that they can move up and down via an electric or manually operated spring system. The patient can be raised or lowered smoothly and without any extra effort, making these tables especially useful for the elderly, disabled, or anyone who would benefit from transferring to a lower table.
Combination Table
Most commonly found in emergency rooms or other fast-paced environments, combination tables have customizable features such as removable headrests and footrests to reset the table for every individual patient. This style of table is known for its utility and durability in high patient volume situations.
No matter what kind of examination and treatment table is right for you and your patients, with all the attractive features and benefits of each of the tables on our list, one of them is sure to be a great fit for your practice.
FAQ
What is a treatment table?
A treatment table - also called an examination table, hospital table, or medical table - provides a comfortable, supportive, hygienic platform for diagnostics, examination, and treatment in any medical setting.
What are treatment tables used for?
Treatment tables help support patients during medical exams and treatment sessions. They can be positioned to enhance patient support, provide clinicians with access to the patient, and position the patient appropriately for treatment. Treatment tables are necessary for everything from gynecological exams to chiropractic adjustment to sports medicine, and are used for just about every interaction between doctor and patient in an exam room.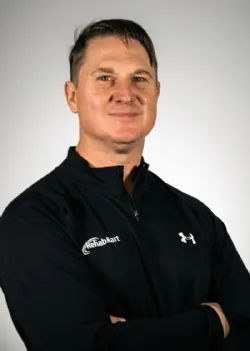 Author:
Co-founder/CEO of Rehabmart, Pediatric Occupational Therapist, husband, and father. Passionate about connecting special needs kids with superb nutrition, sensory integration, and complementary health strategies. Excited about Rehabmart's mission to become the premier online educational platform which empowers caregivers by spotlighting innovative devices and interventions to achieve optimal patient response and recovery.