Because water provides such wonderful, inherent healing and therapeutic benefits, it's important that everyone, regardless of their level of mobility, has safe access to pool and spa entry and exit. Preventing injuries and falls, pool lifts provide this needed support by gently lowering users into the water and lifting them back out again. If you're looking for a safer way to get in and out of your backyard pool, or you're a public pool owner who needs to meet ADA compliance guidelines for public pool access, read on to learn more about what kind of pool lift will be best to meet your unique requirements.
The Top 5: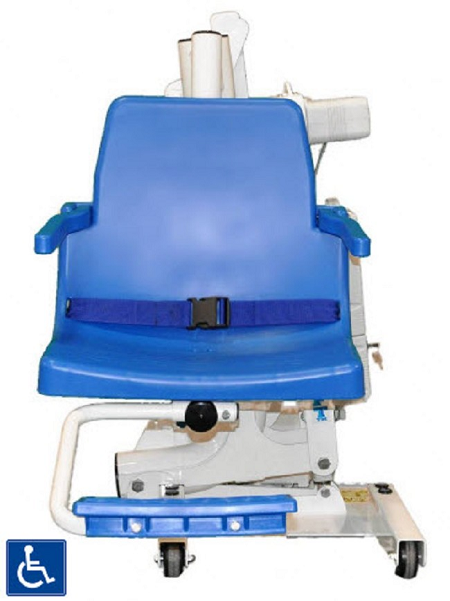 Making our list at #5 with its customizable ordering options and ADA-compliant design, the Global Commercial Series Pool Lift by Global Lift Corp optimizes public pool accessibility for guests and visitors living with disabilities. Available in both fixed and portable options, this versatile commercial lift will fit most standard pools or spas and is conveniently compatible with Retro-fit, Tri-point drop-in, or Tri-point anchoring systems. It comes in either a 375-pound or 450-pound weight capacity to accommodate most users safely.
This Global pool lift's abundance of beneficial features are not often seen in this mid-price range and include an Anti-Pinch Linkage System to keep the seat in a level position, an Emergency Return System to safely return the user up and out of the water in the event of a power failure, and a Key Lock-out System to deter unintended use. Armrests, a detachable footrest, and right seat positioning maximize user comfort, while the Emergency Stop System and an integrated safety belt enhance user safety. User-friendly controls ensure easy operation.
Its strong and sturdy stainless steel construction has the durability it takes to withstand repetitive water contact and harsh outdoor environments, with UV-resistant powder coating to minimize fading, chipping, cracking, and peeling. Reliably powered with a 24-volt battery, this commercial pool lift comes complete with a battery charger and AC adapter to ensure continuous service. It has a lifetime structural warranty and a 2-year + 2-year prorated warranty on the electronic controls.
Features & Benefits
Fixed or portable options to accommodate permanent or temporary utilization
Multiple safety design features (Emergency Return, Key Lock-Out, Emergency Stop)
Innovative linkage system eliminates pinch points and keeps the seat level
Compatible with most pools and spas and offers versatile anchoring systems
Durable, UV-resistant powder-coated stainless steel construction
Customer Feedback
Pros
Several hotel owners and other public facility owners remarked about how easy it was to install and provides a great fit for their pools
Smooth transfer, movement isn't jerky, very comfortable for users
ADA and ABA compliance ensure customer, guest, and visitor safety, providing secure pool and spa access for everyone
Cons
The width between armrests is a little tight for some larger users
A couple of facility reps advised purchasing the Portable Kit as this design provides better access in every part of the pool if you have a larger pool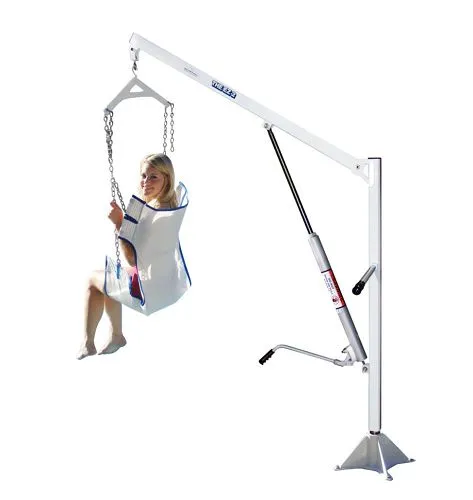 Offering versatile use for a variety of residential applications, the Aqua Creek Power EZ Pool Lift grabs the 4th position in our review with its easy portability, powered operation, and 360-degree manual rotation. While it is not ADA-compliant, this popular pool lift from Aqua Creek offers dependable performance and optimal functionality in a highly durable design. It can be used for both above-ground and below-ground pools and spas, along with boat docks, providing safe and secure accessibility for family and friends living with disability challenges.
Easy to install, the Power EZ Lift is also fast and simple to uninstall, making it perfect for portable and versatile use wherever it's needed. It offers multiple anchor options to suit your layout, including a standard anchor, a 10-inch deep anchor, a surface mount anchor, and a wood deck anchor. Its rechargeable 24-volt battery provides dependable, powered lifting and lowering functions, while its 360-degree rotational capability makes it easy for the caregiver or attendant to maneuver the lift manually, turning and positioning the rider for exact placement.
The Power EZ accommodates a 400-pound weight capacity, making this a good choice for most residential users. It comes complete with a comfortable mesh sling, but an optional hard seat can be added for users with that preference. Easy to clean and maintain, this lift's strong and solid stainless steel construction is powder-coated to resist corrosion and fading, while it also offers add-on cover options for the lift and for the hard seat. This Aqua Creek lift comes with a 5-year pro-rated electronics warranty and a 5-year structural warranty.
Features & Benefits
Battery-powered lifting/lowering operation with easy-to-use remote
Manual 360-degree rotation for exact positioning accessibility
Durable, corrosion-resistant, powder-coated stainless steel construction
Portable applications, quick and easy to install
Compatible use with above and below-ground pools, spas, and boat decks
Customer Feedback
Pros
Works exactly as advertised, dependable, and easy to use
Multiple comments about how much this lift has helped loved ones gain safer access to pool and boating activities
High-quality pool lift, very well made
Provides a lot of the same features as higher-priced models at a more affordable price point
Cons
A few users would have liked the rotational aspect to be battery-powered rather than manual
One customer advised others to ensure you're charging the battery daily, as this lift can run out of battery power after a dozen or so lifts
Not ADA-compliant so it can't be used for public pools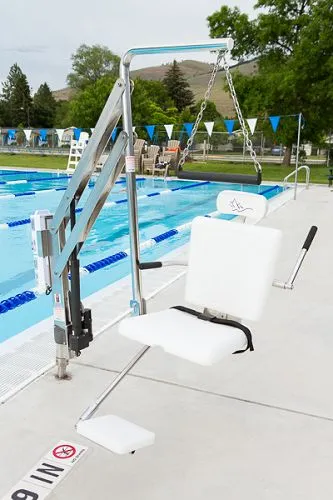 Coming in at #3 on our list, the Traveler II XRC500 500lb ADA Bariatric Pool Lift by Spectrum Products is included for its feature-rich design, customizability, and ADA compliance for commercial use. Safely accommodating larger guests up to 500 pounds with ease, its versatile design can be used for both in-ground and above-ground pools and spas. The wide and spacious seat provides exceptional lumbar support. This lift comes with an adjustable, padded headrest to optimize user comfort, along with flip-up armrests with non-slip grips and a swing-away footrest to improve accessibility for transfers. A safety belt keeps users securely seated, while a transfer-assist bar hangs above the seat to further facilitate safe and secure transfers.
Conveniently self-operable from both the deck and the water with the two waterproof remote controls, this Traveler also provides continuous 360-degree rotation in either direction, ensuring safe and independent use for your visitors living with mobility challenges. Configured for permanent set-up, this lift is easy to install, even into existing concrete decks. It comes standard with tough and durable electropolished 304L stainless steel construction or can be upgraded to 316L stainless steel for the ultimate strength and longevity. Both options are coated in proprietary SpectraShield for maximum protection against corrosion, damage, or fading. This pool lift also offers a choice of two different anchor systems.
With its proprietary, robust operating system and actuator that outperform the competition, this gold-standard pool lift is a great option for luxury hotels, condo communities, and resorts, delivering optimal performance and reliable functionality. Its rechargeable battery can provide up to 90 lifts on a single charge, and it comes complete with its own charger and the option of an extra battery pack. Other add-ons like a spine board or wheelchair attachment can replace the lift chair, customizing its use to meet any facility's requirements.
Features & Benefits
Self-operable from both deck and water
Continuous, powered 360-degree rotation in either direction
Accommodates bariatric users with its 500-pound weight capacity
ADA compliant to meet the needs of commercial applications
Adjustable, swing-away footrest, padded headrest, and flip-up armrests
Customer Feedback
Pros
Highly recommended for high-end public pool facilities, by far the best pool lift currently available, far exceeds other models used in the past
Superior quality, exceptional durability, holds up well in extreme outdoor conditions
Many users love the customizable aspect, especially the capability to add the wheelchair attachment that turns the seat into a transport cart - very convenient
Guests often remark on how comfortable and secure they feel and how they want one for their pool or spa at home
Cons
Has the highest price point in our review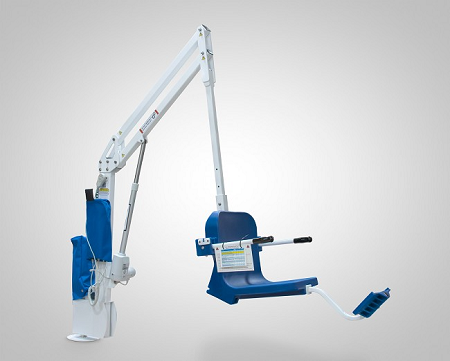 Capturing the 2nd position in our review with its ADA-compliant entry and exit from anywhere in the pool and upgraded setback, the Scout Excel ADA Pool Lift by Aqua Creek also offers a wide range of beneficial features to make this an excellent choice for public facilities. Compatible with in-ground and partially-raised pools and spas, its whisper-quiet rotation base provides more freedom to place the lift further back from the pool's edge, conveniently accommodating spa benches or wider perimeter gutters. Its full, powered 360-degree rotation in either direction further ensures clearance of short curbs or walls, adapting to the specific environment around the pool. Designed for permanent installation, the Scout Excel is also compatible with most anchors, providing a wide choice of add-on anchors and anchor adapter sleeves to ensure the right fit for your particular requirements.
Safely serving most users with its 375-pound weight capacity, this pool lift from Aqua Creek is constructed with strong, corrosion-resistant stainless steel that's powder-coated for additional protection against scratches, breakage, and fading. Its sleek look and clean lines provide a great accent for your pool or spa, with four different color options to ensure the best match. Its innovative seat pole is adjustable in height and its adjustable footrest is removable, enabling improved access for transfers along with its flip-up armrests. A lap belt helps keep users safe during lifts.
UL-certified to meet or exceed pool lift safety standards, the Scout Excel is battery-powered and comes with its own charger to ensure the lift is always in service when it's needed. This lift offers a multitude of optional accessories to provide perfect customization to meet your needs, including a cover, a headrest, a solar charger, a spine board, and much more. It comes with a five-year pro-rated electronics warranty and a five-year structural warranty.
Features & Benefits
360-degree rotation enables loading/unloading from anywhere in the pool
Adjustable-height seat pole, adjustable and removable footrests, flip-up armrests
ADA compliant and UL Certified to Pool Lift Safety Standards
Powder-coated, corrosion-resistant stainless steel construction for long-lasting performance
Upgraded setback, compatible with below-ground and partially-raised pools and spas
Customer Feedback
Pros
Sturdy, solid construction, very dependable, and high quality
Easy to operate, works well, meets customer expectations
A great choice for apartment complexes, affordable ADA compliance in a powered design
Cons
A couple of users felt that some of the add-on features should come standard
One facility owner said he had several older guests who were not able to figure out the controls independently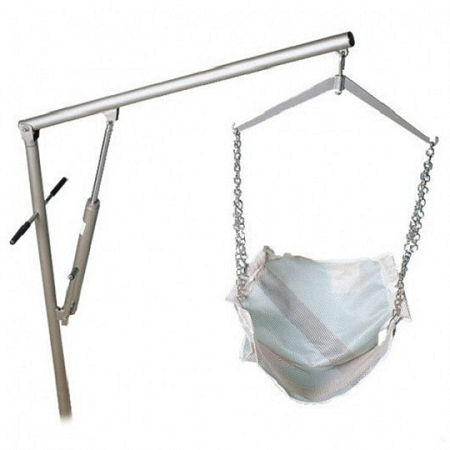 Well-deserving of its #1 position on our list, the Hydraulic Hoyer Classic Pool Lift is one of the most popular pool lifts and it has been and continues to be utilized by residential customers all around the world. Because it's not ADA-compliant, it can't be used in public pools. But this classic lift by Hoyer has the lowest price in our review by far, highlighting some of the same beneficial features of its more expensive counterparts - it's no wonder that this lift is one of the most widely used to enable residential pool and spa access for easier recreation and aquatic therapy.
This pool lift is powered by an innovative hydraulic system, so there are no electronics to worry about. With its full lifting range of 62 inches combined with its 360-degree rotation, the Hoyer offers a greater range of accessibility than much of its competition. It's easy for a caregiver or attendant to lift, lower, and position the rider with the simple design of this hydraulic pool lift, enabling people living with mobility impairments to safely enter and exit the pool or spa.
This classic pool lift's stainless steel painted finish construction ensures dependable durability that won't corrode in humid environments. A comfortable, quick-drying mesh sling is included. The Hoyer offers two mounting options that include a cement sleeve for cement decks and a surface mount pool adapter for wooden decks. While both mounts are designed for permanent service, the surface mount does have the capability to be uninstalled for a more portable option. Safely supporting up to 400 pounds with its powerful sling and boom assembly, the Hydraulic Hoyer Classic Pool Lift provides exceptional and secure pool access for residential users, making it the number one choice in our review.
Features & Benefits
The easy hydraulic operation provides dependable support and access
360-degree rotation and full 62-inch lifting range
Heavy-duty stainless steel construction with painted finish resists corrosion
Simple, low profile design, easy to operate
Two different mounting options for cement and wood decks
Customer Feedback
Pros
Works well, meets expectations, easy to use
Remarkable quality holds up great in both indoor/outdoor settings and wet environments
Compact, doesn't take up much space
The Hoyer's affordable price was a big plus, with many customers commenting how happy they were that they could now safely access their swimming pools
Cons
Not ADA compliant
Requires attendant or caregiver for assistance
Choosing the Best Pool Lift - Factors for Consideration
When you're trying to determine what kind of pool lift will be best to meet your needs, there are multiple factors to consider. While we outline everything you need to know to make the best decision in a separate article on how to choose the best pool lift, the main points to examine include:
ADA Pool Lifts
The Americans with Disabilities Act (ADA) revised its guidelines for Title II and Title III pool and spa facilities, both public and private as of January 31, 2013. To be compliant with these standards, facilities with pools and spas must meet the ADA criteria for providing safe access for disabled individuals, which most often requires an ADA accessible pool lift, along with other means of entry and exit, such as pool steps or pool ramps. Residential, private home pools and spas do not need to meet the ADA standards.
In order to qualify as an ADA-compliant handicap pool lift, the lift must have a minimum lifting capacity of 300 pounds, a footrest, a solid seat that measures at least 16-inches in width, and it must be able to submerge the seat into the water 18 inches below the stationary water level. The most important aspect of an ADA-compliant lift is its access and ease of use by the disabled user. People using the lift should be able to operate it without assistance from both the deck and the water and it must not require more than 5-pounds of force nor tight grasping, twisting, or pinching of the wrists and hands.
Weight capacity
Be sure to choose a lift that meets or exceeds the weight of the intended user(s), as this ensures safe, dependable support.
Type of pool or spa
Although some swimming pool lifts are compatible for use in all types of pools or spas, some are configured only for below-ground or above-ground pools.
Mounting styles
Pool lifts can offer a variety of different mounting types, including in-cement for cement decks and surface mounts for wood or other types of decks. Figuring out your needs with permanent or portable installation will also help you narrow down what type of lift will best fit your existing construction.
Manual or powered
Some lifts are battery-powered to perform the lifting, lowering, and swiveling movements, while others are manual or hydraulic. ADA compliance requires battery-powered remotes that can be operated by the user while they are in the water or on the deck.
Rotation
Pool lifts that can swivel in either direction for 360-degree rotational ability are often preferred as they enable easier positioning and access for the users.
Transfer accessibility
Look for pool lifts that have flip-up armrests, a swing-away footrest, and other features like transfer bars to ensure open, close-up accessibility for transfers from a wheelchair.
Whether you're looking for pool lifts for disabled users that meet ADA guidelines or a good, solid pool lift for residential use, we have researched the best pool lifts available on the market today to help you make the best choice for your family or facility. Considering the ease of use, performance, functionality, durability, and various feature benefits, we also made our selections based on the actual customer feedback available from the real-life users of this equipment.
Frequently Asked Questions
How does a pool lift work?
A pool lift works by lifting and lowering the user into and out of the water. The user sits on the lift's chair or sling and is lowered into and out of the pool via hydraulic, manual, or battery power, depending on the lift's design.
Does my pool lift need to be ADA compliant?
Public entities that are covered under Title II and Title III of the ADA, such as health clubs, hotels/motels, public country clubs, recreation centers, apartment/condo communities, and other businesses that have swimming pools, spas, and wading pools are generally required to comply with the ADA 2010 Revised Requirements: Accessible Pools - Accessible Means of Entry and Exit.
What do I need to know about pool lifts?
Pool lifts come in a vast assortment of different styles, sizes, and options, assisting people living with permanent or temporary mobility challenges to safely access pools and spas. If you're looking to purchase a pool lift for a public facility, you'll need to make sure it's ADA compliant. If you need one for family or friends at home, your pool lift will not need to be ADA compliant, but you will need to ensure its design meets your pool type, can accommodate the intended users' weight, and includes features you may need, such as a transfer bar or a removable footrest.
Summary
Since the new ADA pool accessibility requirements were put into place, more and more people living with impairments to their mobility are enjoying the many physical and mental health benefits of aquatic therapy and recreation. This change has also brought about some amazing design innovations from the pool lift industry, making this equipment more streamlined, efficient, and compact for both ADA-compliant and non-ADA-compliant options.
Trying to determine the best pool lift to meet your residential or commercial needs can be a bit complicated, so we made the process easier for you by researching the best and most popular pool lift options available today. The ADA-compliant Global Commercial Series Pool Lift made our list with its fixed or portable options, security features, and two different weight capacities, while we included the Aqua Creek Power EZ Pool Lift as a great choice for residential utilization with its easy installation, multiple anchors and accessory options, and its compatibility for use with pools, spas, and boat decks.
The ADA-compliant Traveler II XRC500 500lb ADA Bariatric Pool Lift is ideal for larger, heavier users with its spacious seat, while its battery-powered rotation and multiple add-on options enable customizable positioning. The ADA-compliant Scout Excel ADA Pool Lift by Aqua Creek is a great choice for both commercial and residential access needs, enabling safe entry and exit from anywhere in the pool.
While these are all great options to meet specific needs, we chose the Hydraulic Hoyer Classic Pool Lift as our number one choice for residential use. Offering many of the same design benefits as more expensive models, such as 360-degree rotation, mounting options, and a corrosion-free finish, the Hoyer Classic Pool Lift provides heavy-duty durability and dependable performance to ensure a safe and secure pool and spa access for people with mobility challenges.
Check out our entire pool lift catalog and learn more caregiving tips for daily living assistance at our Caregiver University blog.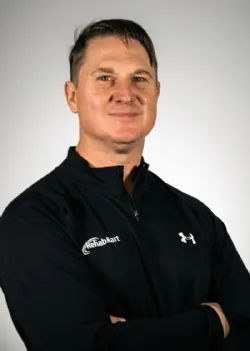 Author:
Co-founder/CEO of Rehabmart, Pediatric Occupational Therapist, husband, and father. Passionate about connecting special needs kids with superb nutrition, sensory integration, and complementary health strategies. Excited about Rehabmart's mission to become the premier online educational platform which empowers caregivers by spotlighting innovative devices and interventions to achieve optimal patient response and recovery.