Pool lifts and the ADA
Pool lifts are assistive lifting devices designed to transfer people with limited mobility or disabilities into a pool or spa.
In the past, aquatic therapy, also known as pool therapy and aqua therapy, was only available at hospitals, rehabilitation centers and select commercial pools.
Now, people with disabilities can participate and enjoy the benefits of aquatic therapy, thanks to new ADA requirements and the continuing development of pool and spa lifts.
The Top 5 Best Pool Lifts Summary
Pool lifts – the right choice for you
With the advent of new ADA requirements, people with disabilities can enjoy aquatic therapy with the same independence, convenience and ease of use as everyone else while at public pools and spas.
But the massive, commercial pool lifts that some public pools provided did not work as well for smaller pools, spas, and residential use. They were expensively priced, incompatible with a tranquil pool deck environment, and quite bulky.
Pool lifts that accommodated above ground pools or spas were virtually nonexistent. The sleek, stylish, low-profile options we have today simply did not exist.
Pool lift manufacturers have quickly adjusted and now offer a variety of lifts for in-home pools and spas, providing significant aquatic therapy benefits for people with chronic illness, spinal cord injuries, stroke, brain injuries and amputees. Water is an essential part of our daily lives; the benefits to our bodies, minds and souls is immeasurable.
Benefits of an in-home pool lift
Using the resistance of water, aquatic therapy eliminates gravity and takes pressure off joints and muscles.
Aquatic therapy is often the best, most effective therapy for people with disabilities because it makes exercise, cardiovascular training, and gait improvement easier and less painful.
While exercising in water, the gravitational forces on weight bearing joints are reduced, as is joint inflammation. Exercising in water also reduces pain and muscle spasms and increases flexibility and blood flow.
Aquatic exercise can help break the chronic pain cycle and make working out an enjoyable daily routine – thanks to the unique properties of water therapy and a reliable pool lift.
Other benefits of an in-home pool lift include:
• Arthritis management/joint pain
• Chronic back pain and lumbar stabilization
• Foot, ankle or knee pain relief
• Increased healing and strengthening of injured tissue
• Improved flexibility
• Enhanced cardiovascular stamina
• Enhanced circulation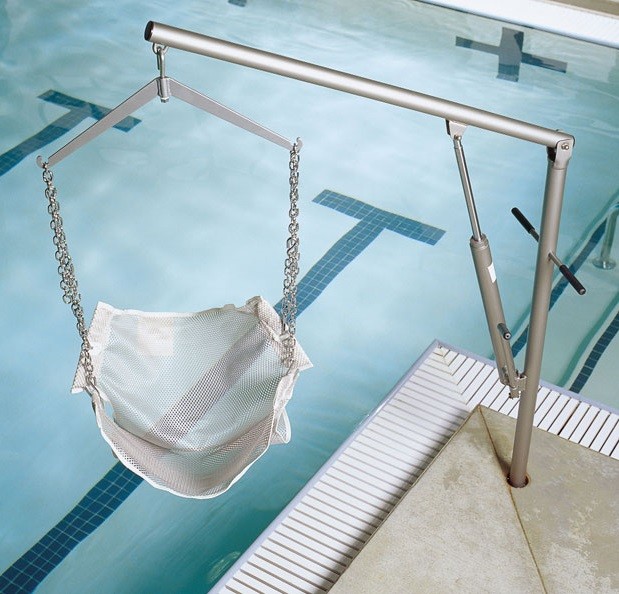 The Hoyer Swimming Pool Lift is designed to support people with disabilities and limited mobility who are attended by a caregiver.
The Hoyer is one of the least expensive pool lifts available, but doesn't compromise quality when allowing customers the opportunity to gain access to quality aquatic therapy.
A sturdy mesh sling and stainless steel, powder-coated painted frame will support up to 400 pounds.
For ease of entry and exit, the Hoyer Swimming Pool Lift swivels 360 degrees. Hoyer lifts are designed to be operated by a caregiver or attendant; they are not designed for independent use.
Manufactured by Joerns, Hoyer lifts are the perfect fit for attended recreational or therapeutic swimming. They are driven by a manual crank system, and can be mounted on the deck of a pool; installed on wood surfaces, like docks, for easy access to boats and other watercrafts, or cemented in. Hoyer lifts can be mounted into concrete with a professionally installed cement-in sleeve.
If surface mounted, Joerns recommends the lift be secured using 2 ¾ bolts. (It should be noted that Hoyer lifts are not portable.)
When fully extended, Hoyer lifts have a lifting range of 62 inches.
The lifting range is an important feature for this lift, as the range determines the placement of the lift. The lifting range also ensures the comfort and safety of the person being lifted into the pool, spa, or watercraft.
The Hoyer is considered an unobtrusive, low-profile lift; if mounted with a concrete sleeve, the lift footprint is simply the diameter of the mast. If surface mounted, the base is 13 inches, squared.
The Hoyer Pool Lift is not ADA compliant; however, it does feature a sturdy, ground mount that is easily installed by a professional contractor.
The simple lift design resists weathering; the mesh lift chair is comfortable and easy to remove for cleaning.
The Hoyer Lift provides mobility-dependent, injured, and disabled people with the opportunity to exercise and perform rehabilitation, minimizing the risks posed by slippery pool and spa decks and steps.

Customer Feedback
The Hoyer Pool Lift was rated very highly by customers who were looking for the least expensive and most cost-effective pool lift available.
One gentleman, age 71, said that after twelve years of traveling back and forth to a commercial rehab facility, he can finally use his own pool, thanks to his ability to mount his Hoyer lift onto his wood deck.
Overall, customers report it is an excellent value for the price, and works well.
Features and Benefits
Lifting range of 62 inches
Hydraulic power can be used anytime
360-degree swivel extension arm for ease of access
Pros:
Inexpensive compared to other lifts
Can be surface or cement mounted
Good quality for the price
Cons:
Not for independent use, attended use only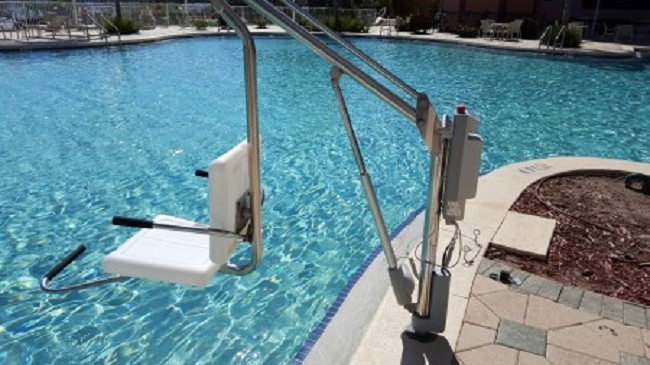 The Motion Trek ADA Bariatric Pool Lift with Anchor is a heavy-duty, formidable pool lift that is comfortable, surprisingly quiet, and efficient. Providing a great sense of security to bariatric users up to 350 pounds, the Motion Trek is easy to install (even into concrete), and can be up and running shortly after arrival with little fuss.
This fully ADA-compliant lift is equipped with a wide padded seat which features a lumbar support, footrest, seat belt and arm rests, while the deluxe model has an adjustable padded headrest. In addition, every unit is designed with a stability bar to increase user safety when raising or lowering the seat in and out of water.
The Motion Trek Pool Lift is equipped with quiet, smooth 360-degree continuous powered rotation. While the lifting unit is coated with SpectraShield to prevent corrosion, the Motion Trek has the added convenience of a watertight remote control, which can be used from either the deck or the pool. The Motion Trek's powerful battery can be used for 90 full lifts before needing to be recharged!
Top Product Feature
One of the best things about the Motion Trek Bariatric Pool Lift is that it can be installed into any deck. Versatile and well-made, this pool lift is even designed to accommodate surface materials commonly regarded as problematic, such as concrete.
Features and Benefits
350 pound weight capacity
Coated with SpectraShield to prevent corrosion
Use with in-ground or above-ground pools and spas
Equipped with 360-degree continuous power rotation
90 lifts per single battery charge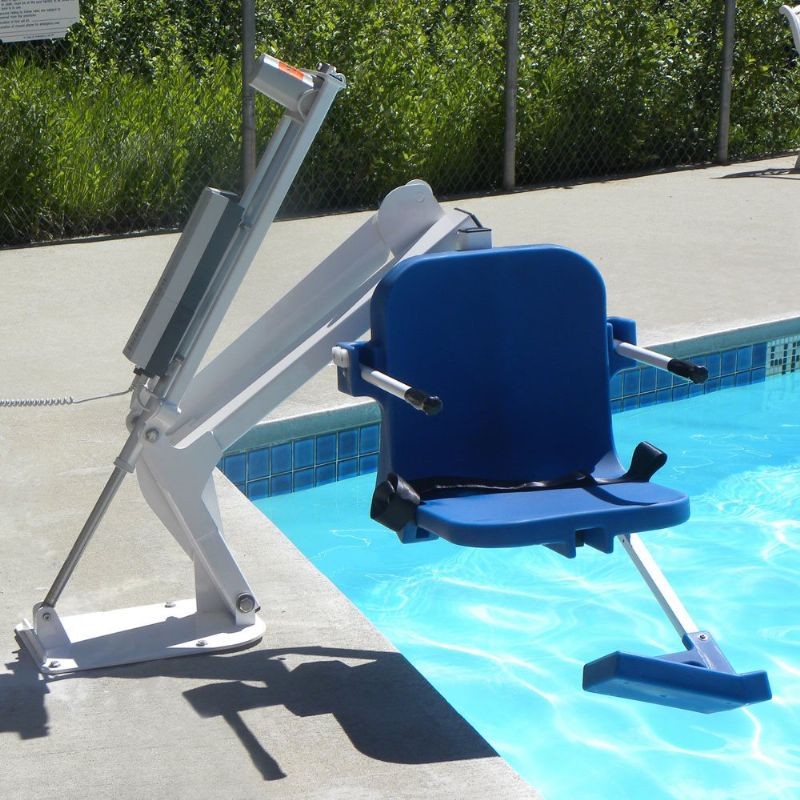 Manufactured by Aqua Creek, the Ranger Pool Lift is an economical alternative to larger, more expensive pool lifts.
While maintaining the durability and reliability of more costly lifts, this ADA compliant equipment sells for a fraction of the cost. The Ranger Pool Lift is recommended for smaller pools and spas.
The Ranger's compact design and small footprint make it the perfect choice for residential and small hotel and community association pools. The smooth, low-profile design easily blends in with any poolside environment.
The Ranger is capable of lifting up to 350 pounds, and is intended to be used both independently as well as with a caregiver or attendant. For this reason, it's a great choice for residential use.
Ranger installation offers additional anchor setbacks to accommodate a variety of pool deck configurations, while also allowing for right or left transfer.
Ranger stainless steel lift frames are tough and sturdy. The frame chair and footrest are covered with durable, easy-to-clean polyethylene. The standard fastener system includes a safety belt, strap, hook, and loop closure that is safe and easy to use independently.
Standard Ranger Pool Lift equipment includes dual-flip armrest and a flip-up footrest to help make any aquatic therapy experience easy, convenient, and comfortable.
The Ranger also features a waterproof remote handset and an efficient two-button remote that can be used underwater.
Ranger pool lifts are ideal for small hotels and residential pools, however, it requires a 14-16-inch set-back so it is not recommended for use with spas that do not have a broad deck.
Customer Feedback
Customers are very happy with their purchase of the Ranger Pool Lift, citing the ease of use, particularly for individuals who enjoy more range of motion and independence.
The Ranger's ease of use for customers who are using aquatic therapy after surgery was a great benefit for a customer who fractured her hip. She shared how she could continue her rehabilitation at home with help of the Ranger Pool Lift.
Another customer said he would highly recommend the Ranger for people who are more independent. After his stay in a rehabilitation facility, one customer said that he could continue to rehab at home with his Ranger Lift. He added that the quality versus cost was great.
Features and Benefits
Independent third-party verification to meet ADA standards
ADA compliance sign included with purchase for commercial users
Covered by a 2-year manufacturer's warranty a 5-year electronics warranty and a 5-year structural warranty
350-pound weight capacity
Stainless steel construction
Durable white powder-coat finish
Ranger Pool Lift accessories also fit the Aqua Creek Pathfinder Pool Lift
Adjustable flip-up footrest
Submergible remote buttons for independent use
Accessories include a chest strap, extra battery, transport cart, lift cover and headrest
Rechargeable wall-mount battery
Pros:
Great for independent use
Subsurface remote control
Low-profile and blends with pool setting and decor
Smooth operation, easy to recharge
Cons:
For use with small pools only
Not compatible with most spas, due to spacial set-back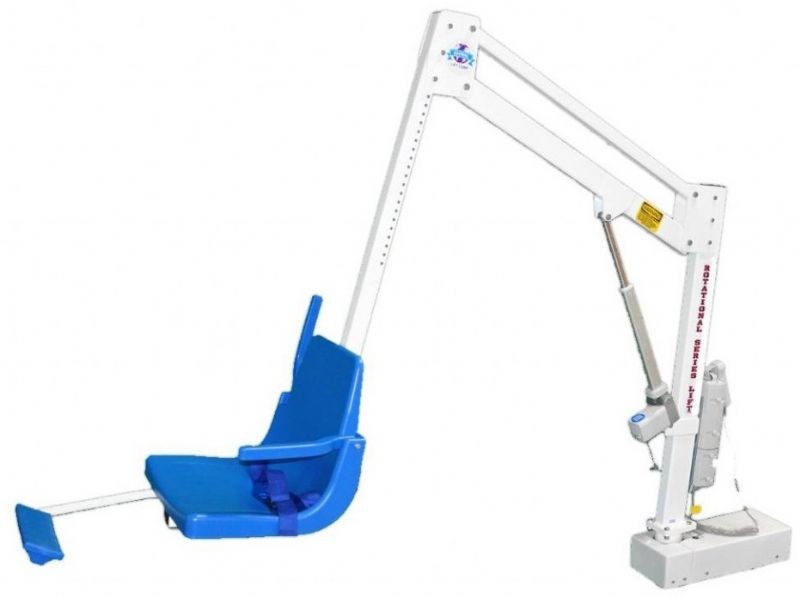 Global Rotational Series Pool Lifts are designed for commercial use as well as private, residential use. The Global Rotational Series 450A includes several unique features, including an anti-pinch linkage system that holds the seat in a level position and virtually eliminates pinch points.
Global Rotational 450A lifts were designed with your comfort in mind. Created with armrests, footrests and a secure belting system to insure not only your comfort , but also your safety. The armrests, footrest and safety belt accommodate a wide range of disabilities. They are easily operated by individuals as well as caregivers and attendants.

The turning features on this pool lift truly set it apart from other lifts – the Global Rotational Series 450A can be rotated from left to right, a full 90 degrees. They are fully ADA compliant lifts, intended for use with exterior above-ground pools and spas.
Built to last with heavy duty, powder-coated stainless steel construction, corrosion resistant materials and three different anchoring options - including an optional sleeve anchor system - these rugged pool lifts are ideal for outdoor use in areas unprotected from the elements.
The 450A is the perfect accessory for your above-ground pool or spa. The four-point anchor system is included as standard equipment. The 450A fits most standard pool applications and easily clears the side of the pool or spa – providing a great choice for anyone who needs assistance to effortlessly enter or exit their pool or spa.
Additional features include a rotational function that allows your lift to be rotated either left or right for ease of entry and exit and the key lock-out safety system which keeps the lift from being raised or lowered when not in use.
Customer Feedback
Customers love this above-ground lift; one reviewer said that his wife, who suffers from severe muscular dystrophy, had been unable to use her pool for nearly two years. He purchased the Global Rotational Series 450A for her and she is now able to use the pool for rehabilitation and exercise. She loves the low-profile lift and said that it is very easy to use and takes up very little space on her pool deck.
Another customer is 66, wheelchair bound and has multiple sclerosis. She called the Global Rotational Series 450A solid, reliable and a top-quality product.
Customers say that the only drawbacks to the lift is that the battery does not have a gauge so they are unsure when to charge it,and drilling for installation is very exact. (All pool lift anchors should be installed in concrete and Rehabmart highly recommends that the Global Rotational Series 450A be installed by a professional.)
Features and Benefits
Fully ADA compliant pool lift
Stainless steel construction
Battery powered 24-volt system
Compatible with both spas and pools
R-450A is designed for above ground swimming pools that are 19″ to 48″ above deck height (provide deck form for verification)
Rechargeable battery charging station included
Key lock-out system (patent pending)
Rotates both right and left by 90-degrees
Lifetime structural warranty
Pros:
Anti-pinch linkage system
Well-appointed with luxury features
Cons:
Installation is very exact and expensive
450A is a relatively expensive pool lift
Not recommended for in-ground pools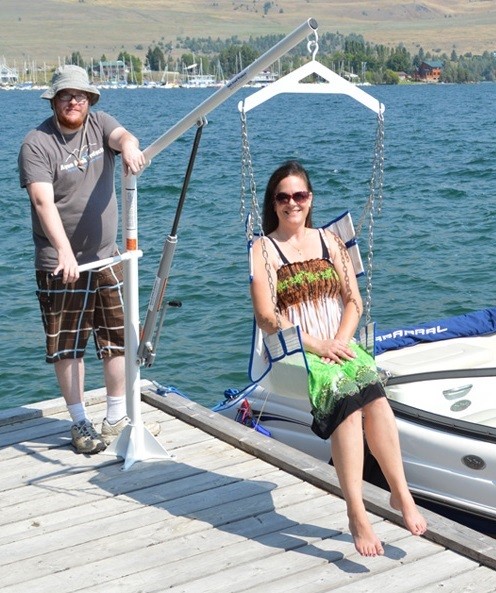 The Aqua Creek EZ Lift is a tremendously well-constructed, durable and affordable solution for your aquatic therapy needs.
Offering manual lifting to 400 pounds, this stylish pool lift is portable for relocation and easy storage. The sling seat conforms to the user's body, providing a comfortable and secure journey into the pool. An optional, easy to install hard seat is also available.
A unique turning bar has been added to this superb pool lift, dramatically increasing the ease of rotations for independent and attended users alike.
The Aqua Creek EZ Lift is diverse and distinctive in that it works well for above and in-ground pools, as well as spas and boat lift access points.
The EZ Lift accommodates pool wall heights up to 15 inches, and comes with a hydraulic lift as well as a rechargeable battery.
The Aqua Creek EZ Lift is thoughtfully constructed with stainless steel and a durable powder coat finish. All materials ensure long-life and corrosion resistance. It includes a lifetime warranty and a one-year hydraulics warranty.
Customer Feedback
Customers routinely comment that the Aqua Creek EZ Lift changed their lives; a reviewer recently said that EZ Lift installation was very easy, and she is extremely satisfied with her purchase.
Another customer reported that thanks to the Aqua Creek EZ Lift, she could use her spa and enjoy the therapeutic benefits for the first time in many years. She added that as a person with special needs, it was refreshing to be able to purchase equipment simply and stylishly designed, yet still completely affordable.
The only non-positive comment regarding the Aqua Creek EZ Lift is it's not ADA compliant for commercial or public use; it is intended for residential use only.
Features and Benefits
400 lb. (181 kg) weight capacity
Setback 12″ – 20″ (31 – 50 cm)
Clears walls up to 15″ (38 cm) high
Adjustable stainless steel chains
Durable mesh sling style seat (38″ x 20″)
All stainless steel construction
Durable powder coat finish
Concrete embedded anchor system
Five-year pro-rated electronics warranty
Five-year structural warranty
Pros:
Manual-hydraulic operation
400-pound weight capacity
360-degree manual swivel rotation
Diverse, compatible with above and in-ground pools, spas, and docks
Cons:
Intended for residential or private use only.
Pool lift buying guide
All of the pool lifts considered in our review reflect the highest standards of construction and excellent warranties.
In addition to features and price comparisons, Rehabmart evaluated information from customers who purchased and use the lifts. We found the most essential factors in choosing a pool lift to be the price, the level of user mobility, and versatility of the lift.
The Aqua Creek EZ Lift was chosen as the best overall lift because of its versatility for all levels of mobility, and the variety of uses.
The EZ Lift is the best quality and design, and provides the most features available at its price point. It allows customers to eliminate the difficulty of getting into the pool or spa – independently or with assistance - and enjoy aquatic therapy, regardless of nature of their disability, weight, or environment.


Want to know which features to look for when considering a pool lift? Read our article How to Choose the Best Pool Lift!

Want to learn even more? Find dozens of videos featuring products and caregiver tips like these at Rehabmart's YouTube channel!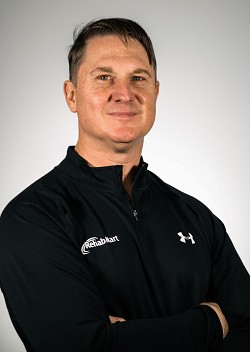 Author:
Co-founder/CEO of Rehabmart, Pediatric Occupational Therapist, husband, and father. Passionate about connecting special needs kids with superb nutrition, sensory integration, and complementary health strategies. Excited about Rehabmart's mission to become the premier online educational platform which empowers caregivers by spotlighting innovative devices and interventions to achieve optimal patient response and recovery.