Prescribed worldwide, supplemental oxygen therapy is a standard treatment approach for chronic lung diseases and conditions, such as chronic obstructive pulmonary disease (COPD), emphysema, pulmonary fibrosis (PF), asthma, and chronic bronchitis.
While many people are familiar with the oxygen tanks often used in supplemental oxygen therapy, and even the portable tanks that have wheeled support carts for mobility, not as many know about the multiple benefits of the newly designed portable oxygen concentrators (POCs) available in today's healthcare marketplace. POCs source oxygen from ambient air, filter and compress it, and deliver it to the patient through a nasal cannula attachment.
Utilizing state-of-the-art technology, portable oxygen concentrators deliver efficacious therapy comparable to larger, less portable oxygen delivery systems, but they don't require any tanks. They're also significantly smaller than home oxygen concentrators and run on rechargeable batteries for hours of reliable therapy.
With their exceptionally lightweight, low profile design, today's portable oxygen concentrators provide a discreet, effective, and dependable solution for excursions outside the home, including FAA-approved POC air travel. Providing multiple choices, such as continuous or pulse flow, display options, alarm functions, battery time/added batteries and other power preferences, everyone who requires supplemental oxygen therapy is sure to find exactly the right POC for their unique requirements.
Narrow your own POC search by taking advantage of our extensive professional experience and research. We've explored the best portable oxygen concentrators on the market today, and determined the top three based on performance, durability, functionality, portability, and valuable feedback from the real-life product users themselves.
The Top 4: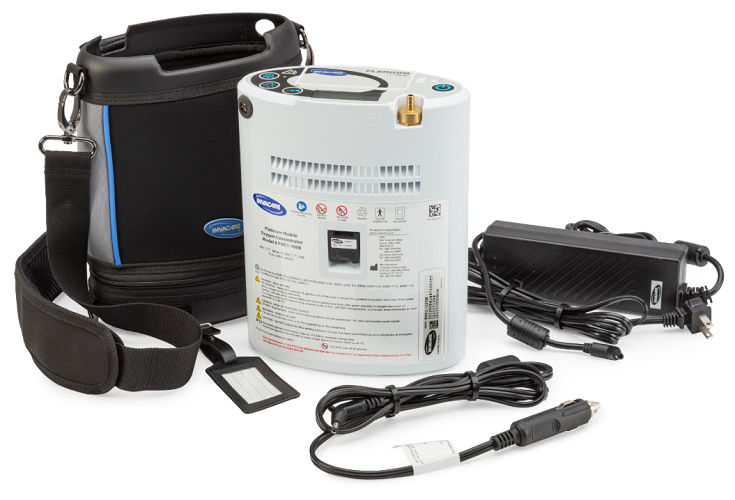 Weighing in at just under five pounds, the Invacare Platinum Mobile Oxygen Concentrator is a popular FAA approved portable oxygen concentrator with a broad spectrum of users. Its lighter weight makes it easy to carry, but takes nothing away from its rugged durability, as this POC is designed to withstand hard knocks, jostling, and moisture.
Perfect for outdoor travel, the Platinum Mobile's unrivaled water-resistance is legendary, and it's capable of operating under ten minutes of constant rainfall. Internal cushioning protects electrical components, and the three-way adjustable, hands-free carrying case further protects against damage and can be worn as a backpack, messenger bag, or purse. This POC will also function well in a wide array of temperatures ranging from -13 to 104 Fahrenheit.
The Platinum Mobile employs Invacare's innovative Sensi-Pulse technology to deliver exactly the right dose of oxygen, based on specific user needs. Five different pulse settings combine with this technology to customize the size of each puff (bolus) of oxygen, matching the user's precise breathing needs at any given moment.
Features & Benefits
Lightweight, wearable, and FAA approved portable oxygen concentrator
Performs well in outdoor conditions, rugged and durable design
Sensi-Pulse technology ensures precise oxygen dosing with every single breath
Five pulse delivery settings to conform to specific oxygen level requirements
Will run up to five hours on a single battery charge and includes both AC and DC adapters
Innovative interior and exterior design elements to resist moisture, extreme temperatures, and hard knocks
Customer Feedback
Pros
Adapts quickly to changes in breathing
Convenient hands-free wearability
The battery is replaceable or rechargeable without interrupting oxygen flow
Can be recharged in a vehicle, at home, or any electrical outlet
Control panel has only four buttons and is easy to see/view
Cons
Requires carrying an extra battery for travel lasting more than 4-5 hours
May not provide sufficient oxygen for users requiring a continuous flow
"Has changed my travel life! I travel a lot internationally and a year ago I realized I had been suffering from high altitude pulmonary edema for years...Now with my oxygen concentrator, I get off the long flight feeling great and ready to go. No more international doctor visits. I've ever had it overheat. I have an extra set of batteries, giving me 22 hours of travel time. Some airlines let me plug it in. It's been awesome." - Platinum Mobile POC Review by Dr. Betsy
#3 Inogen One G3 and G4 Portable Oxygen Concentrators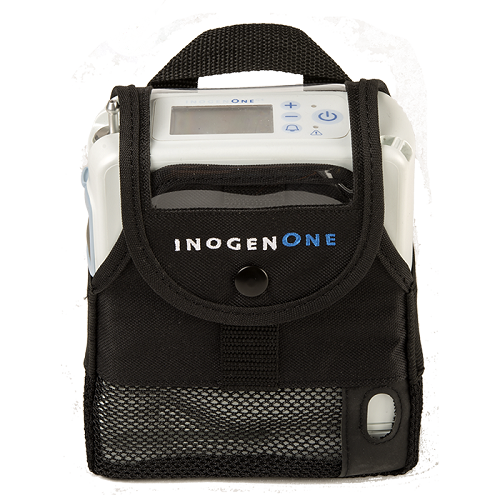 The Inogen One G3 POC and the Inogen One G4 POC both provide unparalleled pulse flow with Inogen's proprietary Intelligent Oxygen Delivery System, in a convenient compact size. With a choice of various sizes of batteries, both models include AC and DC power cables and adapters, along with an add-on option of additional batteries and an external battery charger to ensure you never run out of power.
The G3 is one of the quietest portable oxygen concentrators on the market today, with a noise level of only 39 dbA in its second setting. Five varied pulse levels deliver precise therapy that fits each individual's oxygen prescription. Weighing only 4.8 pounds, the Inogen One G3 comes with a convenient carrying case that can be worn over the shoulder and is an FAA-approved portable oxygen concentrator, as is the G4 model.
The G4 is even smaller than the G3, weighing in at only 2.8 pounds, with three pulse flow settings to suit the needs of multiple users. As one of the smallest POCs available, the Inogen One G4 is the best discreet choice, along with its quiet 40 dbA operation. It can also be worn over the shoulder with the included carrying strap and a protective bag.
The G3 can be ordered with an 8 cell battery system that lasts up to 4.7 hours between charges, or a 16 cell system that provides 10 hours. The G4 can be ordered with either a 4 cell or 8 cell battery system, with the 4 cells providing up to 2.7 hours, and the 8 cells giving up to 5 hours of operation between charges.
Features & Benefits
Both models provide quiet, efficacious oxygen therapy to enhance freedom and mobility
Both the G3 and G4 offer a variety of battery options, along with AC/DC power cords
Intelligent Oxygen Delivery System ensures proper doses of oxygen with every inhalation
FAA approved portable oxygen concentrators for air travel
Lightweight design, with G3 less than 5 pounds, and the G4 less than 3 pounds
Customer Feedback
Pros
Small size is convenient for travel
Quieter operation than other POCs
Various levels of pulse oxygen delivery sufficiently meet most patient needs
Comfortable to wear over the shoulder for long periods of time, along with other carry options, such as a hip bag for the G4, or the backpack for the G3
Cons
May not work as well for nighttime use while sleeping for some users
Units run a bit warm
May not provide enough oxygen for patients accustomed to receiving a continuous flow
"Awesome - I have been using this unit for 4 months now. It has not skipped a beat...I bought the bigger battery, but I have never even got close to using all of it. I put it on charge when in my truck, and on charge when home or in the office...I have gone 5 hours on a setting of 2 and still have 25% left...I find it amazing how this little unit can do what it does and be so quiet at the same time." - Inogen One G4 POC Review by Gil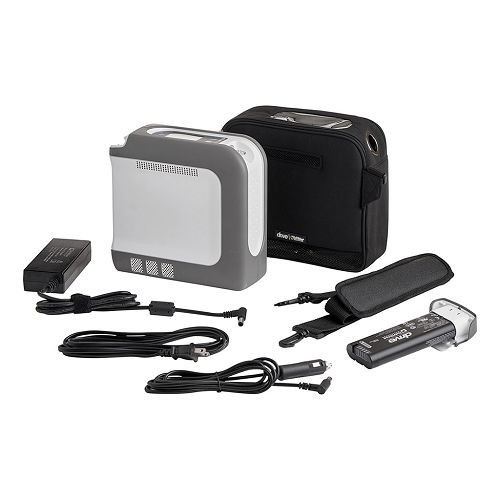 Building on the success of their popular iGo POC, Drive Medical's iGo2 Portable Oxygen Concentrator has been designed with a much smaller, slimmer profile that only weighs 5 pounds. Yet it still delivers the same powerful, dependable oxygen delivery as its larger counterpart, for oxygen therapy you can always count on.
Comfortable to wear or carry with its convenient carrying case, the iGo2 can be ordered with an extra rechargeable battery and is operable on both AC and DC power or battery for reliable, convenient therapy wherever and whenever you need it. Operating at the lowest setting, a battery charge can last up to 5.4 hours. But what's really helpful is that the battery can recharge inside the machine while it's still running, ensuring you never run out of oxygen.
The versatile 3-liter capacity iGo2 offers Drive's clinically tested and proven PulseDose flow. Boasting the most sensitive conserver trigger on the POC market, the iGo2 utilizes SmartDose Auto-Adjusting Conserver technology.
With internal safety systems to audibly alert for low battery, no detectable breath, high temperatures, low oxygen input, high/low flow, power failures, and other unit malfunctions, the iGo2 also automatically switches to battery operation if the power supply is interrupted, ensuring continuous therapy and patient safety.
Features & Benefits
Proprietary PulseDose flow for versatile oxygen therapy
Small, 5-pound size is easy to carry and transport, and includes carrying case
Comes complete with battery, AC power cord, and DC adapter for three convenient power sources
Most sensitive conserver trigger of any POC, and uses proprietary SmartDose Auto-Adjusting Conserver technology
This POC can still be used while the battery is charging inside
Customer Feedback
Pros
Comfortable to carry over the shoulder with the included carrying case
Control panel is easy to view and use, and internal alerting system is handy to offshoot possible trouble before it becomes a problem
Convenient, peace of mind operation with its multiple powering options, and appreciation for the ability to continue to use the POC while the battery is being charged internally
Cons
Does not offer a continuous flow setting
May be more complicated for some users with dementia, Alzheimer's disease, and other intellectual impairments to safely use without supervision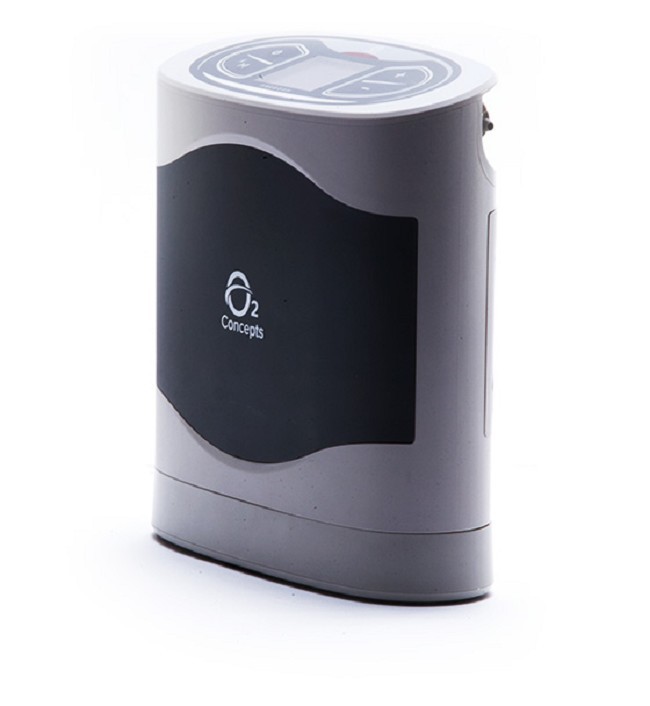 As the newest innovation from O2 Concepts, their Oxlife Freedom portable oxygen concentrator delivers the same beneficial technology as their well-loved Independence model, but in a much smaller, mobile, and lightweight design. Weighing in at just a little over 5 pounds with the battery included, this whisper-quiet POC provides the same robust pulse dosage flow options as the larger Independence.
Offering three times the flow of other leading POCs on the market, five different pulse dose settings ensure precise oxygen rates to meet specific, unique user requirements. Operating between 87 percent to 95 percent oxygen concentrations at sea level, the Oxlife Freedom additionally provides continuous flow up to 3.0 LPM for nighttime use and sleep.
This FAA-approved POC is always connected to a team of engineers at O2 Concepts via their Dynamic Network Analysis (DNA) feature, who monitor each concentrator to prevent operational problems, fix issues as they arise, and ensure proper function. The POC also monitors environmental conditions, usage rates, and breathing rates in order to tailor itself to be more efficient for each user.
The Oxlife Freedom can be charged while in use, taking only 2 hours to fully recharge, and it offers over 4 hours of continuous use on a single charge with the help of O2 Concepts' Energy Smart Technology. The unit includes both AC and DC power supplies, and one lithium-ion battery, with the option to purchase additional batteries, power supply selections, and battery chargers.
Features & Benefits
Offers three times the flow of other POCS, with 5 different pulse flow settings
Provides between 87 to 95 percent oxygen concentrations (at sea level)
Weighs just a little over 5 pounds with the battery included
Connected to O2 Concepts DNA device monitoring to ensure optimal operation
Energy Smart Technology facilitates long battery life, with more than four hours on one charge
Batteries can be charged while the device is in use, AC and DC power supply options are included
Customer Feedback
Pros
Works as well as larger Independence model, but so much easier to carry and transport
Reliable, continuous 3.0 LPM works well for sleep
Quicker recharge time for the battery is exceptionally helpful, and a popular feature
DNA monitoring helps catch potential issues before they become a problem
Simplistic interface and easy-to-read screen makes operation simple for most users
Cons
What Features Should I Look For?
Determining the best portable oxygen concentrator for your particular needs is an important decision, and you should always consult with your doctor about what specific features you require. Along with that professional help, we've compiled some important expert research to help guide your decision so that you can make the best possible choice for yourself or a loved one.
Pulse Dose or Continuous Flow - Figuring out how you use your oxygen, and when, will help determine whether you require continuous flow or pulse dose mechanisms of delivery. Continuous flow delivers oxygen at a continuous, regular rate, while pulse dose or pulse flow delivers the oxygen at a predetermined rate with a specific setting, based on the individual's own rate of breathing. Pulse dose only expels oxygen to the user as the user inhales, and is often sufficient for most patients requiring supplemental oxygen.

Size and Weight - Portable oxygen concentrators come in both larger, wheeled models, and smaller sizes that are around 5 pounds or less in weight. Because the smaller units in our review work just as well as their larger counterparts, we suggest you select a smaller, lightweight POC as they are so much more comfortable and easy to carry and transport. If you use air travel, it's important to ensure you choose an FAA-approved portable oxygen concentrator, which most small units are.

Durability - As a considerable investment, you'll want to make sure the POC you select is built to last, and can withstand some bumping and knocks, especially during travel and outdoor excursions. All of the POCs highlighted in our review are highly durable, with specialized design features to protect against damage and quality parts that can withstand hard and repetitive usage.

Filters - Most portable oxygen concentrators offer some kind of filtration system to keep the system clean. Simple particle filters remove dander and dust from the oxygen supply, while others include HEPA or antibacterial filters for users more prone to respiratory infections, or those who have weakened immunity issues.

Display - User-friendly interfaces and operational controls are a definite plus when using POCs. Screens should be easy to read, with large enough buttons on the control to avoid pressing the wrong ones, and the device should include alarms to alert you to issues like a low battery, oxygen flow problems, and other operational malfunctions.

Noise - While most of the smaller portable oxygen concentrators are quiet, there are some models that are louder and give off a noticeable background noise when in operation. Decibel levels around 40 dbA are at the same level as a whisper, and preferable for use in sound or noise-sensitive environments.

Battery Life - Battery life for most of the smaller POCs typically ranges between 2-4 hours, depending on what pulse or continuous flow rate they're set at. Extra batteries, battery chargers, and AC or DC power supplies will help tremendously in ensuring you always have supplemental oxygen available when you're on the go. POCs that enable charging as they still provide oxygen are a great choice, too.

Accessories - While most of the smaller portable oxygen concentrators come standard with the unit, a battery, an AC power supply, a DC power supply, and a carrying case, there is usually a range of add-on options to further customize the POC's use to each individual's unique needs. Replacement parts like sieve beds, filters, and panel vent covers will help extend the life of the POC, and extra batteries or battery chargers provide alternative power options.
FAQ
How do portable oxygen concentrators work?
Like regular, larger oxygen concentrators for home use that are plugged into the wall, portable oxygen concentrators are powered by a rechargeable battery or an electrical source, and take oxygen from the surrounding air, filtering it through sieve beds to remove the nitrogen. Compressed within the device, the oxygen is then delivered to the patient via a nasal cannula that's attached to the portable oxygen concentrator.
Can you use a portable oxygen concentrator at night?
While it's usually okay in most circumstances to sleep with a portable oxygen concentrator, this is an issue that should always be discussed with your doctor. There may be certain contraindications for use with some patients, and others may actually require a CPAP machine to more effectively treat issues like sleep apnea.
Are portable oxygen concentrators allowed on airplanes?
Most airlines and the TSA allow small portable oxygen concentrators aboard planes in both carry-on and checked luggage. If you're flying internationally, be sure to check the regulations for each country. Contact your airline to ensure your POC complies with regulations, and that you follow any special procedures or instructions from them or the Transportation Security Administration (TSA).
Will Medicare pay for a portable oxygen concentrator?
Although Medicare will pay for the cost of a portable oxygen concentrator to a homecare equipment provider you may use, it's a complicated process and is dependent on several factors. It is often quite difficult to actually find a local company that will supply a small POC for you, as they tend to offer systems that use tanks, or larger concentrators for stationary home use.
Are portable oxygen concentrators covered by insurance?
Although they greatly improve quality of life for people with a range of respiratory disorders and conditions and are much smaller and easier to travel with than heavy oxygen tanks, portable oxygen concentrators are considered luxury items, and it may be difficult to get your insurance company to cover the cost. To maximize your chances, be sure your paperwork is correct and organized, including the order and relevant patient information from your doctor. Encompassing all the ways that a POC would improve the quality of your life in all its aspects over the use of the standard oxygen tanks, giving as many details as possible, will generally be your best chance of your insurance covering the cost.
Does the VA supply portable oxygen concentrators?
Even though the Veterans Administration will not typically supply portable oxygen concentrators for long-term use, they do often issue them to Vets for temporary situations, such as plane trips and other travel, supplying them where Vets will be staying.
Summary
Portable oxygen concentrators are life-saving medical devices that help people with compromised respiratory conditions to breathe more easily, providing supplemental oxygen derived from ambient air. Because they don't require the use of large and heavy oxygen tanks, they are much easier to travel with and are now available in super small designs that work just as effectively as their larger counterparts.
POCs improve quality of life for their users, enabling people to remain active and engaged in business, social, and recreational pursuits, enhancing freedom and independence to move about their world with ease. We researched the best portable oxygen concentrators available in today's rapidly changing, high tech, and innovative marketplace for our review, and described the features, benefits, and customer feedback for our top choices to help you select the best POC for yourself or a loved one.
For further help, check out our Caregiver University resource for more articles about oxygen therapy, such as How to Choose the Best Oxygen Concentrator for You, more about home oxygen concentrator systems, and our introduction about the esteemed Inogen company.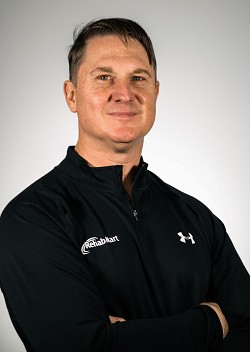 Author:
Co-founder/CEO of Rehabmart, Pediatric Occupational Therapist, husband, and father. Passionate about connecting special needs kids with superb nutrition, sensory integration, and complementary health strategies. Excited about Rehabmart's mission to become the premier online educational platform which empowers caregivers by spotlighting innovative devices and interventions to achieve optimal patient response and recovery.