If you've ever suffered from sciatica, degenerative disc disease, pinched nerves, herniated discs, or any condition that compresses your spine, you know how debilitating it can be to live with pain and limited range of motion. Spinal traction is a form of decompression therapy that relieves pressure from the spine. Using traction tables to mobilize the spine, stretch ligaments and muscles, and identify pressure points in need of manipulation, the body can be restored to proper alignment and optimal health.
The Top 4:
Our #5 entry, the AM-400 Four-Section Top Traction Table with Machine Stand by Armedica Manufacturing, is extremely stable, with each of its four sections built with its own steel support frame.
With a 400-pound lifting capacity, this all-steel traction table's adjustable top sections feature firm-density foam and heavy-duty vinyl for comfort and durability. The fully mobile four top sections deliver fully customized patient positioning for the most effective treatment. The lumbar section can separate up to five inches, and it rolls along a track to facilitate easy adjustments. This table's height adjusts electrically from 18 to 37 inches with a convenient footswitch, easing patient transfers and reducing strain on practitioners.
It's highly maneuverable, coming standard with power-assisted casters, or you can choose a four-caster base with locking swivel casters. It can be ordered in one of eight basic or three decorator colors, and special color orders can also be accommodated. The Permablock 3 coated upholstery fights germs, stains, and abrasions, creating a healthy and attractive treatment environment. This traction table comes with a 110-volt motor and an 18-month manufacturer's warranty. Its machine stand accommodates a traction device that is purchased separately.
The customizable treatment this durable table delivers, along with its user-friendly adjustability, maneuverability, and convenient controls have earned the AM-400 Four Section Top Traction Table with Machine Stand a spot on our top 5 list.
Features and Benefits
Height adjustable to reduce clinician strain
Four-section top provides customized patient positioning for more effective treatment
Convenient hands-free controls
Durable antimicrobial upholstery
Power-assisted casters make it easy to alternate between stationary and mobile
Customer Feedback
Pros
Easy to keep clean and sanitary
Table position adjustments are smooth
Controls are easy to use
Feels solid when you're on it
Comes fully assembled
Cons
Higher weight capacity would be great to facilitate transfers of larger patients
The process of feet leveling took longer than I thought it would
The two-section fixed-height TTFT-200 Traction Table from Chattanooga enables easy patient positioning and has earned the #4 spot on our list.
The friction-free gliding lumbar section is practitioner-friendly and easy to adjust to deliver spinal decompression treatment. This table's comfortably upholstered cushions and extremely stable frame allow for maximum range of motion. Available in six colors to complement the decor in any treatment setting, this traction table includes an attached pedestal to accommodate a traction unit (purchased separately). The table weighs 140 pounds and has a weight capacity of 350 pounds.
This traction table has a fixed height of 32 inches and is 77 inches long and 28 inches wide. It ships for free and is backed by a 1-year manufacturer's warranty. There are several upgrades and options available for this table, so you can customize it to your practice and your patients. It's such a popular model that it could take a few weeks longer to receive than less popular traction tables.
This traction table made our list because it is a solid basic table that is easily customizable, will look great and last for a long time, and has a gliding lumbar section to promote a range of motion and facilitate spinal decompression therapy.
Features and Benefits
Comes with pedestal for separate traction unit
Stable frame for durability
Comfortably upholstered cushions
Color choices to match existing decor
Friction-free gliding lumbar section for ease of spinal adjustment
Customer Feedback
Pros
Simple to use
Strong frame
Easy to wipe down and keep clean
Includes platform for traction machine
Solid investment for long-term service in busy therapeutic setting
Cons
No height adjustment
Only accommodates patients up to 350 pounds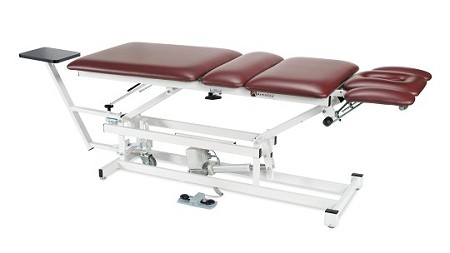 Supporting every part of the body fully, the AM-450 Power Adjustable Four Section Top Traction Table from Armedica Manufacturing is our #3 pick on our list of best traction tables.
This highly adjustable table has a three-piece head section that can raise 45 degrees and lower 90 degrees and has a contoured face rest and two comfortable armrests for prone patients. The table also has a thoracic section that acts as a stable base, and a rollable friction-free lumbar section that separates five inches and can be locked into any position. It has a foot section that can be raised 80 degrees. The height is electrically adjustable with a foot pedal control from 18 to 37 inches, ensuring optimal patient positioning and easy transfers on and off the table.
With a weight capacity of 400 pounds, this traction table has pivoting joints with steel shoulder bolts for durability and function on a welded steel frame that rests on a four-caster base featuring power-assisted movement. Its firm density foam top is covered with antimicrobial Permablok 3 coated upholstery that comes in 11 color options to match any treatment environment. It is 76 inches long, 27 inches wide, and comes with a traction device stand. It has an 18-month limited warranty and optional accessories include a base with four locking swivel casters and a set of upholstered side rails.
The AM-450 Power Adjustable Four Section Top Traction Table delivers comfort and full-body support through a high level of adjustability that benefits both patients and practitioners.
Features and Benefits
Positional versatility and full-body support provided by four section top
Electrically adjustable via easy-to-use foot pedal control
Table components are individually adjustable for highly customized treatment
Antimicrobial vinyl upholstery creates more sanitary treatment environment
Comes with traction device stand
Customer Feedback
Pros
Fits in well with practice decor
Steel frame for maximum durability
Weight limit of 400 pounds
Manufacturer stands by this table with a warranty
Table height can be set for optimal treatment delivery
Cons
Thought it would be easier to move
Would appreciate a package that included a traction device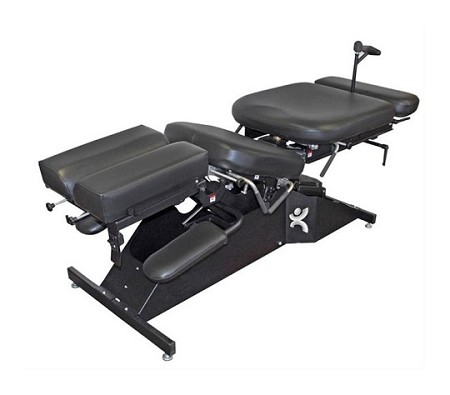 At #2 on our list is the TradeFlex Flexion Table by Pivotal Health Solutions, which can function as a therapy, adjustment, or treatment table.
Available in manual or auto flexion options, this traction table has a padded top and built-in armrests. Electric tension controls manage adjustments at the push of a button. The manual flexion table has a locking mechanism that can be released for lateral movement in increments of 5 to 15 degrees of flexion. The auto flexion version provides the option of changing the flexion speed and has a timer for setting up to 30 minutes of automatic movement. For rear locking flexion, a rod is inserted into the mechanical lock allowing the table to bend left and right, free-floating laterally.
The head section can be elevated and tilted with an adjustable angle. An optional cervical distraction utilizes a lever to pull the cervical headpiece from the table, and with the long axis distraction, the section extends up to 5 inches through a convenient hand control. Body positioning is maintained by straps on the ankle extender, which comes as standard equipment. This table has a weight capacity of 350 pounds and comes in your choice of 10 colors.
This versatile table made our list because of its adjustability and multi-purpose functions that make it an ideal exam, adjustment, or therapy table.
Features and Benefits
Adjustments are managed with the push of a button
Comes in auto or manual flexion options
Head section can be elevated and tilted
Comes with ankle extender and straps to help maintain patient position
Comfortably padded for patient support
Customer Feedback
Pros
Well built with several useful features
Height adjustability eliminates having to bed down or standing on toes to deliver treatment
Timer in auto mode allows the practitioner to get more done while patient is being treated
User-friendly controls
Cons
It's heavy
Would appreciate the cervical distraction coming standard
The vibration and nylon massage rollers of our #1 pick allow the Quantum 400 Series Chiropractic Intersegmental Traction Table by Armedica Manufacturing to break up tension and relax muscles for patients.
This intersegmental table's ultra-smooth rollers travel up and down the body to deliver traction treatment, while the vibration increases circulation and boosts relief of muscle and ligament tightness and tension. Its convenient hand control directs the power, vibration mode, roller direction, roller position, roller height, roller pressure, treatment time, and has a lock setting to keep anyone but the clinician from changing the settings. The memory function recalls the previous treatment session's settings. The hand control also manages the heat function available on selected models.
Proper positioning is supported with a knee bolster, and there's a protective cover for the foot area to keep the area clean and unmarked. Some models have a face opening under the foot cover, so the table can be used for supine patients with the foot cover, and for prone patients when the foot cover is removed. This table can be located wherever you want, with four ball casters that make it easy to move. Additional options include a patient assist bar, opposite side control, and face cut out to create a customized treatment experience. The table is 78 inches long, 25 inches wide, and has a fixed height of 27 inches.
This traction table earned our number one spot for its long list of features that deliver improved spinal mobility and relief of muscle and ligament tightness through vibration and rollers, and it provides the option of adding heat to the treatment regimen as well.
Features and Benefits
No assembly required
Rolls smoothly for convenient placement
Delivers intersegmental traction for spinal decompression therapy
Multiple therapies with vibration, massage, and potentially heat
Convenient handheld control
Intersegmental traction improves spinal mobility and relieves muscle tightness.
Vibration helps break up the tension in the muscles, ligaments, and fascia.
Adjustable roller pressure and vibration timer enable precise treatment.
Handheld remote control enables easy operation of treatment functions.
Four ball casters allow effortless mobility for convenient use and placement.
Comes Fully-assembled just plug-in power, and hand controls
Customer Feedback
Pros
Controls lock to keep patients from adjusting prescribed treatment
Table is comfortable and rollers aren't very invasive
Quiet operation
Heat option warms up quickly
Remote control is super easy to use
Cons
Heavy to get into office and unloaded
Vibration is more of a buzzing
Features to consider when purchasing a traction table
Style
There are two styles of traction table to choose from, with different models in each style boasting unique features. One style is a treatment table that can be used for manual treatment or used along with an electronic traction device. The other traction table style is an intersegmental roller table, which has a dual roller built into the mechanism of the table that moves up and down the muscles on either side of the spine. Many people find the roller tables to be more relaxing and massage-like than the segmented table experience.
Number of sections
Traction tables can be as simple as a single-section flat treatment table, or as highly adjustable as a 7-section table with fold-down sections and positive and negative inclines. Intersegmental tables have the traction roller mechanism built into the table and come in one section. The simpler tables require less of an investment and since they can be used as non-traction treatment tables, they are often the best choice. For more specialized care, multi-segmented tables are the most appropriate option.
Height Adjustability
The simplest of traction table designs are fixed height. Hi-low tables are an option with segmented models, which make it easier to ensure the clinician is working at a comfortable treatment height. Height adjustability also facilitates easier patient transfers on and off the table.
Controls
Available controls include the manual height and tension controls, electric tension controls that allow for quick adjustments, pendant-controlled height adjusting or hands-free footswitch height adjustment controls that leave a care provider's hands available.
Weight capacity
You can expect traction tables to have a weight capacity of at least 300 pounds. Many models can accommodate patients weighing 400-450 pounds, while heavy-duty and bariatric traction tables range up to 850 pounds.
FAQ
How much does a traction table cost?
Rehabmart's traction tables range in price from $1600 to $5800.
Do traction tables work?
Traction therapy works by gently stretching the spinal column to alleviate abnormal pressure on the discs between the vertebrae. The discs retract, creating a reverse vacuum that draws disc material back into place and promotes increased blood and oxygen flow. It is used to provide immediate pain relief and promote a healing environment.
What conditions can a traction table treat?
Spinal traction is used to treat back conditions such as sciatica, pinched nerves, herniated discs, and degenerative disc disease.
Will medicare pay for a traction table?
At this time, RehabMart does not accept insurance, nor can we give you insurance advice. What we CAN do is provide you an itemized receipt after you purchase an item. You can use the receipt to apply for reimbursement from your insurance provider.
Summary
Spinal traction is a form of decompression therapy to promote spinal health that can be delivered manually or electronically. The use of a single-segment, multi-segment, or intersegmental traction table allows a practitioner to provide relief to patients suffering from the effects of compression on the spine, which can cause debilitating pain that negatively impacts the quality of life.
The Quantum 400 Series Intersegmental Traction Table earned the top spot on our list because of its long list of features, durability, and user-friendly operation. Clinicians can count on this table's high-quality vibration and nylon massage rollers to break up tension and provide a relaxing and effective decompression therapy experience for patients.
View our complete catalog of Traction Table, Inversion Tables, and Spinal Decompression Tables. Be sure to visit Caregiver University for more helpful articles!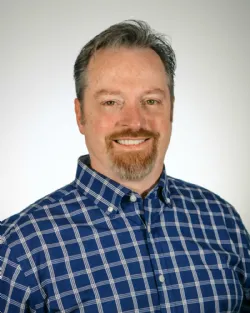 Author:
Co-Founder of Rehabmart and an Occupational Therapist since 1993. Mike has spent his professional career working in multiple areas of Occupational Therapy, including pediatrics, geriatrics, hand therapy, ergonomics and inpatient / outpatient rehabilitation. Mike enjoys writing articles that help people solve complex therapeutic problems and make better product choices.