Rehabmart at a Glance:
Founded: 1998
Number of Employees: 40+
Headquarters: Watkinsville, GA
Order Processing Center: Elberton, GA
Hours: M-F 9am-6pm Contact Us
Manufacturing Partners: 500+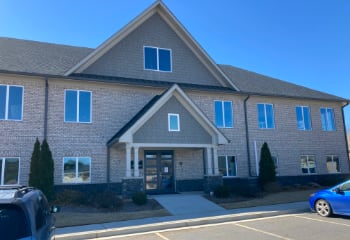 Rehabmart Corporate Headquarters
Our Story:
Rehabmart was founded in 1998 by Mike Price, OTR and Hulet Smith, OTR/L - two Occupational Therapists.
Hulet and Mike shared a desire to serve patients, families, and caregivers by offering a wide selection of innovative rehabilitation products, superb customer service, and value-oriented discount pricing.
As therapists, married family guys, and fathers to special needs children; Hulet and Mike understand the challenges of raising kids with special needs. Mike is father to a daughter with a brain injury, and Hulet is father to a daughter who has Cerebral Palsy.
Rehabmart.com has served over 750,000 customers since 1998, including families, hospitals, school systems, the Veterans Health Administration, US Military, state & local governments, and international clients.
Some of our customers include the Easter Seals, St Jude Children's Hospital, Nemours, The Alfred I DuPont Hospital for Children, Early Intervention Programs, The US Veteran's Administration, The Center for Discovery, Knights of Columbus, Childrens Hospital Birmingham-AL, Hawaii State Hospital and tens of thousands more.
The US Small Business Administration (SBA) certified Rehabmart as a Historically Underutilized Business (HUB) Zone company in 2010. We achieved this certification by supporting job growth, hiring local workers, and investing in our local community of Elbert County Georgia, the location of our corporate operations center. Rehabmart is a proud contract holder with the US Veterans Administration (VA) and the Government Services Administration (GSA). We were awarded GSA 65IIF Mobility Contract # V797P-3250M on September 1, 2011. Due to the success of this initial contract, we were awarded a second GSA 65IIA Contract on March 15, 2015. Our second contract award, Contract # V797D-40285 enables us to provide a range of medical supplies to the VA and US Military. We are humbled by the confidence that the GSA extends to our team. Our GSA Page is found here: GSA
These contracts allow our dedicated GSA Customer Care Team Members to serve a range of governmental agencies including the VA, US Military, Governmental Hospitals and Healthcare Facilities. Rehabmart is uniquely proud of the goods and services we provide to our veterans and the VA Healthcare facilities which care for their needs.
Hulet and Megan's Story: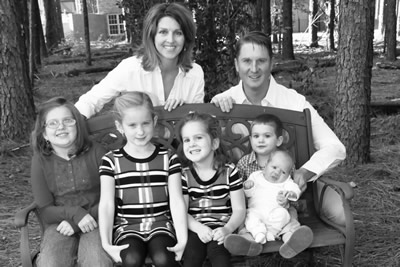 When Hulet and Megan Smith became therapists in 1993 and 1997 respectively, they couldn't have known how important their education would be one day for their family. Sophia, the eldest of their five children, was born with Hydrocephalus, Ventricular Megaly and Cortical Vision Impairment. Her diagnosis, now classified as Cerebral Palsy was severe. Her visual cortex was profoundly damaged. Doctors had to put a shunt into her brain sixteen days following birth to relieve pressure.
Hulet and Megan were devastated by the diagnosis, but soon committed themselves to doing whatever it would take to find answers for Sophia. As therapists, they already knew a lot, but over the course of Sophia's life, they have gone to extraordinary lengths to search out the latest in care for brain injured children.
One of the discoveries they made was the difference that a hyperbaric chamber can make for some patients who have suffered brain trauma. By expanding blood flow to the brain, damaged cells may grow with greater organization. Hulet and Megan purchased a hyperbaric chamber in 2003. Hulet and Sophia would spend long hours inside it together.
Additionally, Hulet and Megan unified their efforts and became committed to implementing frequent, targeted, therapeutic interventions for Sophia. Their program was based upon optimal organic nutrition, omega 3 oils with DHA and EPA, suit therapy, Thera-Togs, and an intense sensory stimulation program. Instead of relying upon a single frame of reference or mode of treatment, they implemented a broad range of interventions using theories from the Bobaths, Ayers, Doman, Hyman, Weil, Oswal and others.
In 2007, having learned about the groundbreaking work of a man named Dr. Gunvant Oswal in Pune, India, Hulet traveled to meet him and to review the results of his studies using an Ayurvedic homeopathic medicine that produces improvements in 70% of patients. Hulet's work with Dr. Oswal is explained here: HuletSmith.com/India
Sophia has far exceeded the expectations of her doctors. Today, she is 100 percent medication free and has progressed from a blind, profoundly brain injured child, to a young girl who walks, reads and writes. She has become wonderfully outgoing, a delight to be around – an inspiration to many.
As a result, Hulet and Megan have committed themselves to the mission of empowering caregivers and parents through consultation and education. Understanding what a difference an individualized rehabilitation program can make, they founded Rehabmart and purposed it's mission to provide targeted solutions to those who need it.
As Hulet says, "Because of what we've had to go through as a family, we're passionate about therapy and about delivering the latest technology products, nutrition and resources to those who need it. We strive to connect caregivers with the tools and techniques that can lead to wellness."
Rehabmart has become a leader in providing rehabilitation products and solutions. We are passionate about helping others in the same way that we ourselves have been helped. We see ourselves as your partners in finding the best therapeutic solutions for the challenges you face.
Hulet is a co-owner and serves as the CEO for Rehabmart. He is responsbile for managing the daily operations and strategic growth expansions for the company. With 25 years of Pediatric Occupational Therapy practice experience, Hulet gives back by consulting and occasionally providing discovery consultations with parents of special needs children. Hulet is married to Megan, a Pediatric Physical Therapist and they are proud parents to Sophia, Olivia, Ava, Warren, and Mia. Hulet's therapy/healthcare idea blog can be accessed online at HuletSmith.com
Mike and Amy's Story: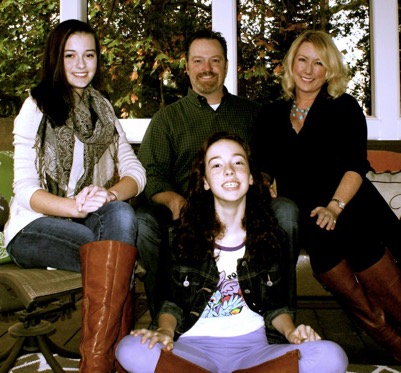 Mike became an Occupational Therapist in 1993, not knowing that his chosen profession would be training for future challenges with his own child. Amy earned a degree in music and education, which also helped prepare her for the unique circumstances which would come.
Today, Mike and Amy have two beautiful daughters. Their youngest, Ansley, was born in 2003 with developmental brain damage that has impaired her at all levels - physically, cognitively, and socially.
Their oldest daughter, Hannah, is a talented pianist and vocalist. She is currently attending college and has a passion for the arts.
Through all of the struggles of raising a special needs child, Mike and Amy have discovered many blessings along their journey - like unconditional love, patience and perseverance.
Ansley continues to grow and learn with a personalized home program developed by her parents which includes age-appropriate academics, life-skills training, and developmental activities.
Mike and Amy are proactively engaged with several non-profits. They share a passion for supporting research, program development, and the creation of non-profit, communal, independent living environments specifically designed for adults living and aging with developmental disabilities.
Mike is a co-owner and serves as the CTO (Chief Technical Officer) for Rehabmart. He spends his time managing the day-to-day IT operations and SEO/marketing strategy for our educational e-commerce platform. Mike is an innovator with regard to information architecture, database design, online marketing and site usability. He strives to continually improve the customer's online experience.
Our Purpose:
To connect all who come in contact with Rehabmart with knowledge and tools so they can live a more empowered, joyful life.
Rehabmart Mission Statement:
Our mission is to empower, educate, and carefully select products that promote independence, improve function, and make an innovative impact on the lives of persons using the products. The entire Rehabmart team is committed to becoming the e-commerce marketplace distribution leader of medical supplies & rehabilitation technologies. We strive to connect our customers with products that often become "Tools for the Job of Living", the tag line for our company. We are accomplishing our mission through superior customer service, competitive pricing, and exceptional product offerings.
Description of Rehabmart Goods & Services:
Rehabmart is a leading provider of medical supplies, rehabilitation products and healthcare technologies. We offer cutting edge rehabilitation devices from over 400 manufacturing vendors and suppliers. Our customers often arrive at Rehabmart as a destination to solve a problem, not specifically to purchase a product. As healthcare professionals, we strive to use our problem solving expertise to create relevant educational content for our community of healthcare providers, caregivers, purchasing agents, and stakeholders. The professionals working throughout Rehabmart's Health-Media Publishing Team are committed to expanding our indexed offerings of original health solution-guides. We strategically design our solution-guides to empower patients and caregivers to become facilitators of change in the life of persons facing a rehabilitative challenge or healthcare concern.
Our Values:
1. We believe that innovative products, sound ethics, and our use of progressive technologies will lead to continual growth.
2. We will be good stewards of the assets entrusted to us: including employees, associates, vendors and partners.
3. We believe that people are the most important part of our business.
4. We strive to achieve customer service excellence with each and every customer.
5. We will put our faith and family ahead of our work, and encourage those who work with us to do the same.
We welcome your questions! Just click "Contact Us" at any time during your visit to send an email.
Hulet Smith, OTR/L, MBA - Chief Executive Officer
Mike Price, OTR - Chief Technical Officer
Primary Correspondence Address:
Purchase Orders | Accounts Payable | Accounts Receivable:
RehabMart, LLC
Content Services & Accounting Campus
3651 Mars Hill Rd, Bldg 2400
Watkinsville, GA 30677-6042
USA
Customer Care & Consumer Services Call Center:
RehabMart, LLC
Customer Care Campus
1353 Athens Hwy
Elberton, GA 30635-4484
USA
Assistance Dept email:
assistance@rehabmart.com
Order Dept email:
order@rehabmart.com
Purchase Order Submission email:
po@rehabmart.com
Quotes Dept / RFQ email:
rfq@rehabmart.com
Toll Free: 800-827-8283
Local: 706-213-1144
USA Fax: 888-507-7326
International Fax: 678-254-1791
Alternate Fax: 603-843-2144
Purchase Orders & Quotes:
Rehabmart happily accepts Purchase Orders. Email your purchase orders to our PO Processing Team at
po@rehabmart.com
Healthcare Organizations, Schools Systems, Institutions and Government Agencies are welcome to submit a Request for Quote at
rfq@rehabmart.com
Visit our Quotes information page at
Quotes
Credit Application Forms are found on the
Purchase Order Page
EOE Policy:
RehabMart and its subsidiaries are Equal Opportunity Employer's. We do not discriminate on the basis of race, religion, national origin, sex, age, gender, sexual orientation, disability or veteran status. 1998-2021
Important Value Pricing Information:
We sometimes have questions about perceived high pricing on some low cost sku's that begin with the code: "SP". Some of our low dollar skus are shipped from distribution partners with high cost distribution fees. We have no control over these fees and subsequently some obscure low dollar items have higher price points to cover exceedingly high shipping, handling, and distribution fees. However, do your research and you will find that Rehabmart is a great value on products that are offered with a retail cost of $50 and up.
Rehabmart offers Free Shipping on thousands of items and our highly trained, live person, small town customer care representatives deliver an exceptional value proposition to a majority of our consistently satisfied customers. The Rehabmart Price Match Guarantee (available on all Prime-Marked items) allows me to stand by these statements with confidence! To learn more about our Price Match Guarantee, visit our Price Match page at
Price Match
Finally, as an Occupational Therapist and father of a special needs child, I understand the importance of finding value when purchasing items for family, friends, colleagues, my practice, my healthcare facility and educational organization. This is not a talking point. I have spent over 20 years working as an Occupational Therapist in all of these practice settings. Being the co-founder and leader of the Rehabmart Team since 1998, my commitment to you is that we will remain customer focused and committed to continuously improving our system of efficient and direct product distribution. It is our dedication to this model that will position Rehabmart as the value leader in the rehabilitation equipment and medical supplies marketplace. Our company is more than doubling in size every year and as our buying power increases, we will continue to pass along volume purchasing discounts in the form of lower pricing across the board!
Thank you for your feedback and for choosing Rehabmart.com,
Hulet Smith, OTR/L, MBA
CEO - Rehabmart, LLC
My Personal Blog:
HuletSmith.com