Often preferred over other types of crutches, canes, and mobility aids, forearm crutches optimize comfortable walking support and promote better control for people who retain good upper body strength. Less cumbersome than a walker or rollator, in lightweight, low-profile designs, forearm crutches provide a great alternative for people living with mobility impairments who also want to stay active. Along with providing stability, they also help to improve your posture and are less fatiguing than using underarm crutches.
The 5 Best Forearm Crutches
The Top 5: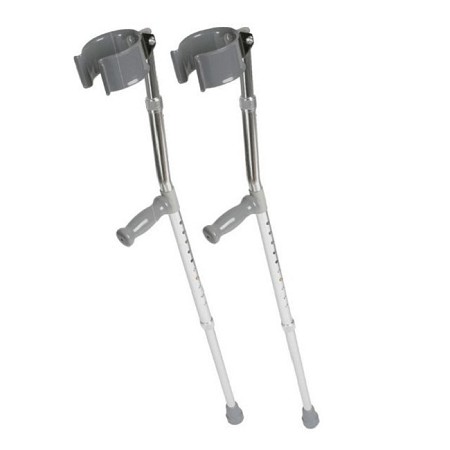 Boasting the lowest price point in our review, the Economy Forearm Crutch by Medline comes in at #5 with plenty of beneficial features. This pair of forearm crutches is durably constructed with high-strength, heavy-wall aluminum tubing, resulting in sturdy, stable functionality in a lightweight, easy-to-maneuver format. The vinyl-coated arm cuffs are tapered to optimize user comfort.
Available in three different size options, each with their own adjustable height range, these forearm crutches from Medline deliver safe and dependable support for people between 4'2" - 6'6" in height and up to 250 lbs in weight. The innovative telescoping design is created with external lock nuts and internal bushings to ensure usage that's completely silent.
Features & Benefits
Economy option - lowest price point in our review
High-strength, heavy-wall aluminum tubing construction
Three different adjustable-height sizes
The innovative telescoping design ensures silent usage
Customer Feedback
Pros
Well made, good quality, and provides quiet, steady support
Conveniently stays attached to arm when reaching for something with the relatively closed cuff format
Lightweight, comfortable support for all-day use
Easy to adjust in height
Cons
The cuffs were too large for some of the smaller-than-average users
The tips may get a bit slippery on wet surfaces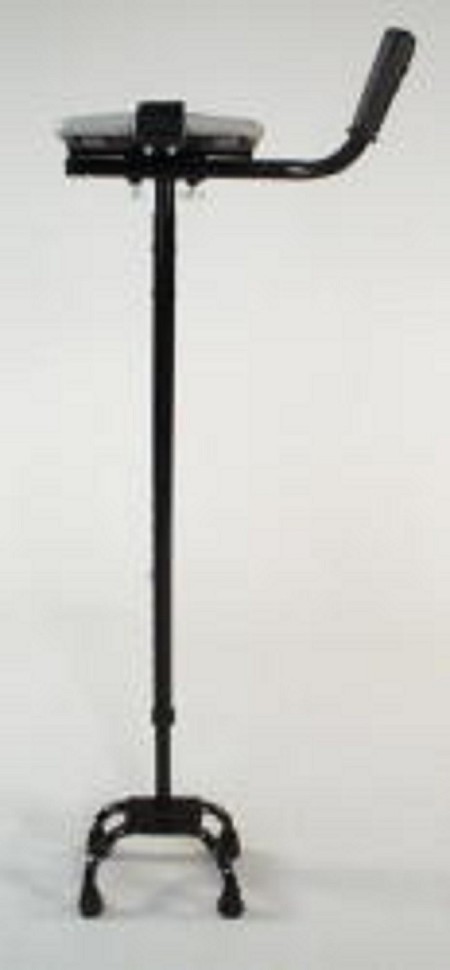 Securing the 4th position on our list with its unique three-in-one functionality, the Platform Crutch with Quad Base by TFI Healthcare is ideal for people living with both lower extremity immobility and hand/wrist impairments. Some disabilities make bearing weight with the wrists impossible, such as arthritis and cerebral palsy. Similar to a platform crutch, the clever design of this single-unit forearm crutch enables people with poor hand grip abilities to use a hook and loop fastening system to attach their arm to the horizontal platform, utilizing their forearm and upper arm strength to mobilize. This is also known as a forearm support crutch or gutter crutch.
The quad base with its four small feet incorporates stability, providing four points of contact with the walking surface to ensure a non-slip tread for safer ambulation. Available in two different height-adjustable sizes to safely accommodate users weighing up to 250 pounds, this multifunctional crutch is robustly constructed with a steel base and 1-inch aluminum tubing. Its TUFF COAT finish ensures easy maintenance, cleaning, and care for long-lasting performance. The vinyl handgrip offers simple side-to-side adjustment and versatile use by either hand and comes with an Easy Change arm pad to optimize user comfort.
Features & Benefits
Ideal support for people with hand/wrist impairments
Multifunctional to optimize safety, stability, and comfort
Two different height-adjustable size options
Robust TUFF COAT-finished steel and aluminum construction
Customer Feedback
Pros
Exceptionally sturdy but lightweight, high-quality support
Perfect and just what was needed for users with manual and wrist disabilities or weakness
Some users experienced a learning curve, but once they used this crutch for a while, most loved it and found it more comfortable and secure than other types of crutches they had used
Unique, contemporary design, doesn't look institutional as some other forearm crutch styles
Cons
A few users found it a bit awkward to use
Not offered in a bariatric size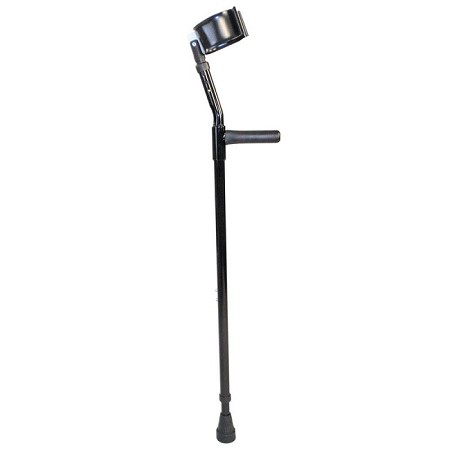 Grabbing the 3rd spot in our review with its ultra-sturdy 1-inch steel tubing construction that supports up to 700 pounds, we selected the Heavy Duty Forearm Crutch by TFI Healthcare as our top choice for bariatric users. Offered as a pair, these strong and stable GRAND Line crutches are designed to bear the user's weight with strong forearms rather than the shoulders and wrists, helping to enhance lateral stability and balance while walking.
The contoured, adjustable cuff delivers ergonomic support, while the comfortable vinyl grips resist wear and tear from daily use. Height adjustments are easy to make with simple push-button control. Even though these crutches are specially configured to safely accommodate heavy-duty bariatric use, they're also relatively lightweight, weighing only 3 pounds each. They're a popular choice for larger users recovering from injury or post-surgery, often employed for recovery therapies in rehab facilities.
Features & Benefits
Provides safe and stable support for bariatric users up to 700 pounds
Height-adjustable in 1-inch increments with easy push-button operation
The tilting vinyl cuff is adjustable to optimize user comfort
Strong TUFF COAT finished steel construction for durable longevity
Customer Feedback
Pros
Exceeded expectations, very well constructed and high-quality design
Adjustability with both cuff and extension provide a perfect fit
Strong, stable, and sturdy support, even with very large users
Sleek format and finish, non-medical appearance
Cons
Might not offer enough height for very tall users
A few users found the vinyl grip a bit uncomfortable, but wrapping it with foam solved the problem

Offering the lightest weight in our review, the Folding Adult Forearm Crutches with Full Cuff by Walk Easy take 2nd place on our list with their convenient foldability as well. Sold as a pair and weighing just 21.3 ounces each, these forearm crutches are quick and easy to fold down into a more compact size that can fit into most suitcases for simple take-along transport. But don't let their lighter weight and small footprint fool you - these aluminum crutches are built to provide dependable, durable support for users ranging between 5.0 and 6.0 ft in height, accommodating a weight capacity of 250 pounds.
The unique V-shaped front opening of the 4-inch cuff provides a quick release and is fixed into position 8 inches above the grip. The comfortable grip is height-adjustable to deliver the perfect fit and positioning for most users. Stability is further enhanced with the proprietary Pivoflex crutch tips, improving traction to ensure no-slip ambulation. These full-cuff forearm crutches also offer a lower price point, yet still provide optimal comfort and reliable, solid support for mobility.
Features & Benefits
Convenient foldable design for compact transport and storage
The ultra-lightweight design of each crutch optimizes maneuverable, non-fatiguing control
Full 4-inch quick-release cuff for user comfort
Height-adjustable grip to suit a wide variety of user heights
Customer Feedback
Pros
Incredible value for the price and exceeded expectations
Sturdy, well-constructed, long-lasting functionality
Quiet operation and super lightweight, streamlined design
Users have so much more energy using these lightweight forearm crutches compared to other heavier designs they have tried
Cons
Not available in bariatric option
Not short enough for some users close to or just under 5 ft tall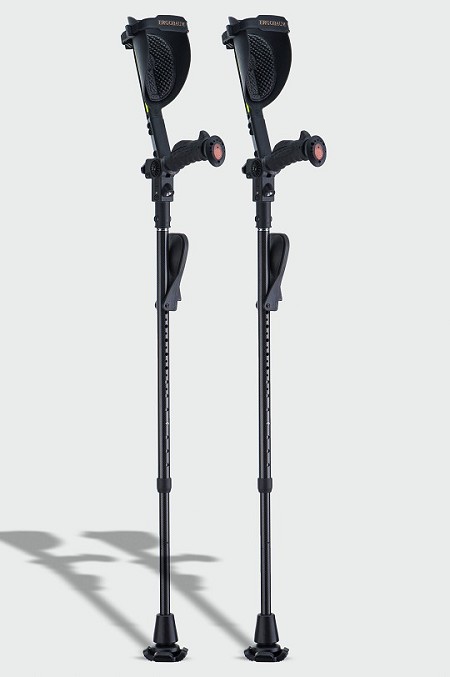 With its feature-rich and customizable design, we awarded the #1 spot in our review to the Ergobaum Forearm Crutches for Adults (Pair) - Carbon Fiber by ErgoActives. Representing state-of-the-art technology, this pair of forearm crutches highlight the most advanced design for ergonomic comfort and lightweight durability. Their unique carbon fiber frame easily withstands heavy, repetitive use for walking support and physical rehab therapy, making this a versatile support for both institutional, therapy, and private use.
Putting a complete spin on the typical crutch design, these sleek and stylish Black Mamba forearm crutches from ErgoActives weigh just 2.6 pounds, but they accommodate a generous 350-pound weight capacity. Custom-made to support people measuring anywhere from 5 feet to 6 feet 6 inches in height, the Ergobaum forearm crutches also come with a comfortable, adjustable handle to ensure the ideal grip. The patented shock absorption system provides smoother maneuverability to reduce pain with every step, while the ergonomic design mitigates fatigue.
Non-slip, high-performance Ergocaps enhance traction over typical crutch tips, helping to prevent sliding, slipping, and falls. The convenient adjustable knee rest provides a place for users to rest their legs, while the built-in LED flashlight and alert horn heighten visibility and promote safe ambulation.
Features & Benefits
Customizable, made-to-order design with a 350-pound weight capacity
Ultra-strong and super-lightweight carbon fiber construction
Shock absorbers reduce pain, ergonomic design reduces fatigue
High-performance, upgraded Ergocap tips for optimal traction
Customer Feedback
Pros
Perfect support for both temporary and long-term lower extremity disability
People were surprised by how much they appreciated the LED flashlight and also by how much of a difference the shock absorption system made
Strong and durable dependability in a really cool, contemporary aesthetic
The knee-rest is a well-loved feature, and especially helpful when standing in lines
Cons
A few users found these crutches to be heavier than others they had used previously
Features to Consider When Purchasing Forearm Crutches
Frequently prescribed for people unable to support their weight with their legs but who still retain sufficient upper body strength, forearm crutches are often used by people living with chronic disabilities. They're also repeatedly preferred by people unable to walk or balance safely, along with short-term assistance for those recovering from lower extremity injury or post-surgery. Vastly superior to a cane and often more comfortable than underarm crutches, forearm crutches provide stability and confidence, helping users mobilize and access their world. They have several important features to consider to determine the best design to meet your unique needs.
Weight Capacity and Sizing
It's important to choose forearm crutches that are designed to safely hold your weight and accommodate your height. Selecting crutches that are too short or too high for your height can adversely affect your posture and lead to more aches and pains, while it can also cause unsafe operation. Choosing crutches with a lower weight capacity than your own weight can cause the equipment to break, resulting in injury. If you're on the higher end of the maximum weight capacity, always choose the next size up.
Material Construction
Although most forearm crutch designs strive for the lightest weight while still offering durable strength, they can vary a bit in how much they weigh depending on the materials used in their construction. Aluminum, steel tubing, plastic, titanium, and carbon fiber are the most widely used materials for these crutches. Aluminum is one of the lightest in weight, but also has limitations as to how much weight it can safely accommodate. Steel is one of the heaviest but is often preferred for bariatric crutch construction and more heavy-duty applications. Carbon fiber delivers the best of both worlds, generally being the lightest in weight, but also the strongest material. It is usually the most expensive option because of this, but worth it for long-term investment.
Tips, Grips, and Cuffs
The tip of the forearm crutch is an important feature to examine, as if it gets slippery on wet surfaces or has a tendency to fall apart, it can create unsafe use and lead to falls and injuries. Choose a crutch with a non-slip tip to ensure the safest use on all walking surfaces and weather conditions.

Grips are also quite important, as if they're uncomfortable or not set at the right height, this leads to poor posture, pain, and fatigue. The best grips have a wider, flatter base for the heel of your palms, tapering to a narrower end, which also enables you to distribute your weight more effectively, improve ergonomics, and better control the crutch. Cuffs tend to come in front, side, or partial opening formats, with side openers better suited for daily living and front openers improving side-to-side stability. They're usually bendable or adjustable in circumference so you can fit them exactly as needed.
Upgrades: Shock Suspensions and Noise Reducers
Some higher-end forearm crutches come with a shock-absorbing system to reduce the shock felt from each step, which can help with mitigating pain. This feature is especially beneficial for people who use their forearm crutches on a daily basis, and for those going on hikes or long excursions. Other types of forearm crutches are designed with noise dampening formats, as some adjustable-height metal models can tend to be a bit noisy during ambulation.
FAQ
Who should use forearm crutches?
Forearm crutches are often used by patients with a medical condition that requires more support than a cane for walking assistance. Often utilized for long-term mobility impairments affecting gait and balance, such as multiple sclerosis and cerebral palsy, forearm crutches are often the more comfortable preference over underarm (axillary) crutches for short-term mobility impairments as well, including fractures, knee and foot injuries, and post-surgical recovery.
Are forearm crutches better than a cane?
Using forearm crutches provides significantly more support than a single cane can accommodate. For people living with moderate to severe mobility impairment and those unable to use their legs for weight-bearing, a pair of forearm crutches offer more complete assistance for safe mobility. A cane is more appropriate for people with mild mobility impairment, who are still able to bear their own weight with their legs but are experiencing slight unsteadiness while walking.
How do you use forearm crutches?
To best use forearm crutches, make sure you select the right crutches to meet your unique requirements, that will accommodate your weight and height safely. Adjust the height by standing upright as comfortably as possible, fitting the crutch into your arm to place it into contact with the ground. Change the height of the crutch so that the handgrip is at the same level as your hips, with your forearm almost fully flexed.
If the cuffs are adjustable, make sure to keep the cuff a couple of inches below your elbow, changing the height between the cuff and the handgrip. Wearing the crutches in both arms, put your uninjured or strongest foot forward, putting both of the crutches one step forward at an equal distance from your body. Press down on the crutches, swinging your body forward while bearing your body weight on your forearms and the crutches. If you have an injured foot or knee, keep this raised as you swing forward to ensure it doesn't come in contact with anything along the way.
Maintaining body balance is crucial with forearm crutches, and it may take some time and practice to learn this technique. Once they learn how to use them, most people prefer forearm crutches to underarm crutches as they're so much more comfortable and a lot less fatiguing. If you find that maintaining balance is difficult, reduce the distance of the next steps.
Forearm crutches are also called?
Forearm crutches are also referred to as Lofstrand crutches, elbow crutches, or Canadian crutches. They're typically configured like a regular, underarm crutch, but have a cuff at the top to fit around the user's forearm, along with a grip or handle to grasp. The shaft is also generally offset to help users distribute their body weight to the forearms, providing comfortable support for safer walking.
Are forearm crutches better than regular crutches?
While forearm crutches are considered the better choice for movement control than regular underarm crutch styles, they do require a bit more upper body strength than standard crutches. Forearm crutches are frequently used by more active users as they allow a variety of gaits for different terrains. Although regular crutches can be easier to master, forearm crutches are generally considered to be more comfortable and don't cause too much stress on the shoulders and wrists like axillary crutches tend to do.
Conclusion
Frequently preferred for ambulation support over underarm crutches and canes, forearm crutches are uniquely designed to provide more control than these mobility counterparts. They're also more comfortable for long-term use with medical conditions and disabilities that hinder lower extremity mobility, while they're also often chosen for short-term injury and post-op recovery as well.
After careful deliberation and research into the best forearm crutch designs available on the market today, we determined the Ergobaum Forearm Crutches for Adults (Pair) - Carbon Fiber by ErgoActives to be our #1 recommendation. Its customizable, strong, and lightweight carbon fiber design makes it one of the most well-loved forearm crutches by users around the world.
If you're looking for the best crutch for either short-term or long-term support, we invite you to peruse our entire crutches catalog, where you'll find an extensive collection of superior quality mobility supports, many with our Best Price Guarantee and Free Shipping. Be sure to check out Caregiver University, too, where we share a wealth of educational resources written by our team of healthcare experts to support family and professional caregivers.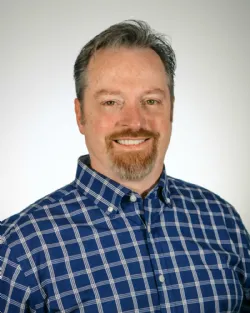 Author:
Co-Founder of Rehabmart and an Occupational Therapist since 1993. Mike has spent his professional career working in multiple areas of Occupational Therapy, including pediatrics, geriatrics, hand therapy, ergonomics and inpatient / outpatient rehabilitation. Mike enjoys writing articles that help people solve complex therapeutic problems and make better product choices.