You know the deep down warmth you get when you're out in the sunshine? That's from infrared light, and its ability to penetrate below the skin helps improve circulation and promote pain relief, cell regeneration, and deep tissue healing. Unfortunately, when you're out in the sun, you're also exposed to cell-damaging ultraviolet rays. Infrared light therapy is a non-invasive, natural, and painless way to get the benefits of infrared light without the potential skin damage from ultraviolet light.
The Top 5: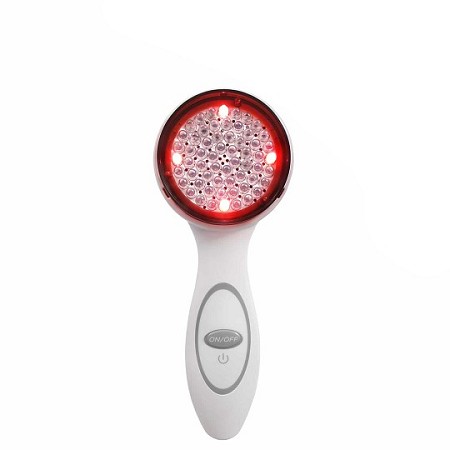 We've chosen the ultra-portable reVive Pain Relief Light Therapy Clinical Treatment Systems by LED Technologies as our #5 choice among infrared light therapy devices for nerve pain.
Using 880 nm Infrared light spectrum, this handheld device delivers deep healing rays. It has a detachable head and is simple to operate, with no adjustments necessary. Just decide on your treatment time, and in only a few minutes a day, the boost to your circulation will help remove toxins, promote quicker healing of wounds and injuries, and relieve pain anywhere in the body. This non-invasive therapy has no side effects.
It has a lightweight design that is easy to hold and you can reach any spot on your body, even those hard-to-reach places. It comes with a travel bag so you can take it along and enjoy the benefits of infrared light therapy wherever you go. It comes with an AC/DC power supply and the manufacturer backs it with a 1-year warranty.
The portability and straightforward design make this user-friendly light therapy device one of our top choices for anyone dealing with nerve pain or recovering from a deep tissue or joint injury.
Features and Benefits
Can deliver treatment anywhere on the body
Stimulates circulation to remove toxins and speed healing
Backed by 1-year warranty
Boosts cell repair to keep skin looking younger
User-friendly and simple to use with a lightweight handheld design
Customer Feedback
Pros
Great as part of anti-aging routine for skin
Effective treatment for acne
Feel pain relief after a short 20-minute treatment
Visible results reducing skin spots in 2-3 weeks
Cons
Not as effective on skin rejuvenation for those over 70
No optional settings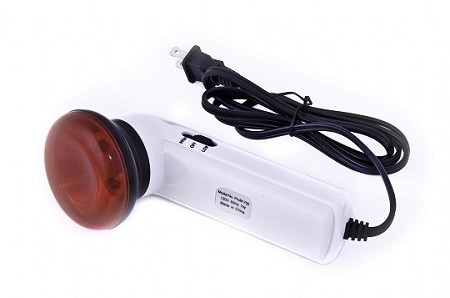 A compact wand perfect for travel, the INFRAREX Infrared Light Therapy Wand by Pain Management Technologies is our #4 pick.
Never be without light therapy with this portable lightweight AC-powered device, ready to provide nerve pain relief wherever you go. This device's photon stimulation infrared light therapy alleviates pain and inflammation anywhere, including your face and head. The soothing warmth it delivers deep into your tissues alleviates tight tendons and muscles and mitigates nerve pain. With an ergonomically designed handle and weighing only a pound, this therapy wand is comfortable to hold. It has two heat settings so you can customize your treatment.
Sending 700 nm of soothing far infrared radiant heat well below the surface of your skin, this convenient handheld device can provide pain relief after just 15-20 minutes of treatment. If you suffer from neuropathy, circulatory disorders, carpal tunnel syndrome, tennis elbow, fibromyalgia, headaches, neuralgia, herniated discs, sciatica, muscle spasms, or whiplash, this therapy wand will increase blood and oxygen flow, efficiently bringing healing nutrients to affected areas.
This device made our list because of its compact ergonomic design that allows for customized treatment wherever you are.
Features and Benefits
Small and lightweight to easily take along anywhere
Deep tissue penetration to promote healing
Relief of joint, tendon, muscle, and nerve pain
Boosts circulation
Drug-free all natural therapy
Customer Feedback
Pros
Significant injury relief after just a few treatments
Can use on animals for pain relief
Simple to use
Great for localized pain
Comes with an extra bulb
Cons
Doesn't feel durable
Would appreciate a stand or holder so it doesn't have to be held throughout treatment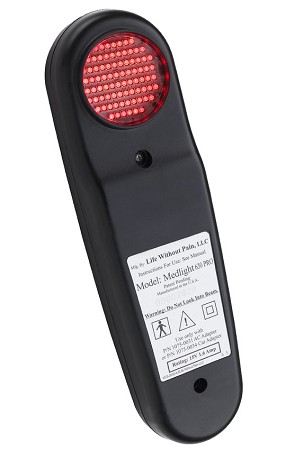 Our #3 choice, the Medlight 630 Pro by Oceanus, uses technology developed by NASA to provide at-home non-invasive relief for nerve pain.
Eighty-one LEDs use narrow-band near-infrared energy to increase blood flow and warm the skin with relaxing heat from this compact handheld device. Its integrated spacer ring ensures optimal distance for the most effective localized treatment application. The reduced pain and inflammation along with accelerated healing and recovery time add to everyday quality of life. It treats a large surface area and its concentrated beam provides 12 joules of energy in just four minutes.
It's lightweight and easy to hold, even for extended treatment time. It operates on AC power, and once plugged in the red LED lights are illuminated for 3- to 4-minute treatment cycles, and it can be used as frequently as you want. Since results build up over time, the more you use this infrared light therapy, the more improvement you'll enjoy.
This device earned a spot on our list because it provides effective light therapy treatment over a large surface area at the optimal distance through its highly concentrated beam.
Features and Benefits
Lightweight ergonomic design makes even longtime therapy sessions comfortable
No batteries required, plugs into standard AC outlet
Therapy increases range of motion and mobility
Reduces acute and chronic pain from arthritis and joint issues
Powerful and effective light therapy that is safe for the skin
Customer Feedback
Pros
Super easy and effective
Improves movement and relieves discomfort
Simple to run for multiple cycles while reading or watching t.v.
Easy to take along to the office
Noticeably reduces inflammation and increases mobility
Cons
Have to bend down to turn off when using it on your feet
Battery operated model would be even more portable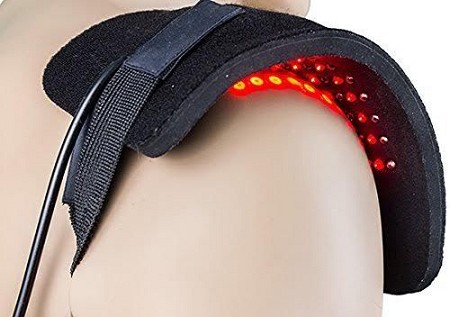 The DPL Deep Penetrating Infrared Flex Pad Light Therapy System by LED Technologies is a convenient wrap that molds itself to your body's contours to hit all those painful spots.
With LEDs mounted on a flexible circuit board inside a neoprene pad, the design of this light therapy device makes it extremely comfortable for the wearer. With just 20 minutes of treatment each day, you can activate high levels of natural healing in your cells via 60 medical-grade infrared lights. Covering an 8-inch by 5-inch area, this wrap is constructed for durability, and it has a USB plug so you can use a wall outlet or the power adapter in your car.
This FDA-cleared device accelerates healing times for arthritis, inflammation, muscle spasms, nerve injuries, strains, sprains, carpal tunnel syndrome, swelling, neuropathy, and tissue repair. It's backed by a one-year manufacturer's warranty, and can be counted on for years of service.
The Flex Pad wrap made our list because of the impressive coverage area it boasts, and the durability of its components, which make it a great investment.
Features and Benefits
Increases circulation, reduces nerve pain, accelerates healing
Works in a few as 20 minutes a day
USB powered for ease while traveling
Wrap contours to various body parts
Deep penetrating technology delivers pain relief below the skin
Customer Feedback
Pros
Can be used on back, shoulder, thigh, etc.
Good for treating larger areas that need pain relief
Lightweight and easy to pack for travel
Can use it several times a day
Cons
High price point
Not battery-powered, so always need an outlet nearby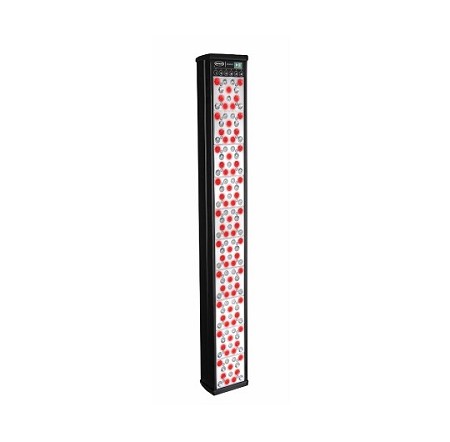 As part of a homeopathic therapy routine, the Near Infrared and Red Light Therapy Tower Stand by Sauna Works at #1 on our list can be used by itself or installed in any Clearlight sauna.
This tower can boost your mental and physical well-being. Its array of LEDs includes 70 852-nm near-infrared lights that provide warmth you can feel, and 70 650-nm red light LEDs that emit visible light that creates a calming effect. Its heat range is 100-125 degrees and from a distance of 4 to 12 inches, its wide optic light intensity ranges from 55 to 85 mw/cm2 while its narrow optic light intensity ranges from 75 to 110 mw/cm2
The infrared-to-red light spectrum increases Vitamin D production and lessens the effects of Seasonal Affective Disorder which is often brought on during darker winter months with decreased exposure to sunlight. The warmth and increased blood circulation improves healing times, reduces aches and pains, and decreases inflammation.
The holistic approach of this light therapy device, combining infrared and red light beams to promote cell rejuvenation and healing, have landed it in the top spot on our list of best infrared light therapy devices.
Features and Benefits
Boosts mental and physical wellbeing
Increases circulation and promotes faster recovery
Increases collagen and elastin production
Use by itself or with a Clearlight sauna
Reduces pain, soreness, and inflammation
Customer Feedback
Pros
Doesn't require the sauna to be effective
Works great for skin issues
Treats a large area
Lifts mood while being stuck inside without sunshine
Cons
Hard to distinguish best distance
Cord needs to be pushed in hard to connect
Features to consider when purchasing an infrared light therapy device
When shopping for an infrared therapy device, you want to find one that is comfortable for you to use, built to last, comes with a warranty, and provides the correct therapy to match your needs.
Wavelength
The proven ranges of effectiveness are 600-700nm and 780-1070nm, and the most researched ranges proving the benefits of light therapy are in the ranges of 630-680nm and 800-880 nm.
Power Density
The power density measures the irradiance/power the device delivers, which is calculated by the total wattage and the treatment area of the light.
Size of Light and Treatment Area
A small light to treat a large area will cause fatigue and lessen the user experience. If you don't want to commit to holding something in one place for 20 minutes at a time, you should consider a wearable device that will allow you to do other things during your treatment, or a stationary device that stands alone and doesn't require being held.
Warranty
A warranty of at least a year will allow you to determine if the device works to deliver the therapy as promised and get your money's worth from your investment.
Use
The appropriate combination of wavelengths, power density and device design will
depending on the area of the body you'll be treating and what you're trying to accomplish with infrared light therapy.
FAQ
Q: What is infrared light therapy?
A: Infrared light therapy uses certain wavelengths of light delivered to injured sites on the body. It improves circulation, relieving pain and promoting faster healing of deep tissues. Infrared light can penetrate below the skin, providing a much greater depth which is able to effectively provide pain relief.
Q: What is the Difference Between Light Therapy, Red Light Therapy and Near Infrared Therapy?
A: Light therapy is exposure to light that is brighter than indoor light, and is on the visible part of the light spectrum. It affects mood, circadian rhythms, and other body process that impact sleep and cognitive performance.
Red light falls into the visible part of the light spectrum and is used to treat the surface of the skin.
Near infrared wavelengths fall into the invisible part of the light spectrum, with longer wavelengths that penetrate deeper to deliver energy to the cells to relieve pain and stimulate healing.
Q: What are infrared light therapy benefits?
A: Cardiovascular Health - Infrared light therapy increases the production of nitric oxide, which is important for healthy blood vessels and relaxes the arteries and prevents blood from clotting. This therapy also combats free radicals and helps regulate blood pressure.
Pain and Inflammation - Penetrating deeply beyond the skin to muscles, joints, and bones, it brings oxygenated blood to injured tissues, which promotes healing, relieves inflammation, and reduces pain.
Injuries - Improving the action of the mitochondria in cells, infrared therapy hastens the growth and repair of cells and tissue.
Detoxification - When applied through a sauna, the body's core temperature is increased, causing you to sweat away toxins while the biochemical processes that allow your body to function properly are supported.
Q: How does infrared light therapy work?
A: Infrared light penetrates the skin to reach muscles, nerves and bones. Infrared light is absorbed by photoreceptors within the body's cells, and the light energy sets off a series of natural processes that improve wound healing, decrease inflammation and reduce pain.
Q: Is infrared harmful to the body?
A: Infrared light therapy itself is not harmful, however, depending on how equipment is used, thermal or heat injuries can occur. Pregnant women and people who are ill or suffering from heart disease should not undergo infrared therapy. Also, experts advise that if you are using infrared therapy to treat chronic conditions, you should continue to use the medications and treatment procedures recommended by your doctor. Currently, it is considered most helpful as an adjunct to medical treatment, not a replacement.
SUMMARY
Infrared light therapy is a drug-free therapy to improve circulation and treat acute and chronic pain, while reducing inflammation. It can be delivered via compact handheld devices, body pads and wraps, or freestanding tabletop or floor models.
Our top pick as the best infrared light therapy device is the Near Infrared and Red Light Therapy Tower Stand, which uses a holistic approach that combines infrared and red light beams. It promotes cell rejuvenation and healing over large treatment areas, and can be used alone or in conjunction with a Clearlight sauna.
View Rehabmart's complete catalog of Light Therapy Devices, or check out Rehabmart's 5 Best Infrared Heating Pads.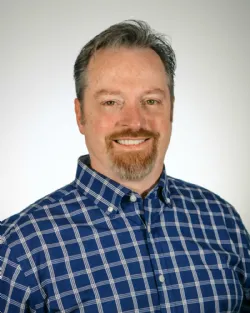 Author:
Co-Founder of Rehabmart and an Occupational Therapist since 1993. Mike has spent his professional career working in multiple areas of Occupational Therapy, including pediatrics, geriatrics, hand therapy, ergonomics and inpatient / outpatient rehabilitation. Mike enjoys writing articles that help people solve complex therapeutic problems and make better product choices.