For persons who have developed lower extremity weakness due to an illness or injury, transitioning in and out of their bed or recliner can suddenly be more than just difficult - it can leave them vulnerable to falls and injury.
If you or a loved one are struggling with mobility, a lift chair could make a world of difference in both physical safety and quality of life. By combining the look of a traditional recliner with the technology of sit-to-stand positioning, a lift chair provides users of any age with a safe and comfortable way to sit, stand, and continue enjoying the leisure of a recliner for reading, relaxing, eating, and even sleeping!
The Top 5 Best Lift Chairs Summary
The Top 5:
Who are lift chairs designed for?
A lift chair is primarily designed for individuals who can no longer independently raise or lower themselves between sitting and standing positions. This mobility limitation could be due to arthritis, balance disorders, leg neuropathy, Parkinson's disease, cerebral palsy, amputation, being in recovery from surgery, or having a higher than usual body mass. However, individuals with complete mobility can still enjoy the many benefits of a lift chair!
A doctor may recommend the use of a lift chair to patients with progressive diseases such as muscular dystrophy or Parkinson's, if they feel it could slow the progress of the disease, while post-surgery patients can use a lift chair for temporary pain relief, and to prevent re-opening of a surgical site.
How does a lift chair operate?
To stand up from a lift chair, the user presses a button on the attached hand remote, and the chair gently tilts forward and down. This movement is different from the abrupt upright positioning of a typical recliner, which stops at a 90-degree angle. The extended forward tilt of a lift chair allows users to rise from the chair safely, smoothly, and at their own pace.
Many chairs also feature two or three sitting positions, adjustable pillows, or other features that personalize the seating experience. Deciding which features matter most to you is part of choosing the best lift chair for your physical needs!
The following five chairs from Mor Medical and Golden Technologies are our top picks in terms of comfort, value, and features that provide the ultimate in lift chair comfort and safety.
The Cabo 3-Position Lift Chair is designed with both the luxurious look and feel of a traditional leather armchair and offers full-body support and comfort.
Although it is attractively styled to resemble an authentic leather armchair, the Cabo's polyurethane upholstery is surprisingly durable and a breeze to clean. The thermal-gel active foam padding on the seat, arms, and chaise provides maximum cushioning and support. Finally, for an extra layer of comfort, an optional heat and massage feature to soothe tired muscles can be selected at checkout.
Ever versatile, the Cabo can be adjusted to three different lift positions, and runs on a whisper-quiet motor to cut down on unnecessary noise. Its durable construction will stand the test of time, as it's frame is made from all-hardwood and marine-grade plywood with individually-wrapped pocket coil springs for even more strength and durability.
Features and Benefits
Two heavy-duty motors provide the highest lifting capacity on the market
SmartTek self-diagnosing technology saves time on maintenance
Available in five sizes to accommodate users of all sizes
Optional heat and massage capabilities
Seat dimensions: 23" x 19.5" - 33" x 22"
Customer Feedback
Of all the reviews we read, the Comforter Lift Chair customers seem very pleased with the basic comfort, plush appearance, and ease of maintenance this chair provides. In fact, it often exceeds what customers had expected.
One customer bought the Comforter for an 80-year-old client, who immediately asked her to return it. After convincing her client to try the chair for a few days, the customer reported that it's the most comfortable chair her client had ever sat on. They now regularly use the Cabo instead of their bed!
Pros:
Choice of size and color ensure a customized chair
Operates easily with a simple two-button control
Plush design is comfortable and supportive
Cons:
Lond lead time can be frustrating for customers wanting a chair now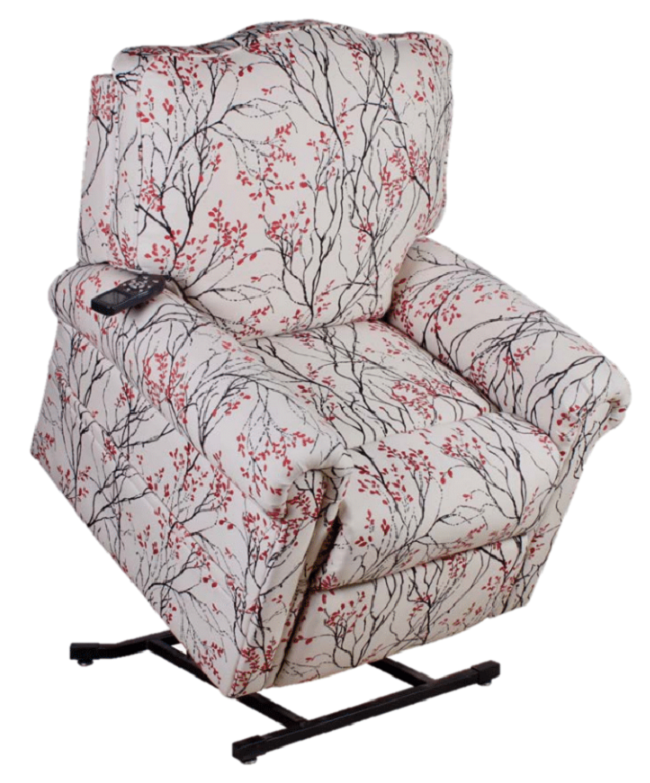 For individuals who want to be well-padded, snug and warm, the Coral Springs Lift Chair is the way to go. Featuring a carbon fiber heat and massage function, it soothes aches and pains, while its three position options guarantee comfort all day long.
The chair's LiveSmart Upholstery resists stains and moisture while still being breathable and soft to the touch. A wood frame and individually wrapped coil springs will give users of this durable chair years of use.
Soothing therma-gel active foam padding on chaise, seat and arms makes for a plush, comfortable seating experience, while the lively branch-and-berries print is sure to flatter and add personality to nearly any living room color scheme.
Features and Benefits
Therma gel active foam padding lines the chair, adding touchable comfort and support
Carbon fiber heat and optional massage functions
Adjusts to three positions
Whisper-quiet operational motors
Seat dimensions: 20" W x 22" D x 20" H
Weight capacity: 375 lbs.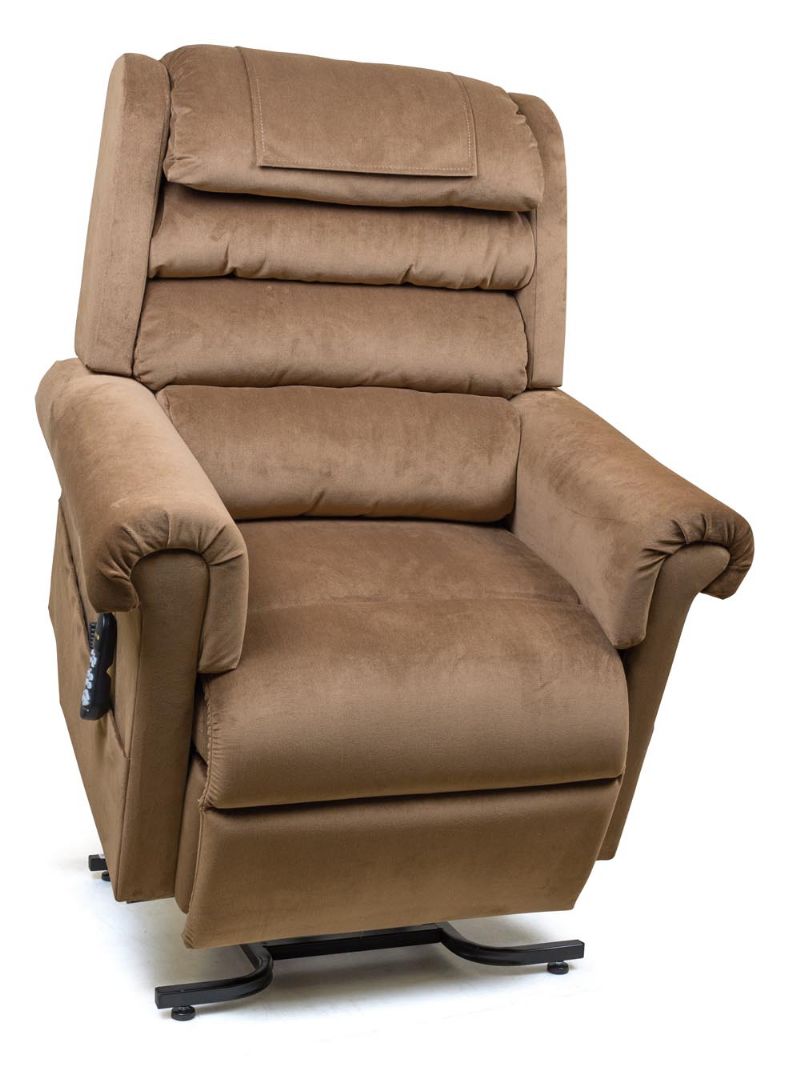 The Relaxer Lift Chair provides several soothing positioning options that go as far as to correct spinal alignment, relieve back pressure, and improve overall circulation.
Built to transform effortlessly, the Relaxer can be easily adjusted into both zero-gravity and Trendelenburg positioning, which allows the body to recline in a way the raises feet just above the level of the head. This unique position is well-known to increase blood flow to the hands and arms, while simultaneously erasing pressure points along the body and giving users a head-to-toe sensation of relief and ease.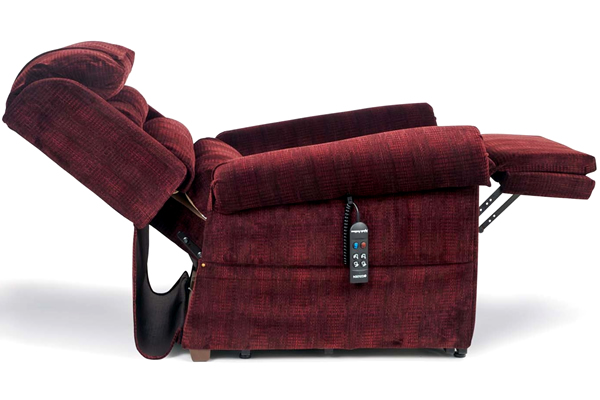 Of course, even with its advanced positioning capabilities, body comfort is still key! The Relaxer's luxurious, four-pillow waterfall backrest, plush, rounded armrests and soft, stain-resistant fabric make sitting or sleeping in this chair a thoroughly luxurious experience.
Not only can the back pillows be adjusted to the perfect position, but the attached remote control comes designed with two programmable memory buttons, enabling the chair to "remember" your preferred sitting or reclining position. No need to set the position each time your sit down!
Features and Benefits
Corrects spinal alignment, relieves back pressure, and improves circulation
Available in eight elegant, stain-resistant colours
Zero-gravity positioning options
Four-pillow waterfall backrest with adjustable pillows
Two pre-programmable memory buttons
Customer Feedback
Users who reviewed the Relaxer Lift Chair have been overwhelmingly positive. They've talked about its ease of use, comfort, and the help it's given them while recovering following surgery.
One user reported he has lost 40 pounds, simply by taking advantage of the therapeutic positioning and reducing edemas!
However, two minor drawbacks were noted by several reviewers: a preference was expressed that the seat be wider, in addition to the buttons on the remote being larger for easier visibility.
Pros:
Therapeutic positions help with weight loss and post-surgical recovery
Adjustable back positions ease muscle tension
Cons:
Seat width wasn't ideal for some users
Remote buttons were sometimes considered difficult to read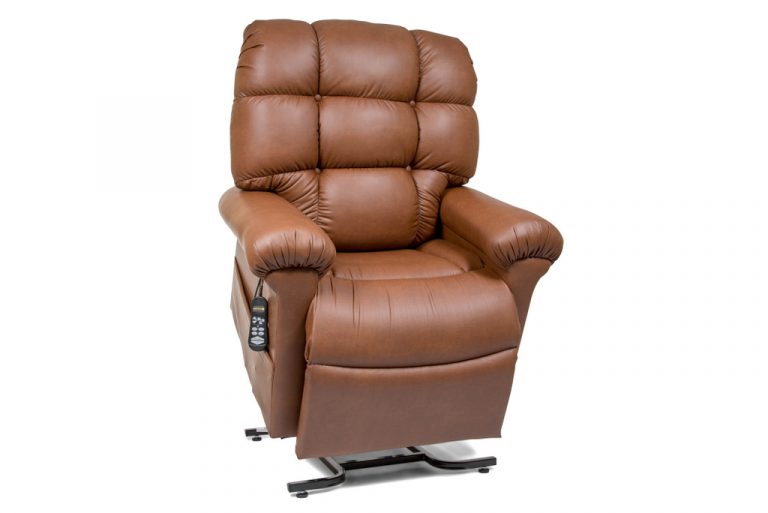 The luxury of the Cloud Lift Chair is as obvious as its name would suggest! The perfect place to spend your day relaxing or to kick back in after a long day at work, this chair has multiple special features that make it ideal for deep relaxation and a great night's sleep.
The wide, supportive armrests and overstuffed biscuit-back design of this chair are supremely comfortable, encouraging deep rest and relaxation. The bucket seat cradles the user's lower body, taking pressure off of sits bones and tired legs.
Don't want to leave your Cloud Lift Chair for your bed? You don't have to! The Cloud uses MaxiComfort Technology to provide users with positioning not typically found in lift chairs, including lifted, upright, zero-gravity, sleep, and Trendelenburg. Four programmable memory buttons allow the user to store their favorite positions in the chair's "memory", and avoid the need for constant readjustment; just sit back, push your favourite button, and the Cloud is ready for you!
As if this all weren't enough, users can take their relaxation to the next level with an optional heat and massage unit, which can be installed for an additional cost.
Features and Benefits
Overstuffed biscuit-back cushions
Bucket seat to cradle the lower body
Built-in programmable memory function
Various comfort positions: lifted, upright, zero-gravity, sleep and Trendelenburg
Stain-resistant fabric available in five colors
Customer Feedback
"Indeed, this chair is so comfortable that I feel like I'm sitting on a cloud," is the sort of feedback we frequently came across from customers who reviewed this chair!
One woman who bought the chair for her husband shared that since using it, he no longer has numb extremities, and is able to get up and go for walks on his own. She wrote he was even able to sleep comfortably through a fibromyalgia attack without requiring any other interventions!
She called the Cloud "a terrific chair for people with mobility and pain issues!"
The only downside noted by users was that the Cloud is too large to get through many apartment and house doorways. Several people had to plug the Cloud into an outdoor outlet and switch it into a zero gravity position in order to fit it through the door.
Pros:
Allows for good sleep, even for users with chronic joint pain
Promotes independence in transitioning from seated to standing positions
Cons:
Difficult to get through the doorway upon arrival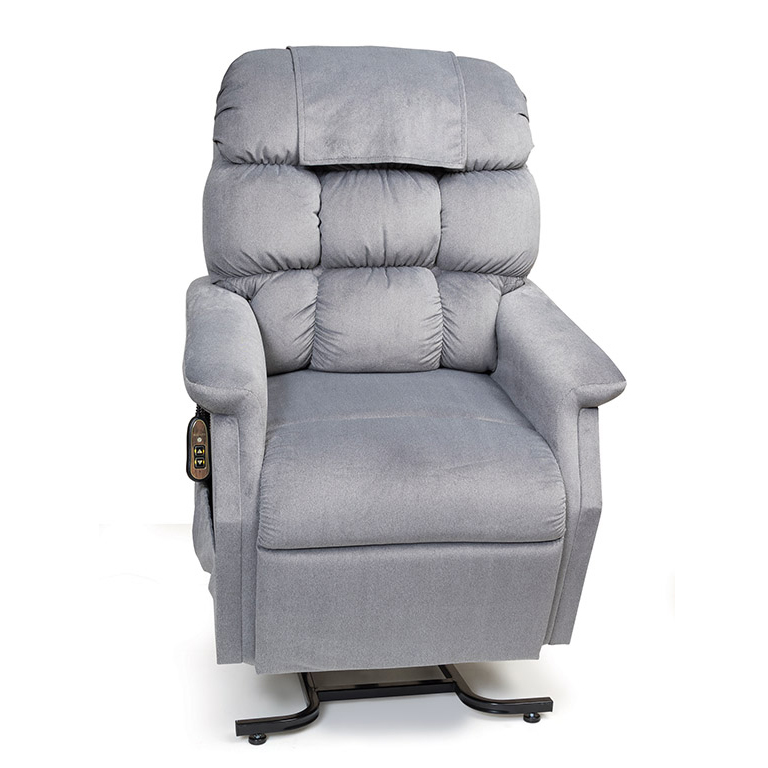 For wonderful comfort features at an exceptional price, potential lift chair customers need look no further than the Cambridge Lift Chair! This economical unit includes many of the features found in more expensive chairs, making it a comfortable, convenient and easy to use choice that won't break the bank.
The Cambridge's plush, biscuit-style back supports and surrounds the user with deep, plush comfort, taking pressure off of bony prominences and supporting aching muscles. The soft, stain-proof material further adds to the luxurious feel of this chair; customers can choose from five beautiful fabric colors.
The Cambridge comes with an exclusive footrest extension feature, which provides an additional three to five inches when users recline their chair. There's also the option to go into "full napper" position if you want to sleep without needing to transfer to a bed.
The chair's two-button remote is easy to use. Position yourself in comfort or tilt the chair down for an assist in standing up safely. Non-skid leg levelers provide additional stability.
For maintenance, the chair is equipped with SmartTek self-diagnosis technology, keeping maintenance time to a minimum. Finally, there's a battery backup system for use if the power goes out. No need to stop using your chair while you wait for the lights to come back on!
Optionally, a heat and massage unit can be installed and programmed for desired start time, body zones, preferred massage mode, intensity, and speed. Heat level can be customized, as well.
Customer Feedback
One of the most-mentioned features of the Cambridge Lift Chair was how well customers slept in it. One woman even said it has officially replaced her electrical bed!
Users who are recovering from surgery, as well as those with sciatic pain, cancer, and dementia have all found this chair to be easy to use and super-comfortable. The wife of a man with dementia commented that the controls on the Cambridge were easy for him to use, which was remarkable, given his limited dexterity.
The lift feature is slow enough to feel safe, even to those who are unsteady on their feet. However, one user did share she wished the lift feature was faster, so that she could answer the door and telephone more promptly.
Pros:
Stain-proof covering available in five colors
Footrest extension adds 3-5" of length
Available in two sizes (Medium or Large)
Adjusts to full napper position for complete recline
Optional heat and massage is customizable
Cons:
Some wish the lift feature operated more quickly
Summary
While all five of these lift chairs are made with integrity and highly rated by reviewers, some stood out for their overall ability to offer a great user experience, both comfort-wise and cost-wise.
The Cabo Lift Chair stands out for its authentic leather look and plush comfort. Any individual can enjoy the basic comforts this chair offers, including the reclining full napper position for hours of sound sleeping.
With its fiber heat and massage function, the Coral Springs Lift Chair provides the next degree of comfort and relaxation, along with a more modern look. Breathable, stain-repellent fabric make this a chair that will stand the test of time.
The MaxiComfort Relaxer Lift Chair can be easily adjusted into both zero-gravity and Trendelenburg positioning with the touch of a remote button, allowing users to rest in head-to-toe comfort while taking pressure off of aching joints.
The Cloud Lift Chair is probably the most luxurious of all in terms of comfort and design. Zero gravity positioning, along with the variety of positioning options available, make this a great choice for people with chronic pain issues.
Given that lift chairs are mainly purchased for use in the home, and that Medicare and private insurance most likely will not cover the cost (unless absolutely medically necessary), price was a key consideration when deciding on the number-one lift chair.
For half the price of the Cloud, the Cambridge Lift Chair offers very similar comfort and support to users. It has the same overstuffed biscuit-style back design, two choices of size, and soft, stain-resistant fabric.
A fully extended sleep position is available with the Cambridge, as well as the optional installment of heat and massage features. All of this makes the Cambridge a solid choice for a comfortable, easy-to-care-for lift chair that will make life easier for its users.
Given all these compelling factors, the Cambridge Lift Chair is our number-one choice for customers everywhere!
Visit RehabMart's lift chair product page to read more about all the excellent lift chairs available!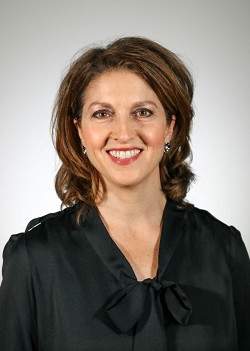 Author:
Megan has been a part of Rehabmart since its inception nearly 20 years ago. For the past several years she has been enjoying her role as HR Director while maintaining her Physical Therapy license. When she isn't working on her next in-service or working to find a new team member, she enjoys her five children, helping those who have PT type ailments, baking, practicing yoga, and working out.