About one-third of all falls at home happen in the bedroom, and most of those occur getting into and out of bed. If someone in your home sleeps in a hospital bed and is a restless sleeper or needs something to hold on to for balance when transferring to and from the bed, a hospital bed side rail is a necessary piece of safety equipment at your house.
The Top 5: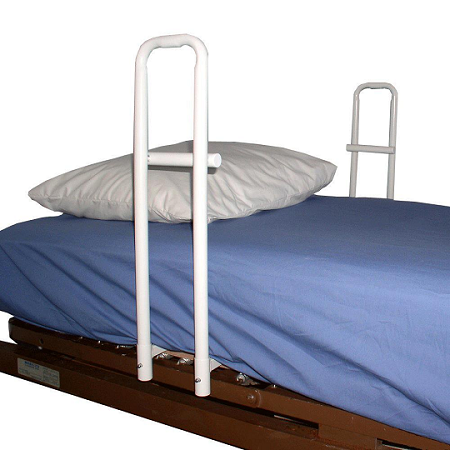 Available in spring or pan-based beds, #5 on our list of best hospital bed side rails is the Adult Bed Rail Transfer Handle for Hospital Beds by Mobility Transfer.
Whether using these rails for leverage to change positions in bed, transfer on and off the bed, or balance when standing or walking near the bed, this transfer handle can assist patients weighing up to 250 pounds. It has an extra crossbar for additional stability and this rail is easy to remove if there is an emergency that requires immediate unobstructed patient access. To reduce the risk of entrapment, it's designed with a 4-inch gap handle, and a SafetySure Safeguard cover is an available option.
No tools are needed to install the transfer handle. The spring bed model has a bed board to sit on top of the springs, and the pan bed model attaches to the metal frame of the bed. It can be ordered for one or both sides of the bed. In contrast to full-length bed rails, users can pull themselves up to a seated position then swing their legs over the side without these compact rails being in the way.
This transfer handle made our list because of its sturdy construction, compact profile, and availability for spring or pan-based beds.
Features and Benefits
Tool-free installation
Extra crossbar for stability and grip choice
Can be ordered for pan-based or spring hospital beds
Quickly removable in an emergency
Passes all federal safety guidelines to prevent entrapment
Customer Feedback
Pros
The only rail allowed in some care facilities
Secures tightly to the bed
Provides confidence when leaning on it
Reduces risk of falling when getting out of bed
Cons
Would appreciate a higher weight capacity
Installs without tools, but a wrench is needed to assemble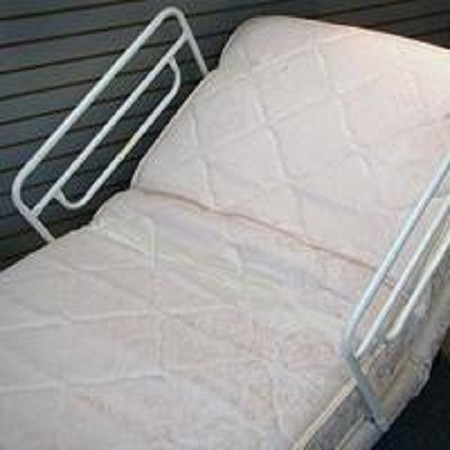 Designed for electric-type beds and hospital beds, our #4 pick is the 18-Inch Security Adult Bed Rail for Electric Style Beds from Mobility Transfer.
This side rail for a homecare hospital bed is best for a patient who doesn't need a lot of restriction and who wants to maintain their independence by getting in and out of bed without the assistance of a caregiver. It's an appropriate stability aid for anyone who uses a walker, bedside commode, or wheelchair. The all-steel construction makes them sturdy enough to safely accommodate users weighing up to 250 pounds. These rails work with either adjustable electric beds (this does not include Sleep Number brand beds) and hospital beds.
These hospital bed side rails can be ordered for one or both sides of the bed, and they are easily lowered by depressing snap buttons in an emergency or when they're not in use. Held in place by a large nylon strap between the mattress and box spring, these 20-inch high rails are designed for queen-sized beds or smaller. They help keep the user from rolling out of bed, provide leverage for independent repositioning in bed, and reduce the fall and injury risk by supporting users getting into and out of bed.
This sturdy bed rail made our list because of its ease of use and versatility working with electric style beds or standard home hospital beds, adding a layer of security for anyone at risk of a bed fall. (NOTE: these rails are not compatible with Sleep Number brand beds)
Features and Benefits
Large nylon support strap adds stability
Easy to lower in an emergency or when not in use
Assists in independent repositioning while in bed
Provides stability when getting out of bed
Fits up to queen-size bed
Customer Feedback
Pros
Easy to move the rail to make the bed
Stays in place when the bed is raised and lowered
Wide enough to prevent falling out of bed, narrow enough to not get in the way when exiting the bed
Helps safely maintain personal independence
Cons
Instructions were not easy to understand
Won't fit king-size Craftmatic bed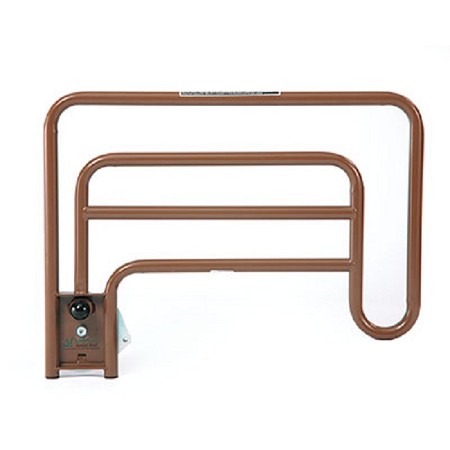 With its multiple positions, the Steel Assist Bed Rails for Hospital Bed by Invacare has earned the #3 spot on our list.
These steel hospital bed side rails have guard, assist, and transfer positions that provide user convenience and caregiver access. They can be positioned to keep you from falling out of bed while sleeping, provide a handhold to help you reposition yourself in bed, and assist with stability and balance while getting in and out of bed.
They have a quick-release button and are easy to add or remove. The powder-coated 1-inch welded steel construction ensures years of reliable use. With 36 inches between the rails, entrapment risk is minimized. A hospital bed at home might be a temporary need, or it might be a permanent fixture. Built to match Invacare Homecare beds, these rails provide an attractive, uniform look that are part of a comfortable and safe user experience.
The multiple positions and the way this stability aid fits onto your bed and into your home make it our #3 pick on our list of best side rails for homecare hospital beds.
Features and Benefits
Made with heavy-duty welded steel for durability
Rails are easy to raise, easy to lower, and easy to move out of the way
Multiple positions meet user and caregiver needs
Minimizes entrapment risk
Pros
Very strong
Attach securely
Customizable for whatever position needed
Provides balance to independently get in and out of bed without help
Don't need to call for help to turn at night
Cons
Only compatible with Invacare beds
Difficult for Parkinson's patient to work the buttons
Preventing entrapment, our #2 pick of Half Length Side Rails from Drive Medical specifically fit Drive Medical hospital beds.
The unique no-gap design of these half-length side rails for homecare hospital beds keeps users from getting lodged between the bars, which is a consideration when purchasing side rails. Each order comes with two rails constructed of 1-inch steel that are easy to install. They provide maximum fall protection when the bed is elevated.
These rails have an updated design that keeps them from shaking. The brown vein finish doesn't have an institutional look, and makes these rails easy to maintain. The chrome finish on the second and fifth bars provides easy scratch-proof movement of the adjustment bracket. The manufacturer backs these durable side rails with a limited lifetime warranty.
Decreasing the fall and entrapment risks, our #2 choice for side rails are specifically designed for Drive Medical hospital beds, but they will fit most steel-framed beds.
Features and Benefits
No-gap design prevents entrapment
Prevents accidental falls out of bed
Durable steel construction
Easy to install
Customer Feedback
Pros
Price includes both rails
Secure handholds to adjust position
Attachment to bed is robust
Can get out of bed without assistance
Good value at a good price point
Cons
Can't order just one
Instructions aren't very clear
Our #1 choice, the Universal Full-Length, Spring-loaded Telescoping Side Rails by Medline, can be installed on any link surface hospital bed.
Installation of these precision-made chrome-plated steel hospital bed side rails is easy, tool-free, and ensures a perfect fit. The rails are adjustable for security and convenience, and the vertical bars provide support when the user wants to sit up. Additional support comes from the spring-loaded crossbars that can be attached and removed easily, with an adjustable length range of 39.5 to 57.5 inches.
Providing protection along the length of the bed, which is ideal for preventing bed falls among sleepwalkers or users who tend to roam, these rails deliver quiet, smooth, one-hand, one-step operation. They come in a package of two for superior protection.
The side rails for homecare hospital beds at the top of our list provide the highest level of fall protection, are highly adjustable, provide sturdy support for transfers, and will fit any link surface hospital bed.
Features and Benefits
Compatible with any link surface hospital bed
Adjusts to accommodate different bed lengths
Sturdy support for users getting in and out of bed
Spring loaded telescoping rails deliver precise support
No tools required for set up
Customer Feedback
Pros
Very sturdy and reliable when leaned on
Spring load feature positions the rails perfectly
Relieved to find rails that extend in length
Sets up without tools
Keeps seizure sufferers protected from falling out of bed
Cons
Both sides have to be installed to work
Wasn't a perfect fit for non-Medline bed
Features to consider when purchasing side rails for a homecare hospital bed
When you need assistance with repositioning, preventing falls, and getting in and out of bed, side rails for your homecare hospital bed can provide a solution. Things to consider when choosing the best hospital bed side rail for you include:
User
The age, size, weight, and medical condition of the user all contribute to determining the best hospital bed side rail for your situation. Options include half, full, telescoping, and bariatric sizes and lengths.
Rail Style
Full-length side rails offer greater protection, but should not be used with confused patients who might try to climb over the rails, which presents a significant fall risk.
Half-length side rails for homecare hospital beds are great to help users reposition themselves in bed without assistance, and they don't prevent getting out of bed.
Solid plastic side rails including grip handles don't have rungs to get tangled in, so they greatly reduce the risk of entrapment.
Assist bars that are similar to half-length bed side rails assist with getting in and out of bed, but they have a narrow shape that makes them less useful for repositioning while in bed.
Telescoping rails telescope with the movement of the bed. They have crossbars and a spring-loaded release that adjusts the rails up or down.
FAQ
What is the difference between a medical hospital bed and a home care bed?
A medical hospital bed is used in clinical settings, with less attention to a personal experience and more attention paid to structure and function and serving consecutive users. They serve users with serious medical issues and their caregivers. The head and foot of the bed adjust and it can be raised from or lowered toward the floor. (NOTE: The bed rails in this article are not compatible with medical hospital bills.)
A home care bed will serve an individual user, so the requirements of the patient and the home environment will dictate the features and functions best suited for the situation. The user can elevate the head and foot sections of the bed, but they don't have the look and feel of a professional clinical-grade hospital bed. The rails in this article fit this style of bed.
What is the purpose of side rails for patient beds?
Side rails are stability aids users can grasp for support when changing positions in bed, getting out of bed, standing up, or getting back into bed.
Should side rails always be up?
No, because there are times when side rails need to be lowered for caregiver access to patients. In other situations, side rails - especially full-length rails - can hinder exiting the bed. It is also usually easier to make a bed when rails are down.
Are bed rails a form of restraint?
If the intent is to use side rails to prevent a patient from voluntarily getting out of bed, then the rails would be considered a restraint. If the intent is to prevent a fall out of bed, then side rails would not be considered a restraint. If a user can't physically get out of bed whether or not the rails are up, they would not be considered a restraint.
SUMMARY
To provide balance and support for people who are at risk for falling but who want to maintain some of their personal independence, side rails for homecare hospital beds are a great solution.
All of the side rails on our list are quality-built, and our number one pick delivers on every level. It provides stellar fall protection with its sturdy design, it's adjustable for a perfect fit, and it will work with any link surface hospital bed.
Check out our complete line of side rails for homecare hospital beds here. For more information on how to choose the best side rails for your situation, visit Caregiver University.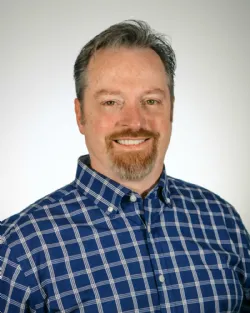 Author:
Co-Founder of Rehabmart and an Occupational Therapist since 1993. Mike has spent his professional career working in multiple areas of Occupational Therapy, including pediatrics, geriatrics, hand therapy, ergonomics and inpatient / outpatient rehabilitation. Mike enjoys writing articles that help people solve complex therapeutic problems and make better product choices.