A nice hot shower is supposed to relax and rejuvenate you. When getting into and out of the bathtub is difficult or even dangerous, it seriously detracts from the enjoyment and benefits of a shower. If you can't lift your legs and stay balanced or if standing in a wet tub puts you at a greater risk of a fall, a transfer bench for a shower or tub can safely get you into a safe, seated, and much more enjoyable shower.
The Top 5: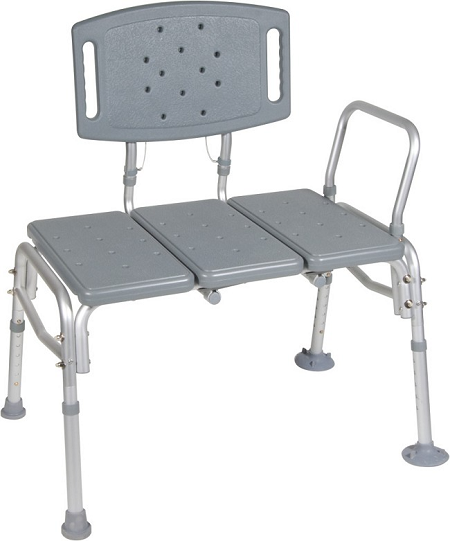 Bariatric users can safely rely on our #5 pick, the Adjustable Bariatric Transfer Bench by Drive Medical to provide a strong and stable shower transfer.
By sliding across this transfer bench, you don't risk a fall that could come with trying to step into your bathtub. Ideal if you have limited mobility, pain, or partial paralysis and can't lift your legs high enough to safely get them over the tub edge, this bath transfer bench can help you make a safe lateral transition for showering. The height of each leg is independently adjustable in half-inch increments, so this tub transfer bench is easily leveled for stability.
It has a reversible back that works with just about every bathroom design, and it can be positioned as needed for the safest user transfers. The frame is made of lightweight corrosion-resistant aluminum, and the backrest and bench are made from durable plastic that resists rust and mold. Two of the feet have huge suction cups that attach to the tub surface, keeping the bench steady and stable. The other two feet have non-slip covers to keep them in place outside the tub.
For a smooth transfer, our number 5 pick provides larger-sized users the opportunity to enjoy a safe and comfortable shower.
Features and Benefits
Blow-molded plastic holds up to heavy use
Assembly is quick and does not require tools
Lightweight frame resists corrosion and supports users up to 500 pounds
Height adjustable
Extra-large suction cup feet for stability
Customer Feedback
Pros
Very easy to put together
Feels heavy duty, confident it will not fail
Much more durable than other models
Adjustable leg height accommodates slightly uneven bathroom floor
Cons
Doesn't hold up to regular use by 500-pound patient
Bulky and heavy
Built for safety and comfort, the Padded tub and Shower Transfer Bench by Medline has earned the number 4 spot on our list.
You don't need the assistance of a caregiver to get into and out of the shower. This padded tub transfer bench allows you to retain your independence while tending to your personal hygiene. You just sit down on the bench outside the tub, slide on it over the tub wall, and enjoy your shower in safety and comfort.
The aluminum and blow-molded plastic bath transfer bench has two suction cup feet that adhere to the bottom of the tub, and two rubber-tipped feet that will stay put on the bathroom floor. The sidearm on this model adds extra support and leverage for transfers. It has a reversible backrest to accommodate any bathroom and a weight capacity of 400 pounds. The cushioning provided by this bath bench's padding makes it ideal for long-term use.
For the elderly, those recovering or rehabilitating after an injury or surgery, and anyone who tires easily and can't maintain balance, the comfortable shower transfer bench at number 4 on our list will allow for additional independence while managing the daily life activity of bathing.
Features and Benefits
Suction cups hold legs steady in the tub
Sturdy, durable, and comfortably cushioned
Supports user independence and self-reliance
Decreases the risk of a fall in the shower
Fits in any bathroom configuration
Customer Feedback
Pros
Easy to change the direction the backrest faces
Simple assembly
Easy to keep clean
Approved by visiting in-home physical therapist
Cons
Not ideal for short users
Doesn't fit as well in shallow tubs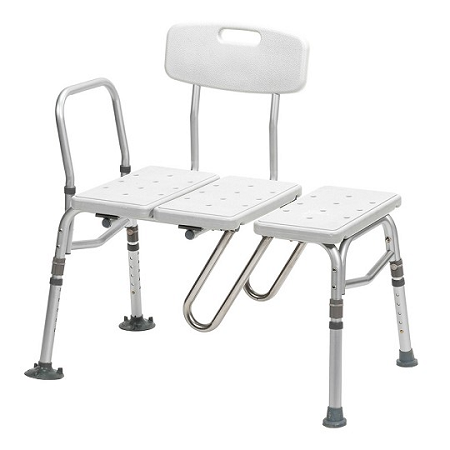 Providing privacy and preventing water from spilling onto the floor, our number 3 pick is the Splash Defense Transfer Shower Bench with Curtain Guard from Drive Medical.
This bath transfer bench has a u-shaped cutout that keeps the shower curtain liner inside the tub, which prevents water from spilling onto the floor. This avoids a slippery and dangerous exit from the tub. The legs are height-adjustable in half-inch increments, and the A-frame design of this blow-molded durable plastic bench can accommodate users weighing up to 400 pounds.
Since the chair can be positioned facing either direction, it's suitable for any bathroom. This durable and highly functional transfer shower bench has an 11.75-inch armrest, a seat width of 28 inches, and a seat depth of 16 inches. No tools are required to install or take it out of a tub.
Keeping the shower liner, and the shower water, inside the tub along with its easy setup and reversible orientation have earned this assistance device a place among the best transfer benches for tubs and showers.
Features and Benefits
Tool-free easy assembly
Reversible backrest to accommodate any shower
Strong and durable blow-molded plastic bench
U-shape cutout keeps shower liner inside the tub
400-pound weight capacity
Customer Feedback
Pros
Keeps water from getting all over the bathroom floor and making a wet mess
Drier floor reduces risk of a fall
Reclaim dignity and independence by being able to get situated unassisted
Plenty of seat space
Cons
Doesn't fit in narrow tubs
Needed to modify it to fit height of user and rise of tub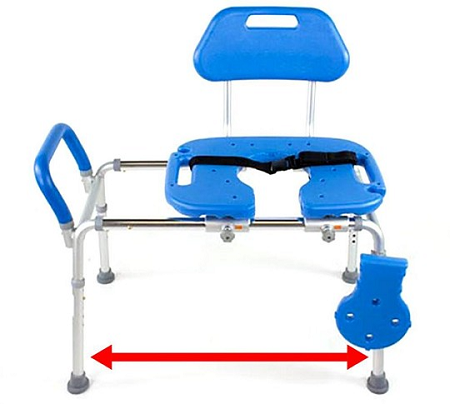 Our number 2 pick is the smooth sliding HydroGlyde Sliding Tub Transfer Bench by Platinum Health.
This unique design helps prevent falls, joint strain, and friction-induced skin tears while empowering users to independently take care of their own bathing or showering. It has a rust-resistant aluminum frame and a bright blue seat that is more stain-resistant than white models on the market. The non-stick surface of the bench has small holes to ensure water doesn't pool. There's a cutout with an insert to provide the bathing experience most comfortable for the user.
Rubber grips on the feet keep this transfer bath bench in place, and it can hold up to 420 pounds. It comes with a seat belt and knobs that easily turn to lock the chair in place so it only slides when you want it to. The padded assist handle can be used on either side and the seat is reversible so you can choose to face the showerhead or away from it. Assembly and height adjustment don't require tools.
This durable long-lasting bath bench made our list because of its stability, adjustable seat that prevents skin shearing, and the independence it provides for users.
Features and Benefits
Protects skin from shearing
Reduces fall risk
Comes with a seatbelt
Option to use chair with or without insert
Sturdy rust-proof aluminum frame
Customer Feedback
Pros
Very easy to assemble
Makes showering so much more manageable
Glides easily, even with heavier user
Adjustable for just about any tub
Helpful for caretakers who don't have to lift patient
Cons
Have to be able to lift your legs while sitting
Wish it was collapsible
Landing at number 1, with its padded 360-degree turning seat, is the Carousel Sliding Transfer Bench with Swivel Seat by Platinum Health.
This award-winning bath transfer bench is made of medical-grade aluminum that resists rust and guarantees a long service life. It has a sliding padded seat that swivels and locks every 90 degrees, which makes bathing and showering much more accessible. The padded armrests also pivot and can be counted on to support users while getting on and off the seat.
Available in gray or blue, this bath transfer bench can be assembled without tools in less than five minutes. It has an integrated seat belt and legs that can be height-adjusted in half-inch increments. To further customize it for a perfect fit, additional kits for installation in taller or wider tubs are available. It can be installed for right or left side accessibility and it's easy to disinfect and keep clean.
This uniquely designed bath transfer bench offers unmatched intuitive accessibility with its sliding swivel seat. It has been named "Best of the Best" among industry watchers, and it earned the top spot on our list because of its durability, comfort, and the independence it provides users.
Features and Benefits
Fits most showers and tubs
360-degree swivel chair for easy transfers
Seat and back are thickly padded for comfort
No tools required for assembly
Sets up in less than 5 minutes
Customer Feedback
Pros
Much less expensive than installing a walk-in tub
Reduces fall risk in the bathroom
After being assisted to the seat, user can do the rest
Cushioned seat isn't cold like plastic models
Padding prevents skin tears
Cons
Side of the seat is too sharp
Drips a lot of water after each shower
Features to consider when purchasing
To make sure you get the transfer bench that's best for you, there are some considerations to keep in mind when shopping for transfer benches for tubs and showers.
Size
The size of your bath bench depends on the size of your bathtub, especially the tub wall height. Inside the tub, there must be enough room for the length of the transfer bench and room for the user to stand and sit in front of the bench. If transferring from a wheelchair, the space required for that has to be considered too.
You need to measure for the size of the seat too, with the length from your backside to the back of your knees plus an additional inch or two indicating what seat depth is best for you.
Weight Capacity
Most standard bath transfer benches can accommodate users between 250 and 300 pounds, with heavy-duty versions able to support users weighing up to 500 pounds.
Height Adjustability
Height adjustable legs will allow the bath transfer bench to accommodate the height of the user plus individually adjust the legs so that the bench is level and secure inside and outside the tub.
Materials
Since it will be exposed regularly to water, a transfer bench built with materials that are resistant to rust will last longer. Typically, a plastic seat on an aluminum frame and legs is an option that delivers strength and long life. If the plastic seat has drain holes, it will do a better job of keeping water from pooling, building up, and creating a breeding ground for mold and mildew.
Feet
Suction cups securing the transfer bench to the tub and the floor will prevent it from slipping, but some floors have surfaces that prevent suction cups from gripping, so rubber-tipped feet outside the tub could be a better option. If you choose padded feet, be sure they have non-slip tips.
Padded or Unpadded
Unpadded transfer benches are less expensive and are a bit easier for users to scoot on when transferring into and out of the tub, but they aren't comfortable for long showers. Padded transfer benches are more expensive, but they are more comfortable, especially for people with thin or boney builds.
Back or No Back
Transfer bath benches can be used with or without a backrest. A backrest provides a lot of support but can also get in the way and make transfers slower. A backrest adds an element of safety that reduces falls and makes the bench generally more comfortable to use.
FAQ
What is a transfer tub bench?
A bath safety mobility device that straddles the side of a bathtub. The user sits on the bench, which slides from the outside to the inside of the tub.
Why do some shower benches have cut outs?
Some people who can't stand prefer to have a cut out in their bath bench so they can more easily access all body parts during their shower.
How Do You Use A Tub Transfer Bench Safely?
A user stands in front of the bench with the back of the legs touching the bench, slowly lowering onto the bench with the help of grab bars or handholds. Scooting back as far as possible with both legs outside the tub, the user brings their legs over the edge into the tub.
Who should use a tub transfer bench?
Someone who has mobility challenges that make it difficult to step over the tub wall or stand for long periods during a shower or who uses a wheelchair are good candidates for a tub transfer bench.
Summary
Bathtub transfer benches bring an element of safety, security, and comfort to showering and bathing that people with certain mobility challenges don't have without assistance.
Additionally, they help users who can position themselves onto a bath transfer bench maintain a level of independence while taking care of their own personal hygiene needs.
Our top pick for the best bathtub transfer bench is highly adjustable and boasts a unique swiveling seat that makes the tub extremely accessible. Since the seat's position adjusts to fit where the user is, rather than the user having to get positioned to accommodate the bench location. It also means less scooting, which causes less skin friction. It's also built with medical-grade materials that ensure its durability and make it a great investment as a tool for independence and good health.
Browse our entire selection of Bathtub Transfer Benches for more information. If you'd like to see related buying guides, visit Caregiver University.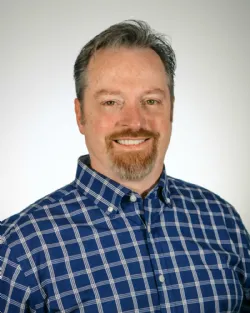 Author:
Co-Founder of Rehabmart and an Occupational Therapist since 1993. Mike has spent his professional career working in multiple areas of Occupational Therapy, including pediatrics, geriatrics, hand therapy, ergonomics and inpatient / outpatient rehabilitation. Mike enjoys writing articles that help people solve complex therapeutic problems and make better product choices.