More than half of the US population takes at least one medication a day, with the proportion of older Americans taking five or more medications daily doubling in recent years. However, about half of the people who live with chronic disease don't take their medications as prescribed to them by their healthcare providers.
Challenges with medication management can cause a lot of problems for people. Medication adherence, otherwise known as patient compliance with medications, involves three processes: initiation, implementation, and discontinuation. Initiation refers to the patient's first dose, implementation describes how well the patient continues to take the medication as prescribed, and discontinuation occurs when the patient stops taking the medication. Adherence can break down in any of these three processes, which can lead to negative consequences for the patient.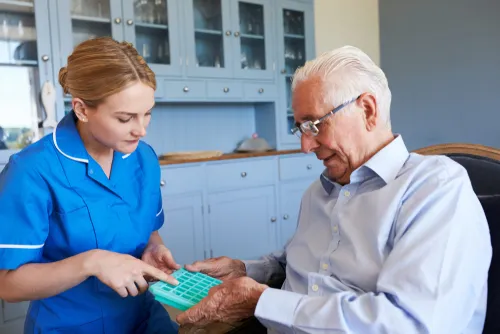 What Causes Medication Non-Adherence?
Influenced by multiple factors, there are a number of reasons for medication non-adherence:
Patient
As the most commonly cited reason that negatively impacts medication adherence, forgetfulness on the part of the patient causes both missed doses and taking too much medication. Other causes that originate with the patient include certain beliefs they may have about prescribed drugs, and insufficient literacy and understanding about health or medications. Inherently confusing and non-standardized dosage instructions combined with low health literacy often results in medication non-adherence.
Medication
Each medication has unique characteristics, requiring various factors to be present in order to work effectively and as safely as possible. Some medications may require an empty stomach, while others necessitate taking them with food, and the prescribed frequency and dosing times must also be followed. When people are taking three or more different medications a day, it can get quite challenging to take all of the medications at the right times, in the right conditions.
Economic and social
Financial hardships and poverty often adversely affect medication adherence through an inability to afford the prescribed medications, inadequate insurance coverage, and lack of transportation to acquire the medications.
Conditions
Certain health conditions themselves may contribute to medication non-adherence. For example, Major Depressive Disorder or Alzheimer's disease can make the personal management of medications and other routine behaviors difficult or impossible to achieve without assistance.
Healthcare system
Accessibility and communication with the patient's healthcare provider will often affect how well the patient complies with medication instructions. The availability of electronic prescribing, and the ability to discuss questions and concerns with appropriate medical staff will help improve medication adherence.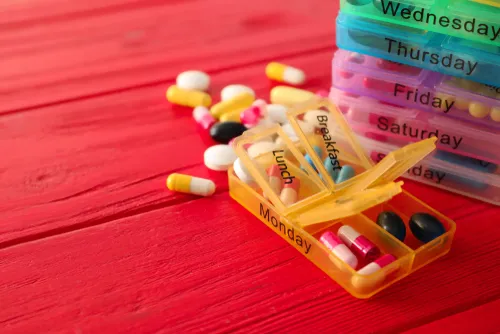 What Improves Medication Adherence and Management?
Even though American patients are generally better at following short-term medication protocols for acute health situations, only about half of the patients with chronic disease, such as heart disease, diabetes, hypertension, and high cholesterol, adhere to their medication prescription plans. They might not get the prescription filled, or may stop taking it because they're asymptomatic. Additionally, they may take too much of the drug, or not enough, and may take it at the wrong time.
Medication non-adherence often results in added discomfort for the patient, lost work and wages, and can increase the risk of mortality. Although everyone's situation is unique, here are some good, general tips to help you manage your medications more efficiently and effectively:
Pill organizers
The best way to stay organized with medication management is to employ the use of a pill organizer. Available in multiple shapes, sizes, and configurations, pill boxes and pill organizers enable you to keep your daily medications separated in individual compartments. They're often portable, and can be carried in a purse, briefcase, or pocket to ensure you take your medications wherever you may be.
Plan a schedule
Some medications will need to be taken at specific times of the day, and with or without food. Plan out when each of your medications needs to be taken, and place them in a pill organizer. Set an alarm on your phone or watch, or use a "talking" pill organizer that gives an audio and/or vibration cue when pills should be taken. Taking your medications at the same times every day will help establish a habit that's easier to remember, as well.
Write a list of your medications
It's always a good idea to have a written copy of all the medications you are currently taking and keep this in your wallet or purse. If there is an emergency, or you find yourself in the hospital, this list will be crucial in receiving care that doesn't contraindicate with your prescriptions. You can also use a copy of this list as a checklist to check off every day when you have taken each medication, which will help you to keep better track of your medication management.
Place pills in one place
Keeping your pills in one central, visible location will help you remember to take them, and will keep them organized. Be sure that this location is safe and impenetrable by children. Again, placing the tablets and capsules you need to take for the week in a pill organizer is one of the best ways to manage your medications, and unless otherwise instructed, the bottles they come from should be stored in a cool, dark, dry, and safe location, all together.
Consult with your doctor and pharmacist
It's advised to talk to your doctor every once in a while about all of the prescriptions you are taking at any given time. Sometimes you just don't need certain drugs anymore, or some tweaking of dosages may be in order. If multiple doses are too hard to remember, doctors can sometimes prescribe an alternative that doesn't need to be taken as frequently.
Using just one pharmacy can also help you manage medications more efficiently, and your pharmacist may also be able to assist you with creating checklists for the drugs you take, helping you to stay organized.
Our Top 8 Medication Management Picks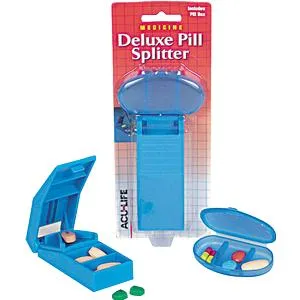 This handy pill splitter includes a separate pill box to conveniently hold and store capsules and tablets. Durably constructed, this pill splitter and box highlights a safe, internal cutting device that has been specially designed to reduce crumbling.
The Aculife pill splitter provides exact, even doses for easier medication management, ensuring just the right dose, every time. The splitter, when not in use to cut pills, additionally doubles as a pill container, and it also comes with a separate pill organizer to securely hold medications, vitamins, and supplements.
Features & Benefits:
Cleanly splits capsules and tablets of all sizes
Reduces crumbling of pills
Ensures exact dosage requirements
Convenient pill storage container included
Durable construction, and safe cutting mechanism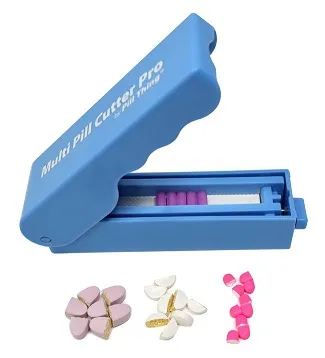 This innovative pill cutter splits multiple pills simultaneously, saving time and reducing frustration. Its hinged cutting mechanism splits capsules and tablets of every size, without the need for much physical force from the user. Durably constructed with food-safe ABS-molded plastic, this pill cutter is built for reliable longevity.
Its surgical-stainless steel cutting blade is recessed within the lid, with a snap-lock closure to enhance safety. The multiple cutter's internal chamber is adjustable to accommodate any size of pill and hold it tightly, which results in precise, divisional doses. This is a perfect pill cutting solution for anyone living with manual weakness or motor disabilities, as it doesn't require much dexterity or strength to operate.
Features & Benefits:
Enables multiple pills to be cut at one time
Saves users time and energy in splitting tablets and capsules
Firmly holds pills in place for exact cutting requirements
Surgical quality stainless steel cutting blade
Safety ensured with recessed blade and snap-lock closure
Hinged lid delivers pressure without needing much exertion from user
Durable, food-safe, ABS plastic construction for dependable, repetitive performance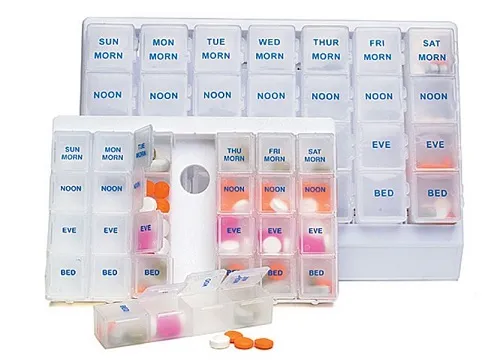 These helpful pill organizers from Medline provide convenient and easy medication management for every user. Configured as a box with seven vertical rows, each row holds a removable container with four separate compartments. Each row's container corresponds to each day of the week, and the four compartments are delineated as morning, noon, evening, and bedtime.
Their strong, latex-free construction highlights attached, snap-on lids for each of the four compartments to keep pills, capsules, and tablets organized, separated, and safely contained. The removable daily compartments allow for easier portability, enabling you to take your medications with you wherever you may roam. This is a great medication adherence tool for those who take multiple medications at different times throughout the day and evening.
Features & Benefits
Seven daily compartments for each day of the week
Four individual compartments for each day (morning, noon, evening, bedtime)
Holds 28 separate doses
Strong, latex-free construction for dependable durability
The daily compartments are removable for easy carrying in a purse or pocket
Attached, snap lids are easy to open and close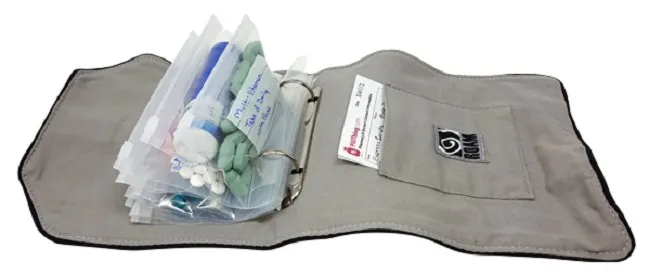 Unlike any other pill organizing systems, the Wellness Travel Pak is designed with the appearance of a fashionable wallet. For those more concerned about privacy, this discreet design stores and organizes your medications with style and efficiency. See-through zip bags safely store pills, capsules, and tablets, and are attached with two binder clip-like rings.
Available in several sizes and color options, the travel pak's sleek and slim configuration is easy to carry with you by itself, or inside a briefcase or purse. It will help you keep your medications organized and secure, and the individual bags are also removable to carry alone. Supplemental or replacement bags can also be added as needed. This is an ideal pill organizer for people who are on the go quite often, as it enables you to carry your medications with you wherever you travel without anyone ever knowing that's what they are!
Features & Benefits:
Sleek, discreet design looks like a stylish wallet
Binder clip-like rings keep bags of medications secured and organized
Bags are removable, and you can also order supplemental bags
Several size and color options to suit every personal preference
Durable construction holds up to hard and repetitive usage
Easy to understand, and helps users to manage their medications
Ideal for travel or everyday use
Formulated to prevent users from forgetting to take medications at different times of the day, this unique pill box offers an audible alarm, a vibrating alarm, or a combination of both. They can be set up to five times a day, and the pillbox provides five separate compartments to hold medications.
Well suited for users with hearing impairments, low vision, or memory loss, this five-alarm pill box is intended to hold one day's pills for those who need to take multiple medications several times a day. It can be filled in the morning and the alarms easily set to help users remember to take their medications at the right times each day. This unique pill organizer also helps to prevent accidental dosage with its keylock trigger, and adds a pulse rate monitor to further support the user's health and well-being.
Features & Benefits
Audible and vibrational alarms remind users to take medications
Suitable for users with hearing loss, low vision, and memory loss
Five separated compartments keep pills organized and secured
Keylock trigger prevents accidental dosages
Built-in pulse rate monitor
Easy to program, can set up to five alarms per day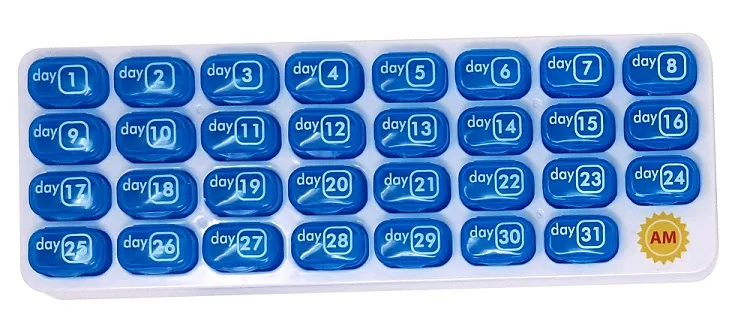 Offering a handy new design, these unique organizer pods provide secured containment for a whole month's worth of medication management! The organizer box holds 31 individual compartments that can be popped out for convenient portability in a pocket, purse, or briefcase. They pop back into the box for secure storage, as well. Their attached tops snap up or down for easy opening and closing, and can store several pills, capsules, and tablets simultaneously.
Perfect for users taking several pills once a day, each pop-out pod is numbered for each day of the month for quick identification. It allows you to fill and store a month's worth of medication all in one convenient location, saving time, and helping you to adhere to your medication plan. It's a great organizational tool for keeping track of your prescriptions at home, work, and for travel.
Features & Benefits
Store a whole month's worth of medications at once
31 pop-out pods hold multiple tablets, capsules, and pills securely
Pods are numbered for each day of the month enabling quick identification
Individual pods can be removed for easy transport
Pods snap securely back into place within the box
Attached, snap lids keep pod contents organized and secured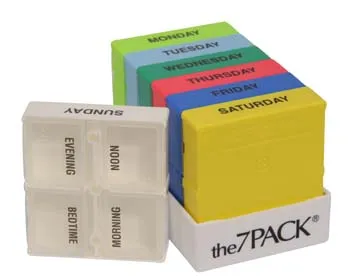 As an especially helpful pill organizer for people living with low vision or blindness, this innovative pillbox offers both color-coding and braille. Seven differently-colored pill boxes coordinate to each day of the week, and offer four individual compartments within each day's box for pills that need to be taken in the morning, at noon, in the evening, and at bedtime.
The days and times of day are stamped in braille for easier identification by those with visual impairments, along with high-contrast letters. Each of the seven boxes is removable, making them easy to drop into a purse or pocket to take to work, or for travel. The colored pill box helps users to keep their medications in one place, and serves as a reminder to take their medications at different times throughout the day and night.
Features & Benefits
Easy-to-read letters and braille markings for users with visual impairments
Color-coded boxes correspond to the seven days of the week
Each day's box offers four separate and secured compartments for pills
Helps users keep medications organized for the whole week
The seven boxes are removable, and easy to take along for any travel
8. Stackable 7-Day Pill Organizers by Pill Thing, Inc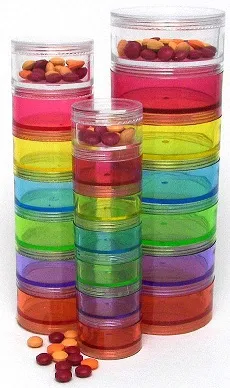 These colorful and stackable pill organizers offer a unique design in medication management. Available in three different sizes, the translucent containers provide secured containment to help you organize your prescriptions. They can be kept together at home, or detached from the stack to take to work, or on trips.
The individual compartments are threaded, and configured with a lid on the bottom and top. When a compartment is removed, there is always another top or bottom lid to attach so that the remaining tower assembly stays in place, with every compartment securely closed. The compartments can stack in any order, which also saves space. Ideal for patients who take multiple pills once a day, the seven variously colored compartments can be designated for each day of the week to help users better manage and remember to take their medications.
Features & Benefits
Differently colored compartments correspond to the 7 days of the week
Translucent design enables a clear view of contents
Compartments are removable for simple portability
Two-lidded design of compartments keeps remaining assembly in place when one is removed
Keeps medications organized, and serves as a reminder to take daily pills
Space-saving upright tower configuration
Summary
While there are a number of reasons patients do not adhere to their doctors' instructions regarding medications, there are also a number of ways to improve medication adherence. Whether it's forgetfulness, disorganization, or challenges with taking medications at specific times, or on an empty or full stomach, we covered 8 different medication management tools that will help you to keep your medications organized, and help you remember to take them.
You can learn more about pill organizers, and a wealth of other caregiving tips at Caregiver University in our large selection of helpful articles. If you're ready to browse products or make your final purchase, be sure to visit Rehabmart.com for all the best durable medical equipment.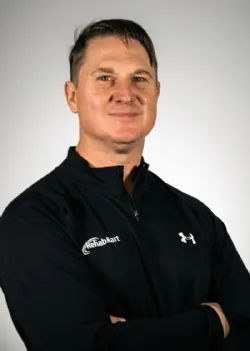 Author:
Co-founder/CEO of Rehabmart, Pediatric Occupational Therapist, husband, and father. Passionate about connecting special needs kids with superb nutrition, sensory integration, and complementary health strategies. Excited about Rehabmart's mission to become the premier online educational platform which empowers caregivers by spotlighting innovative devices and interventions to achieve optimal patient response and recovery.