Bathing is a necessary part of everyone's life. However, it happens to be one of the most dangerous activities that someone with limited mobility (due to age or disability) has to complete on a regular basis. Choosing the right tub transfer bench is a very important task.
Selecting the right transfer bench for your situation can help you or your loved ones prevent life-threatening injuries due to falls in the bathroom - something that happens thousands of times a day across the world.
Features To Consider When Selecting The Right Tub Bench For Your Situation:
Padded vs. Unpadded Transfer Bench
Tub benches typically come in two different surface types: padded and unpadded plastic.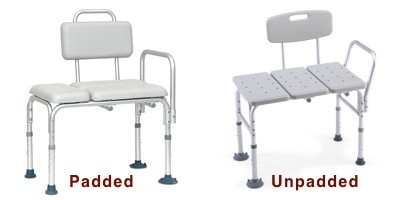 Padded benches are generally more comfortable to sit on, especially if you are very thin (and boney), or if you like to take long showers. They are also more expensive than their hard-surfaced counterparts. Here is an example of a padded transfer bench.
Unpadded benches are generally less expensive, but they are slightly easier to "scoot" from one end of the other as the hard surface is easier to push down on and has less friction than the padded tub benches. Here is an example of a standard unpadded transfer bench.
------------------
Stool Style vs. Bench Style

There are two different sizes of tub seats: stool style and bench style. Each serves a unique purpose.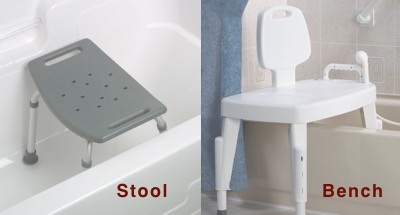 ------------------
Bariatric vs. Standard Weight Capacity
Bariatric products typically start around the 400 lb weight capacity mark. There is no official "bariatric weight" however - it really depends on the type of product and the safety tolerance of the person buying it. For bariatric tub benches, a good rule of thumb would be to buy a bariatric bench for people over 250 lbs to be safe.

Example of a Bariatric Bath Transfer Seat with 850 lb capacity
------------------
Back vs. No Back
Having a back on a tub transfer bench is both a comfort feature as well as a support feature for those people with weakened trunk balance. Purchasing a tub bench with a back is generally only slightly more than a non-back chair.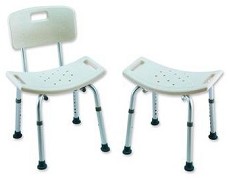 ------------------
Adjustable Height vs. Fixed Height
Adjustable height legs are very convenient for many reasons, and is worth paying a few extra dollars. People come in all heights, as do the surfaces they are trying to climb into.
First, there is a big difference between a 5 foot 2 inch person and a 6 foot 2 inch person. However, they may purchase the same product. Having adjustable legs allows both to use the same tub bench product.
Second, it is often the case that the base of the bathtub is slightly higher than the floor. With adjustable legs, someone might want to make the legs inside the tub 1 inch shorter than the legs outside the tub to maintain the levelness of the tub bench.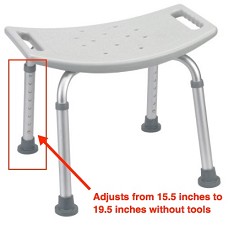 ------------------
Suction Cups vs. Padded Tips
The purpose of suction cups is to add an extra level of security to prevent the bench from moving. The suction cups can be added to two legs that fit inside the tub (for tub benches) or all four legs (in the case of a shower seat).
Reasons Why People Buy A Tub Transfer Bench
The majority of people buy a tub transfer bench on their way out of the hospital or rehab facility following a stroke or hip fracture. Other people purchase one preemptively to prevent themselves or a loved one from injuring themselves in the bathroom.
The main reason is to prevent injury, including broken hips, legs, wrists and/or head injuries from getting into and out of a tub. This is something a healthy person takes for granted, however it is a much more difficult task when faced with a disability or declining health.
Benefits of Using A Tub Transfer Bench
The main benefit to using a tub bench is to prevent injury. Climbing over the edge of bathtub after you've suffered a stroke or hip injury is very dangerous.
Brands of Tub Transfer Benches (And Does It Matter?)
There are several manufacturers of tub transfer benches, including Drive Medical, Invacare, Medline, Etac, and Accessible Designs. Many of the benches are sourced overseas, and are very similar in quality.
Does Medicare Typically Pay For Tub Benches?
Medicare does not cover tub benches, shower chairs or anything equivalent. This has been the case for decades. Medicare does not cover anything that goes in the bathroom except for 3-in-1 bedside commodes which can be used in the bedroom or the bathroom.
Does Private Insurance Typically Pay for Tub Benches?
Some private insurance plans will cover tub safety products, however we have found that it is the exception rather than the rule. You will need to contact your health insurance representative directly to request reimbursement. Many people privately purchase the product first then submit the receipt to their insurance company. This increases the chance of reimbursement significantly, but is not guaranteed.
Other Things to Consider Before Buying A Tub Transfer Bench
We've touched on the major considerations: weight, height, features. Other things to consider would be special pediatric bath seats for children with special needs, or ADA Compliant bath benches for institutional / public use.
***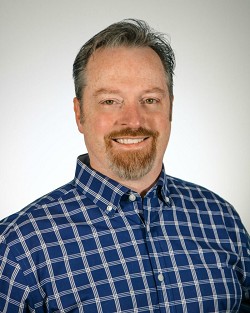 Author:
Co-Founder of Rehabmart and an Occupational Therapist since 1993. Mike has spent his professional career working in multiple areas of Occupational Therapy, including pediatrics, geriatrics, hand therapy, ergonomics and inpatient / outpatient rehabilitation. Mike enjoys writing articles that help people solve complex therapeutic problems and make better product choices.