A child's bed should be safe, secure, and comfortable, and going to bed at night should bring rest rather than danger. But for some parents of children with special needs, bedtime can feel like an obstacle course with many difficulties to overcome each night.
Safety beds are the answer to this problem, helping parents get a good night's sleep knowing that their children are safe and secure in their beds. Regardless of each child's unique needs, there's a safety bed that meets them, helping to ensure they remain securely in bed with no danger of falling, climbing out, or accidental injuries.
Specifically, to qualify as a safety bed, a bed must address four specific issues:
It must protect from falls. There must be something built in to the bed that keeps the user from falling out, not just while sleeping, but while awake and moving about.
It must prevent unassisted exits. A child should not be able to engage the mechanism that allows exit from the safety bed, either on purpose or by accident. Many children can injure themselves getting out of bed, and of course, can wander and harm themselves once out of bed.
It must be easy to open. Cumbersome or difficult unlocking mechanisms have no place in a safety bed. A parent must be able to open the bed quickly and easily with one hand, and assist or control the child with the other.
It must protect from entanglement or entrapment. Statistics tell us that when a person becomes entrapped in bed rails, injury results nearly 77% of the time, and 59% can even die as a result. Safety beds absolutely must be safe, eliminating any risk of entrapment.

What makes safety beds unique?
Safety beds are specifically designed to keep children safe, comfortable, and in bed through the entire night. You may think that you can do just fine with a hospital bed and guard rail. Some parents even try to solve the problem by putting a mattress on the floor next to their own bed.
The basic problem with both of these solutions is that they're makeshift. Hospital beds aren't designed to accommodate a child's body, so children can easily get tangled up in the spaces and bars which can lead to dangerous entrapment issues. Hospital bed rails are also often not tall or wide enough to actually stop a child from climbing out of bed. Additionally, hospital beds have a clinical feel that seems unwelcoming and cold in comparison to a traditional bed.
Putting a mattress on the floor can also cause major safety hazards. First of all, this doesn't keep them from getting up in the night, and a tired parent will not always wake up to the sound of a wandering child. Additionally, putting a child on the floor can put them at risk of getting stepped on accidentally or inhaling dust and dander from the carpet or flooring.
Safety beds include unique design features that make them the perfect solution for children who need added safety and comfort during sleep.
High sides keep children from climbing or falling out of bed in the night
Gap-less edges ensure that the child cannot become trapped or entangled in the spaces between the mattress and the doors.
Some of these beds include convenient access ports for tubing and cords that might be needed for medical equipment
See-through windows or bars enable easy visibility both for the child and the caregivers.
How are safety beds used?
Safety beds are most often used by parents of special needs children, to provide a safer sleep environment for them in the home, but they can also be used for children who are prone to nighttime wandering or those who are ill and need a better way to ensure their safety as they sleep.
The specific needs of your child, both in terms of night time security and medical considerations, will help determine your choice of safety bed.
If you want a bed that doesn't look institutional, but still provides the features that keep your child secure, protect them from injury, and even encourage appropriate developmental movement, a safety bed is what you need. And children with physical disabilities aren't the only ones who can benefit from an enclosed safety bed. Children with autism, ADHD, or other cognitive, behavioral, and emotional concerns that make it difficult for them to use a traditional bed can benefit from the enclosed sleeping space that a safety bed provides.
What kinds of safety beds are there?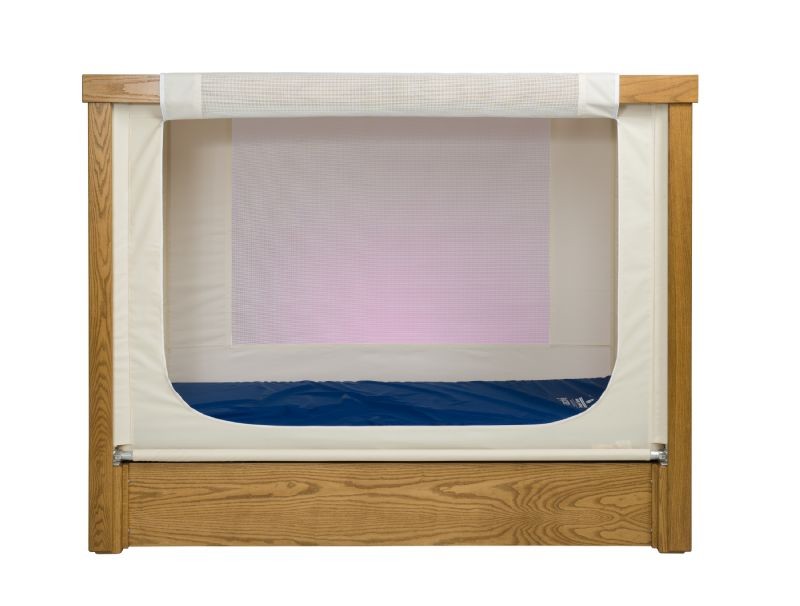 Aaron Clow's daughter is a great example of a child that's benefitted from the use of a safety bed. Aaron is the designer behind Beds by George. His young daughter has microcephaly, and due to having low muscle tone in the trunk, she falls out of bed easily. She also has nighttime seizures which make it dangerous for her to use a traditional bed.
Aaron designed a bed that would be anything but institutional in appearance. Beds by George offers a range of high-quality, attractive, and ultra-reliable safety beds made from the best hardwood materials with either crib-height or extra-high sides to help keep children safe and comfortable while giving them a bed that looks like a regular piece of furniture.
Their newest product, the Haven Full Enclosure Safety Bed, includes removable fabric and mesh walls and ceiling that provide softer comfort while still maintaining enclosure. These coverings are available in a choice of a dozen colors, and looks almost like a cozy canopy bed, yet still functions with the ultimate safety of the child in mind.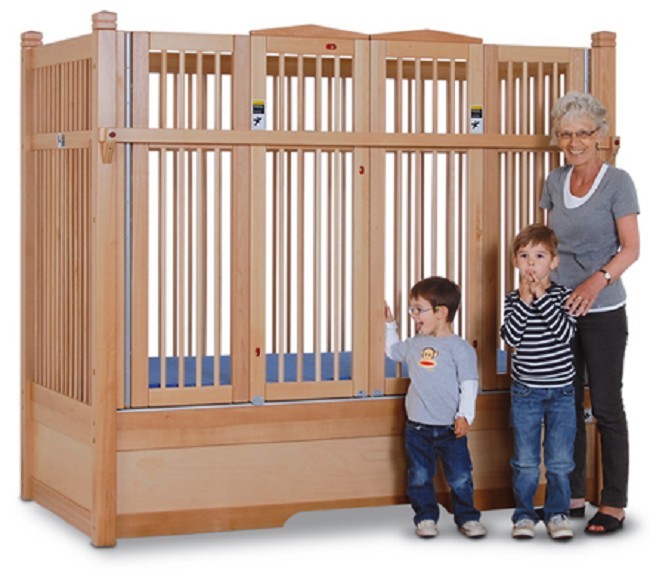 Some kids really like to climb, and need a high rail on their bed to protect them from falls and elopement. Kayserbetten beds offer the ultimate solution for this problem.
Thirty-seven years ago, a family in Germany needed a way to keep their young son safe. The boy was diagnosed with cerebral damage and spastic disablement, and was at risk of wandering and harming himself at night. What his family needed was a bed that would keep him safe and secure, ensuring that both he and his family could get a restful night's sleep.
It was because of this that they developed the first Kayserbetten secure sleep system, offering the highest walls of any safety bed with an articulating mattress that provides ultimate comfort and positional support. Their bed was specifically designed to keep their son safe while making his care easier.
Today, Kayserbetten beds are in thousands of homes and many children's hospitals around the world, offering features that set them apart.
At 67" tall, the extra-high Hannah 170 bed features the highest safety rails available. It is also available with various choices for positioning and height adjustability including electric, semi-electric, and manual adjustment for your convenience.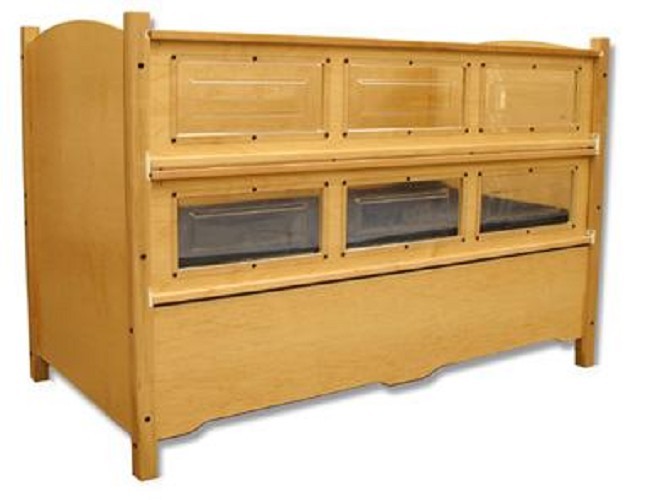 If you have an older child or adult that requires the use of a safety bed, SleepSafe safety beds might be the right choice for you, offering highly customizable beds available in twin, full, and queen sizes.
SleepSafe began the development of their safety bed in September 2000 at the request of the Office for People with Developmental Disabilities (OPWDD) who needed a bed that would prevent falls and entrapment for special needs individuals in group homes and similar facilities. They ultimately crafted their design with the intent to create a better system, something that would not only be safe, but would also offer greater benefits to the user.
To date, SleepSafe is the only bed design that has been approved by the OPWDD for use in their facilities and specifically addresses the seven zones of entrapment as found by the FDA Hospital Bed Safety Workgroup in 2001. These beds are highly customizable and available in a variety of styles, sizes, colors, and models to accommodate any user's needs.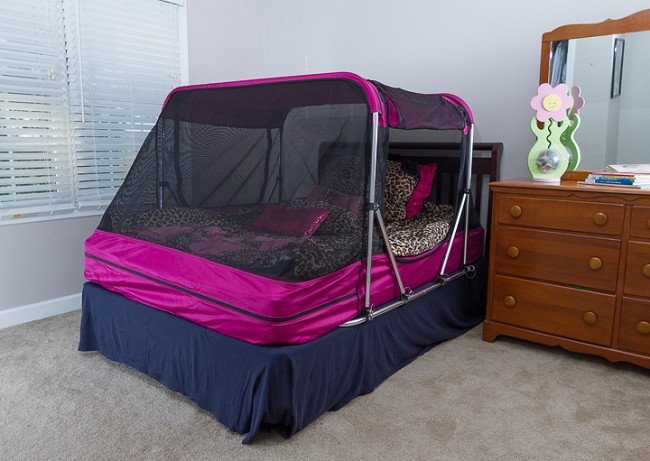 In addition to these amazing safety beds, an honorable mention goes to the Safety Sleeper by Abrams Bed, which, although it isn't a full bed, allows you to easily turn a traditional twin-sized bed into a safety bed with this convenient bed kit.
The Safety Sleeper provides a safe-feeling, enclosed space that reduces visual stimulation with a dark mesh covering. Additionally, this bed kit includes the added benefit of being easy to bring with you on the go! Now children who needed a safety bed to keep them secure while they sleep can travel anywhere without fear of not being safe while they sleep.
One-size-fits-all beds rarely accommodate the needs of special kids. The Safety Sleeper is fully customizable. Options include soft pads to protect the child from the metal frame and inside pockets for storing treasured items like books and games close at hand. The bed also has multiple access points to accommodate oxygen tubes and monitor wires, making it easy to use for children with medical equipment.
RehabMart is proud to offer all of these beds and many more, ensuring you get exactly the product that works best for you. For more information about safety beds and how to purchase one for your family, visit us online at www.rehabmart.com.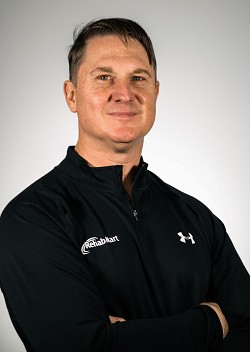 Author:
Co-founder/CEO of Rehabmart, Pediatric Occupational Therapist, husband, and father. Passionate about connecting special needs kids with superb nutrition, sensory integration, and complementary health strategies. Excited about Rehabmart's mission to become the premier online educational platform which empowers caregivers by spotlighting innovative devices and interventions to achieve optimal patient response and recovery.