Trouble getting in and out of bed is one of the most common types of mobility challenge someone can have, and this isn't limited to people recovering from serious injuries or illnesses either. Bed mobility challenges are something that affects many people every year just due to simple problems like joint pain, decreased flexibility, and morning stiffness which are common side effects of aging. A great way to combat this challenge is through the use of bed handles, rails, or poles.
Bed safety rails, also known as assist rails, side rails, assist bars, stand assists, and bed handles, are available in a wide variety of configurations to suit the needs of every user. Many are portable, while some are designed as more permanent attachments. A range of models means that they're attached to the bed in different ways, but all provide a secure hand-hold for repositioning while lying in bed and assisting users getting up from bed. They also provide protection against accidental falls from the bed, an occurrence that becomes more common as people age or with certain medical conditions.
Although bed rails as a broad category often include longer rails, and those built-in or added to hospital beds, the type we address in this buying guide are the shorter, assistive rails that are most often used at home on standard beds. These daily living aids help all kinds of folks, young and old, to maintain safety, independence, and mobility while moving around in, and getting out of bed.
Because of the wide range of bed rails that there are to choose from, we'll guide you through some of the different types and features you can choose from, to help you make the best decision for you or your loved one.
Which Safety Rail is Best for Me?
Despite the other features of the design, every bed rail, whether permanent or portable, is designed to do three things:
Assist the user with repositioning while lying in bed.
Reduce the risk of falls from the bed.
Provide sturdy, dependable assistance in transitioning to and from the bed.
Good quality designs will also ensure against bed entrapment. Reputable manufacturers ensure their bed rail configurations meet the guidelines set forth by the U.S. Food and Drug Administration (FDA) for reducing the 7 risks of bed entrapment to maintain safety.
Most assistive bed rails are also compatible for use with both standard home beds and hospital beds. But, because hospital beds typically have their own built-in rails, these portable rails are most often used with regular beds in the home or assisted living facilities. People often take them along on trips or vacations so they can enjoy their benefits away from home, as well.
There's a host of varying features to check out among the different bed safety rails and handles that will help you find the perfect solution for yourself or a loved one. At first glance, a lot of the rails can appear to be quite similar, but on closer inspection, you will be able to see their unique, differentiating features, which will support you in finding just the right choice for your specific requirements.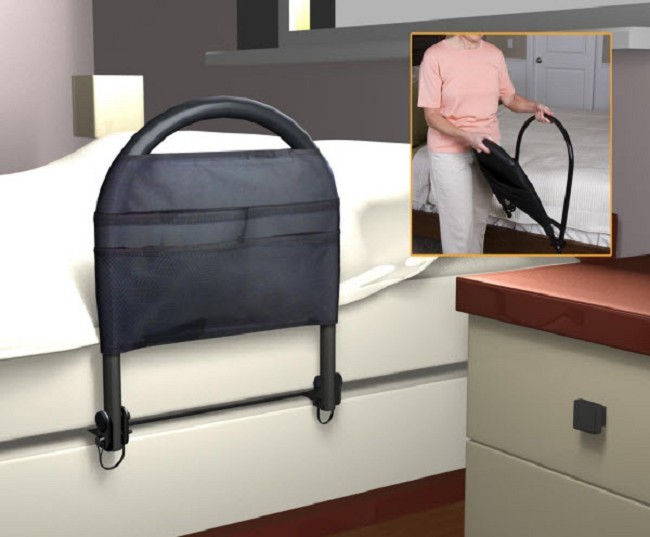 Features to Consider
Bed safety rails and handles enable sturdy, secure support for anyone who struggles to get in and out of bed independently, and/or who experiences challenges with moving around and repositioning themselves in bed. Determining your needs, or the needs of a loved one, will help you find the best bed safety rail to meet those concerns.
Positioning Assistance - If you require your bed safety rail to provide positioning assistance while in bed, it's important you choose a durable, strong rail or handle that will safely support your weight. Because moving around and repositioning while you're in a bed necessitates high force, the bed rail must be strong enough to hold up to the repetitive movement and gripping to provide dependable, long-term use. Steel construction is preferred for the utmost durability.
Transitional Assistance - When you need a secured hand-hold for exiting or entering the bed, it's crucial to choose a safety bed rail device that adjusts in height. It must also safely accommodate your weight, as you'll be leaning on the rail or handle when you rise from the bed, and when you lower yourself onto the bed. Models with swing-out handles are often preferred by users, as these create a wider area of forward support when engaging in sit-to-stand transitions.
Fall Prevention - Even though most bed safety rail designs are quite small in relation to full bed rails, their proper placement can help significantly with preventing accidental falls from the bed. Some configurations do offer extensions to provide longer support along the bed for individuals at a higher risk of falls, while others offer the rail on both sides of the bed to enhance protection. Bed safety rails also help to reduce the risk of falls connected with getting up from a bed.
Portability - While most safety bed rails are portable, foldable, and take up very little room, there are some designs that, once installed, can take quite a bit of effort and time to uninstall and move. Therefore, it's important to determine where you will need to use your support rail in order to figure out the best type of model to fulfill those requirements. If you want to use it for travel as well as at home, it's best to choose a portable configuration. If you're only going to use it for one bed all the time, your better choice may be a more permanent format.
Comfort & Ease of Use - Look for features that add comfort, such as padded grips, adjustable heights, and ergonomic handles. People won't use this support if it's uncomfortable in some way, so it's critical to find designs that make the device easy and engaging to operate. Simpler formats are better for those with Alzheimer's, dementia, and other conditions that cause confusion, while more adjustable, versatile options are well-suited for those whose needs change throughout the day.
Durability - Because people rely on this kind of device for bodily support, it's imperative that the bed safety rail is of sound construction. Many quality manufacturers use steel to build their rails, exactly for that reason. Choose bed rail handles that have been designed to withstand hard, heavy, and repetitive usage, and look for safe operating capacities that will securely accommodate your weight.
Added Storage - As a helpful added feature on some bed safety rails, attached pockets and pouches enable users to keep personal and needed items close at hand. This convenience is always appreciated by those with mobility impairments, and reduces the risk of reaching, bending, or falling injuries.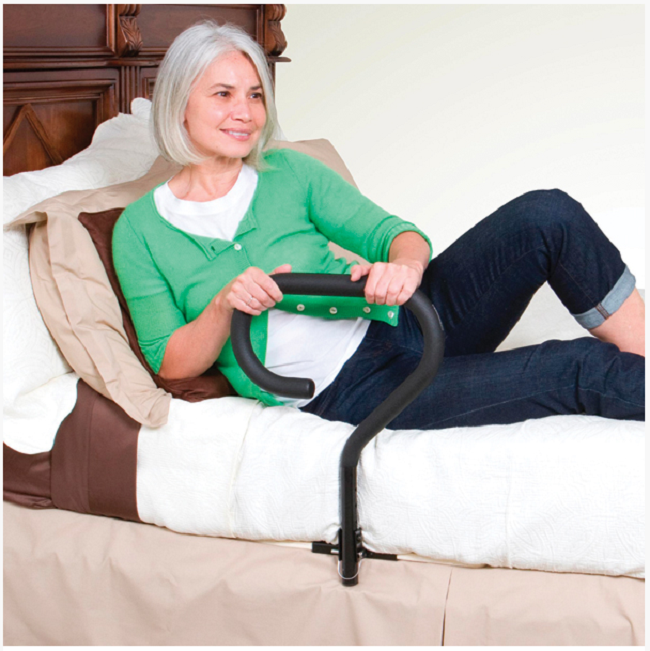 Frequently Asked Questions
What are side rails used for?
Bed rails are used universally to promote safe bed mobility and to reduce the risk of falls.
They vary in length and size, and are also utilized as a gripping support for repositioning in bed, and for assistance in transitioning in and out of bed. They're placed along the longer sides of the bed and attach in a variety of ways, with most designs being easy to detach, and portable.
Are bed rails safe for elderly?
Bed rails are safe for anyone to use, including children, adults, and the elderly. The only safety concern is that the rails you choose should address entrapment, making sure to fit close to the bed and not become a risk.
While some users may need to be supervised initially, most elderly folks are able to use bed safety rails in their proper, intended ways, which will augment their overall safety in getting up and down from the bed, moving around in bed, and prevent falling from the bed.
What is the purpose of a bed assist bar on a resident's bed?
A bed assist bar provides support to help people move around and reposition themselves in bed, and offer stability as they get up and down from bed. They can also be used to facilitate safe transfers to and from the surface of the bed.
Just like for use at home, bed assist bars help residents in long-term care facilities to stay safe while using their bed, and provide secured support to exit or enter the bed. They also deliver some fall prevention protection, especially the designs with longer extensions.
Are bed side rails considered restraints?
Bed safety rails are not considered restraints the same way as actual medical restraints, and are much smaller and less restricting even than full side bed rails.
They help stop people from falling out of bed, while they also provide secured support for getting up and down, and moving around in the bed. They may encourage those with wandering tendencies to stay in bed, but should not be chosen for that specific purpose.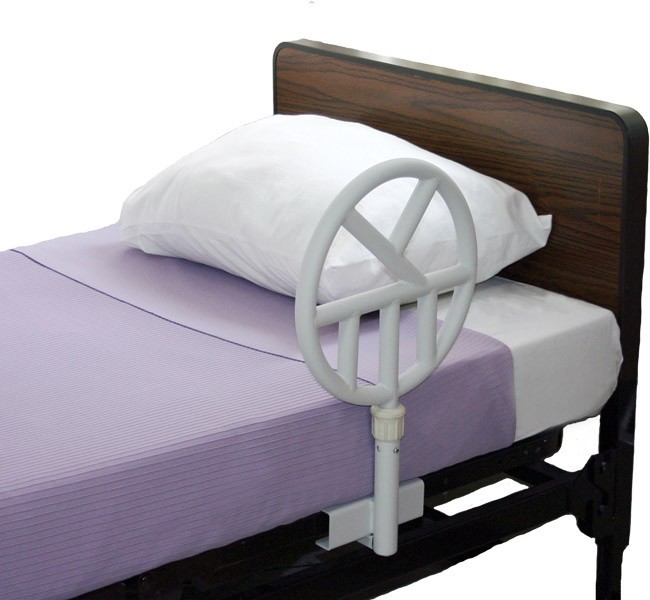 Recommendations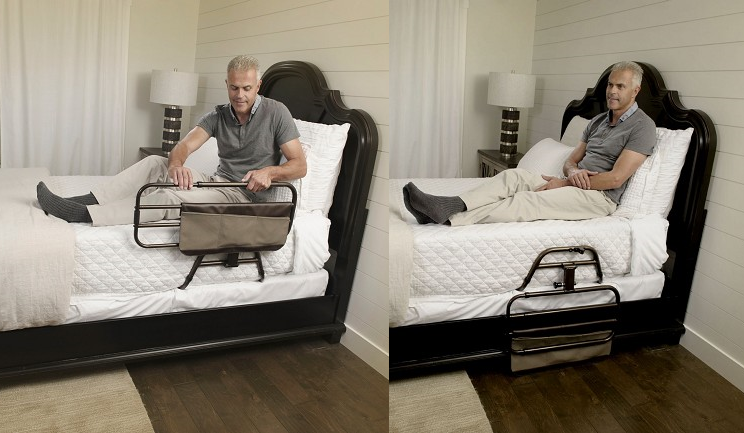 Summary
Bed safety rails are specially designed to provide support, stability, and safety. Their wide range of formats allows every individual to find the best solution for their needs, enabling easier positioning, exit and entry, and fall prevention. Most often portable, bed safety rail configurations are also available in more permanent construction, and offer a range of varying features, such as height adjustability, ergonomic design, and handles that are comfortable to grip.
Everyone can reap the benefits that these properly installed assistive devices provide, including seniors, those with age-related weakness, people living with disabilities, and anyone recovering from illness, injury, or surgery, including post-stroke, and chronic pain.
Be sure to check out Rehabmart's comprehensive selection of bed safety rails, poles, and handles, and learn even more with Top 5 Best Bed Rails article. You can also find a wealth of caregiving information and support at Caregiver University, and eager and friendly customer support staff at Rehabmart to help guide you, and ensure the best selections for all of your home care requirements.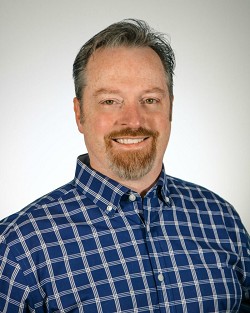 Author:
Co-Founder of Rehabmart and an Occupational Therapist since 1993. Mike has spent his professional career working in multiple areas of Occupational Therapy, including pediatrics, geriatrics, hand therapy, ergonomics and inpatient / outpatient rehabilitation. Mike enjoys writing articles that help people solve complex therapeutic problems and make better product choices.