Adult trikes are three-wheeled cycling devices, used for cardio activity and typically in place of a two-wheeled bike. Tricycles come in three designs: recumbent, semi-recumbent (also known as adaptive), and upright.
While there are a plethora of models and styles, selecting the adult trike right for you or your loved one does not have to be confusing. Adult trikes are more alike than they are different, and product differences are mostly personal preference.
Features to consider when purchasing an adult trike
Position: Upright or recumbent?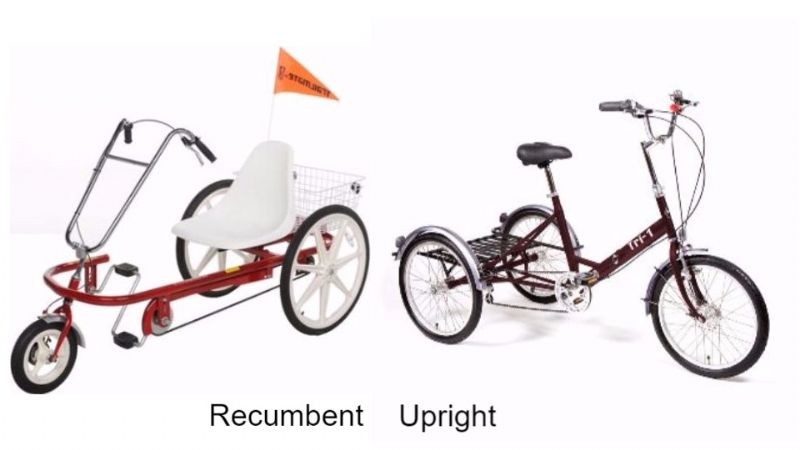 Upright, semi-recumbent, and recumbent trikes all provide excellent cardio workouts. With recumbent and semi-recumbent trikes, users are stretched out a bit, and much lower to the ground.
Body positioning often feels less intense when riding a recumbent or semi-recumbent trike due to space and weight disbursement.
Upright bikes are more comfortable for hand placement, back, and seat comfort. They relieve the pressure on user's lower backs, and make it easier to shift positions.
Seat: Saddle seat or sling seat?
Upright adult trikes have a wide, comfortable, saddle-style seat. Purchasing a properly-sized trike ensures that when users stop, they can firmly plant both feet on the ground. A trike's stable center of gravity, aided by the three-wheel design, allows users to stop and start sharply, without fear of tipping over.
Recumbent and semi-recumbent trikes often have sling-style nylon seating, or contoured, padded platform seats with back support. These designs eliminate the fear of tipping or losing control of the trike, because they are created so low to the ground.
Handlebars: Traditional, chopper, or loop handlebars?
Traditional curved handlebars are available on most upright trikes, in addition to loop or chopper styles.
Traditional handlebars are typically best for trikers with normal range of motion and good upper body strength.
Loop handlebars allow individuals to steer using any part of the rectangular loop; because of this, they work best for users with unsteady arms or weak hands.
Lastly, chopper handlebars are similar to traditional handlebars in requiring more upper body strength and full use of hands, arms, and shoulders. They can be found on both upright or recumbent trike models.
Weight Capacity: Traditional or bariatric?
Manufacturers determine the weight limit for each individual trike model. This variation can result in substantial differences between the model and manufacturer, so carefully consider this factor when purchasing your adult trike!
In general, the weight limit for upright trikes ranges from 200 to 350 pounds. Recumbent and semi-recumbent trikes often have more generous weight limits - up to 400-pounds. Bariatric trikes accommodate individuals up to 500 pounds.
Brands of adult tricycles
The RehabMart adult tricycle catalog contains information regarding more than two dozen adult tricycles. Within that catalog, there are a multitude of accessories and custom options.
Reliable manufacturers - Trailmate, Asa, and Rifton - offer a variety of trike models, like the Triton Pro, EZ Roll Regal, and the Meteor Three Wheel Recumbent. These stellar trikes offer similar features and provide a comfortable, safe triking experience for you or your loved one.
A few of our top-rated trikes, and what sets them apart
Trailmate Joyrider Adult Tricycle – This trike is semi-recumbent. The Joyrider has a step-in frame, so riders who struggle to lift their leg can easily mount the trike. It also works exceptionally well for individuals who are transferring from a wheelchair to a trike. The Trailmate has a parking brake lock system, and wide, swing-away chopper style handlebars.
Mobo Triton Pro Adult Tricycle – This trike is full-recumbent. It features unique joystick handlebars, which are quite useful for individuals who struggle with upper body strength or hand weakness. The Mobo's steering system provides a smoother, more comfortable ride than some other trikes. The trike's frame can be adjusted to serve riders of varying heights.
Rifton Large Adaptive Tricycle - The Rifton Adaptive Trike features a 'no-tool' adjustment system, meaning the seat and handlebars can be adjusted simply by twisting a knob. It has large, puncture-proof tires, and a unique self-leveling pulley system for pedals. The self-leveling feature is perfect for users with balance issues or lower body weakness, both of which may prevent them from keeping their feet level on the pedals. Customization options include either conventional or loop handlebars, adjustable backrest padding, and a trunk strap for additional security.
What do I need to know about adult trikes?
Models and features differ, but all three trike styles are either powered by hand-crank or foot pedals. This makes them the perfect exercise tool for seniors and people who live with balance issues. Trikes also serve people with upper and lower body weaknesses, as well as disabilities which prevent individuals from enjoying the benefits of riding a traditional, upright bicycle.
Adult trikes have several available options when it comes to braking systems. Coaster braking and pedal braking are most helpful for people who suffer from arthritis or minimal hand strength; for individuals who cannot use their legs, hand brakes work best.
All adult trikes are designed for step-through mounting. Step-through platforms make it easy for users to get on and off the trike.
Who rides adult trikes?
Thanks to baby boomers, adult trikes are enjoying quite a renaissance! Boomers are not ready to give up the freedom, fun, and exercise benefits they receive from biking; but as balance, agility, and strength wane, adult trikes provide a safe alternative to the traditional biking so many enjoy.
Individuals who experience difficulty riding a traditional bike are prime candidates for adult trikes. In addition to being great fun, these assistive trikes provide caregivers another avenue for an age-appropriate, low-risk mode of exercise, particularly for individuals who seek balance, coordination, and strength training.
What are the unique benefits of triking?
Traditional bikes do not accommodate people with disabilities, but adult trikes allow individuals with a range of medical diagnosis like Parkinson's, cerebral palsy, and diabetes to enjoy the same physical benefits as other trikers and cyclists.
In 2011, AARP reported even people who had been lifelong bicyclists were segueing into adult trikes. These soon-to-be seniors were experiencing neck, back, and posture issues from riding traditional bikes, so their physicians recommended recumbent trikes instead.
Trikes are low-impact workouts, meaning they are easier on the body. The unique design benefits of recumbent, semi-recumbent and upright three-wheeled trikes allows users to continue reaping the cardiovascular benefits of exercise without the danger of balance-loss falls and exacerbating joint damage.
Further, most classic upright trikes have a seat clearance of 18 inches, which is much more comfortable for individuals who have arthritis in their knees.
All in all, triking increases muscle strength and flexibility, improves joint mobility, and betters posture and coordination. Increased heart rate through physical activity delivers a veritable treasure trove of mental and emotional benefits, and this exceptional form of exercise decreases stress levels and provides you and your loved one with continuing opportunities for social interaction.
Does Medicare cover the cost of adult tricycles?
According to the Assistive Technology Advocacy Project, because tricycling for adults and children can be 'therapeutic, and provide a host of health benefits that are not readily available through other medical interventions', three wheeled tricycles potentially meet the four-point criteria and fall within the category of Durable Medical Equipment (DME), and may be covered by Medicare.
To prevent surprise charges or unexpected claim rejections, Medicare suggests a letter requesting pre-approval be submitted prior to purchase, along with a very detailed letter of medical justification. Both of these forms can be sent in by the individual's physical or occupational therapist, as well as their primary care physician.
Does private insurance cover the purchase of an adult tricycle?
While private insurance varies from policy to policy, we were not able to find a single private insurance company or policy that would entertain coverage for adult or pediatric tricycles.
Summary
The purchase of an adult tricycle is an investment in the health of you or a loved one. This equipment is considered a long-term tool, so it is important to choose the trike that best suits your personal needs and riding style.
RehabMart is committed to providing the most useful information to make your search for the perfect trike painless and stress-free.
In addition to the catalog of products mentioned above, for even more information, please read our list of the 5 Best Adult Tricycles.
Want to learn even more? Find dozens of videos featuring products and caregiver tips like these at Rehabmart's YouTube channel!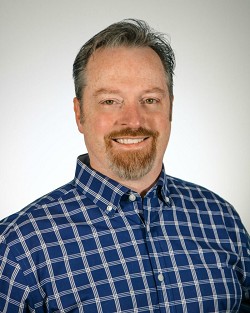 Author:
Co-Founder of Rehabmart and an Occupational Therapist since 1993. Mike has spent his professional career working in multiple areas of Occupational Therapy, including pediatrics, geriatrics, hand therapy, ergonomics and inpatient / outpatient rehabilitation. Mike enjoys writing articles that help people solve complex therapeutic problems and make better product choices.