Gait trainers are assistive wheeled devices designed to support individuals who have motor disabilities, and help them learn to walk.
Features to consider when choosing a gait trainer
Size: pediatric, young adult, or adult?
New findings in the field of neuroplasticity show potential for restoration and gains in motor skill development via activity-based therapies. Children with limited mobility or brain damage may struggle from birth to achieve certain levels of cognitive and physical development, but skill gain is possible, in spite of damage from conditions like spina bifida, or brain injury such as stroke.
Substantial improvements can be made in muscle strength and neuromotor control for walking through something called locomotor training. Although complete independence in walking may never fully be achieved, use of a proper sized gait trainer has yielded stellar results.
It is, however, important to make sure you or your loved one employs the correct size equipment! Success with a gait trainer is largely dependent upon working with the proper size tool, and taking your loved one's specific measurements into consideration when choosing that tool.
Measuring the user dimensions for a gait trainer would include the following measurements: height to elbow, user weight, chest circumference, and thigh circumference.
These measurements determine if the user would need a small (child), medium/medium-large (young adult), or large/extra-large (adult) gait trainer.
Framing: anterior, posterior, or full?
Anterior and posterior refer to the direction user's face in relation to their gait trainer.
Anterior means the gait trainer is in front of users as they move forward, with the help of ankle straps or prompts - much like a traditional walker.
Posterior means the trainer is behind the user and they hold on to handlebars, with ankle prompts attached to their feet as they move forward. (The posterior position is often a natural progression to independent walking.)
Full-frame gait trainers are the most versatile; harness systems allow the user to attach a multi-position saddle. These units are adjustable in various directions to accommodate the user's posture, and are readily adaptable for use in both anterior or posterior positions!
User mobility: ambulatory, semi-ambulant, or non-ambulatory?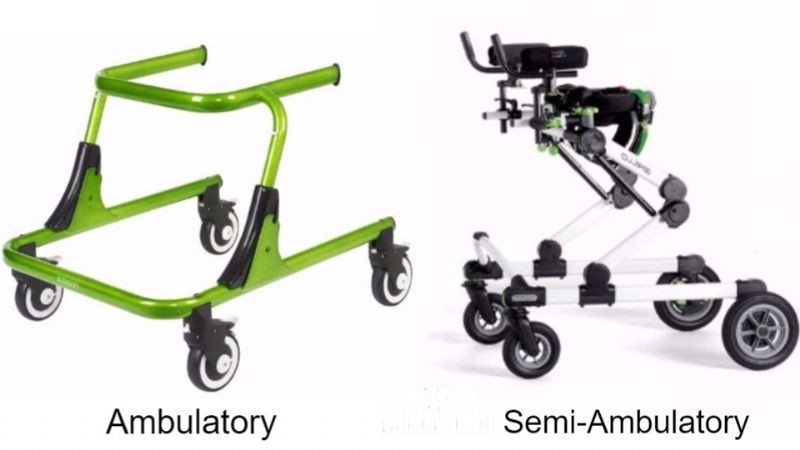 Gait trainers serve people with a range of mobility challenges. When evaluating this equipment, it is important to consider if user is ambulatory, semi-ambulant, or non-ambulatory.
A person who is ambulatory can walk with or without minimal assistance.
A semi-ambulant person is defined as someone who has experienced a permanent or temporary reduction in mobility, yet is able to walk with assistance.
A non-ambulatory person is unable to walk or stand without assistance, requiring comprehensive support to move about.
People who cannot stand independently, walk without assistance, or people who use a wheelchair will need accessories and attachments a person capable of supporting their own body weight will not need.
Features: custom or standard gait trainer?
Gait trainers range from $300 for a simple pediatric unit to more than $9,000 for equipment modified to suit a particular individual or customized for specific tasks.
For example, the Rifton Pacer Gait Trainer has more than 17 specific categories of customization, where most units simply offer size variations and few accessories.
Your physician or physical therapist should be able to provide specific product parameters when it comes to goals and results you seek to obtain from your gait trainer.
With information found in this guide and input from your health professional, you will be able to choose the gait trainer which best meets your needs!
Brands of gait trainers
KidWalk Dynamic Mobility System – These gait trainers serve children from ages 12 months to 12 years, with weight capacities up to 90 pounds. KidWalk systems are designed to be cheerful and fun, and they are available in seven kid-friendly colors including Shocker Green and Candy Purple.
Grillo Super Complete Special Needs Gait Trainer – The Grillo Super Complete expounds on the considerable diversity of user accommodations by offering four sizes which support children and adults up to 242 pounds! As far as sizing goes, this equipment is one of the most versatile gait trainers on the market.
LiteGait Mobility Frames - These trainers have a unique design: additional space between the support hardware and the user, allowing more room for users to move. The LiteGait also provides for healthier interaction with environmental surroundings, particularly for people who use their gait trainer for precise physical therapies.
Rifton Pacer Gait Trainer – This exceptional equipment combines the best features of several gait trainers, all in one unit! It has 17 comprehensive options for custom assembly, ranging from frame format to arm, chest, thigh, and ankle prompts. Supportive accessories are many, including communication trays, tote bags, and companion bases for utility and treadmill usage.
How could a gait trainer benefit me or my loved one?
Particularly if your child's walking challenge is a result of a dysfunctional musculoskeletal or nervous system, gait trainers can be an extremely positive asset.
Gait disturbances impact an individual's balance, posture, and alignment. Balance is a crucial element for simply living life, and impacts activities from feeding to dressing, from learning to playing, and interacting with peers.
Does Medicare cover gait trainers?
Gait trainers are frequently grouped together with walkers under Medicare guidelines.
Medicare Part B lists gait trainers as durable medical equipment (DME), but advises they must be "medically necessary" in order to receive coverage, in addition to being prescribed by a physician.
However, even though the Healthcare Common Procedure code lists a specific Medicare code for pediatric gait trainers (E8001), they caution the equipment may not be covered by Medicare, as they are considered a service not separately priced by Part B.
We recognize every person's situation is different, and advise you consult with your physician for information specific to you or your loved one.
Does private insurance cover gait trainers?
According to the websites of several private insurance companies, certain benefits plans cover gait training equipment if the following criteria are met:
They are proven medically necessary
Use will prevent additional medical complications
The individual has the potential for regular or therapeutic ambulation
However, they do not appear to cover accessories, as they are considered a convenience and not primarily medical in nature.
Please consult your own specific insurance policy for additional information!
Summary
The purpose of a gait trainer is to help a child or adult who cannot bear their body weight to stand upright. Then, if users can securely stand, gait trainers train users to bear more of their body weight, and take a step – eventually continuing taking steps until users are independently walking, with or without assistive equipment!
Balance, ambulation, strength, and endurance – these are all tangible benefits of gait training. Improvement with significant milestones, such as standing and walking, are achievable with the aid of the proper assistive equipment.
RehabMart is committed to providing educational information to help you make the best possible decision when choosing a gait trainer. For a more in-depth look at the best and most useful equipment, please read our review of The 5 Best Gait Trainers!

Want to learn even more? Find dozens of videos featuring products and caregiver tips like these at Rehabmart's YouTube channel!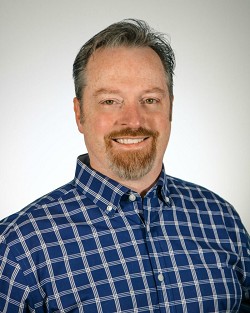 Author:
Co-Founder of Rehabmart and an Occupational Therapist since 1993. Mike has spent his professional career working in multiple areas of Occupational Therapy, including pediatrics, geriatrics, hand therapy, ergonomics and inpatient / outpatient rehabilitation. Mike enjoys writing articles that help people solve complex therapeutic problems and make better product choices.