Playground equipment is an umbrella term used to describe a variety of outdoor recreational equipment utilized by children for free play.
Although it is not likely to be the first item most customers think of when considering medical supplies and equipment, playground equipment plays a vital role in childhood development!
Playgrounds (and their associated equipment) offer children of all ages a chance to develop motor, social, emotional, and cognitive skills.
Because of the variety of playground equipment available, choosing the best product can understandably seem like a daunting task. This article will provide you with several features and considerations to help you make the best choice!
Features to consider when purchasing playground equipment
Equipment location: how much space is needed?
Perhaps the most obvious consideration to make when purchasing playground equipment is the amount of space available to you. Whether you plan to place the product in a backyard, a park, or a school setting, spacing is one of the most common limitations.
Fortunately, the majority of products—particularly products that require more space, such as swing sets or play forts—provide customers with precise dimensions of surface area required for their optimized use.
Therefore, customers are encouraged to measure the dimensions of the area in which they plan to place the playground equipment prior to making a purchase.
Age recommendations: elementary or adolescent?
Naturally, not all playground equipment is advised for young children to use. With this in mind, most products provide customers with age recommendations for their use.
While some products (swing sets with child seats) can be used by most ages (with adult supervision!), other products are better suited for older children or adolescents.
The Triple Horizontal Bar system (pictured above) effortlessly combines a variety of coordination and strength skill levels while giving kids a tool to use either one at a time, or as a group. Encouraging children to exercise upper body strength, the horizontal bars let kids begin closer to the ground, eventually working their way up to the tallest bar.
Climber Challenge Playground Equipment is a rock wall designed for users ages 5 - 12. Created to help children build coordination, strategic thinking, and a sense of confidence, this playground addition is the perfect choice for anyone looking to stimulate a sense of adventure in children while providing them with a tool that will challenge them over the years.
The Pediatric Junior Playground Slider is a wonderful item for children ages 2 - 5 who aren't quite big enough to safely maneuver higher, longer playground slides. With handlebars to ease assent and high sides during descent, this product is loved by adults and little ones alike.
Customers should consider the age of the children who will use the playground equipment to ensure it is appropriate and safe to use.
User considerations: limited mobility or no physical limitations?
Many times, playground equipment is designed to bear special considerations for young users. These considerations include wheelchair accessibility and safety harnesses for extra support (among others).
In some special cases, playground equipment is designed specifically for use by these young patients. For example, some swing sets make use of platforms on which wheelchairs can be locked, allowing children to swing. This Wheelchair Swing Platform is a great option for users who call wheelchairs their primary mode of transportation!
Equipment style and personal preferences: what is needed and wanted?
Playground equipment, as you might imagine, is a rather general term that covers a large selection of different product types, and every child has their own preferences regarding what playground equipment they enjoy most.
Before making a purchase, it's important to consider what specific type of playground equipment would be most appreciated by the children who will use it. Also consider the benefits and outcome of each individual product, and how it could help encourage skill-building in needed areas.
Among the my options, some types of playground equipment includes slides, swing sets, hand-over-hand bars, play forts, spring rides, and see-saws.
Cost considerations: make an investment, or purchase economically?
Pictured: S-Horizontal Ladder
As was previously noted, RehabMart's category of playground equipment includes a wide variety of products (220, to be exact!). This variety allows for a wide range of costs and features available to searching customers.
If you are the superintendant of a school and looking to create a recess area where young children will play on a daily basis, your process of selecting playground equipment will look noticeably different than if you are a parent seeking a way to add variety to their child's backyard.
Standout products in playground equipment
The selection of playground equipment available from Rehabmart is notably large and diverse. Whether you are looking for a small piece of entertaining equipment or an entire playground-in-the-making, Rehabmart offers safe, reliable products from trusted manufacturers such as THF, Jensen Swing Products, Future Play, and SportsPlay Enterprises. Below is just a small selection of some of the top-selling and highest rated pieces of playground equipment available from Rehabmart.
TFH Swing Frames for Playground Equipment – Considered by customers to be one of the most cost-effective options in playground equipment (particularly among swing sets), this swing set boasts the ability to support the weight of almost any age group! Available with one, two, or three swing bays—capable of bearing 280, 550, and 840 pounds, respectively—this swing set is easy to customize to the customers' exact needs. The swing set also offers customers the option of using high-backed full-support swing seats for the safety and comfort of those who use it.
Future Play, Inc's Fort Nelson Playground Set – This play fort offers something for everyone, as it features a 10-foot slide, climbing ladder, tic-tac-toe board, and two sets of hand-over-hand bars or swing arms (depending on the model chosen). Additionally, for those who purchase the model with swings, seat belts can be included for the swings at no additional cost to the customer. As a modular playground set, Fort Nelson can be customized at will to include extra tubes, bars, towers, and various other features. This customizability, paired with a low cost relative to many other models, makes Fort Nelson one of the most popular playground sets available.
SportsPlay Equipment's Tot Town Sailboat Sandbox – Perhaps one of the most unique and creative pieces of playground equipment, this sandbox helps to stimulate the imaginations of those who use it. The sandbox lies in the center of a miniature play fort shaped in the form of a 9 x 5.5 foot sailboat. Customers widely praise this sandbox for being simple, safe, and inexpensive, compared to several other product options.
What else do I need to know about playground equipment?
Playground equipment serves a pivotal role in childhood development, allowing children to establish and develop social and motor skills, as well as emotional and cognitive understanding. Interacting with other children and using playground equipment for physical activity and exploring the imagination is a developmental necessity for children and adolescents, as they use these interactions to hone their creativity, reasoning, and dexterity.
Products such as swing sets, hand-over-hand bars, and slides can be effective for keeping young ones physically active, while play forts and playground games can help develop cognitive and creative skills.
Depending on the age, size, and preferences of the child or children for whom you are caring, certain types of playground equipment might be more or less ideal than others. For example, swing sets designed for young children will typically be outfitted with safer, more secure swing seats than those intended for adolescent children.
Fortunately for customers, the majority of playground equipment is available with different sizes and formats to accommodate different demands. Manufacturers understand one customer might be arranging a playground while another customer might be simply looking for a one-bay swing set; and because of this, most products feature various sizes and customization options.
How would playground equipment benefit my child?
Activity through the use of playground equipment has a positive impact on the development of social, motor, emotional, and cognitive skills in children. Therefore, playground equipment can provide your loved one with a tool to remain active and engage their imagination, while having a great deal of fun in the process.
Does insurance cover the cost of playground equipment?
As you might imagine, playground equipment is not covered by any insurance policies. Even equipment designed to accommodate patients in wheelchairs will need to be paid for out of pocket.
Fortunately, the broad range of playground equipment (and associated prices) allows customers the option to purchase playground equipment, even if they are on a tight budget!
Rehabmart is here for you every step of the process of finding the best piece of playground equipment for you - from researching products to having them delivered to your front door!
Browse our extensive playground equipment catalog, and read more about products for sensory stimulation in our article, The 5 Best Auditory Stimulation Toys!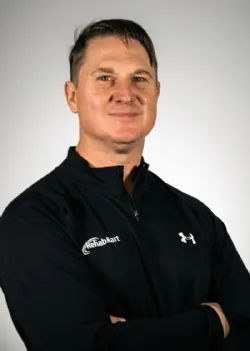 Author:
Co-founder/CEO of Rehabmart, Pediatric Occupational Therapist, husband, and father. Passionate about connecting special needs kids with superb nutrition, sensory integration, and complementary health strategies. Excited about Rehabmart's mission to become the premier online educational platform which empowers caregivers by spotlighting innovative devices and interventions to achieve optimal patient response and recovery.