Pool lifts are assistive aquatic access devices, designed for people with limited mobility or disabilities who otherwise would not have access to a pool or spa.
Features to consider when choosing a pool lift
Disability support: mild or severe?
All pool lifts offer transitional support both into and out of the pool. For individuals with more mild disabilities such as arthritis or weakened lower bodies, additional support devices such as head or foot rests may not be necessary for entry and exit.
This said, many pool lifts are designed for people who do not have a full range of motion, or who may not have comprehensive control of their limbs. These folks would benefit from a lift chair with a back, armrests, neck and leg support, and a secure belting system.
Weight capacity: standard or bariatric?
All ADA-compliant pool lifts support a minimum of 300 pounds, but several of our recommendations are designed for bariatric use - up to 450 pounds.
Location: portable or fixed installation?
Despite being a frequently utilized resource at public pools, some customers may prefer a pool lift that doesn't require permanent installation. These individuals often choose lifts which can be moved and stored when not in use.
Others prefer a unit that can be installed one time in one affixed location, and then used at any moment - no setup or transportation required.
Aesthetic: subtle or sophisticated?
Pool lifts come in a variety of styles, and many are sleek, stylish, low-profile options that won't overwhelm the tranquility of your pool deck. Other pool lifts, by nature, take up a bit more space.
Design details such as rotating systems and lift installation permanence all make a difference when considering the aesthetic of your pool lift. For individuals desiring greater support when using a lift, take additional features into consideration, as they will translate visually.
Power source: manual, hydraulic, or battery-operated?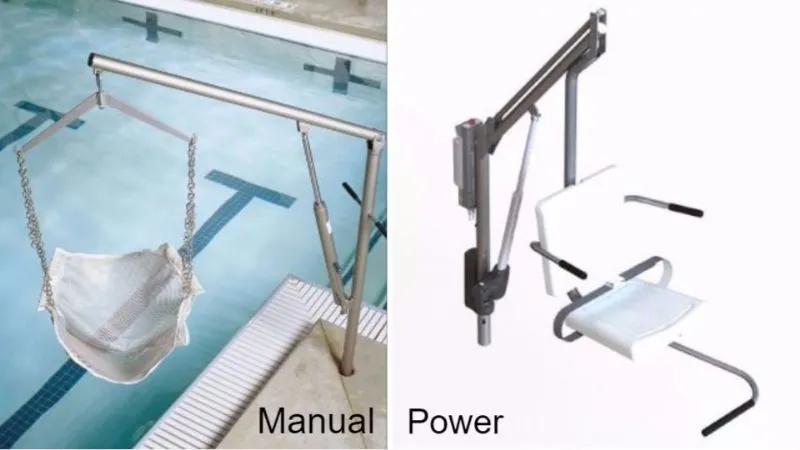 In determining the power source operating your pool lift, there are three options: manual (hand crank), hydraulic (harnessing water pressure from the pool), or battery-operated.
Portable pool lifts are always battery-powered, due to their self-contained design, and will recharge between uses when plugged into a power source. Permanent lifts are either water powered or battery-powered, with a select few operating fully by use of manual strength.
If batteries in the pool lift are properly cared for, they can last up to 5 years.
Brands of pool lifts
The RehabMart Pool Lift and Handicap Access for Swimming Pools & Spas catalog includes a wide selection of quality lifts from reputable manufacturers such as Aqua Creek, Joerns, Spectrum, and Global Lift.
Our in-depth report, 5 Best Pool Lifts, details the advantages of models like the Pathfinder, Ranger, and the Global Rotational Series 450A.
Here are a few of our top-rated pool lifts, and what sets them apart:
The Hoyer Swimming Pool Lift is a customer favorite and Rehabmart's top seller. It is also one of the least expensive fixed lifts in our catalog! This lift features a weight capacity of 400 pounds, and has a sturdy ground-mount that's easy to install. Customers report it works well, and provides excellent value for the price.
The Global Rotational Series 450A Pool Lift is designed for both private and commercial use. It is ADA compliant. It has a unique anti-pinch linkage system, armrests, footrests and a secure belting system. Although it is considered to be expensive, and a luxury pool lift, it accommodates an exceptionally wide range of disabilities, including muscular dystrophy and multiple sclerosis.
The Aqua Creek EZ Pool Lift is a fixed, manual pool lift. It has 360-degree manual rotation, and a unique turning bar allowing for both independent and assisted use. This lift is a fixed-mount lift and has the capacity to be mounted to a pool deck or permanently affixed to a dock. The versatility and relatively inexpensive price of this lift make it a great choice for most users.
Who needs a pool lift?
Pool lifts are the perfect tool for facilitating aquatic therapy.
Aquatic therapy is a form of water-based exercise which removes the gravitational forces impeding rehabilitation efforts, and allows patients to experience improved range of motion, faster rehabilitation from injuries, and reduced inflammation amongst tender joints and muscles.
In fact, most hospitals and medical centers, such as the Baylor Institute for Rehabilitation and the University of Rochester Medical Center, build entire restoration programs around aquatic therapy.
Access to this extraordinary therapy was revolutionized by the advent of pool lifts. Different models of pool lifts provide varying degrees of assistance: some have simple, easy-to-operate hand controls for independent use, while others require the assistance of a caretaker.
But whichever pool lift an individual decides is best for them, water therapy is exceptionally beneficial for a wide variety of people. This includes people who suffer from arthritis and joint pain, knee, foot, ankle or spinal injuries, and musculoskeletal disorders.
This form of therapy is also ideal for people who require an effective, low-impact cardiovascular workout, or desire to improve their balance and gait.
What do I need to know about pool lifts?
For starters, understanding how pool lifts work will help you choose the one that's right for you! Pool lifts are designed to be safe and easy to use. Some models can be used independently with hand-held, computerized controllers; a few are available with solar powered accessories.
That said, most of our recommended lifts operate with a hand-crank system that involves the help of a caregiver.
Proper installation and setup of both portable and fixed pool lifts can be tricky, so we recommend that you seek professional assistance.
All pool lifts have durable seats; some are constructed with sturdy mesh, and others with firm, modular plastic. Different models are easily customizable with headrests, footrests, arm supports, and padded lumbar back supports.
The diversity of your pool lift is primarily determined by the lift arm. The lift arm is responsible for transferring you - while you remain seated in the sling seat or the modular form seat - from the deck into the water.
It is vital to consider the weight capacity of different models of pool lifts when choosing the one that is right for you, as they tend to vary considerably.
The majority of pool lifts are designed to work with in-ground pools, but not above-ground pools. (The Aqua Creek Revolution and the Super Power EZ are two examples of outstanding, quality lifts that work well with above-ground pools and spas.)
Commercial applications for pool lifts & the ADA
Until recently, lifts were not necessarily readily available for people who experience obstacles or struggle to enter the pool for exercise and water therapy. In 2013, a directive from the ADA – one with real teeth, a $75,000 non-compliance fine – mandated that people with physical disabilities must be provided with the same access to pools as every other citizen.
This directive meant hotels, community pools, spas, health centers, and resorts are now required to provide a fixed or portable pool lift to transfer people from the pool deck into the pool.
Most ADA-compliant lifts are powered by either electricity or batteries. There are a few that use water hydraulics; however, manual pool lifts that use a hand crank are typically not ADA-compliant.
Several of Rehabmart's top-rated pool lifts are ADA compliant, and suitable for commercial application.
I need a pool lift at home - but which features are most important?
When it comes to pool lifts, simpler is better.
First, you should decide if you want your lift to be fixed or portable, and then choose between manual, battery powered, or hydraulic. You will also need to know the clearance height of your pool to make sure the lift arm's swivel range can successfully boost you over and into the water.
Several private-use pool lifts we recommend will provide access to in-ground or above-ground pools and spas. Many can be used on a dock to allow access to boating, fishing, and other lake activities.
Fixed lifts are a bit less versatile, but have a far more generous weight limit - typically up to 450 pounds. The required setback can vary from a few feet to up to ten feet.
However, they cannot be stashed out of sight when not in use or moved from your pool to your jacuzzi or spa.
Portable lifts are more diverse; they are usually on wheels and can be removed when not in use, providing a more serene pool deck aesthetic. Portable lifts can also be moved around on your lanai, from the pool to the jacuzzi.
Portable lifts have a less generous weight limit, often capping support at 300 pounds.
Does Medicare or private insurance cover the cost of pool lifts?
While Medicare often covers chair, stair, and power bath lifts, when it comes to aquatic therapy, it is nearly impossible to obtain coverage for an at-home pool lift.
Aquatic therapy (CPT code 97113), while technically a covered service with Medicare, is only offered after you or your loved one has tried and failed land-based therapies. When approved, Medicare will often cover up to 12 sessions of lift-assisted aquatic therapy with a licensed therapist in an approved facility.
Some private insurers cover the cost of water therapy, but again - only in a licensed facility. Private insurers normally require prior authorization for these treatments, so please consult your therapist or physician for information specific to your personal circumstances.
Additional resources
For safety's sake, aquatic therapy at home requires the use of a pool lift.
The purchase of assistive equipment can be the first step toward a better quality of life for people who suffer from disabilities, and open the door to experiencing the joy of swimming and aquatic therapy.
RehabMart is committed to making your journey towards health and happiness as smooth as possible, and we've compiled the most valuable and beneficial resources available.
You can find in-depth information on specific pool lift models in The 5 Best Pool Lifts!
Want to learn even more? Find dozens of videos featuring products and caregiver tips like these at Rehabmart's YouTube channel!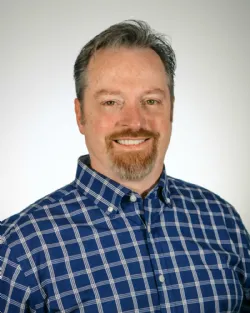 Author:
Co-Founder of Rehabmart and an Occupational Therapist since 1993. Mike has spent his professional career working in multiple areas of Occupational Therapy, including pediatrics, geriatrics, hand therapy, ergonomics and inpatient / outpatient rehabilitation. Mike enjoys writing articles that help people solve complex therapeutic problems and make better product choices.