Although most people may think of walkers as a tool for the elderly, they can provide excellent mobility assistance for people of all ages. Specifically, children and teens living with disabilities or recovering from illnesses utilize walkers to safely and easily move through the world.
Pediatric walkers are designed somewhat differently than those made for adults. In addition to coming in smaller sizes and bright colors, pediatric walkers often include advanced adjustability to better accommodate growth and changing needs over time.
Walkers for children with special needs provide secure ambulatory support for kids of all ages as they walk in various indoor and outdoor environments. These mobility devices may have no wheels, two wheels, or four wheels, and come in both walker and gait trainer configurations.
Most quality designs offer a comprehensive selection of support accessories, such as trunk and pelvic straps or pads for postural support, forearm supports to keep the arms in the correct position, and ergonomic handles to ensure a healthy grip for smaller hands.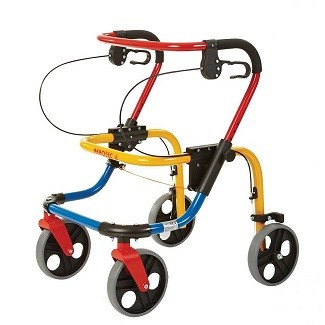 Who Uses Pediatric Walkers and Gait Trainers?
Because the human body functions best when it's upright and able to bear weight when walking or standing, these are activities you want to encourage your children to perform on a regular, daily basis. When children need help with standing or walking due to any number of disorders, conditions, and disabilities, it's important to provide them with supportive devices like walkers and gait trainers so they can enjoy the multiple health benefits upright mobility offers.
It's always recommended to talk with your child's doctor or care team to determine the best walking aid. In addition, here are a few important questions to consider to help narrow your choices:
Will the walker/gait trainer be used at school, at home, and indoors or outdoors?
How much support does my child require?
Exactly where is the support needed?
Does my child have a stepping pattern?
Is this stepping pattern affected by scissoring (crossing legs at the ankles)?
How does my child's increased or decreased tone affect stepping patterns?
Is my child motivated to walk?
Children who aren't walking unassisted by the age of 2 or 3 may benefit from the use of a walker, as long as they can walk with handheld support. Any ambulatory kids who need to strengthen leg muscles, or need help with alignment, stride, cadence, and step length can also find great developmental assistance with a walker or gait trainer.
Youngsters living with cerebral palsy, spina bifida, and other developmental disorders rely on these walking aids daily, as do those with musculoskeletal impairments, such as osteogenesis imperfecta and myelodysplasia.
Walkers vs Gait Trainers: What's the difference?
Walkers, also known as rolling walkers, walking frames, rollators, and standard walkers, are also sometimes referred to as gait trainers. While they may offer similar features, walkers and gait trainers are used for different stages of walking ability, especially when they're used by children and teens.
Walkers - Pediatric walkers are designed for children and teens who are able to fully bear their own weight, and can take at least a few steps with assistance. The walker is intended for use as a support for balance while standing or walking, and come in options that have no wheels, two wheels, or four wheels.
Gait Trainers - Pediatric gait trainers are designed for children and teens who can only partially bear their own weight, requiring added stabilization and assistance to stand or walk. These devices utilize a diverse assortment of specific supports for the trunk, pelvis, and forearms to facilitate safe and posturally correct mobility. They're almost always wheeled, at least partially.
It's important to note that some pediatric walker models offer standard or optional supports that enable them to be used in a manner similar to a gait trainer, which can then be removed as the child or teen improves. However, if the young user's needs are more intensive, it's generally recommended to start with a gait trainer that offers more comprehensive support, switching to a pediatric walker as evolving needs dictate.
With either a walker or gait trainer, there are certain abilities that must be present in order to provide a safe and secure mobility experience for the youngster. Children and teens who use walkers should be able to take reciprocal weight-bearing steps, while those who use gait trainers must have the range of motion (ROM) necessary to be able to take reciprocal steps. Both gait trainers and walkers require cognitive ability to steer and move the device toward an intended objective.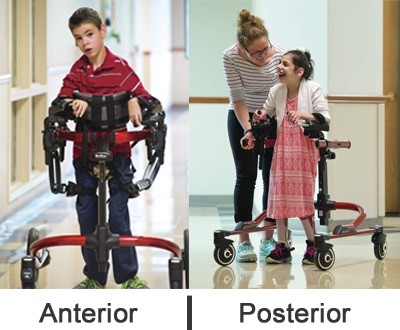 Anterior vs Posterior: How to Choose?
Both pediatric gait trainers and pediatric walkers are available in designs offering posterior or anterior configurations, with some models that can be used both ways. Anterior formats place the frame in front of the child, with the two sides and front enclosed, while posterior styles place the frame in back of the child, with the two sides and rear enclosed.
Anterior Walker or Gait Trainer - Often advised for children who need more support while standing or walking, anteriorly designed gait trainers and walkers provide forward-leaning stability for young users unable to maneuver posterior designs that support from the back. The front-leaning support position facilitates stepping and moving forward, and the open back design facilitates easier transfers.
Posterior Walker or Gait Trainer - Posteriorly designed walkers and gait trainers generally provide better posture alignment control for the children able to use them. They tend to increase walking velocity, decrease double stance time, and promote healthy, upright posture. Posterior walkers and gait trainers often require less exertion on the part of the young user, and are frequently preferred by children for the comfort and open front accessibility they provide.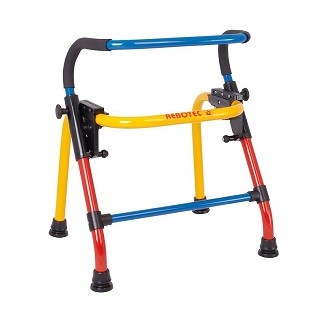 Should I Choose a Standard or Wheeled Walker?
Also known as rollators, wheeled walkers come in several models to specifically meet the unique needs of each user. They usually include hand-brakes to better control stoppage, and may offer locks on the casters or tires for more dependable stationary use.
Standard walkers do not have any wheels, instead using rubber tips on the bottom of each leg to provide traction for walking support. They require arm strength to be able to pick the walker up with each step and move it forward. Some pediatric walkers, known as glider walkers, combine two-wheeled front legs with two standard back legs, combining easy rolling mobility with more reliable, stoppable traction.
Two or four-wheeled designs are the preferred choice for most young users with ongoing special needs or more extensive requirements, as they are easier to maneuver and offer more helpful benefits for positioning and posture control. Standard, non-wheeled designs are better suited for short-term disability, recovery from illness, and during more minor physical rehabilitation following an injury or surgery.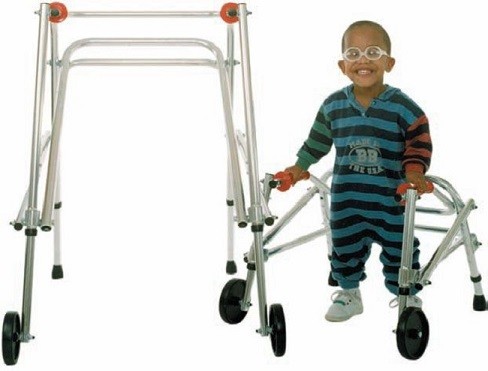 Height and Weight Considerations
As we mentioned in the introduction, the vast majority of pediatric walkers and gait trainers allow for height adjustment, enabling the use of the same device for several years as your child grows or their needs change over time.
Because these mobility devices not only provide walking assistance, but also act as physical rehab therapy tools, it is crucial that the right height is used at any given time for your growing child. If kids or teens are slouching forward because the height of the handles and frame is too low, or the handles are too high, causing incorrect positioning, it can cause or reinforce bad postural habits, causing pain and discomfort.
It's also important to ensure the walker or gait trainer will safely accommodate your child's changing weight range. It's advised to add 15 to 20 pounds to your child's current weight in order to choose a device that will continue to be safe for them as they get bigger. If your child's weight is at the upper end of a weight range for that walker or gait trainer, choose the next larger size. It is always better to have one that may be a little too big, than one that may collapse under the weight of your child!
Quality manufacturers will have sizing charts and guidelines to ensure the perfect fit for each child. Be sure to peruse all of these walker and gait trainer guidelines, and take your child's measurements before making your final selection.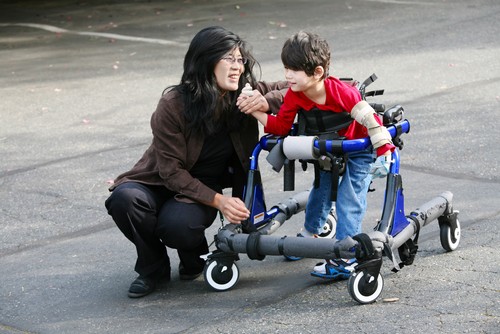 Supportive Features
The considerable array of support features available on rolling walkers and gait trainers ensures that every child will be able to find a walking aid well suited to their unique requirements. Some of these amazing components include:
Seats - Choices include with or without seats, and different types of seats, such as a solid style or a sling style. Most flip up or out of the way when not in active use.
Pelvic positioners - Specially designed belts, pads, and straps for lateral positioning of the pelvis and hips. Helps keep the user in a posturally correct position.
Trunk positioners - Helpful positioning supports for the trunk keep it in a healthy, upright position, and provide stability for the young user while ambulating.
Forearm supports - Used on both anterior and posterior walkers and gait trainers to provide a comfortable support for the arms, and keep them in posturally-correct positions.
Braking systems - Enable the user to slow or stop movement safely, almost always located near the hand-grips for easy accessibility.
Swivel casters - Swiveling casters enable better maneuverability and turning. Casters or tires may be lockable for added stationary security.
Anti-tip and anti-rollback - Many rolling walkers, and especially gait trainers, include anti-tip capabilities, and/or anti-rollback formats, resulting in safer use.
Hand grips - Ergonomic, padded, and carefully designed handles ensure proper hand positioning and a comfortable grip.
Additional helpful features to look for include the weight and collapsibility of the device, which will make it easy to transport in vehicles or airplanes, its durability and strength of construction, and swing-away or removable components that make it easy to customize to the child's daily changing needs.
Frequently Asked Questions
What is a reverse walker?
A reverse walker is another name for a posterior walker. These walkers leave the front of the user open, while providing support from behind.
What is the difference between a walker and gait trainer?
The main difference is that a walker requires the user to have full weight bearing ability, while a gait trainer only requires the user to have partial weight-bearing ability.
Gait trainers are used to help users regain weight-bearing function, with many kids able to 'graduate' to the use of less intensive walkers during the course of their therapy development.
What is the proper height for a walker?
To measure someone for a walker, start by having them stand up straight with shoes on, allowing the hands to naturally hang at the sides. Measure the length from the crease of the wrist to the floor, and this result will be their perfect handle height.
Recommendations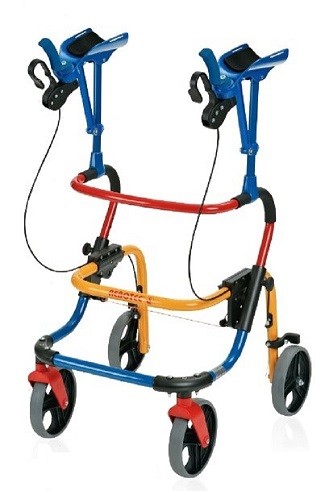 Summary
Pediatric walkers are available in all sorts of designs including standard, four-wheeled, and two-wheeled models for versatile support. Walkers with or without wheels are well-suited for kids with full weight-bearing ability, while gait trainers are better for youngsters who have only partial weight-bearing ability, typically featuring greater positional supports than walkers, although this is not always the case.
Once you talk with your child's physician about the best type for her/his special needs, use the tips provided in this article to guide you in the features and design aspects so you can choose the best possible walking support for your best, special child.
For more information about all the great products available to support kids with special needs, come check out the special needs category at Rehabmart.com. And, for more helpful tips and tricks like these, visit Caregiver University, your source for all the best caregiving information.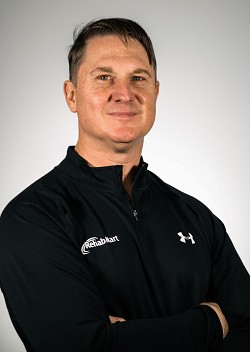 Author:
Co-founder/CEO of Rehabmart, Pediatric Occupational Therapist, husband, and father. Passionate about connecting special needs kids with superb nutrition, sensory integration, and complementary health strategies. Excited about Rehabmart's mission to become the premier online educational platform which empowers caregivers by spotlighting innovative devices and interventions to achieve optimal patient response and recovery.