Want to get your heart rate up and your muscles burning without leaving your home? Pedal yourself to good health with an exercise bike to help lower your risk of heart disease, cancer, obesity, and overall mortality.
A stationary bike is an efficient way to burn fat and calories while strengthening your muscles, heart, and lungs. You'll get an excellent aerobic workout without putting the stress on your joints that can occur with other cardio exercise equipment.
The Top 5:
Our #5 pick is the Spirit Fitness CR800 Recumbent Stationary Bike from Philips Medical. It focuses on comfort and convenience, which encourages sustained use to achieve long-lasting benefits.
This semi-recumbent bike is a comfortable alternative to traditional cardio equipment. It has an adjustable seat covered in high-density foam padding, and the pedals are also padded to decrease stress on your feet. The pedals have a 2-degree inversion angle to align your body in the optimal position.
This exercise bike tracks your heart rate with an integrated bar graph displayed on the console. It also calculates your projected heart rate, which is one of the best ways to measure your workout. It even has a cooling fan to keep you from overheating so you can extend your workout.
The heavy-duty 30-pound flywheel system creates more revolutions per minute than many other models, with 40 levels of magnetic resistance. The generator that powers the console allows you to put this stationary bike anywhere, as it doesn't need to be placed near an electrical outlet. When you do want to move it, wheels on the front floor support allow you to tilt the front end and roll it where you want.
The heavy gauge high-strength steel frame has a lifetime warranty, and it can accommodate riders up to 450 pounds.
This exercise bike made our list because so much of its thoughtful design is focused on creating a piece of equipment that will be used. With an eye on comfort, this bike's touches - from padded pedals to a cooling fan - eliminate a lot of excuses not to hop on it and make it a part of your daily routine. Its 40 levels of resistance and high weight capacity make it a good fit for any point on any user's fitness journey.
Features and Benefits
Adjustable seat with spring-loaded handle
Displays heart rate and targeted heart rate for efficient workout
Does not need electricity
Padded pedals for foot comfort
Seat features high-density foam padding for a comfortable ride
Customer Feedback
Pros
The seat setting proper alignment makes workouts much more effective
Ergonomic design puts less stress on back, knees, and joints
Comfortable, sturdy bike you'll want to keep using
Excellent warranty
Cons
Assembly required
Accompanying instruction manual can be confusing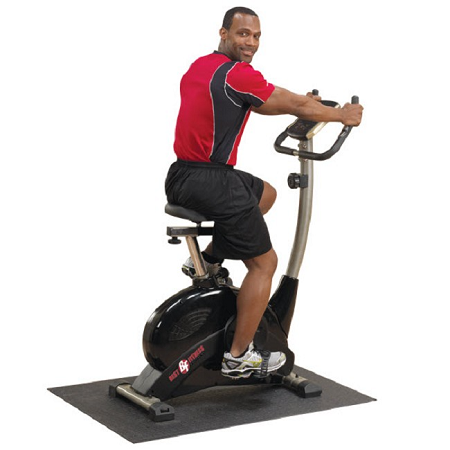 With a 2-way adjustable seat for rider comfort, the Best Fitness Upright Bike by Body-Solid has been chosen as the #4 exercise bike on our list.
This stationary bike has eight resistance settings and it's not complicated to operate. It's an excellent option for older people or anyone who isn't comfortable dealing with a lot of technology. Its compact and extremely stable design also makes it a good option for seniors who are at risk for falls.
Requiring no electricity, it can be positioned anywhere in your house, and it has transport wheels to make it a cinch to move. Its five-panel LCD display monitors pulse and heart rate when the contacts are gripped on the grab bar. The speed, time, distance, and calories burned can be called up, but it's not necessary if you just want to get on and ride.
This bike is a simple piece of equipment that can help address hip, knee, and ankle discomfort, or support recovery from orthopedic injuries at a rider's own pace.
From easy to intense, this exercise bike will deliver the workout that supports your fitness goals. It is one of our favorites because it is so user-friendly and simple to operate, and it has a very attractive price point for anyone seeking a solid, uncomplicated piece of equipment that can be relied on to deliver an effective, no-frills workout.
Features and Benefits
User friendly for beginners or those who are not tech-savvy
Compact footprint that doesn't take up much space
Extremely stable
Eight levels of resistance
Comfortable padded seat that's adjustable to fit any rider
Customer Feedback
Pros
Smooth and quiet
Great value for the price
Older riders can be confident getting on and off this stable bike
Transport wheels make it easy to move out of the way
Simple to use
Cons
The pedal tension is not as tight as expected
Very basic model that might not have the features advanced users want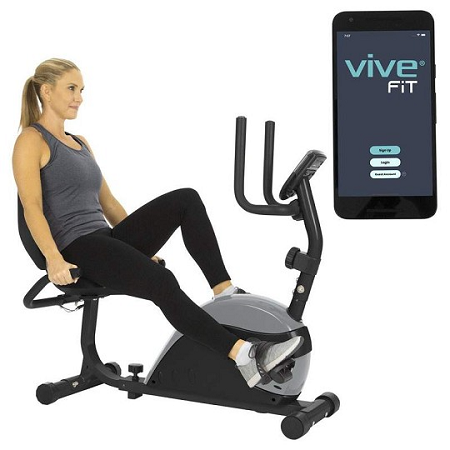 Offering access to fitness-tracking software through its mobile app, the Stationary Recumbent Indoor Exercise Bike from Vive Health can provide unique support as you strive to meet your fitness goals. This feature-packed exercise bike also provides an element of coaching via the training videos in the mobile app.
The low impact cardio workout this step-through recumbent bike delivers is easy on your back and your knees and the bike can help you maintain your posture during your workout while minimizing fatigue and strain. The easy-to-read LED screen displays speed, distance, calories burned, time, and revolutions per minute plus real-time feedback on your heart rate via handlebar sensors. When you reach your targets, the bike has a recovery mode to properly cool down.
From challenging to relaxing, the available workout options with this bike's 8 levels of magnetic resistance will meet the needs of any rider. It has a steel frame, a composite seat with comfortable foam padding, and it has a weight capacity of 220 pounds. The seat is adjustable and can accommodate riders 5' 2" and taller. The pedals have adjustable loops to keep your feet from slipping.
This exercise bike has landed in the top 3 of our list because of the effective low-impact workout it provides and the added monitoring and coaching features of its mobile app. It also has an attractive price point, which adds to the value of this stable, comfortable stationary bike.
Features and Benefits
Displays real-time feedback
Challenging workout from home
Recumbent design is easy on the joints and shores up proper posture
Padded seat for maximum comfort
Built-in heartrate monitor
Customer Feedback
Pros
A great workout that doesn't put stress on the knees
Very quiet operation
Easy to assemble with included tools
Compact and easy to move
Doctor recommended
Cons
Would like it if it accommodated larger riders
Have to put it together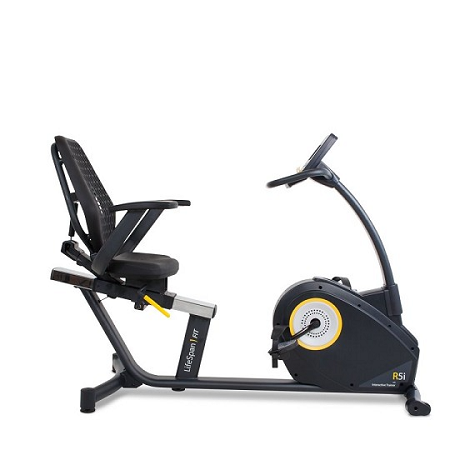 Nearing the top of our list at #2 is the highly adjustable self-generating R5i Stationary Recumbent Self-Generating Exercise Bike by LifeSpan.
The oversized seat, molded armrests, lumbar support, adjustable-height seat, and adjustable vented backrest combine to create customized support to ensure proper posture for the best results. It generates its own power, so is not tethered to an electrical outlet, and its transport wheels make it easy to move.
The 40 available programs were designed by physiologists to maximize your workout. The armrests have integrated heart rate sensors to track your heart rate while your arms are supported comfortably and naturally. The breathable seatback doesn't get in the way of cool airflow, making your workout more comfortable. Controlled through the dashboard that has a multi-color LCD display, this bike provides readouts for easy monitoring of your program name, date, time, duration of workout, calories burned, revolutions per minute of the flywheel, distance, heart rate, speed, resistance level, and watts.
Its 40 embedded programs include 4 for heart rate, 10 for weight management, 10 for health living, and 14 for sports training. There are 2 available custom user program slots to save your individual plan. Bluetooth compatible, the R5i will synch your results with your favorite fitness app.
The 16-pound flywheel guarantees smooth pedaling for users, who can weigh up to 400 pounds. The stable frame comes with a lifetime warranty from the manufacturer.
With so many settings to customize your workout, so many adjustable options to create the most comfortable user experience, and so much information that can be shared via Bluetooth to your favorite fitness tracking app, this stationary bike will get you on the road to reaching your fitness goals.
Features and Benefits
Custom fit from multiple adjustment options
40 settings
Support from padded seat and ergonomic armrests
No need for power cords or batteries with the self-generating power system
Self-generating power system eliminates the cost and hazards of cords and batteries.
Customer Feedback
Pros
Great low impact workout for rehabilitation
Helps with weight loss and improving general cardiovascular health
Hardy enough to stand up to commercial use
Smooth pedaling
Cons
LCD is not a touchscreen
Chest strap for monitoring heart rate doesn't come standard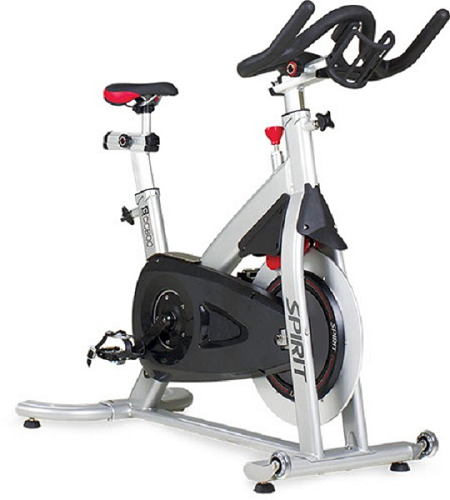 With a focus on performance, comfort, and durability, Spirit CIC800 Indoor Cycle Trainer by Philips Medical has been chosen as the best overall exercise bike for home use.
This upright bike's needle bearings that encompass the pedals and flywheel axle, industrial grade poly-v belt, and the 3-piece crank work together to create a durable high-performance piece of equipment.
The premium ISIS bottom bracket cartridge means there is more surface area contact, making the exercise bike very stable. The adjustable handlebars and seat, plus the SPD dual pedal design, provide a comfortable user experience.
Its Hutchinson drive belt, ISIS bottom bracket cartridge, pulley size and material, and gear ratio have been carefully chosen on the and incorporated into the overall design to ensure optimal performance and durability. The frame is ergonomically designed and it has full front, rear, left, and right availability.
Although packed with great features, this cycle trainer is compact. It can accommodate riders up to 350 pounds between 4'11" and 6'5". You can expect it to last for years. With magnetic resistance for prime operation and pop-pin up/down adjustment, it can create a comfortable workout for multiple users.
It has a quick stop brake within easy reach and boasts performance PVC-coated handlebars. Adjusting this stationary bike for a customized user experience is simple. The heavy flywheel guarantees smooth pedaling, while the double link pedals include toe-clip convenience so you can pedal faster. This machine is built for performance and durability, and it will deliver a commercial-level workout at home.
Features and Benefits
Smooth ride
Durable
Adjustable for comfort and security
Ideal for long term training program
Customer Feedback
Pros
Fits riders of just about any size
Full front/rear and up/down adjustability
Commercial grade exercise equipment
Doesn't take up a bunch of space
Cons
Can be intimidating for beginners
Would like these features in a recumbent bike rather than upright saddle
Features to Consider When Purchasing an Exercise Bike for Home Use
Choosing the right exercise bike depends on your reason for buying it. Rehabbing after surgery or injury could call for a different piece of equipment than a bike that will help someone lose weight or build endurance.
The other question that should be answered is what will motivate you to get on the exercise bike? Maybe it's an in-app coach, or a pre-determined program so all you have to do is jump on and pedal, or maybe you need a way to track your progress to stay inspired. Whatever stationary bike that will set you up for the best chance of success is the one that's right for you.
Usage
To lose weight or tone up, pick an exercise bike with different programs to keep you from getting bored. Get one with a comfortable saddle that's easy for you to mount and dismount so you stay motivated and use it regularly. A recumbent or upright style is appropriate, whichever is more comfortable for you.
If you're easing back into a sport, rehabbing an injury, or want to maintain your current fitness level, a basic stationary bike with manual adjustments and simple programs will be easy to ride and great for occasional use. A recumbent bike is probably going to be the most comfortable, but either style is appropriate.
For an athlete seeking to improve performance, a full-featured bike designed for intensive use with all the bells and whistles (lots of programs, heart rate monitor, coaching solution, etc.) is the way to go. An upright seat that simulates a traditional bike ride is most popular for this kind of training.
Pedaling
The weight of a stationary bike's flywheel is a major factor in comfortable, smooth pedaling. For joint comfort, a flywheel weighing at least 6 ½ pounds will prevent the pedals from jerking. The heavier the flywheel, the more smooth the pedaling will be.
Measuring Progress
All exercise bikes will indicate speed, distance, time, and average calories burned. More robust monitoring can include heart rate and goal tracking for weight loss or performance development. To get the most accurate heart rate reading, opt for a model with a heart rate strap. Some models offer customized workouts and coaching through the bike's console or a smartphone app to track progress and maintain motivation.
Comfort
The more adjustable a stationary bike is, the more you can dial it in for your own comfort. Saddles, recumbent seats, and handlebars that can be adjusted to put you in a more comfortable position will make it more likely that you use, and benefit from, your exercise bike.
FAQ
Which is better exercise bike or walking?
You can burn more calories by biking. For example, a fast walking speed of 4 mph burns 352 calories per hour, while a fast cycling speed of 19 mph burns 844 calories in an hour.
How long should I use an exercise bike for?
A good basic plan is to ride for 30-60 minutes, 3-5 days a week. Every ride should start with a warm-up of a slow easy pace for 5-10 minutes before boosting your speed to hit your target heart rate.
Can you lose weight by riding an exercise bike?
Yes! Riding a stationary bike is an excellent way to burn calories quickly for weight loss. Depending on your weight and how intense your biking workout is, you can burn more than 600 calories an hour on a stationary bike.
Summary
Whether you want to lose weight, increase or maintain your fitness level, train for competition, or enjoy a low-impact workout that's easy on your joints, a stationary bike is a great choice to meet your needs.
With choices from simple to high-high tech, recumbent or upright seats, and a wide range of monitoring options and fitness programming our list of top 5 best exercise bikes for home use highlights the best options at every level and price point.
The Spirit CIC800 Indoor Cycle Trainer topped our list because, although it can meet the needs of anyone at any level of fitness, it shines when serving people who are doing some serious training. Whether in preparation for some kind of competition or just racing against yourself to see how far you can push yourself, this exercise bike will help you get there. It is professional-grade equipment you can take home to enjoy a top-notch workout.
With so many options in the marketplace, you might enjoy digging deeper into what's available by viewing our full selection of exercise bikes. You should also plan to visit Caregiver University for more helpful articles!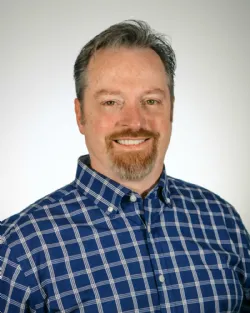 Author:
Co-Founder of Rehabmart and an Occupational Therapist since 1993. Mike has spent his professional career working in multiple areas of Occupational Therapy, including pediatrics, geriatrics, hand therapy, ergonomics and inpatient / outpatient rehabilitation. Mike enjoys writing articles that help people solve complex therapeutic problems and make better product choices.