To get the most out of your wheelchair, you need to be comfortable in it. Wheelchair seat cushions are specifically designed to help you maintain a comfortable and properly aligned body position. In addition to creating a more comfortable ride, wheelchair cushions reduce your risk of developing pressure sores.
Different designs, cover options, and price points provide a range of wheelchair cushions to choose from, each offering something that contributes to a comfortable user experience.
The Top 5:
With gel bladders that redistribute weight to fight off pressure sores, the number 5 entry on our list is the Express Comfort Contoured Gel Wheelchair Cushion by Comfort Company.
In addition to redistributing your weight, the four recessed gel packs will help regulate your body temperature and keep you cool. Choosing the best fit is an important consideration, and this contoured cushion is available in multiple sizes to serve a wide range of users. It has an outer layer made of Solace Fabric, which is the manufacturer's soft, fluid-resistant, and antimicrobial material. It will stay dry and won't have the odor some cushions develop from surface bacteria.
Conforming to your shape, the gel bladders remain in place even as you reposition yourself. The high-density molded foam wheelchair cushion helps mitigate skin irritation, macerations, and pressure sores while providing a comfortable and stable seating surface. This cushion is extremely durable and will keep its shape during extended use.
The cooling and weight redistribution properties of the gel packs, along with its durability and bacteria-fighting cover material, earned this contoured wheelchair cushion a spot on our list.
Features and Benefits
Fluid-proof for easy cleanup
Antimicrobial cover to ward off bacteria and odor
Fights pressure sores with weight distribution
Contoured to fit your individual shape
Cooling properties to keep you from getting overheated
Customer Feedback
Pros
Lasts a long time, holding its shape and look
Comfortable seat no matter how wide you need it
Contoured design ensures a good fit
Helps fight painful pressure sores
Cons
Padding is too thick
Doesn't come with a carry handle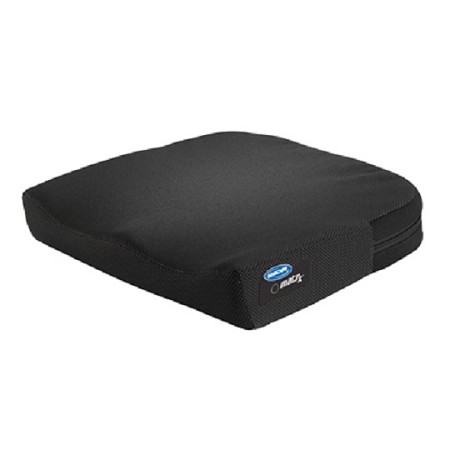 If you have a higher risk of developing pressure sores from sitting in your wheelchair for extended periods, the Matrx Vi Pressure Relief Breathable Cushion by Invacare at number 4 on our list is a solution designed for you.
The breathable outer layer promotes air circulation and the inner cover includes antiperspirant properties, so this wheelchair cushion helps keep your skin cool and dry. Maintenance-free, it is made of dual-density foam layers and it has a Visco-elastic foam insert, pre-ischial contour, beveled front end, and trochanteric shelf.
Its three-part foam construction is key to protecting your skin and reducing the risk of pressure sores. It is designed to accommodate wheelchair users weighing up to 300 pounds and it comes with a 2-year limited warranty. You can make modifications to maximize your comfort, and it features a cushion rigidizer that keeps the cushion from dipping in the middle. This cushion can extend the life of your wheelchair, eliminating the "hammock effect."
This breathable pressure relief cushion made our list for its support of wheelchair users who are at moderate to high risk for skin breakdown from sitting.
Features and Benefits
Visco-elastic foam insert, beveled front end, pre-ischial contour, and trochanteric shelf
Washable cover
Lightweight and won't weigh down your wheelchair
Three-part foam construction protects skin and reduces pressure
Outer cover is breathable and inner cover is moister-resistant
Customer Feedback
Pros
Durable and lasts a long time
Makes transfers easy
Very comfortable
Helps me maintain posture and position
Cons
Leg cutouts could be deeper
Seems narrower than anticipated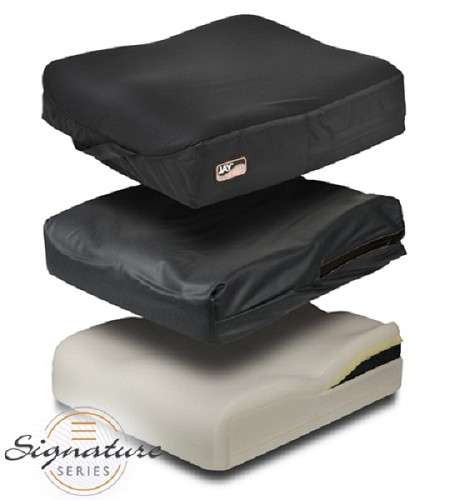 Our number 3 pick, the Jay Union Wheelchair Cushion by Sunrise Medical, facilitates proper pelvic and thigh positioning plus distributes weight to reduce the risk of pressure sores.
This contoured cushion for your wheelchair is constructed of dual layers of memory foam over a foam base that has an integrated fluid pad. While the memory foam contours itself without pushback to your shape, the fluid pad manages weight distribution so pressure points aren't stressed and your skin is protected. It has a pelvic loading area and lateral wedges which improve pelvic stability.
An innovative feature of this wheelchair cushion is it has two outer covers which promote airflow, reduce skin shear, and prevent mold-inducing moisture from reaching the foam layer. The machine washable cover utilizes X-static fiber, antimicrobial, silver-impregnated, and odor-reducing material. The cover's layer of breathable foam dissipates heat and moisture, and this heavy-duty protection extends the service life of the cushion.
The wedges that ensure lateral, anterior, and posterior pelvic stability plus the customized contour fit and protection against skin issues from pressure sores have landed this wheelchair cushion at number 3.
Features and Benefits
Inner cushion is protected by a dual outer cover
Lateral wedges for pelvic support
Comes in several sizes
Fluid insert conforms to users body shape
Evenly distributes pressure
Customer Feedback
Pros
Great for positioning while also protecting from skin shear
Posture and position support helps fight fatigue
Moderate contour with meaningful support
Doesn't smell bad after a short time of use
Helps maintain a healthy seated environment
Cons
Had expected it to arrive quicker
Gets warmer than expected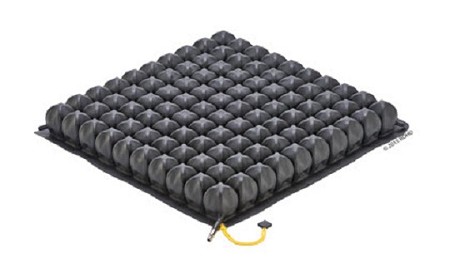 Coming in at number 2 on our list is the lightweight and portable Low Profile Single Compartment Cushion by ROHO Group.
For the best individualized fit, the cellular design of this lightweight cushion allows it to adjust according to your body shape and weight, and conform to your movements. Simple adjustments address the changes in position that invariably happen throughout the day. You don't have to leave the wheelchair to make postural adjustments, which makes this cushion very user-friendly.
Weighing only 2.5 pounds, this air cell cushion is easy to transport for travel to make mobility easier when the destination is reached. Its fire-resistant neoprene support pad can be patched if it's ever needed, which will extend its service life. For users with no or partial sensation that puts them at higher risk for skin breakdown, the patented technology facilitates blood flow by fitting, matching, and tracking the shape of the user.
This low-profile wheelchair cushion earned the number 2 spot on our list because it's portable and lightweight, and is a great choice for anyone who has limited or no sensation, which can create a greater risk for skin breakdown.
Features and Benefits
Posture adjustments can be made without leaving the wheelchair
Can be adjusted for shape, weight, and position
Body movements are tracked and the body shape is conformed by the cushion
Flame-resistant support pad can be patched to extend its service life
Facilitates increased blood flow
Customer Feedback
Pros
So convenient to be able to adjust without vacating the wheelchair
Easy to travel with
Low profile and low maintenance costs
Sits low in the wheelchair seat
Well made, expected to last
Cons
Would have liked set pressure gauge for repeatable pressure fill
Not as soft as expected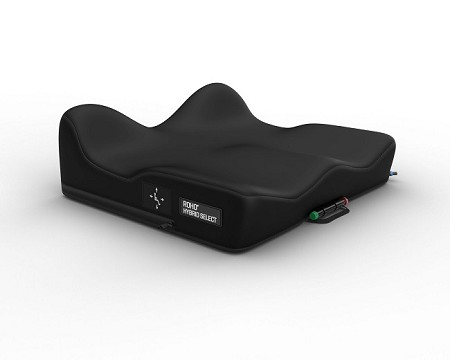 In the number 1 spot is the Permobil Hybrid Select Foam Wheelchair Cushion by ROHO Group, which provides unparalleled weight redistribution and exceptional comfort while protecting skin and soft tissue.
The combined foam and air technology of this all-in-one seating solution delivers customized positioning, skin protection, deep foam leg troughs, adjustable air cells, coccyx relief cut out, and optional offloading without added wedges. This wheelchair cushion's new cell design works with the deeper curves of the contoured foam base, increasing the contact area to reduce pressure points and prevent pressure wounds. The air can be set at specific levels in the dual-zone overlay and the removable ischial tuberosities air insert, locking the amount of air for maximum support and skin relief. The overlay provides partial offloading by adjusting the inflation levels of the cushion's sides.
The breathable cover dissipates heat and contributes to pressure relief for comfort. This cushion for your wheelchair has superior positioning capabilities and comes in a range of sizes and can accommodate users weighing up to 500 pounds.
Our top choice benefits the evolving needs of all users, with an advanced hybrid design providing customized positioning, skin protection, stability and support, and optional offloading without added accessories.
Features and Benefits
Treats and prevents pressure wounds and skin ulcers
Customized enhanced positioning
Customized contouring with adjustable air-cell technology
Ergonomically designed for maximum comfort
Hybrid model that meets a multitude of needs
Customer Feedback
Pros
Meets needs for seat comfort and pressure sore treatment
Offers more features than other models
Lots of sizes and can accommodate users up to 500 pounds
Air can be set at customized levels
Cons
Took a bit to understand the best air level
Took a few days longer to arrive than expected
Features to consider when purchasing a wheelchair cushion
Comfort
Since wheelchair users sometimes spend the majority of a day sitting, a cushion needs to be comfortable for the individual user.
Balance
The stability of a wheelchair cushion affects your ability to balance and stay correctly positioned without sliding down in your seat.
Skin Safeguards
Pressure relief and the reduction of friction can prevent skin shear and potentially dangerous pressure wounds.
Breathability
Airflow will cool the cushion's surface and reduce heat and moisture that can increase the chances of skin breakdown.
Density
A heavier cushion can be more comfortable, but - especially in the case of a lightweight wheelchair - additional weight can negatively impact your ability to self-propel.
Cushion Height
There are advantages of a taller cushion, including making it easier to reach items. However, if the cushion for your wheelchair is too high, you might not be able to comfortably fit at a table or transfer into and out of the chair.
The cushions on our list are representative of the wide range of options available so you can choose the model that works best to meet your posture positioning and skin protection needs.
FAQ
Why is a wheelchair cushion important?
A wheelchair cushion provides a platform for users, improves comfort, aids posture, distributes weight to alleviate pressure points, and acts as a shock absorber. It helps maintain proper positioning for the user and helps prevent and treat pressure wounds.
How often should you replace a wheelchair cushion?
Generally, it's appropriate to replace the cushion for a wheelchair every three years.
How long do wheelchair cushions last?
Although foam cushions have a slightly shorter service life, most wheelchair cushions will last for between two and five years.
What Are the Different Wheelchair Cushion Shapes?
The most common wheelchair cushion shapes are:
Saddle-shaped
Best option for users with hip rotation or a lack of abduction control
Pommel-shaped
A good choice for users who tend to cross or buckle their knees
Wedge-shaped
Designed to help users with posterior pelvic tilt remain backed up in their seat
Anti-Thrust
Helps mitigate sliding for users who regularly move in their wheelchairs
Should cushions always be used in a wheelchair?
If the formation of pressure sores is a possibility and position instability is a concern, a wheelchair cushion should be used.
Do I need an incontinence liner for my wheelchair cushion?
If you have incontinence, you should get a special incontinence liner to protect the cushion from accidents.
Summary
If you use a wheelchair and want to reduce the risk of skin shear and pressure wounds - plus support proper body alignment and create the most comfortable user experience possible - a cushion can help you get the most benefits from your wheelchair.
The hybrid design of our top pick provides customized positioning and skin protection, along with a contoured comfortable seat surface. Its multiple features and wide range of wheelchair users it can serve have made it our top recommendation.
Explore our entire catalog of Wheelchair Cushions Department. In that department, you can find Roho, gel foam, gel, air, positioning, star, foam, jay, memory foam, and bariatric cushions.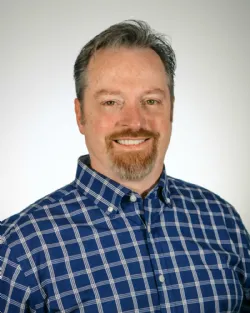 Author:
Co-Founder of Rehabmart and an Occupational Therapist since 1993. Mike has spent his professional career working in multiple areas of Occupational Therapy, including pediatrics, geriatrics, hand therapy, ergonomics and inpatient / outpatient rehabilitation. Mike enjoys writing articles that help people solve complex therapeutic problems and make better product choices.