NOTICE: Due to current high demands on all Oxygen Supplies, we are experiencing lead times of several weeks on most oxygen concentrators. The following products are available for shipping in the next one to two weeks.
Oxygen Concentrators with Low Lead Times
There are a number of medical conditions that require a person receive supplemental oxygen. An oxygen concentrator is a cost effective way to provide this needed treatment!
An oxygen concentrator uses a clever method to remove nitrogen from the air and produce concentrated oxygen at levels up to 95 percent. (For reference, room air contains 78 percent nitrogen and 21 percent oxygen. The oxygen concentrator uses two sieve beds to trap and pull out the nitrogen!)
A doctor decides how much oxygen a person needs and will write a prescription to purchase or rent an oxygen concentrator.
The Top 5 Best Oxygen Concentrators Summary

The OxLife Independence Portable Oxygen Concentrator System is designed to make oxygen easily accessible and portable no matter where you want to go, boasting a compact size and integrated travel cart for easy transport. The long-lasting battery and quick charging time make it easy to pick up and go without feeling limited, making sure you spend less time charging and more time out living your life.
The Oxlife Independence features an integrated travel cart with a convenient travel arm that flips up and locks down with just the touch of a button. This concentrator is approved for travel on airplanes and cruise ships, giving you the freedom to explore, travel, and live your life wherever you want to without feeling limited by your concentrator.
This concentrator is constructed with high-quality materials to ensure durability, resisting the bumps and bruises that come along with frequent travel. The sleek design and black coloration make it blend easily into the background for a more discreet oxygenation system.
Backlit LCD screen with colored background makes monitoring and changing settings effortless. Continuous and pulse modes can be switched between for versatile use, accommodating a variety of user needs.
This concentrator boasts the best battery life in its class with a two-battery configuration that allows you to swap batteries while the machine is still running with no loss of oxygen. Additionally, it performs better in vehicles than most competitors, offering DC run power on all settings, plus run and charge up to 2 LPM continuous and 4 LPM pulse.
Finally, O2 Concepts is so confident in their quality and engineering that they offer a five-year warranty for long-lasting use and reliability.
Features and Benefits
Quiet and easy to use
Integrated wheels and handle for transport
Longest battery life in its class
Sleek modern design blends in easily
Ultra-lightweight at 16.7 pounds
Better vehicle performance with DC run power on all settings
Continuous flow up to 3.0 LPM
Two-battery configuration allows you to swap batteries while the machine is running
Approved for airline and cruise ship use
Five-year manufacturer's warranty
Customer Feedback
Most customers noted how easy it was to travel with, commenting on how it slid easily under airplane seats and how much more convenient it was to bring along in airports and long car trips. Additionally, one customer recalled how he was able to carry this POC all over Europe, with it taking many knocks and falls, while it continued to work perfectly and hardly show any signs of cosmetic damage.
Other customers spoke about how simple and easy to use it is, highlighting the control panel as being backlit and large enough to see easily and yet small enough that you don't feel like you might accidentally bump it and change the settings.
Some customers liked the operational altitude, with one user asserting that it is the perfect oxygen concentrator to use while mountain climbing due to it's lightweight, compact design and superior operational altitude.
Many users liked the power efficient design, enjoying how the DC supply is integrated into the machine and how little power it requires to maintain operation.
Pros:
Maximally portable & lightweight

Durable construction

Compact, sleek, simple design

Affordable and user-friendly

Long-lasting battery and quick charging
Cons:
Built upon the reliable features of the popular 525 concentrator, the Drive Medical DeVilbiss 10L Oxygen Concentrator delivers optimal oxygen delivery for patients requiring higher concentrations of oxygen. This innovative machine has a high capacity and a wide range of useful features.
Substantially smaller in size than other high-capacity concentrators on the market, the flame-retardant DeVilbiss weighs only 42 pounds and comes in the same shell as the 5-liter size, yet is still compatible with cylinder transfill systems. It delivers 87% to 96% of oxygen purity ranging from 2 to 10 LPM, resulting in adaptive use for an array of patients with varying needs, from home use to hospitals and long-term care facilities.
Standard on every unit, the exclusive DeVilbiss Oxygen Sensing Device (OSD) system ensures dependable performance and patient safety with real-time monitoring of the oxygen produced. Easily accessible patient controls and bright LEDs make operation a breeze, and a front-located knob facilitates simple air-flow adjustments with its flow meter positioned directly below to verify setting selections.
This oxygen concentrator integrates several safety alarms to further ensure proper operation of the device, and these alarms will sound when there is high pressure, low oxygen, high gas temperature, low-high flow, when the power goes out, and if service is required.
Its cleverly-designed recessed humidifier nook and protected cannula port guard against accidental damage. Convenient handles on the top and side enable easy portability for rolling or carrying.
Features and Benefits
10-liter capacity for users requiring higher oxygen concentration levels
Adjusts from 2-10 LPM for multiple patient usages
Small and compact for a 10-liter capacity
Oxygen Sensing Device provides real-time monitoring
Safety alarms to alert users to problems
Easy-to-read and bright LED display
Accessible patient controls
Recessed humidifier nook and protected cannula port
Handles and wheels for transport
Customer Feedback
Most of the positive feedback regarding the Drive Medical DeVilbiss 10L Oxygen Concentrator comes from long-term care facility professionals who often use the device for different patients, or who cater to patients with varying oxygen flow level requirements. Because it is so easy to adjust to deliver anywhere from 2-10 LPM, it provides just the right flow for every user.
Home users who need a higher capacity machine very much appreciate how small this 10-liter oxygen concentrator is designed, and find it very easy to move it around with its rolling wheels and top and side handles.
Another loved feature talked about by both healthcare professionals and the patients themselves is the real-time monitoring provided with the Oxygen Sensing Device system, which alerts users to any potential problems, along with built-in alarms for various issues, such as loss of power and low oxygen flow.
The only negative feedback associated with this concentrator includes its noise level and its power consumption. Ranging from less than 59 to 69 dBA, this may be too loud for some users, especially when using it at night to sleep. Its power consumption is listed at an average of 120VAC, 60Hz, 639W, and some users said their power bills went up significantly after using this concentrator.
Pros:
High 10-liter capacity

Variable flow rates from 2-10 LPM

Small, compact size for a machine of its class

Real-time monitoring with OSD system

3-year warranty
Cons:
Too loud for some users

Uses more power than some other models
The Invacare Platinum 10-Liter Oxygen Concentrator with SensO2 is a high output machine that can provide up to 10 LPM of oxygen.
This concentrator uses a pressure-based system versus a timer based one, like other machines, and can be purchased with or without the SensO2® Oxygen Sensor.
The controls are easy to use and provide light/sound feedback to let users know if there are problems with the operation of the machine (and where those problems might be!).
A humidifier bottle can be placed in an adaptor located on the front of the machine. A built-in molded top handle enables users to roll the concentrator easily.
The neutral colored concentrator weighs 54 pounds and delivers oxygen at 2-10 LPM. It provides oxygen concentrations between 87 - 94%.
The Invacare Platinum 10-Liter Oxygen Concentrator can be purchased with the SensO2® Oxygen Sensor that helps reduce the need for unscheduled maintenance. The concentrator comes with a limited three-year warranty.
Features and Benefits
Can be used to fill oxygen cylinders for travel
Easy to use- controls clear and visible
Neutral color
Weighs 54 pounds
Pressure monitor to maintain oxygen flow
Delivers between 87 - 94% oxygen
Invacare® SensO2® Oxygen Sensor
Three air filters for purity
Three-year product warranty
Customer Feedback
One customer noted that the Invacare Platinum produces the highest oxygen flow of all the Invacare concentrators! Since he had used this brand before, he felt more comfortable staying with it.
A daughter reported she uses this oxygen concentrator for her father, who she cares for in her home. In the past, the father has had asthma attacks, but she felt the Invacare Platinum has helped her father calm down well afterward.
One customer commented that the machine was very noisy, and felt it made the room warmer somehow.
Pros:
Quality brand

Three-filter system provides cleaner air

Produces up to 10 LPM oxygen
Cons:
Noisy

Can make a room warm

Low working altitude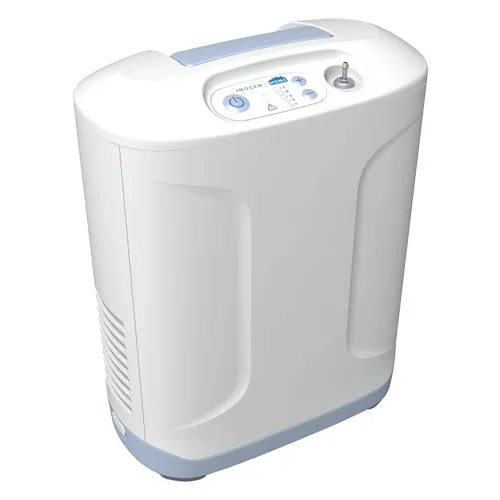 With one of the most lightweight, quiet, and energy-efficient designs available today, the Inogen At Home Stationary Oxygen Concentrator easily deserves its number two spot on our list. This 5-liter concentrator weighs only 18 pounds, enabling users to freely move around their home with ease.
Delivering continuous-flow oxygen in five different LPM settings, this concentrator will fulfill the supplemental oxygen therapy requirements for the majority of patients, making it a great choice for both home use and institutional applications. It's also extremely quiet, running at about 40 dBA, which is about the same noise level as a computer.
Additionally, it saves users money on power bills, as it offers energy-efficient savings in every setting. Oxygen concentrators are often used all day, every day, and this Inogen model delivers the most therapy with the least amount of power.
The Inogen's simplistic control panel makes it easy to operate for just about any patient, and it's also easy to maintain by just cleaning the surface and the particle filter, along with replacing the included cannula, at periodic intervals. Its robust, hard-boded shell ensures dependable durability, protecting the unit from harm. Its impressive compressor offers an astounding 20,000 hours at the highest (5) setting, and the whole unit is protected under a 3-year warranty.
Features and Benefits
5-liter capacity with five different continuous flow settings
Exceptionally lightweight at only 18 pounds
Very quiet 40 dBA operation
Best energy efficiency for its class
Compressor provides 20,000 hours at highest setting
Simplistic operating controls
Easy to maintain
Customer Feedback
The vast majority of patients who use the Inogen At Home concentrator absolutely love it. Praise abounds for its compact design and how lightweight it is, which is often half or more of what other concentrators in its class weigh. Customers often talk about how much this helps them move around better, as it makes the concentrator so much more portable, especially for users who live with physical challenges.
Users also appreciate the energy efficiency, and several specifically commented about how much money they've saved compared to other concentrators they have tried.
The benefit that people who use supplemental oxygen to sleep especially talked about the most was how quiet the Inogen At Home is, remarking specifically on how it never interrupted their sleep, unlike other concentrators on the market. Other customers using it during daytime hours commented about how much easier it was to listen to music or watch TV while using the device.
Multiple users said that they have used one or more other concentrators, and once they tried this one, they'll never use another as they are so pleased with every aspect of this machine. No negative comments could be found.
Pros:
Compact, lightweight design is easy to maneuver around the home

Energy efficiency saves money

Extremely quiet operation won't interrupt sleep or other activities

Easy to operate and maintain
Cons:

The Perfecto2 5-Liter Oxygen Concentrator is a small, quiet, and energy-efficient machine ranking number one in our review! Similar to the Invacare Platinum 10, this concentrator uses a pressure monitor instead of a timer to maintain a reliable flow of oxygen.
The controls are easy to use and provide light/sound feedback to let you know things are running properly. There is also a reset button to avoid unnecessary service calls.
The cream-colored contemporary design concentrator weighs 39 pounds and delivers oxygen at a .5-5 LPM accurately providing oxygen concentrations between 87 to 95.6% by using three different filters to guarantee purity.
This concentrator operates in altitudes up to 8,000 feet and is sound rated at 43 dBA, making it the quietest oxygen concentrator in our top five!
The Perfecto 2 5-Liter uses an Invacare® SensO2® Oxygen Sensor to help reduce the need for unscheduled maintenance, and the concentrator comes with a limited three-year warranty.
Features and Benefits
Quiet and easy to use
Controls clear and visible
Contemporary design - rolls easily
Weighs 39 pounds
Pressure monitor to maintain oxygen flow
Delivers oxygen between 87 to 95.6%
Invacare® SensO2® Oxygen Sensor
Three air filters for purity
Three-year product warranty
Customer Feedback
A customer who had an alternate oxygen concentrator purchased this model, and reported this one was much quieter. Another user felt much more comfortable with the Perfecto, as he said it alerted him if there was ever any problem with the oxygen levels (or problem with the machine itself).
One mother is using the Perfecto for her 10 year-old daughter with COPD. She is hopeful it will help her daughter improve and appreciates it having all the "gadgets"! Another person reported how they trusted this brand overall, and found it to be very quiet and reassuring.
Pros:
Quiet and ambient

Easy to set up

Built-in alarms to alert users to problems

Affordable option - some customers have more than one unit

Reliable brand

Less expensive than many rentals
Cons:
Summary
If you are an individual needing a little extra room to breathe, selecting the right oxygen concentrator will greatly improve your quality of life by improving concentration, energy level, and overall mobility!
All five oxygen concentrators described in this review are excellent, but each has qualities that may better meet your unique needs.
The main variables people consider are accurate oxygen sensing, easy-to-use controls, cost, size/portability, altitude height operation range, low noise level, low power consumption, and need for maintenance.
In our group of five, all have safe methods to accurately deliver oxygen and easy to use controls. Power use, warranties, and maintenance needs were also closely ranked among our group.
The OxLife Independence Portable Oxygen Concentrator System grabbed our #5 position by being one of the best concentrators to travel with that's not a specifically designed portable model, and weighs in as the lightest weight on our list at only 16.7 pounds.
The Drive Medical DeVilbiss 10L Oxygen Concentrator makes our list at #4 with its generous 10-liter capacity in a smaller, easier-to-maneuver 5-liter shell, combined with its host of beneficial features and a higher number of flow rate options.
The Invacare Platinum 10-Liter Oxygen Concentrator is one of only two 10 LPM machines reviewed to make this list. It can be used with a home fill device to fill oxygen tanks for travel, and can also be purchased with or without SensO2 - a feature which measures oxygen purity. It ranks at #3.
Our #2 oxygen concentrator is the Inogen At Home Stationary Oxygen Concentrator, which is one of the most lightweight, quietest, and energy-efficient concentrators on the market today. Delivering effective oxygen therapy in LPM settings from 1-5, this compact 5-liter concentrator has received a multitude of praise from its users, with no negative feedback found.
The Perfecto2 5-Liter Oxygen Concentrator takes the #1 position with its super-quiet operation and energy efficiency.
Want to learn even more? Find dozens of videos featuring products and caregiver tips like these at Rehabmart's YouTube channel!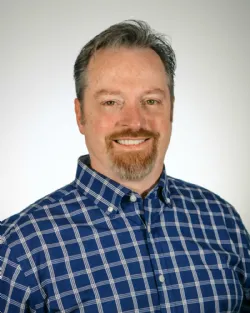 Author:
Co-Founder of Rehabmart and an Occupational Therapist since 1993. Mike has spent his professional career working in multiple areas of Occupational Therapy, including pediatrics, geriatrics, hand therapy, ergonomics and inpatient / outpatient rehabilitation. Mike enjoys writing articles that help people solve complex therapeutic problems and make better product choices.