Speaking is our primary method of communication. When the ability to speak is impaired or lost entirely, life can become isolated and sad.
Children and young adults in particular can find it frustrating when they are unable to express their needs, thoughts and desires. Fortunately, there are a multitude of alternative and augmentative devices available to help them.
Augmentative/Alternative Communication, or AAC, refers to communication methods used to supplement or replace speech or writing for people with impairments in the production or comprehension of spoken or written language!
Top 5 Best AAC Devices Summary
The Top 4:
How Do AAC Devices Work?
AAC devices cover a wide range of function, design, and purpose.
Many devices allow users to record multiple messages in sequence, enabling them to "talk" with their peers, family or helpers. Some of these devices also combine visual and auditory cues with recorded messages.
Visual cues such as picture cards assist in learning more complex sentence structure and expanding vocabulary. This can lead to a greater ability to initiate language, which in turn allows children to become able to participate more fully in school and peer groups.
For users with extremely limited mobility, there are devices that allow them to communicate by simply pointing to "yes" or "no" using their eyes or a mouth pointer.
Examples of AAC Devices
Alphabet/symbol boards benefit those who have lost their natural speaking ability.
Modified buttons and touch pads, as well as devices used with computers, tablets and e-readers, enable both children and adults to operate electronics independently.
Wearable devices are particularly convenient, and fun for children. They're worn like a wristwatch or fanny pack, and travel with the child throughout the day. In addition, some attach conveniently to a wheelchair or walker.
Entire systems exist that help autistic children to systematically build their ability to communicate effectively.
Who Can Benefit From AAC Devices?
Children with brain injuries that impair speech either temporarily or permanently

Children with congenital conditions such as cerebral palsy

Children on the autism spectrum, who can benefit in terms of speech, emotional and social development by using an AAC

Children with dual sensory impairments, including blindness
Which Professionals Can Help Me Select an AAC Device?
As you can see, there is a wide range of options when it comes to AAC devices. That's why it's important to consult with a professional you trust, to help make the best and most informed choice.
A doctor, physical or occupational therapist, speech-language pathologist, social worker or special education professional are some of the people you could talk with when considering the purchase of an AAC for your child.
After performing a thorough evaluation of your child's needs, they can help you select a communication system that will meet those needs most precisely.
Here are five AAC devices that come highly recommended, and were chosen by parents, therapists and other professionals as the top-rated augmentative/alternative communication devices based on their features, benefits, functionality, ease of use, durability and long-term cost-effectiveness.
The first communication device included in our rankings is the Hip Talk Plus Communicator by Enabling Devices. This convenient AAC device is easily carried with you no matter you go for simple communication wherever you are.
It features a row of icons that can be easily pressed to play pre-recorded messages. Users can record or re-record messages as often as needed, and the Hip Talk features auditory cueing and incredible sound quality.
A carrying bag is also included, with a clear top and zippered opening. The Hip Talk Plus carrying bag is contoured to comfortably fit the user's waist, offering an adjustable waist strap that allows it to more easily accommodate most users.
Three interchangeable magnetic snap-in frames, allowing for 3, 6, and 12 message icons, are included, making it easy to switch out icons when needed.
The Hip Talk Plus Communicator holds 300 seconds of recording time total. The sleep mode option can save battery life, and a low-battery warning lets the user know when the battery needs to be replaced.
Features and Benefits
Can easily go wherever it's needed for convenient use.

Easily plays pre-recorded messages to aid in communication.

Users can record messages as often as needed for easy use.

Icons are pressed to play the corresponding message.

Includes auditory queuing and exceptional sound quality.
Customer Feedback
By far the biggest positive feedback regarding the Hip Talk Plus is its ease of use. Users mentioned how easy it was to slide the inserts in and out, and how convenient the device is to carry around.
The only problem reported by users was that the buttons require a rather firm touch. They would be difficult to press if the user had weak hands or arms.
Pros:
Great for users of all ages

Portable for easy use anywhere

Range of icons enable customizable use
Cons:
Requires the user to be able to press icons

Carry bag may not be ideal for some users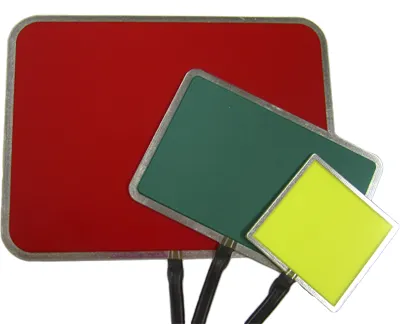 Sometimes, 'alternative communication' means providing an alternate way for a child to activate a voicing device, a toy, or an electronic device. The Pal Pad Pressure Activated Switches are versatile and useful for this purpose.
Equipped with a standard plug, these switches can be used with any communication aid or battery-operated assistive device or toy that has a standard jack.
Pal Pads are rigid, square pads made of a flat membrane material, and come in three sizes: large (4.5 x 6 inches), small (2.5 x 4 inches) and mini (2 x 2 inches), and in six vibrant colors that attract a child's attention. The pads are only about 1/10 inch thick.
It takes only a very light touch to activate the Pal Pad switches (about 1.2 ounces of force). The entire colored surface of the pad is responsive to touch. This means that a child with low tone, muscle weakness or poor hand control can use them successfully.
When placed in the back cover of a children's book, and connected to a voice activation device that's been pre-recorded with the book's text, the Pal Pads help to engage the child by allowing them to press the book's pages, rather than the switch, in order to hear the text read to them.
The Pal Pads are also useful for students who are distracted by the audible click of a computer mouse or need a switch that does not require them to lift their hand or fingers too high.
Features and Benefits
Rigid membrane pads come in large (4.5x6 inches), small (2.5x4 inches) and mini (2x2 inches)

Approximately 1/10 inch thick

Requires only about 1.2 ounces of force to activate

Comes in six colors

Can be used with any communication aid or toy that has a standard jack

Includes a 30 inch cord and standard 1/8 inch connector

Good for children with low tone muscle weakness or poor hand control

Can be placed inside a book to help engage children with the book, rather than the switch
Customer Feedback
One of the reviews we located for the Pal Pad switches came from an older user. He says, "I use five of these in the 2x2" size for foot switches … to replace the left mouse click and some common keystrokes. I tap them with my foot and they respond perfectly." Clearly, the Pal Pads have helped this gentleman continue to use his computer independently!
He does point out that the switches require a tap rather than just a touch, and that they do not give auditory or tactile feedback, like a vibration, when activated. He was not disappointed with this, but was rather making a point for others who might be considering the Pal Pad.
Pros:
Easy to activate

Can replace a standard computer mouse

Can be activated with the feet

Can be used in various combinations for the desired effect
Cons:
No auditory or tactile feedback upon activating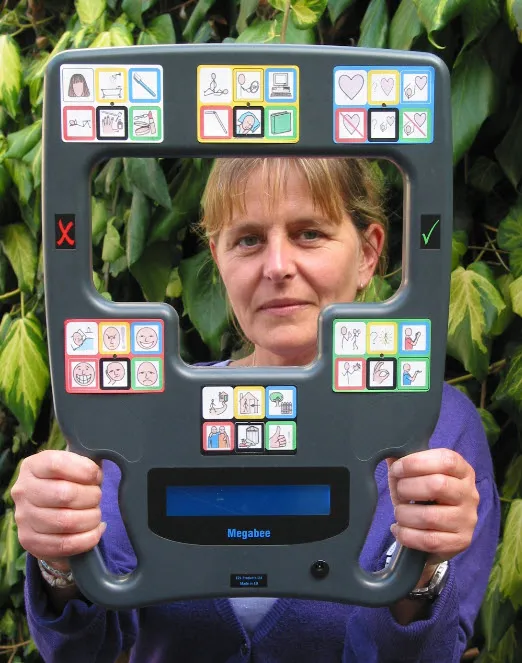 The MegaBee Assisted Communication and Writing Tablet was developed with the help of 'locked-in syndrome' sufferers at Stoke Mandeville Hospital in England.
Locked-in syndrome (LIS) is a rare condition in which a person is cognitively aware, but cannot move or communicate verbally due to complete paralysis of nearly all voluntary muscles in the body with the exception of vertical eye movements and blinking.
The MegaBee Assisted Communication and Writing Tablet enables people with locked-in syndrome to communicate effectively with caregivers and family members.
This device also provides a means of communication for people with conditions such as ALS, multiple sclerosis, muscular dystrophy and traumatic brain injury, all of which may lead to the inability to use most or all of the body's voluntary muscles.
The MegaBee measures just 17 inches by 12 inches by 1.5 inches, and is held by the listener, who can look through an opening in the center to view the speaker's face and eye movements.
The speaker directs their gaze at one of six colored blocks, then at a specific color representing a letter within that block. As this process continues, the caretaker presses appropriately colored buttons and spells out the speaker's words.
The words appear on an LCD screen that faces both speaker and listener. In this way, the speaker can communicate directly with their caregiver or family member, making their wishes and needs known and carrying on conversations.
A vocabulary function allows users to compile a personal set of abbreviations for their most commonly used phrases (H1 for "I'm hot", for example). This shorthand can be changed at will for different situations and caretakers.
The Megabee also operates in picture mode. This is useful for people with low literacy or cognitive skills. Labels are printed and placed in the areas provided. Once vocabulary has been downloaded from a computer, the Megabee is ready to be used for communication.
Features and Benefits
Easy to use out of the box for speaker and listener

Tough and durable

Dual screens accommodate 20 characters on two lines

Bluetooth/PC connectivity allows large remote display and text storage options

Blue LCD screen

16.9 x 11.8 x 1.5 inches, 33.5 ounces

Rechargeable batteries last 24 hours on full charge

Includes a custom carrying case and battery charger suitable for worldwide use

Treated with an antimicrobial compound
Customer Feedback
The highest praise received about the Megabee Assisted Communication and Writing Tablet is that it has changed people's lives. Before using the Megabee, they were frustrated and unable to converse with family members or to get their simple needs met. Once they started using the Megabee, all of that changed.
One woman with cerebral palsy stated, "I had tears in my eyes" when she could finally talk for hours with her sister, and when her caregiver was able to manage this communication device, after struggling with others they had tried.
The only reservation anyone had about the Megabee was that it requires the speaker to have good cognitive and spelling skills, as well as a partner who can be trained on the device. Using picture mode gets around the first issue, although not everyone is comfortable with this mode of use.
While it's true that some coordinated efforts between listener and speaker are necessary, when this is achieved, the MegaBee is definitely an answer to the communication needs of a person without the ability to speak or move.
Pros:
Lightweight and portable

Facilitates conversation and interaction for people with LIS and other conditions

Makes life easier by enabling people to get their needs met easily and interact socially
Cons:
Can take a bit of time to learn

Good spelling skills required if not used in picture mode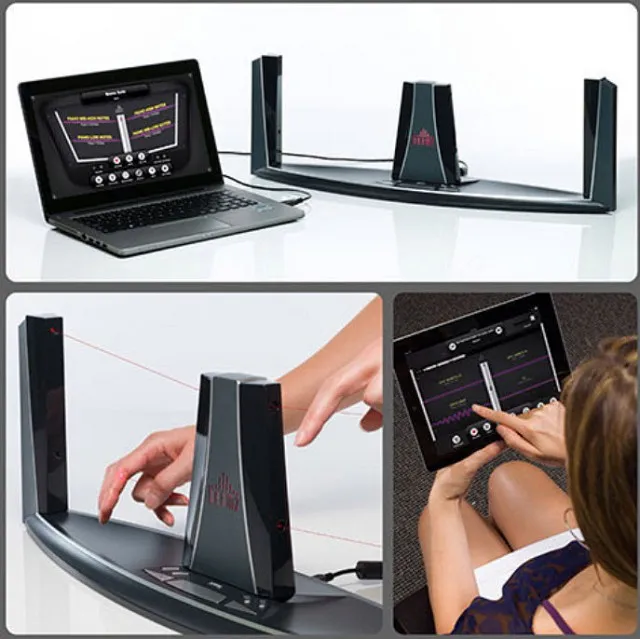 The idea of 'augmentative communication' does not always have to include speech or writing.
What about music, the 'universal language'?
The Beamz Interactive Music System demonstrates the power of music to encourage communication in any child or adult.
Invented by Jerry Riopelle, the Beamz Interactive Music System gives any person the ability to play impressive music instantly, without any musical training or experience. There is no 'wrong' way to make music with the Beamz.
By using the hands to break low-level laser beams at different points, anyone can 'play' various musical passages, either one note at a time or in a combination of instrumental sounds. The notes are backed up by pre-selected rhythmic beats, from rock to jazz to salsa.
Music can be triggered by physically interrupting a laser beam with a body part or object, using an adaptive keyboard, attaching an interface switch, or by using a computer or smart device that has a touch screen or interactive whiteboard.
The Beamz can replicate the sounds of over 100 musical instruments and sound variations, covering over 20 musical genres. Musical creations can be recorded in the form of a .wav file to keep and re-play for parents, teachers, or therapists.
While it can be played alone, the Beamz inspires interaction, and can be played by up to twelve people at a time. In addition, two people can team up, with one adjusting the instrument and rhythm settings while the other 'plays' the instruments.
Just imagine the communication fostered by interacting with each other and making beautiful music together!
The Beamz includes a laser controller, six feet of USB cable, a quick install guide and two DVDs. The installation DVD holds the Beamz software as well as fifty interactive songs, and the game 'ShadowBeamz' that tests players' skill at working with sound and rhythm.
Features and Benefits
Anyone can play impressive music immediately

Uses laser beams to create over 100 instrumental sounds in limitless patterns

Encourages physical movement, interaction and communication

Can be played alone or in a group

Can be played with adaptive keyboard, interface switch, touch screen or interactive whiteboard

Comes with controller, USB cable and two DVDs with software and games

Can be enjoyed regardless of age, physical or cognitive ability

Compatible with: iPad (3rd generation or later), iPad mini, iPhone (4S or later), iPod Touch (5th generation or later), MAC (OS 10.8x or later) and PC (Windows 7/8)
Customer Feedback
The Beamz Interactive Music System has been praised by teachers, parents and therapists alike.
One special needs teacher reported that a high school student of hers who had no arm mobility developed the ability to reach out with both arms, through the motivation of using the Beamz.
This student's parents reported that their son was more cheerful and positive at home and, while nearly non-verbal, responded to their talking with him much more consistently once he began using the Beamz. (He told them that he wanted one of his own!)
The executive director of an habilitation center talked about the power of incorporating the Beamz as part of therapy with patients. He spoke of how it motivates them to move because they are now interacting and creating something, rather than just going through rote exercises.
Other reviewers were captivated by the sheer fun the Beamz has provided their family.
Pros:
Motivates interaction, communication and movement in children and adults of all ability levels

Creates a way for parents to communicate with their non-verbal children

Helps teachers and therapists motivate their students and help them progress
Cons:
There are really no cons to the Beamz Interactive Music System. One reviewer did comment that it isn't possible to substitute instruments that are pre-programmed within musical sequences. He was quick to point out, though, that this does not in any way detract from the value of the Beamz.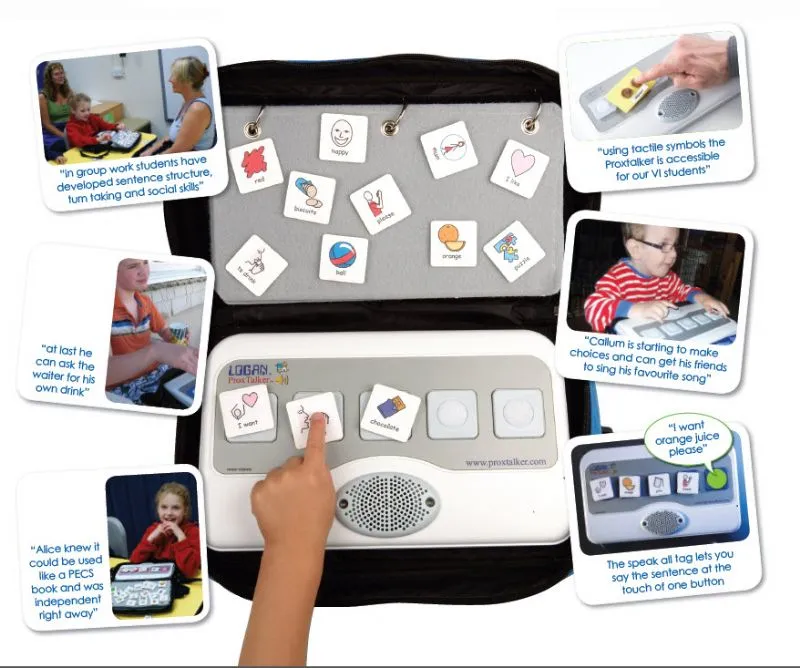 Invented by the engineer father of a non-verbal autistic boy, the Logan ProxTalker allows non-verbal children to 'speak' in complete sentences, ask questions, make requests, and experience the sense of empowerment that comes with communicating.
The ProxTalker is a portable device that uses RFID (radio frequency identification) technology to retrieve words, sentences and phrases stored on sound tags. A nonverbal child can engage in genuine conversation by combining a series of these tags into questions, thoughts and requests.
When a tag is placed on one of the five buttons and the button is pressed, The ProxTalker produces the word or phrase in a choice of voices (male/female) and languages (American or British English, Puerto Rican and Castilian Spanish, Dutch, German, Danish or Swedish).
What sets the ProxTalker apart is the versatility and flexibility that allows for genuine language interaction. Besides the 80 symbol tags, it comes with 20 blank tags that enable users to pre-record their own sounds, words or sentences and include them in the inventory available for communication.
Even the pre-made symbol tags can be personalized. For example, the symbol that shows and voices the word "cookie" can be recorded over to say "oatmeal raisin cookie," or whatever type of cookie is your child's favorite!
Visually impaired children can engage with the ProxTalker easily by using the extra-large cards included specifically for their use. The ProxTalker also features a "speak all" button, which causes the device to voice all of the placed tags in sequence, easily speaking an entire sentence.
A sporty backpack is included, making it easy for your child to take the small, lightweight ProxTalker on trips to the park or on other family outings. The tags can even be transferred into a three-ring binder, making them easier to store and to select while using the ProxTalker.
Features and Benefits
Small and lightweight (12.9 inches x 7 inches x 3.5 inches weighs 4.7 pounds)

Portable in a sporty backpack

Can be used in a loose-leaf binder for convenience

Can be mounted on a wheelchair

Uses RFID technology to produce genuine voice sounds

80 voice tags and 20 blank tags offer a wide range of sentences

Printable labels included

Tags can be written on with dry-erase markers

Available in several languages and male or female voicing
Customer Benefits
The Logan ProxTalker is used in therapy situations as well as in the home. One speech therapist who trialed the ProxTalker had high praise for its versatility and its usefulness with children who know how to construct simple sentences using pictures, and want a "voice" for their sentences.
This therapist tried the device with her clients as well as with her son. She found that one child who is completely non-verbal picked up on how to use the ProxTalker in one session, and quickly progressed to being able to make a simple, two-word request.
She herself also found the ProxTalker very easy to use, including the ease of changing tags and replacing batteries.
Several parents reported happily that their non-verbal children quickly became much more communicative once they mastered the ProxTalker, which they seemed to enjoy doing. It was definitely not a struggle to get them to use this device.
There are also quite a few reports from parents who appreciate the spontaneous nature of communication that their child can now achieve. Here's one example:
One parent made a pre-recorded tag that let their adolescent request his favorite drink, a fruit-flavored beverage. After a few uses, however, he gave his mom a dirty look, slammed down a 'milk' tag and pressed the button … his tastes had changed, and he was letting her know it!
We have not come across any reviews that mentioned mechanical or other difficulties in using the ProxTalker.
Pros:
Small, lightweight and portable

Easy to use

Allows non-verbal children to "voice" sentences, questions and requests

Provides a wide variety of possibilities for sentence creation

RFID technology produces genuine voice sounds

Words are voiced in a choice of six languages

Children learn the device easily and are motivated to use it

Nonverbal children have shown quick progress using the ProxTalker
Cons:
Augmentative and Alternative Communication Devices Buying Guide
All of the AAC devices reviewed here come highly recommended, and each is useful in its own right.
The Pocket Go-Talk 5 Level Communication Device is an easily portable, on-the-go communication device that can help a child to interact in many situations, such as the playground or classroom.
Pal Pad Switches make it simple for children and adults to access devices they normally couldn't, like computers and voice activated devices, and can help children interact with books.
The Megabee Assisted Communication and Writing Tablet helps profoundly isolated people stay connected with their world, enabling them to converse with their family and caregivers, say precisely what they mean, and make their needs, wants and opinions known.
The Beamz Interactive Music System is a remarkable invention that opens a world of movement and interaction to people who are limited in their ability to communicate, and assists in motor development by motivating movement through music.
The Beamz could easily earn our top rating here, simply by virtue of its unique ability to bring both pleasure and learning to almost any population.
However, our top rating goes to the Logan ProxTalker AAC Device.
In terms of practicality, the ProxTalker can't be beat. It is packable, portable, and simple to access. It provides a wealth of options for personalizing a child's communication, and has been shown to enable children to interact with their families and teachers in a very natural way.
The ProxTalker is accessible to children who speak different languages, and to visually impaired children.
And, children learn to use this device very easily. This is an important factor in its success, since it bypasses the frustrating learning curve that can discourage children from interacting with an AAC device.
The Logan ProxTalker opens the door to communication for a range of children, improves their interactions with family, and assists therapists in advancing children's language skills. Adults find it easy to use and maintain. With no reported down side, this device is an all-around winner!
Want to learn even more? Find dozens of videos featuring products and caregiver tips like these at Rehabmart's YouTube channel!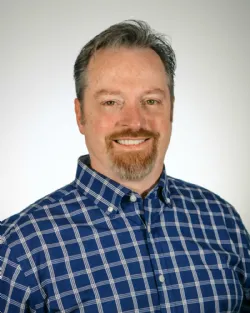 Author:
Co-Founder of Rehabmart and an Occupational Therapist since 1993. Mike has spent his professional career working in multiple areas of Occupational Therapy, including pediatrics, geriatrics, hand therapy, ergonomics and inpatient / outpatient rehabilitation. Mike enjoys writing articles that help people solve complex therapeutic problems and make better product choices.