What does a bed rail do?
Humans are prone to move about a great deal in their sleep, and because of this, the potential for tumbling out of bed is high. However, while many of us have the muscle control and spacial awareness to know the perimeters of our beds, many times this awareness and strength to reposition ourselves appropriately decreases with age. Because of this, seniors and individuals with limited mobility conditions face a higher risk of falling from their beds.
The purpose of a bed rail is to assist an individual re-positioning themselves in bed, as well as protect individuals from falling out of bed and sustaining an injury.
Bed rails act as a barrier between individuals and the ground, while also providing a firm place to grip when regaining balance and repositioning the body in bed.
The Top 5 Best Bed Rails Summary
Important precautions when using bed rails
While a bed rail can serve as a tactile reminder for someone who is otherwise cognitively sound, it should not be used as the sole way of protecting people with dementia or Alzheimer's who tend to wander at night. These folks may very well climb right over the rail in an attempt to get out of bed, causing serious bodily injury.
Another universal concern with bed rails is the potential for entrapment. If a bed rail user has a tendency to flail in bed, their hands, elbows and arms can be easily caught in the spaces between the bars, or between the rail and the mattress. For this reason, bed rail barriers are available to block the rail openings.
When selecting and using a bed rail system, care should be taken to assess any physical and cognitive limitations the user may have that would make entrapment more likely. Further, each particular bed rail system's specifications regarding mattress size should be carefully followed.
What types of bed rails are there?
Some bed rails, called full length rails, are designed to run the full length of the bed. These models are generally best for someone who is at higher risk of rolling or falling from bed during the night and requires total body support while sleeping.
Half-rails end about midway down the length of the bed; a half-rail leaves enough space for individuals to comfortably sit on the edge of their bed without needing to fold the rail down.
Lastly, there are transfer handles. Transfer handles can act as balance supports during sit-to-stand transfers, and are best utilized for repositioning in bed, rather than preventing falls.
How are bed rails installed?
There are three main ways a bed rail would be installed:
Held between the mattress and box spring – A bar, board or strap attached to the bed rail slides between the mattress and box spring. If a strap is used, often times it will wrap all the way around the mattress to keep the rail solidly in place.
Attached to side of bed – For this type of mount, it's important for the bed to have a certain type of frame which is compatible with the rail's attachment. Prior to purchasing an attachable bed rail, be sure your bed frame is compatible with the mounting system!
Free-standing - Called 'transfer poles', these units are tension mounted between the ceiling and the floor, giving the user something stable to hold onto while standing up or sitting down. A major benefit of transfer poles is their flexible placement, as they can be used with any type of bed!
The Tool Free Adjustable Length Home Style Bed Rail System is a dual-sided bed rail that adjusts to three lengths to best suit the size of your bed. Ideal for protecting individuals who move involuntarily during the night and face a higher likelihood of tumbling from bed, the Home Style Bed Rail System also supports users with low muscle tone who need help repositioning while lying down.
This bed rail's frame fits together with spring-loaded releases which securely lock into place. This same locking mechanism makes both rails height-adjustable with very little force, and without the use of tools. The three length options (37", 43" or 57") will fit most twin, full/queen or king size beds, respectively!
Designed with a rail on each side of the bed, the system is anchored by a crossbar which passes snugly between the mattress and box spring. The rail's durable design features 1" diameter steel bars for long-lasting support and ongoing fall protection.
Features and Benefits
Adjustable length for Twin (37"), Full/Queen (43") or King (57") beds
Crossbar adjusts from 36" to 72"
Tool-free installation with locking spring-loaded releases
Customer Feedback
Users of the Tool Free Adjustable Length Home Style Bed Rail found it easy to install and adjust, and expressed confidence in its ability to prevent falls in both the elderly and in children. Knowing a loved one is safe has afforded many customers and family members their first good night's sleep in a long time!
Users of the Home Style Bed Rail described appreciation for the fact that the rails can be lowered and kept virtually out of sight during the daytime.
One user expressed the wish that the rails came in different colors to further blend with her home's look. Overall, however, reviewers have found this bed rail system to be a worthwhile investment, and do the job of protecting those they love from a harmful tumble!
Pros:
Can be lowered out of the way during the daytime
Cons:
Only available in one color
Designed to assist users as they transition in or out of bed, the Universal Halo Safety Ring can be used on a variety of hospital beds, as well as on traditional beds at home! Its versatile and thoughtful design prevents any concerns regarding physical entrapment, which may be an issue with other larger bed rail systems.
The safety ring is circular in design and has cross bars within the circle's diameter which prevent a head or arm from getting stuck during the night. Small but mighty, the Halo Safety Ring accommodates users up to 1,000 pounds, enabling even larger users to rely on its weight-bearing ability for transferring in and out of bed!
The Halo Safety Ring comes in three models: single or double sided for hospital beds, or double sided for home style beds. All models come with any necessary mounting hardware, including a center adjustment bar which crosses the underside of the bed, and has brackets which mount to the bed frame and adjust using a simple Allen wrench.
One more feature worth mentioning: once installed, the Halo Ring can be rotated 180 degrees so that it is either parallel or perpendicular to the bed. This adjustment accommodates different user positions and can make all the difference when moving from the bed to a wheelchair, and vice versa!
Features and Benefits
Supports users up to 1,000 lbs.
Unique design prevents entrapment
Installs easily and adjusts with Allen wrench
Ring adjusts to parallel or perpendicular positions
Crossbar adjusts from 36" to 72"
All mounting hardware included
Customer Feedback
Overall, users find the Universal Halo Safety Ring easy to install, sturdy, and effective for transfers and positioning needs. One Geriatric RN wrote that she recommends the Halo Safety Rail to her patients who need help knowing where the edge of the bed is, and require assistance when pulling themselves into an upright position.
A different user noted the different bars within the ring not only prevent entrapment, but provide many different options for most comfortably gripping the ring!
Pros:
Prevents entrapment of hands and limbs
Different gripping surfaces allow users to get the most comfortable grip
Provides good weight-bearing support
Cons:
The Wide Safety Folding Side Bed Rail is designed both as a handrail for assistance getting in and out of bed, and as a guard for users prone to rolling out of bed during the night. Although it weighs just 12 pounds, it can support up to 300 pounds, making it a terrific portable option for anybody who needs the option of taking their bed rail to loved one's homes for an overnight stay!
This rail is reversible and can be installed on either side of the bed within mere minutes using four bolts and an Allen wrench (all come included). In addition, the unit's safety strap passes discreetly under the mattress and holds the bed rail securely in place, giving users weighing up to 300 pounds a fixed point of balance.
Several features make this bed rail convenient as well as functional, one being its quick hideaway design. During the daytime, users can fold this 23" rail down 180 degrees and out of the way by simply pulling a slider pin! Another thoughtful design element is a four-pocket organizer pouch, which can hold glasses, books, a remote control, or a variety of other small beside items.
Features and Benefits
Height of rail: 23" high from base of mattress
Installs in minutes with four bolts and Allen wrench (included!)
Fits mattresses 10" to 19"
Four-pocket organizer pouch for small items
Can be installed on either side of bed
Customer Feedback
Overall, users of the Wide Safety Folding Side Bed Rail were impressed with the product's strength and ability to keep both children and adults from falling out of bed. The side pouch was regarded as a plus, too, especially for one user whose child used the rail and stored small toys using the pouch!
Widespread appreciation was noted regarding the rail's materials, which are high-quality and durable; nothing about its construction is flimsy or likely to break.
The only downside noted is that the customer's mattress must be completely removed in order to successfully install the rail, which several users did not feel was clear to them upon purchase.
Pros:
Rail folds down and out of the way when not in use
Convenient four pocket storage pouch included
Built from supportive, high-quality materials
Cons:
Mattress must be removed in order to install
Claiming the number two spot on our Top 5 list is the Bed Rail Advantage, a padded safety handle that provides reliable, low-profile assistance for bedside transitions. Its non-institutional design blends elegantly with nearly any bedroom décor, while the U-shaped cushioned handle is easy to grab onto to stay balanced and prevent loss of balance when getting in and out of bed!
Assembling and disassembling this bedside handle is easy: since it only weighs eight pounds, there is no heavy lifting involved, making the rail highly portable and a great choice for users on the go! When installing, simply unfold the handle and insert the safety pins to lock; then, slide the bottom piece under the mattress, feed the safety strap under the mattress, and tighten.
A four-pocket organizer pouch attached to the handle helps to hold small items like TV remotes, books, medication, and reading glasses.
While neither a full or half-length bed rail, The Advantage Portable Bedside Safety Handle does support up to 400 pounds, and can help buffer against rolling out of bed if the sleeper is not too active.
Features and benefits
Padded non-slip handle for comfort grip
Easy to assemble with pins and safety strap
4-pocket organizer pouch holds small belongings
Provides balance and support while getting in and out of bed
Customer Feedback
Customers who left reviews were overwhelmingly happy and pleasantly surprised with this product; some actually expressed skepticism that such a small unit could provide so much support, but have found it to be true!
One user shared that she bought this bed rail after her husband literally rolled out of bed when the phone rang in the middle of the night. Now, thanks to this unit, she feels certain a fall will never happen again.
All reviewers mentioned the ample space in the organizer pouch. There are pockets on inside and outside, and enough space to hold several remotes, a book, glasses, a box of tissues, and more. One customer was surprised at how strong the canvas-like material was.
While most users found installation to be simple, one person commented that it was difficult for someone with weak hands.
Pros
Modest product weight makes it easy to transport
Ample room in storage pouches
Cons
Assembly pins may be difficult to manage for weak hands
Our number-one choice for the best bed rail available was designed with seniors in mind. Fun fact: it is the only bed rail on the market that extends in length once it is installed! This unique design feature, along with a myriad of other stellar design qualities, make this bed rail the ultimate choice for both transfer support and fall prevention.
The EZ Length Adjustable Bed Rail can lock in place at either 26", 34" or 42", making it possible to use it as a half-bed rail for assistance getting in and out of bed, or a full-length rail to prevent falls in the night. Installation is a breeze, as no tools are needed to install the rail; users can simply slide two bars under their mattress and secure the safety strap around the mattress. The rail adjusts in length with the push of a button so that during the day (or when not in use), it folds down 180 degrees, out of the way and out of sight!
Another special feature of the EZ Rail is a handy four-pocket organizer pouch, which attaches to the bed rail and gives users a convenient place to store small items such books, remotes and other compact items. The rail has a distinctly non-institutional look and feel, so it blends well with bedroom décor.
The EZ Length Rail safely supports users up to 300 pounds, yet weighs only fourteen pounds. It can be used with any home or hospital bed.
Features and Benefits
Locks in place at 26", 34" and 42" once installed
4-pocket organizer pouch for personal items
Low-profile, non-institutional design blends with the look and feel of a home
Attaches to any home or hospital bed with safety strap
Customer Feedback
One unforgettable customer described the EZ Length Adjustable Bed Assist Rail as "sturdy enough without being built like a tank." This feedback confirms that this bed rail does the job it was created for, without being obtrusive or difficult to handle.
All reviews we came across had a common theme: they all reported happy customers! True to form, this rail supports an adult's weight securely, even when being leaned on in the night.
The one design flaw customers reported is that the organizer pouches don't have closures; therefore, when the bed rail is lowered, stored items can spill out.
Pros
Adjusts easily with minor effort
Supports the full weight of an adult
Cons
No closures on organizer pockets allows items to fall out when rail is lowered
Summary
In rating each of the five bed rail systems, we considered factors such as weight bearing ability, convenience, and overall user safety.
All of the bed rail systems reviewed here are high-quality, durable and strong. However, there are numerous unique elements that distinguish one from the other!
The Tool Free Adjustable Length Home Style Bed Rail System is a solid choice for anyone looking for a strong rail system that will hold up over long-term use. The unit is fairly easy to install (although not quite as easy as some of the others). Additionally, the large openings between the railing bars do present entrapment issues unless a rail guard is also used.
The Wide Safety Folding Bed Rail has two added conveniences: it flips down when not in use, and includes a storage pouch for small bedside items. In addition, the 3" space between bars greatly reduces the likelihood of limb entrapment. Finally, it can be installed on either side of the bed, allowing customers to choose their primary side and also swap sides, depending on the way their mattress is positioned in a room.
The Universal Halo Safety Ring is the perfect choice for bariatric patients who need sturdy balance support while getting into or out of bed. This handle also eliminates entrapment risks as it is smaller than many rail systems and the supporting grip bars are laid out in a tighter, more creative pattern.
The Bed Rail Advantage Portable Bedside Safety Handle is another durable option, and supports a substantial weight load along with its multiple desirable features. The foam non-slip handle keeps users from losing their grip when their hands are wet or sweaty, and the storage pocket pulls double duty as an entrapment barrier. All in all, the entire unit can easily travel with the user to almost any location, thanks to its petite size and low weight.
But at the end of the day - there can only be one! Our top choice in this group is the EZ Length Adjustable Bed Assist Rail, as it combines many of the features of our other top five products - and adds even more!
Counting the tool-free installation, small gaps between rails, and ease of product setup, this unit contains multiple elements that pull from the best ideas of its other competitors. Just like the Wide Safety Folding Bedside Rail, the EZ Length Rail flips down and out of sight when not in use, and also includes a convenient storage pouch - making it the very best in available bed rails on the market today!
Are you or someone you love at risk for a fall? Check out our article A Caregiver's Guide to Preventing Falls in the Home for more ideas on how to safegaurd your home!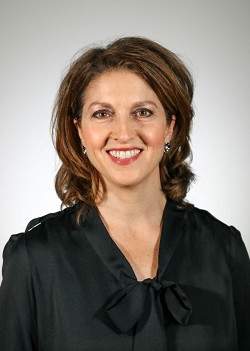 Author:
Megan has been a part of Rehabmart since its inception nearly 20 years ago. For the past several years she has been enjoying her role as HR Director while maintaining her Physical Therapy license. When she isn't working on her next in-service or working to find a new team member, she enjoys her five children, helping those who have PT type ailments, baking, practicing yoga, and working out.